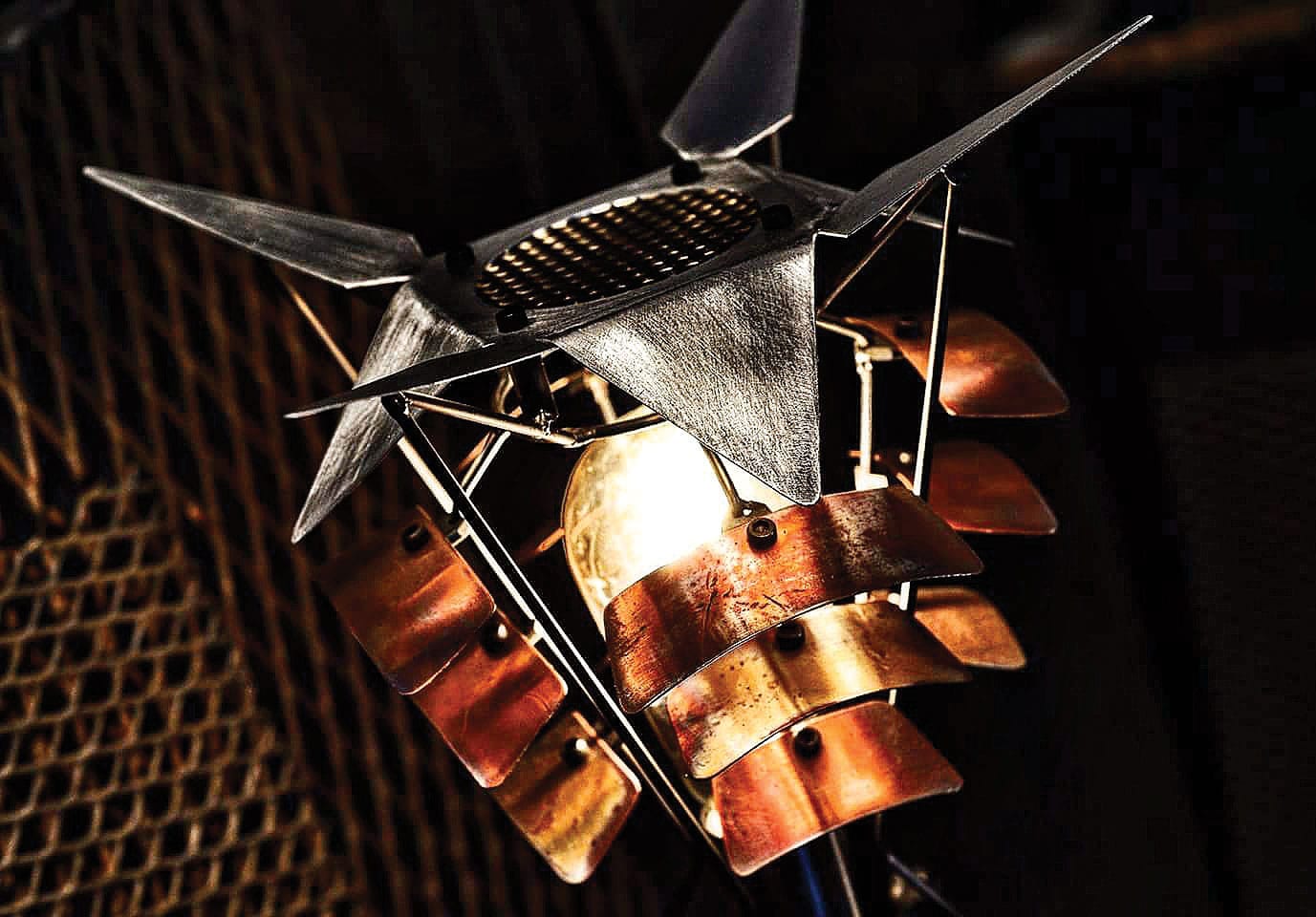 The Foreshadow table lamp by Charlie Strachan, courtesy photo
24 Feb

Off-the-Wall Art
Local artisans craft functional art for the home
Whimsical, eclectic, modern: The style of a home usually represents the people living within. Here's a look at three local artists who design and create pieces—from lighting to furnishings to kitchenware—that make a house a home.
Charlie Strachan,

C.W.Kirk Lighting and Metal Design
The unique lighting fixtures and furnishings by Charlie Strachan, owner of the Minden-based C.W.Kirk Lighting and Metal Design, are inspired by the Nevada deserts' raw tones and dramatic geology, and the industrial structures of the state's mining towns.
Strachan moved from Colorado to Nevada as an infant when his father took a job in Hawthorne as a geologist. "As a preteen in the desert, I observed all the mining equipment in use and was inspired to create functional, durable items for a purpose," Strachan says.
He indulged his love of metal, studying with Eric Bevans out of Carson City in a custom fabrication and metalworking shop, where he began to learn creative production, though much of his training is from being self-taught.
In 2015, he founded C.W.Kirk Lighting and Metal Design, where he designs his own one-of-a-kind creations.
"Inspiration will conjure up 'grand scheme ideas' in my mind, which I transfer into rough sketches," Strachan says. "I believe in the beauty of upcycled metal, so castoffs, leftover parts and recycled metal will find voice in guiding the specifics of a piece."
His pieces are distinctly unique, ranging from industrial to whimsical. He often finds that he'll need to create new tools or apparatuses to achieve a certain shape or design.
"Once all the concepts, tooling and materials are lined up, I begin cutting, shaping, forming and finishing. Each piece and component is broken down into multiple steps so I can stay true to the complexity of the piece."
Strachan's fiancée, Charissa Mackenzie, manages the company's photography and web presence. She's also Strachan's biggest fan.
"Watching his hands effortlessly relay his vision into tangible form is pure magic," she says. "He infuses soul into every single detail. I've seen a lot of art, worldwide, and nothing rivets my attention like his creations. One can never stop exploring their charm."
Strachan uses a variety of metals, to include stainless steel, copper, brass, black iron and aluminum—metals he says have endless potential for customization—as well as dark hardwoods. By incorporating upcycled and leftover pieces, his works not only responsibly maximize unused pieces, but also, Strachan says, "capitalize on the way they spark eclectic juxtapositions."
Mackenzie agrees. "My favorite aspect is the way Charlie precision-torches the various metals to draw out their vivid metallic tones." She describes the "hidden galaxy" masked beneath dull steel. "Vibrant peacock blues and purples emerge as the heat is skillfully applied," she says. "Copper reveals a warm palette of oranges, pinks and gold… It's a masterful process to be treasured and enjoyed."
Strachan's pieces often require between 200 and 800 hours of work, though larger pieces take even longer.
"When time is a factor, it spurs a surge in productivity and ingenuity—which I thrive on," he says. "Due to the analog nature of my approach, my work takes hundreds of hours more than mass-produced items. It is satisfying knowing each part and process is unique to my shop."
His pieces range from fanciful—like a recent flamingo-style lamp—to industrial. Some of his work, such as a copper, steel and aluminum table lamp that Strachan calls Foreshadow, which creates a sunflower pattern when illuminated, combines the two styles.
His furnishings are much the same. One desk looks straightforward, but is an intricate melding of steel, copper and brass, the metal expertly torched to highlight and reveal hidden colors. It's masterful craftsmanship disguised as simplicity, a hallmark of Strachan's work.
Through his company, Strachan creates custom pieces, from lighting to living, dining and office furnishings. 
Andy Cline,

Roundwood Furniture
Born in Homer, Alaska, Andy Cline moved often in his teenage years: "East Coast, West Coast, Australia. I landed in California and enjoyed the strength of nature everywhere," he says.
He was working in Napa building log homes in 1993 when he visited Tahoe for the first time. "The snow-crested mountains reminded me of my hometown," he says. "A voice in my head said, 'You'll move here one day.'"
The day came sooner than later. That same week, he found a job and decided to stay.
For the next few years, Cline worked freelance jobs where he created exotic woven branch handrails or organic mantels. He found himself fascinated by woods—and especially in showcasing the beauty in their grains—and in 2000 opened his own company, Roundwood Furniture.
"When I was starting my adventure—about 60,000 hours ago—I was second guessing myself a lot. Is this appeasing? Is this comfortable? Should this be done another way? But when you collect 20 years of practice, a lot of the decision-making becomes a lot more instinctual," he says. "I can focus on the big picture and the small things fall into place."
This sense of certainty can be seen in Cline's designs—dynamic and creative, yet clean and strong—as his furniture lines have developed over the years. Today, Cline works by visualizing a piece (and, he says, he has "literally hundreds" of design ideas in his head), then figuring out the structural integrity, then deciding the best wood type for that specific design. Often, he'll find inspiration that nods to works he's seen in his travels.
"It's less 'trying' a design than borrowing some of the fundamental visuals from it," Cline says of his works' evolution. As an example, he says some of the Asian infusion pieces he created lent themselves to a Danish look, which then progressed into his more modern lines. "In trying different things, it's not a start and a stop."
He gives an example of building a built-in banquette for a client with a taste for mid-century modern furnishings. "I took some of the Danish and some of the Asian and tweaked it to a mid-century modern," he says.
While Cline enjoys working with almost any wood, he says soft woods don't have the longevity or the strength for fine furniture. He prefers medium density woods, like mahogany, walnut and cherry—what he calls "high character woods"—though his favorite material currently is a claro walnut, which his apprentices help him locate in Chico. "This grain is nature's nebula," he says. "It's nature at its finest doing beautiful artwork; it's just mesmerizing."
Because of his appreciation for the wood itself, he prefers not to use stains, saying, "I want to celebrate the nature of the wood and the grain and the natural story you can see in that wood. A stain feels like going backward."
Cline ensures his wood is either eco-harvested, sustainably grown, indigenous to the United States or sourced responsibly. "There are so many choices that I don't need to use woods that have questionable ethics behind how they are harvested," he says.
And while wood may be his first love, he's spent the past five years experimenting with metal and incorporating the medium into his furnishings. "It's super high-end problem solving," he says.
Cline's works can be seen at select galleries or on display at venues such as Coffeebar's multiple locations through California and Nevada.
Lynn Woodward
Beautiful and unique home ceramics are Lynn Woodward's specialty. The South Lake Tahoe–based potter creates hand-carved kitchenware items, including platters, bowls, casserole dishes and glasses, as well as vases and specialty items like honey jars, teapots and wine decanters.
Originally from New York, Woodward moved to California as a 4-year-old and grew up in San Diego, where she attended San Diego State University. "When I first went to college, I thought about being an elementary school teacher," Woodward says. "That lasted six months, then I switched my major to art."
She earned her bachelor's in art, then her master's, and studied with renowned artists like Marguerite Wildenhain, the German, Bauhaus-trained master potter who lived and worked at North Marin County's Pond Farm, where Woodward once spent a summer.
For 20 years, Woodward worked as a sail maker, making sails for boats, which, she says, brought her in contact with wonderful people and impressive boats. She also taught art for many years—combining her college passions for teaching and art—working in the Bay Area and Napa Valley.
In 1999, drawn by her love of the mountains, skiing, hiking and sailing, Woodward moved to Tahoe. She taught art at Lake Tahoe Community College for more than a decade, with a focus on ceramics for eight of those years. She spent another eight years teaching ceramics part-time at the South Lake Tahoe Senior Center, but today she works independently from the studio at her home, which is equipped with her wheel, kiln and plenty of shelves for her works and works-in-progress. "It's set up for me," she says. "It fits me just fine."
After decades of practice, Woodward has succinctly honed her craft.
"I work up the clay, then I throw the piece," she says. "When it's leather-hard, I trim it and carve it." She freehand carves each piece, adding an element of individuality. Once carved, she bisque fires, adds glazes, then returns the piece to the kiln for the glaze fire.
Woodward's ceramics run the gamut of kitchenware items—from plates and bowls to mugs and serving platters.
"It's high-fire stoneware," she says. "There's no lead in my glazes; it's all usable. It can go in the dishwasher. You can eat from it."
Besides pottery, Woodward also works in paint, creating colorful, dynamic etchings and rich, soft watercolors. Her ceramics and paintings can currently be found at Emanate Gallery (www.emanategallery.com), which showcases regional artists in a variety of mediums at its location at the Crossing at Tahoe Valley, and is celebrating its one-year anniversary.
Woodward's studio is also open by appointment. Contact her at (530) 544-1482 or potterybylynn@gmail.com.
---
Alison Bender lives in Reno, where her home decor is overwhelmingly comprised of kids' toys.