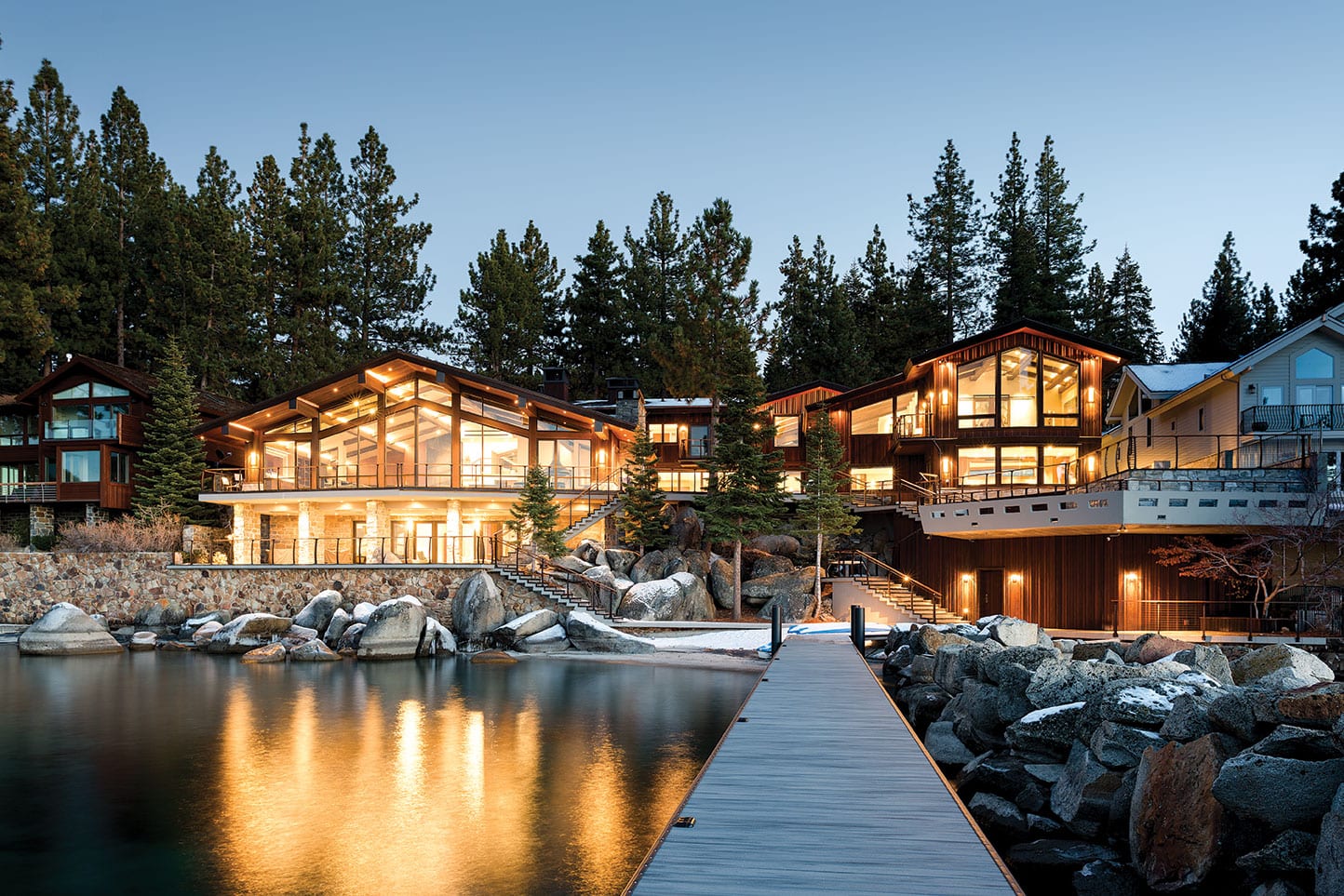 The mid-century expanse formerly known as Villa Harrah glows in its own reflection on Tahoe's East Shore, photo by William C. Rittenhouse
24 Feb

Upholding Harrah History
A lakefront Tahoe home that hosted some of the world's most famous celebrities gets a makeover befitting its star-studded past
Scherry Harrah, second wife of famed casino pioneer Bill Harrah, had the longest marital tenure of Harrah's six wives (21 years) and according to her 2000 obituary in the LA Times, she had considerable involvement in the finishing and outfitting of Harrah's Reno and Tahoe properties. She also played a major role in the design of the 15,000-square-foot home the Harrahs built in Zephyr Cove in the early 1960s.
"We had a guesthouse called Villa Harrah that was located at Lake Tahoe in Skyland and we frequently had the entertainers there for cocktails and dinner," Scherry Harrah wrote in the book Every Light Was On: Bill Harrah and His Clubs Remembered. "I designed the plans for the Villa so a hundred people could be upstairs for drinks and then go downstairs for a sit-down dinner."
Some 55 years later, the house that witnessed wining, dining and partying with the likes of Steve Martin, the Rat Pack, Judy Garland and virtually all the entertainers who performed at Harrah's casinos has been refitted and refinished as a twenty-first century glamour den and lux family vacation home, complete with new features not even the hospitality-minded Harrahs would have thought to include.
"I don't think you should live in somebody else's house; you should make it your own," says Anna Shay, the designer and project coordinator behind the recent modifications to the Villa Harrah. "I don't feel like a house should ever really be done; it should grow and morph with the family. You have to leave room for people and life."
Shay, principle of Solanna Design, with offices on Tahoe's East Shore and Newport Beach, California, worked on past projects for the Villa Harrah's new owners (a family of seven). In 2014 she was tasked with deconstructing the existing house to the framing and manifesting a fresh new life and identity for it. Shay came into the project as the designer and lead agent to manage and implement an overwhelming and extensive array of project goals.
Shay worked through the complexities of marrying twenty-first century technologies into an almost 60-year-old house and selected hundreds of thousands of square feet of finish materials. Her scope of decision-making was vast and went all the way down to detailed minutia like selecting the perfect spa towels and nicely weighted flatware. Needless to say, Shay's imprint on the project is indisputable.
"My approach as the owners' agent is to document as much as possible so I can bid and control scope—and to bring a lot of finish value," says Shay, who worked alongside Reno's Dianda Construction.
Following what feels like a red-carpet arrival beneath a massive porte cochere (absent the paparazzi melee), a wide entry door of wood and glass pivots open into a two-story, show-stopping foyer and stair lobby soaked in seemingly exotic finishes. The generous entry area spills into a colossal great room, bound by the slight prow of a 60-foot-wide wall of infill windows, sitting beneath a classic mid-century gable. Commanding views reach all the way to Tahoe's West Shore and beyond.
Clearly designed to provide an exceptional entertaining experience, Shay has successfully upheld Scherry Harrah's original intention for the room, but has also infused a sense of livability by creating four distinct zones: a billiards lounge, a sports bar, a dining area that seats 14, and a cushiony laze and gaze zone arranged around a circular fireplace.
A more family-focused living area is found just off of the great room that includes a gourmet kitchen (complete with the home's four original Wolf ranges, still going strong), a more intimate dining area and TV/family room. Lake views remain impressive, but the scale of the spaces is less about cocktails and more about comfort, especially for times when fewer people are occupying the house.
Eight en suite bedrooms are distributed among the home's three levels, each with its own lake view and distinct vibe but all quite equal in opulence and comfort. Intended to grab attention, most of the suites feature a unique material statement of some kind, a deliberate and somewhat signature move on Shay's part.
"I like to accentuate just one beautiful, heavy, craft-oriented product and then just quiet out everything else around it to let it showcase," she says.
From the huge backlit slab of translucent Green River Brazilian marble used to center the space and soaking tub in the secondary master bath to a variety of luscious three-dimensional KAZA concrete wall tiles found in the spa and three bath suites, these kinds of materials are not encountered with any regularity in daily life, if ever at all. Eye-catching surfaces and fixtures dazzle and delight, including onyx sinks from China and custom cast concrete bathrooms sinks—one in the shape of Lake Tahoe, another a swirling nautilus imprint—perfect for cruising a family of wee rubber duckies about. Washing up for dinner has never been so captivating.
"We got to use some really fun and unusual materials," says Dave Baker, Dianda's general superintendent. "The integration of all the different finishes was definitely a team effort."
Between Shay's sourcing of materials on the global market (with the goal of supporting women-owned businesses whenever possible) and her desire to avoid the sway of current trends, the finished results often defy any label and maintain a timeless character.
"We mix super high-end furnishings and finishes with very inexpensive ones," says Shay. "A $400 sink might be paired with a $3,000 mirror because the composition and materials look great together. I try to stay blind to what's 'in' and what's not."
The cozy bunk room is crafted and finished with layered live-edge slabs of sycamore. A fold-down desk, cabinets, cubbies and stairs are pocketed away into the structure of the bunks, giving the whole room the exploratory nature of a well-appointed tree house. The adjoining nanny's quarters is accessible via a stealthy secret passage, one of a handful found in the house, with the door handles on the dividing doors skillfully disguised into the knotty chunks of wood.
Secret passages are nothing new at this house. Bill Harrah had an underground tunnel built that connected the home to a neighborhood tunnel system. This allowed access to other houses on the street, giving famous guests and neighbors the ability to move discretely from place to place. Recently poured concrete walls closed the tunnel off permanently, ending the opportunity for any future sub-grade intrigue.
With such a vast array of tasks to execute, Baker says Dianda Construction's team, led by project superintendent Joey Orr, broke the house into three different phases to allow work to progress efficiently while still maintaining quality. "We self-performed all the finish carpentry and had an incredible team of carpenters," says Baker, listing Steve Sturchak, Erik Dahl, Chad Leach, Blaine Inman, Dave Rimel and Matt Debock. "I think everyone in our company worked on the project at some point."
Various terraces, decks, a private beach, pool and pier all provide the home with enough exterior living area for any conceivable lakefront activity, from swimming and sunning to stargazing. An in-house cinema beckons with three tiers of plush seating surrounded by an image of a moonlit Slaughterhouse Canyon Trail that seamlessly transforms from winter to summer.
But beneath all the lavish bedroom suites, grand communal spaces and stellar lake views, the lowest level of the home hides away one of its very best secrets: the spa. Easily rivaling the potential spa offerings of a five-star resort, the available amenities are worthy of an entire weekend: a juice bar and lounge, eight-person whirlpool, cold plunge, dry sauna, wet sauna, hair salon with shampoo sink, mani-pedi stations and, the topper, a salt cave.
"This is a really special room; it's extremely restful," Shay says of the salt cave. "It's one of my favorite places in the whole house."
Covered with 5 inches of pink Himalayan food-grade salt, the floor can be warmed to a therapeutic 98 degrees. The walls are an assembly of pink Himalayan salt adhered to a three-quarter-inch-thick acrylic sheet with backlighting to give the room an otherworldly glow.
"Well, we've never done a salt cave. That was fun and different," says Baker. "From keeping the salt contained to the room, backlighting the salt blocks, getting the correct temperature and making sure there was nothing that would be affected by the salt molecules—fasteners, adhesives, et cetera—was no small feat. It was definitely a 'figure it out as you go' experience.'"
Materiality, finishes and fixtures in every single space and surface throughout the now 22,288-square-foot home were thoughtfully selected, not only for luxury and durability, but to give a nod to location.
"For me, so much inspiration came from just the beauty of Nevada," says Shay. "For example, the Moko wood panels were inspired by the topography you can see when you're flying over the Sierra, and a lot of inspiration comes directly from the Tahoe shoreline itself. It has always been a practice of mine to meditate on the energy and surrounding beauty of the site. It greatly inspires my vision and keeps the design fresh and unique to the project. The East Shore of Tahoe is magical and powerful."
Three-dimensional, softly sensuous wood-veneered panels made by Moko, a company based in Budapest, provide a striking visual contrast and accent in the two-story stair/entry lobby, as well as a large-scale TV surround in the family room. Throughout the house, cowhide murals custom designed and handmade by Kyle Bunting in Austin, Texas, depict alpine-associated imagery: wolves howling at a full moon, toothy mountain peaks lining a lakeshore and a stand of recognizable aspen trunks against an azure sky.
The various pieces provide uniquely textured surfaces whose sheen changes with the light in the room, but always maintain a distinct tactile character all their own. "If people aren't touching surfaces, I haven't done my job," says Shay.
Bunting also created a piece called Artemis for the home's VIP suite that is a canopy and headboard backdrop like no other. With mosaic shapes and colors radiating out from a fractured moon, Shay says the piece was inspired by the expansive, uninterrupted starry night sky as experienced from the edge of the lake. "I never thought about how much the night sky moves," says Shay, "but here on the lake, it's so open you can really see it."
Bringing the home from what was 1960s luxury to accommodate today's high-end amenity features and digital systems left no stone unturned or stud wall unopened. There were challenging technical problems to be solved with the extensive lighting design, the creation of barely-there shade pockets at each window and weaving air conditioning through the house, never an uncomplicated task.
Working with subcontractors, consultants and artists of every stripe to resolve complex issues and bring forth beautiful results demonstrates Shay's ability to take on a project at every level and, more importantly, stands as a testament to her belief in collaboration.
"The guys who showed up every day… we've been through a lot together. The craftsmen, the boots-on-the-ground here, so to speak, are like brothers to me now. I've come to love the dedicated tradesmen here in Tahoe," says Shay.
The occasional reference to the homes' glitzy history is found in carved wood images of Sammy, Frank and Dino gracing the family room TV area and a marquee movie poster outside the theater of the 1960 film Ocean's Eleven, a Rat Pack extravaganza if ever there was one. Powder room wallpaper dotted with tiny LED spotlights also gives a nod to the level of custom extravagance that would be found in a high-roller casino suite.
"We were giving kind of a wink to the casino history and to the '60s," says Shay in reference to the blingy wallpaper.
When asked what she thinks Bill Harrah would say about this updated version of his 1960s guest palace, Shay immediately says, "He's here. It's very haunted here. Late at night, we'd be working and hear a distant giggle and the sound of high heels walking down a hallway. I never believed in ghosts until I worked on this house."
But Shay doesn't believe the ghost of Bill Harrah or any other visiting spirit is there to create turmoil. She thinks they are just interested in what's going on.
"Everybody had so much fun being here back then, this house was a rocking party zone. My intuition tells me that Mr. Harrah is just curious," she says with a comfortable smile.
As described in Every Light Was On, Bill Harrah "always demanded high quality and attention to detail in all things. His clubs were known for being spotless, tastefully decorated establishments… with conveniences and comforts that were unavailable in other hotel-casinos."
The unsurpassed smorgasbord of quality finishes and materials, exceptional level of execution and opportunities for relaxation, recreation and partying—literally like a rock star—found in this reborn version of what was Harrah's guesthouse would almost assuredly have met with Bill Harrah's enthusiastic approval.
Perhaps now that his home has returned to such a level of sophistication, offering an unparalleled lakefront and luxury experience, his ghostly presence is actually just waiting around for the party to finally get properly started again.
Award:

Tahoe Glam
Building Design: Anna Shay of Solanna Design LLC
Builder: Dianda Construction
Interior Design: Solanna Design LLC
Square Feet: 22,288
Year Complete: 2018