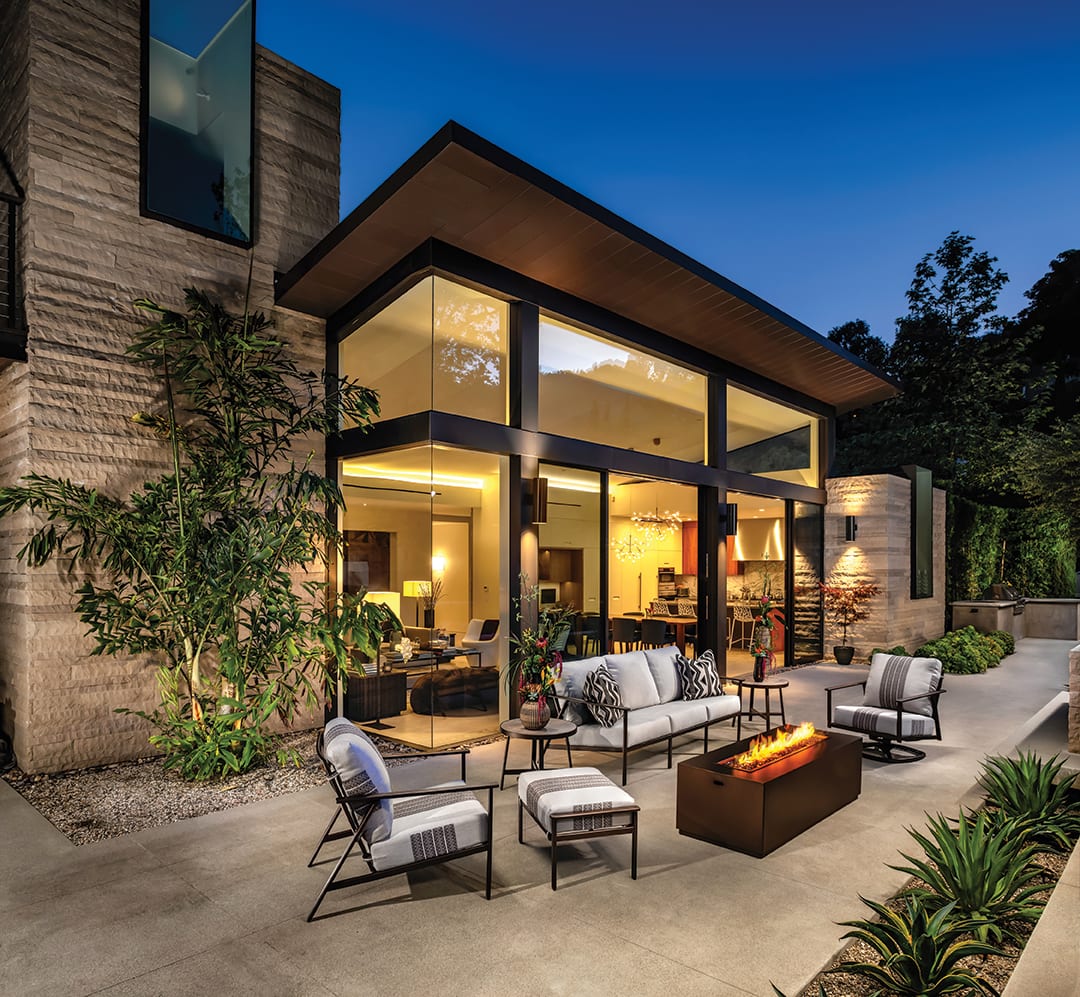 Marin outdoor lounging, available at Truckee's Mountain Home Center
23 Feb

TQ Market: Prize Buys for the Mountain Home

To own a home is to always be on the hunt for new and improved décor. Lending a hand in this lifelong pursuit, TQ assembled a list of worthy additions to the mountain home, from rustic and functional wall art to custom furnishings by talented craftsmen to a must-have coffee table book for ski lovers.

RECLAIMED WOOD ART BY CRAIG FORGET
$6,800: Autumn Bliss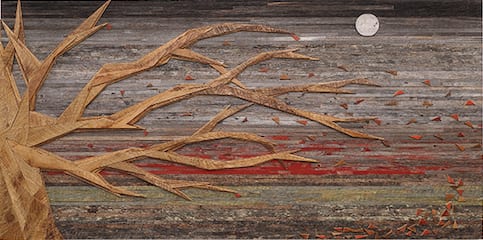 $2,100: Mountain Sunset
Craig Forget lives in an ideal location for his particular line of work. From his home base in Ontario, Canada, the artist crafts rustic wall art from reclaimed wood that he salvages from old barns, houses and fences in his area, some of it dating from 80 to 200 years old. Autumn Bliss (right) features various reclaimed woods that are naturally colored from years of aging in the harsh Canadian weather. The multi-layered technique used to create the piece gives it a sense of depth and life, especially when viewed from various angles. Another piece, called Mountain Sunset (above), features a range of craggy peaks made of metal painted in a matt black finish. The background is composed of 1/2-inch strips of reclaimed wood, starting with a multi-hued sunset painted on weathered white oak to achieve a faded look. Forget ships 95 percent of his work to the United States, sans shipping fee, and has sold many pieces to homeowners in the Lake Tahoe area.
Find at: www.craigforget.com
---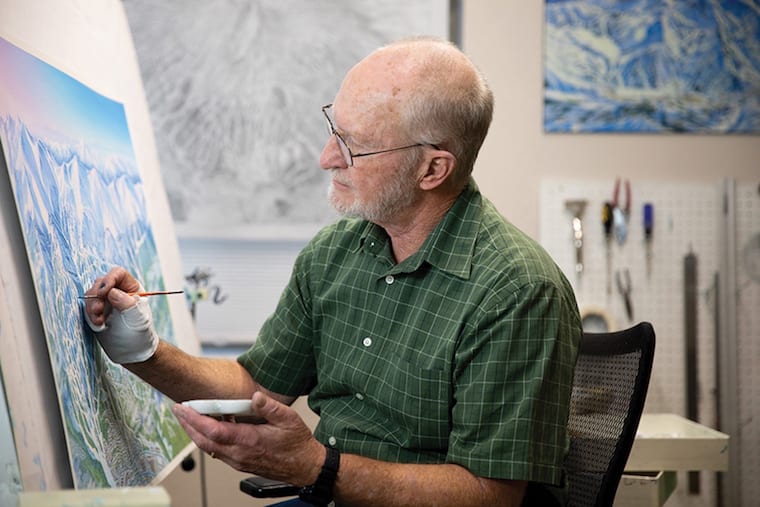 THE MAN BEHIND THE MAPS

: Legendary Ski Artist James Niehues
$90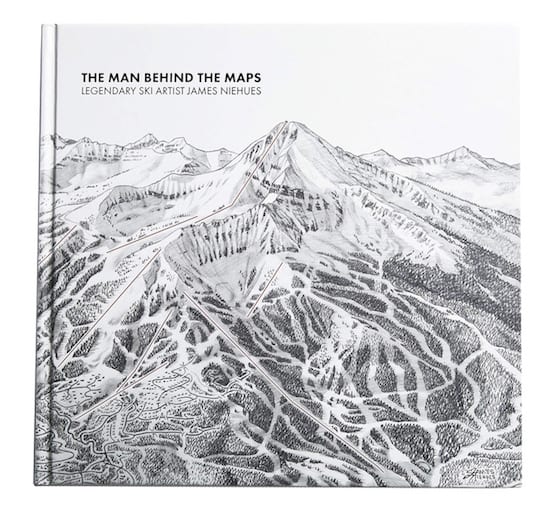 What good is a coffee table without an attractive, engaging book on it? Containing more than 200 works of art laid out across 292 pages, The Man Behind the Maps: Legendary Ski Artist James Niehues is the ultimate coffee table book for the mountain home. The book marks the culmination of Niehues' 30-plus years of work creating trail maps, from iconic destinations to small mom-and-pop resorts across the country. Every painstaking detail—peaks, cliffs, trees, shadows—is painted by hand and based on extensive research, aerial photography and on-mountain exploration by Niehues. Measuring 12 by 11.5 inches, the book features Italian art-quality printing, heavyweight matte-coated paper, lay-flat binding and a debossed hard cover with a pencil sketch of Big Sky, Montana. Skiing legend Chris Davenport wrote the foreword, providing the book with the street cred to match its beauty.
Find at: www.jamesniehues.com
---
THE HAYES SIDEBOARD
$870
A mountain homeowner could spend a significant amount time browsing through all the treasures in Truckee Home Consignment's showroom. Among the store's high-end repurposed home furnishings, the Hayes Sideboard by The Wooden Duck stands out with its meticulous craftsmanship. The piece is made from repurposed redwood and features a herringbone pattern, drawers assembled with dovetail detail and a natural wax finish. All wood (the sideboard is available in pine as well) is gathered from fences, mills and various demolition projects from Washington to Southern California. This labor-intensive piece combines unique style and complexity for a gorgeous home addition.
Find at: Truckee Home Consignment
40153 Truckee Airport Road, Ste #2, Truckee
(530) 550-9661
---

WALNUT COAT RACK BY SHAUN KING
$4,995
A born and bred Aussie, Shaun King grew up surrounded by bushland and native flora and fauna. This appreciation evolved into a love for reclaimed wood and fallen trees, which he always envisioned turning into something new and beautiful. After forming a solid knowledge base in construction, metalwork and design, the Truckee resident acted on his vision and created Shaun King Custom, which specializes in custom furniture building and small remodels. King's hand-carved walnut coat rack is a shining example of his work. The rack features a dynamic surface defined by multiple carved dimensions, with hand-sewn leather detailing wrapped around steel railroad spike hangers. The piece is mounted as if floating off the wall. It is functional art at its finest.
Find at: Shaun King Custom
(510) 821-0302
---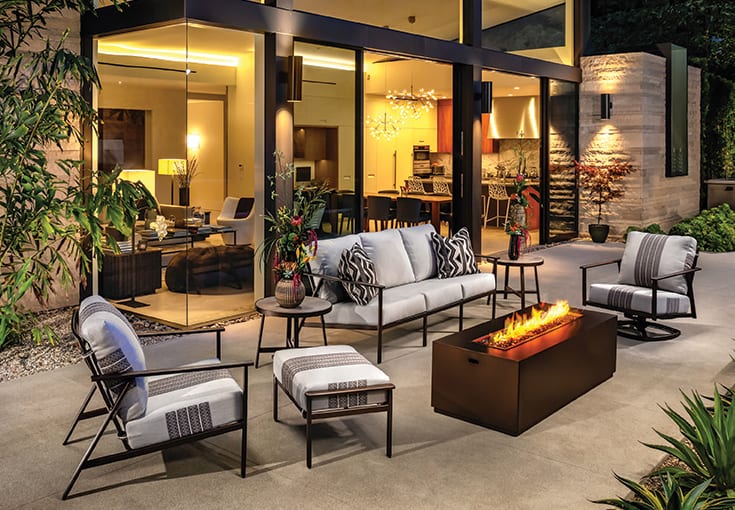 MARIN OUTDOOR LOUNGING
$8,500
Well-equipped outdoor living quarters have become a staple of the Lake Tahoe lifestyle. Mountain Home Center reflects this trend with an array of quality outdoor furnishings spaced throughout its main Truckee showroom, including the new Marin collection from O.W. Lee. Beautifully crafted from aluminum, the Marin collection—which includes dining, deep seating and lounge pieces in both cushion and Flex Comfort sling seating—exemplifies relaxed sophistication while taking cues from both natural elements and modern design. The comfortable lounge pieces go hand-in-hand with O.W. Lee's sleek Forma fire pit, designed to warm bones in style on chilly Sierra evenings.
Find at: Mountain Home Center
11403 Brockway Road, Truckee
(530) 587-6681
---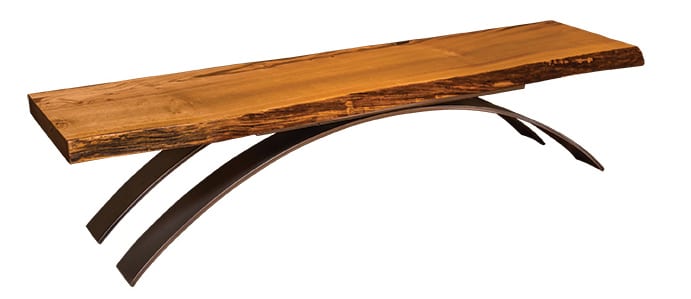 ZEN BENCH BY FINISHING TOUCH CARPENTRY
$3,450
While people may associate Finishing Touch Carpentry with home-building projects, the versatile Tahoe City–based company is also the premier local source for high-end furniture constructed from reclaimed barnwood, live-edge slabs and radius steel accents. The Zen Bench is a fine example. The bench is the result of many years of experimentation with radius steel plates of various shapes and sizes, until finally settling on the perfect creation. Simply put, there will never be a bench quite like this, as the piece features an ultra rare live-edge chestnut slab sitting atop elegantly arched steel legs. The rustic and artistic bench brings authenticity, charm and warmth to any setting, inside or out. And, as with all Finishing Touch Carpentry work, the Zen Bench is guaranteed to last for generations.
Find at: Finishing Touch Carpentry
www.finishingtouchcarpentry.com
(530) 362-6700
---
CABOT SOFA
$3,495
Available at Truckee Home Consignment, the Cabot Sofa by Gus* Modern features top-grain leather with architectural wood block feet and simple French seams, offering a comfortable modern take on a traditional masculine design. The sofa comes in three vintage leathers (brown, black and gray) chosen for their unique grain characteristics that age well, developing a rich natural patina over time. Gus* Modern is a member of the Sustainable Furnishings Council, meaning the company uses sustainable practices such as recycled filling, responsibly sourced plantation products and legally harvested forests.
Find at: Truckee Home Consignment
40153 Truckee Airport Road, Ste #2, Truckee
(530) 550-9661
---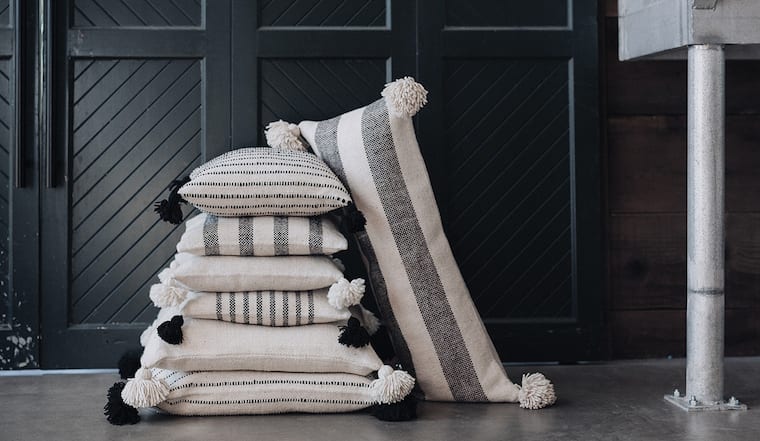 TREKO PEWMA PILLOWS
$200–$400
If uncompromising quality is what a homeowner seeks, not even a pillow can be overlooked. It's why Truckee's High Camp Home carries TREKO pillows, which are handmade by Chilean artisans using 100 percent wool and techniques dating to the sixteenth century. More specifically, the wool is sourced from "Chilota" sheep that are born and raised on Chiloé Island. The sheep are known for their capacity to adapt to difficult weather conditions, making their wool particularly resistant, flexible and durable. The Pewma collection available at High Camp Home features bold stripes, whimsical pom-poms and tactile fleece that give this luxury line of pillows a contemporary look with the superior softness of all TREKO products.
Find at: High Camp Home
10191 Donner Pass Road, Truckee
(530) 582-6866
---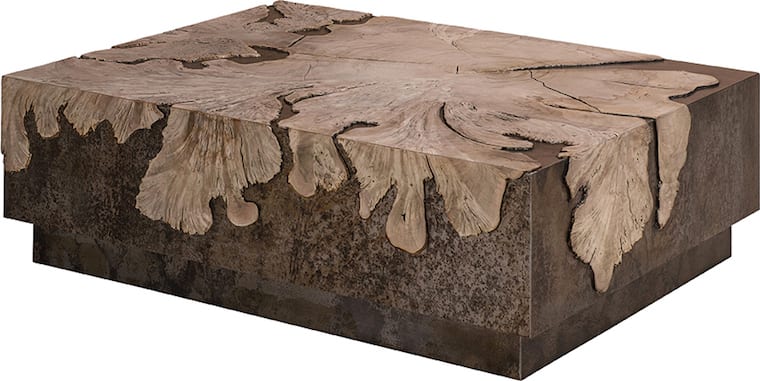 MILPA VUELTO COFFEE TABLE
NA
Few coffee tables are as capable of sparking conversation as the Milpa Vuelto. Crafted by Taracea and available at Alpine Home Furnishings in Tahoe City, this striking piece is made from exotic milpa stumps recovered from cornfields in Mexico. Farmers cut the milpa tree and bury the stumps to make way for the corn. Years later, the stump develops into spectacular milpa burl roots with unique deformations. These rare stumps are then used to create the surface of Taracea's Milpa Vuelto Coffee Table, which are draped over metal. The tables, which may be customized to a client's needs and specs, are a favorite at Alpine Home.
Find at: Alpine Home Furnishings
700 N Lake Blvd, Tahoe City
(530) 564-0971
---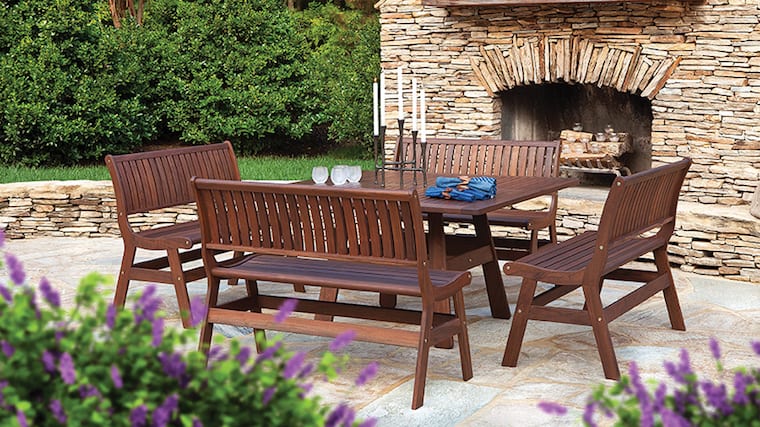 BEECHWORTH TABLE AND AMBER II BENCHES
NA
There's nothing quite like outdoor dining in the mountains on a warm summer evening. But here in Tahoe, you'll want to make sure your outdoor furniture can hold up to the elements. Available at Mountain Hardware and Sports, the Beechworth Table and Amber II Benches from Jensen Leisure Furniture are as enduring as they are beautiful and timeless. Jensen Leisure's Ipe collection weathers with elegance and is incredibly strong and dense with high wear durability. A handsome chocolate brown when new, the sun gracefully transforms Ipe to a mature, elegant silver patina. To build your own collection of Jensen Leisure Furniture, contact Mountain Hardware and Sports for a quote.
Find at: Mountain Hardware and Sports
11320 Donner Pass Road, Truckee
www.mountainhardwareandsports.com
(530) 587-4844
---
RUG WASH AND REPAIR
NA
Tahoe rugs take a beating in even the best of circumstances. With dogs and/or kids trampling around, forget about keeping your favorite rug pristine for long. Luckily, there are professionals who specialize in cleaning and repairing rugs with amazing results. As the Tahoe Basin's only Certified Master Rug Cleaner, Reno Oriental Rug Wash offers a full line of services, from regular cleanings to full restorations. The company's experts can fix or clean just about any rug in any state of disrepair, including wool and silk area rugs from all over the world. Other services include fringe and side cord repairs, dusting, removing ripples, preventing color bleeding, odor control and detailing. Rug
pick-ups and drop-offs are by appointment only.
Find at: Reno Oriental Rug Wash
1592 Newport Lane, Reno
(775) 813-6991