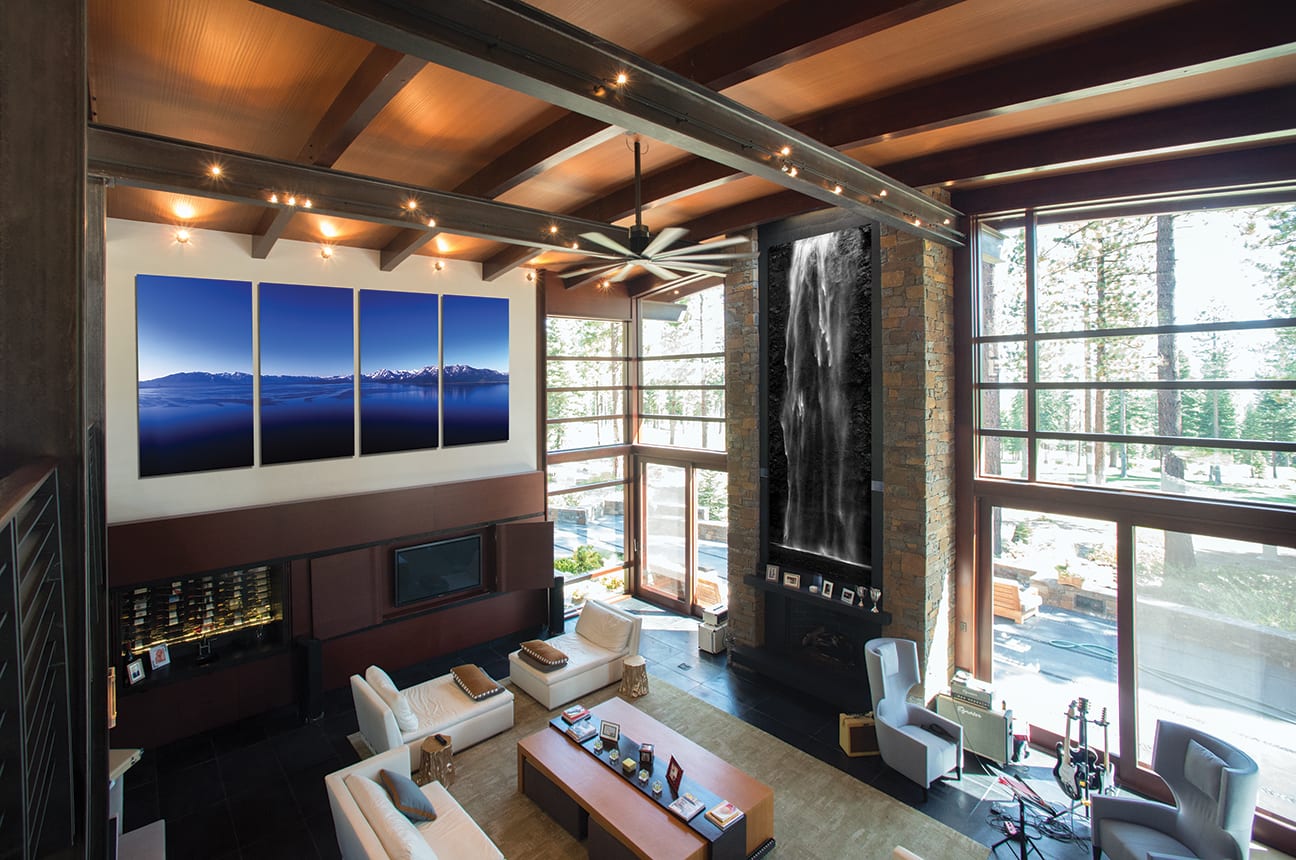 A home showcases two of Keoki Flagg's large-scale custom fine art installations—Lake Panoramic, spread across four panels and measuring 14 by 7 feet, and a perfectly scaled virtual depiction of Hanakapi'ai Cascade
23 Feb

EYE TO EYE WITH PHOTOGRAPHER Keoki Flagg
One of Tahoe's most successful photographers, Keoki Flagg continues to redefine possibility with his camera
Keoki Flagg has a knack for going big. The trait is seen in his large-scale fine-art installations, which transform entire walls of Tahoe homes and businesses into eye-popping imagery. The tendency is apparent when he's thoroughly articulating the details of his ever-evolving craft. And it undoubtedly factors into his latest venture—opening a new 3,500-square-foot gallery in the historic Adolph Gasser Photography building in downtown San Francisco, where he plans to create a giant mural of Lake Tahoe on the seven-story wall across the street. While Keoki's photography is among the most commonly displayed in Tahoe—think Nine Dog Sunrise, the ubiquitous lineup of patrol dogs on a chairlift overlooking Alpine Meadows—the longtime Squaw Valley resident is an artist, first and foremost, with mountains of creative energy and equally large ambitions.
Where were you born and raised, and what sort of things were you into as a kid?
I was born and raised in Hawaii, and in those days you actually went outside and played all day. I was born an artist. I've always gotten my hands dirty and found different ways to express myself. In my formative years I went through just about every medium, from drawing, painting, sculptures, you name it… even sandcastles, for that matter.
When did you get into photography?
I picked up my first camera when I was 13, and I just loved the immediacy of it. One of the things I always heard from my art teachers was, "Slow down. Cool ideas, but just take a deep breath and make sure you carry it through. Be patient." And to this day, every time I go to bed I ask God to give me patience, then I ask him to hurry up.
Do you remember your first camera?
Yeah, it was a Pentax K1000. Well, no, actually, before that it was a Rolleiflex TLR (twin lens reflex), basically the predecessor to the camera that Henri Cartier-Bresson used to revolutionize photography. It was the first camera you could hand hold and shoot without a tripod, so all of a sudden photography became mobile. It predated the single-lens reflex (SLR), where you actually would look through the same lens you were shooting with a mirror popping up. Back in the day the twin lens was a fixed lens and you would look through the top lens and shoot through the bottom. It looks like an old box camera. I still have multiple versions of that camera; I still use it and I've traveled all over the world with it. It was also medium format, so there's a lot of resolution for analog technology. It's purely manual, no automated modes.
Where did you go to college, and what did you study?
I went to Connecticut College in New London, Connecticut. I majored in studio art. I was very much into my photography, but I also did a lot of large-scale sculpture and painting and mixed media.
When did you decide you wanted to pursue photography for a living?
Well, I shot my first wedding at 14, and I always wanted to pursue my art. When I graduated from college I took on a house-painting franchise called College Pro Painters. Looking back, that was really good for me. I worked two summers in a row and it taught me that I could make an honest buck; and in many ways it took the pressure off of answering, "What am I going to do to make a living?"
When I was done with school I was ready to travel, and I pretty much spent the next four years wandering around the world. What I discovered very quickly was that as much as I loved the other art forms, it was really hard to practice them while I was traveling, whereas, with photography, I could take a camera with me and create art no matter where I went.
Tell me about your book project, Elemental.
Let's just say that it's the project I ran away from for 25 years. My excuse was that I didn't want to look back and wish I'd done a better job, because once you put something in print, it's there forever. So I hid from it. And then I skied to the South Pole with Grant Korgan, a guy who can't walk, and after watching him do the impossible I pledged to myself that, going forward, I would face the things I'd avoided. So I started focusing on my writing and my speaking. And it became clear to me that it was time to create Elemental.
When I started the book I thought I was making a coffee table book about my art. And after several renditions I realized that, of all the things I've done as an artist, this was my ultimate creative challenge. So I thought, fine, if that's the case, is this original? Because that's always been my criteria for anything to be considered art. And when I went back I realized I had fallen into so many of the stereotypes. I had a gear page, me standing there with all my shit. How many times have we seen that?
So I said, "All right, I need to remove everything that's been done before." And, with every picture, I felt like I was locked into saying where I was, who I was with and what we were doing, and that led me to realize that if it really is art, it should be universal, and the who, what and where shouldn't be that relevant. It should be something more than that. I had amassed over 100 pages of writing when I said, "If who, what and where don't matter anymore, what's left?" So I got rid of 90 percent of it. And the remaining 10 percent really was my particular creative slant. In addition, I figured out a couple of simple tools, like a glossary in the back, that would allow me not to have to put anything I didn't want on the page, which then allowed me to treat every spread uniquely.
As far as the pictures I wanted to put in the book, that was the easy part. But understanding the journey and why the pictures were important to me… I didn't have a clue. Once I went through that exercise it brought a lot of clarity. In fact, it was probably the hardest creative challenge I've ever undertaken, and I learned more about my creative bias and what makes my art mine than anything I'd done before. And what's funny is that after the book was done my gallery didn't fit anymore. It didn't reflect any of my new understanding. So as soon as the book was done I ended up gutting the gallery, repainting and redesigning it to emulate the book.
We see your custom fine art installations showcased in large format on our Mountain Home Award tours. When did you start offering that service, and what does it entail?
We've been doing that for the last six or seven years. We live in this extraordinary time when it no longer feels like scale is limiting. Most of my compositions consist of many pictures put together, and a lot of my file sizes are 2 gigs or bigger, so the ability to output at massive scale without losing detail is unprecedented.
This is the ultimate era of customization. Our ability to go into a space that's unique and to integrate an emotional statement in there so it's perfectly scaled, so it's truly singular, and singularly true, because of the technology we're using—real photographic emulsions laminated behind optic acrylic—it makes it feel like a window. So the traditional idea of putting up a framed artwork, we've moved way past that. And so the scale and the shape of the image we integrate in many ways is defined by its physical space, but also, importantly, by the unique emotional character of whose space it is.
Our process is to take pictures of their spaces, and sometimes they have a whole list of images they like, or, even more exciting for me, I have clients who say, "I want this room to be about tranquility, and this room to be about adventure and risk-taking," and I can marry the iconic images I have with their emotions… And then we create virtual depictions that exactly illustrate the final installation. No guesswork or variables.
We only pull the trigger if we've worked through all the details, which allows someone to bring in something that doesn't look or feel like anything they've seen before, but without any risk. So we've had a lot of success in these amazing homes. The scale of these spaces and the details and the way these residences are built is amazing, and I feel really honored to walk into a room and see something that is timeless and emphatic and perfectly scaled, and know that, together, we did this.
Word is out about your new gallery in San Francisco.

Tell me about that

.
It's funny, if I was a quantitative person, I never would have opened my first gallery, because I didn't know shit about running an art gallery. Kinda still don't, really. If I knew what I learned after a couple years, I probably wouldn't have done it. And the same thing kind of applies with this new venture in San Francisco.
There's an old photography institution called Adolph Gasser Photography on Second Street between Mission and Howard. For 80 years this was the camera store on the West Coast and beyond. Adolph Gasser was a legend; he designed and built the first fish-eye lens, among many other inventions, and Ansel Adams was his best friend and the best man in his wedding. This wonderful building was the critical gathering place for Imogen Cunningham, Bruce Conner, Annie Leibovitz and a host of internationally recognized photographers… You walk in the front door and you just feel the history in those walls.
We're surrounded by the utmost tech blocks on the planet; we're sandwiched between the Salesforce Tower and the LinkedIn building. This is the land of the future, where all the tech startups are, and for decades this was where all professional cameramen came to buy equipment, to rent things, to process their materials, and to get inspiration and knowledge.
For me, the artwork I have in Gallery Keoki in Squaw Valley feels like it belongs as an extension of the natural world that defines Tahoe. The same images in Gallery Keoki San Francisco stand out as beacons, statements of things that are missing. Most of the natural ways of life on Earth are absent from this urban, futuristic citadel… So you enter the gallery and it's like, wow, just take a deep breath, remember what's missing and what we need more of in our daily lives.
I hear you plan to create a huge Lake Tahoe mural across the street from your San Francisco gallery.
Well, I've been challenged by what's happening in our country politically, and to our planet and our environment, and maybe it's because I've been to lots of these disappearing places, but it's become very real for me. Everybody I meet in these far-flung lands, and close to home, too, is talking about how the climate has changed and we've got real problems… I really want to use my work to bring attention to that. So, for the mural project, we approached the Tahoe Fund and they agreed to partner with us. All of the fundraising will be through the Tahoe Fund nonprofit. 
I'm about to launch a Kickstarter campaign to raise a significant amount of money to create this 90-foot-tall mural of Tahoe in the heart of the city. It'll be a powerful Tahoe statement. I have a lot of clients who live down there, and they all have a sweet spot for Tahoe, nature, adventure and the mountains. So I hope this will be a call to action to donate money so I can realize this mural, but, more importantly, we hope to raise awareness for Tahoe and the environment in the city. Down in that urban world is where we really need to have exposure and immersion.
So I'm super excited. Not only am I about to take on a massive endeavor, something I've never done before, but, better, if I'm successful at it, it's going to serve a higher purpose.
You're keeping your gallery at Squaw Valley, right?
Oh, yeah. I've been gifted with amazing landlords. Alterra (Mountain Company) is basically my fourth landlord, and as you can imagine, running a high-end retail business in a seasonal marketplace is challenging, at best, but we continue to grow, and I think we've been relatively successful because of the support we've gotten from our landlords and our community. If I've learned one thing from this last five months of going down to the Bay Area, it's that, although I love the energy, I don't want to live there. No, we live in the most magical place in the world.
Tahoe Quarterly editor Sylas Wright first became aware of Keoki Flagg's work shortly after moving to Tahoe, when he saw Holden's Line hanging on the wall of a business. He still marvels at the incredible composition to this day.