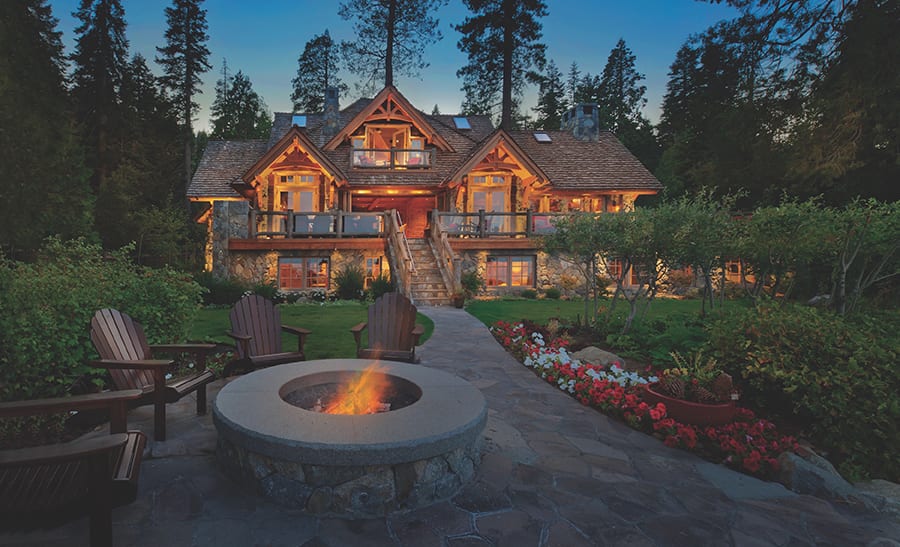 This home on Tahoe's West Shore sold for $16.4 million in 2019, photo by Vance Fox, courtesy Trinkie Watson
23 Feb

A Tale of Four Shores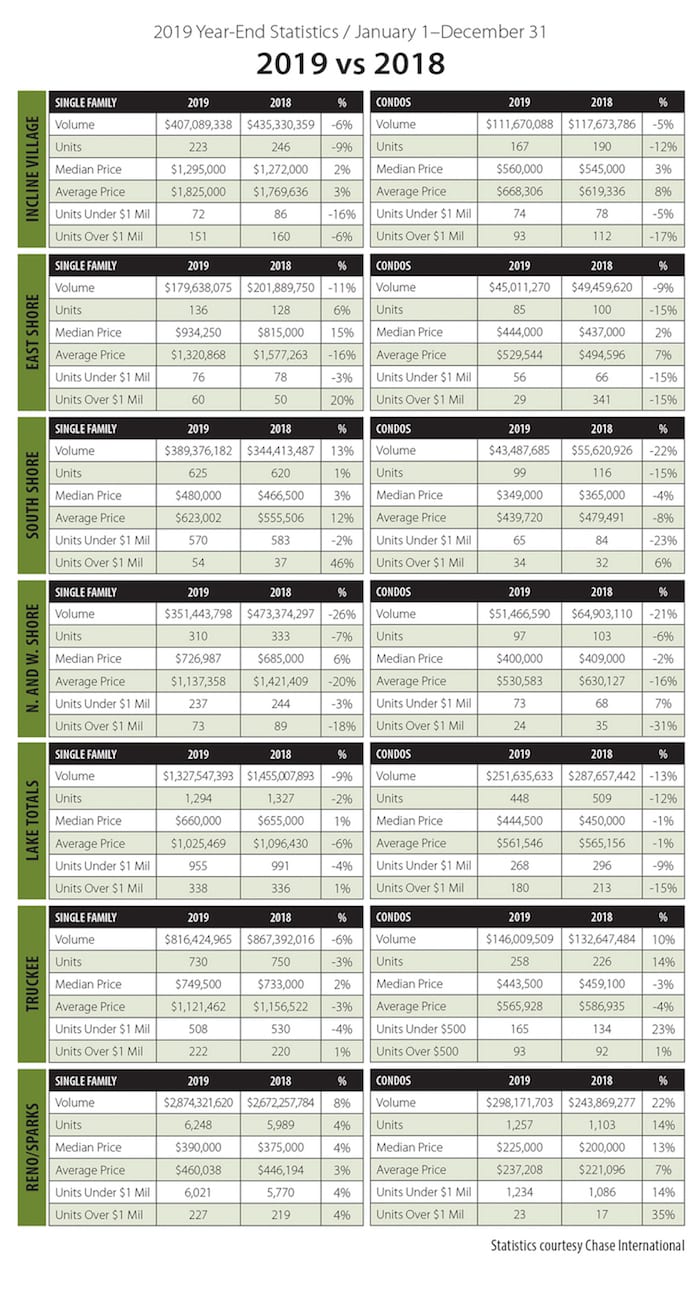 Constrained by inventory, but buoyed by still-strong prices, Lake Tahoe saw the strength of real estate markets across its four shores diverge incrementally in 2019.
The South Shore luxury market fared particularly well in 2019, with a 46 percent year-over-year increase in single-family homes over $1 million sold. The East Shore's luxury market also kept climbing, with a 20 percent increase in the same million-plus market, according to data from Chase International.
But the North and West shores of Tahoe experienced weakness, with an 18 percent drop in single-family homes priced over $1 million and an overall single-family home sales volume drop of 26 percent. Incline Village registered only slight declines in the luxury and overall sales volume.
Despite the mixed data, Sue Lowe, senior vice president at Chase International, says the Tahoe real estate market is healthy.
"I would look at this as a fairly stable market," says Lowe.
In fact, on the price side of single-family home sales, the numbers look particularly strong. Median prices rose across all Tahoe regions in 2019, indicating the true culprit that may be constraining sales volumes around the lake—the limited number of homes on the market.
"The prices are continuing to inch up, and inventory is our biggest issue," says Lowe.
Dealing with a market where a single lakefront transaction can top out in the tens of millions of dollars (the largest lakefront home sale registered at $37 million in 2019), a handful of big sales can change the entire year-end figures for the region. This can often account for some of the fluctuation in year-over-year numbers—the simple availability of legacy lakefront homes.
But other parts of the market are more predictable. Like the rise of Clear Creek Tahoe, which Lowe says is gaining momentum at a rapid rate. The development, positioned just east of Lake Tahoe in the hills above Carson City, is quickly becoming a new luxury home mecca for discerning buyers.
"The amount of interest we are getting is very Martis Camp–like," says Lowe of the accelerating activity at the new development, reminiscent of the early days of the now iconic Truckee-area luxury home development. "With all the amenities it has to offer, there is no doubt it will just continue to excel and exceed expectations."
The Clear Creek homes are already making their mark on Chase International's year-end figures, with a $2.5 million home sold in the development in 2019. And Lowe says the Lake Tahoe real estate company currently has another four Clear Creek properties in escrow.
Many of the dynamics at play in 2019—healthy prices, sales constrained primarily by a lack of inventory and new luxury developments gaining momentum—point to continued strength in the Lake Tahoe real estate market for the foreseeable future.
"I think 2020 will be a pretty stable to strong market," says Lowe.