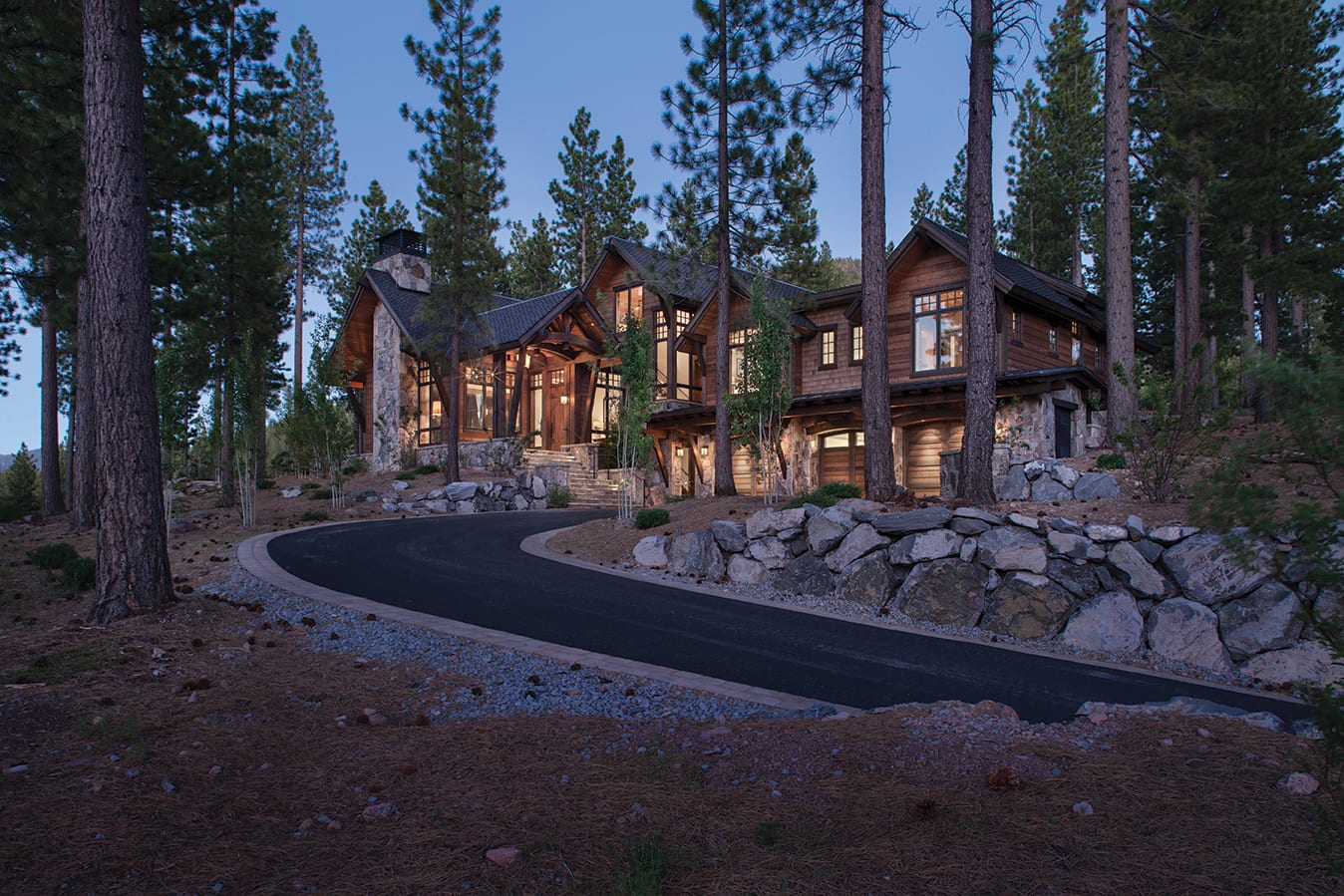 The Old Tahoe–style home perched on a hillside makes the most of the lot's grade
23 Feb

Designed to Endure
A Martis Camp residence bucks the modern trend with an Old Tahoe aesthetic fit for future generations
When a Bay Area couple approached Truckee-based Kelly & Stone Architects about building a vacation home in Martis Camp, their requirements were simple and straightforward: They wanted a welcoming and comfortable Old Tahoe–inspired retreat with contemporary touches that would accommodate their growing multi-generational family.
Close collaboration among clients, architect, builder Jim Morrison Construction and Sarah Jones Interior Design resulted in an elegant yet functional house where various age groups can comfortably gather on a regular basis now, and in the years to come.
The steeply sloped lot that some might have dismissed as too pitched actually lent itself to the quest.
"The house is a tiered split-level that stair-steps up the site, following the natural grade," says Keith Kelly, principal of Kelly & Stone and lead architect on the project. "Working with the grade allowed opportunities to provide a distinct separation between the master suite, primary guest rooms, and kids' bunk room and entertainment area. This also allowed for massing, which allowed each space to have views in nearly every direction."
A curving uphill driveway makes for an impressive arrival, the structure's grand entrance framed with heavy timbers, cedar siding, Sierra granite and shed roofs reminiscent of a sturdy mountain lodge.
Pushing past the heavy walnut door, a small foyer welcomes visitors with a whimsical painting of a top-hatted deer. The entryway immediately opens into an expansive great room, a substantial space that is clearly the command center and focus of the house. A series of elegantly arched trusses assembled on site and erected by crane support the vaulted roof overhead. Near full-height windows and a 24-foot-wide NanaWall allow for ample natural light and views of the Camp Lodge, Carson Range and surrounding forest. Wide-plank, hand-scraped hickory floors provide continuity throughout, and a durable surface that can stand up to heavy foot traffic.
At one end of the room, a sizable sectional sofa anchors a seating area around the hearth, surrounded with the same locally sourced stone used on the exterior; a built-in window seat is tucked into a nearby nook. A pair of hand-forged chandeliers hang here and above the adjacent dining table. In warmer weather the open NanaWall creates a continuous flow out to the patio and fire pit, as well as the covered, heated dining area. A wicker basket of rolled-up blankets stands at the ready.
The open kitchen boasts walnut cabinetry and two lengthy, leathered, granite-topped islands, one painted with a splash of pastel green, the other doubling as a dining counter/bar. "The homeowner (who says this is one of her favorite aspects of the house) likes to cook, so this allows family to gather in the kitchen but not get in the way," says Kelly.
There's also a dining nook with a reclaimed wood tabletop plus a door to the patio, tucked away out of the room's main line of sight. The stone surround on the custom iron ventilation hood echoes the hearth at the opposite end of the room, providing a symmetrical balance in size and shape. A pantry, conditioned wine room and elevator for easy access to all five floors—"and foolproof for the future," according to Kelly—are tucked around the corner. This space also includes a powder room and huge laundry room with double stack of commercial-grade machines that help keep the crowd's clothes clean.
The homeowners, who are both heavily involved in philanthropic work, had also planned to host charitable events and non-governmental organization gatherings here. For decor, this meant using elegant and timeless, but also durable, finishes and materials, including hardwoods, cleanable, user-friendly fabrics and bomb-proof kitchen countertops.
The areas in this part of the house are versatile and also expandable, allowing for multiple uses.
"The spaces feel just as comfortable and inviting when it's just the two of them as it does when the house is completely full," says Jones, the interior designer, who worked closely with the clients from the get-go.
As for the home's palette, "We took inspiration from the surrounding environment, says the Montana-based designer, formerly of Truckee. "We were hoping to achieve a nice level of casual mountain elegance and a lodge-like feel. The colors and textures within the home really speak to the flora and fauna found just beyond the patio. As is common in many Tahoe homes, there is a lovely openness and connection between indoor and outdoor living, so the intention was to expand on this relationship and blend the line. I think we achieved their goal of creating a really timeless and inviting space."
The compact master bedroom's location adjacent to the great room provides the owners with immediate access to the core of the house. Their lair also boasts a granite-clad fireplace as well as glass French doors that open out to the side terrace and a built-in custom spa. Plenty of additional windows allow for natural light and make for an airy space here and in the bathroom, which also leverages the lot's slope.
"In working with the hillside, you actually have some opportunities to add privacy," says Kelly. "There are adjacent homes to the side and rear, so we utilized high windows in various areas to allow natural light and ventilation, yet provide a sense of privacy. We used the natural slope of the site to our advantage." The master bath also features dual marble-topped vanities, limestone floors, a freestanding tub and zero-curb shower.
The lower level below grade did require significant excavation work.
"Large footings, retaining walls and extensive waterproofing were extremely important from the beginning," says Bryan Bertsch, project manager for Jim Morrison Construction. "Creating exterior spaces was challenging, but in the end, it came together very well."
Off the great room, a set of walnut steps heads down to the mudroom with benches, cubbies and storage, and on to the double-deep three-car garage, which also stores a snowmobile and other outdoor toys and gear. In the other direction, the stairwell leads up to a landing where operational windows allow for yet additional light, ventilation and views.
Up on this floor, behind a barn door lies a lodge-like wainscotted corridor, off of which are four identically sized but differently decorated and configured en-suite bedrooms that can accommodate up to four couples, be they guests or the owners' three adult children and their spouses. The hallway, which includes a view of the Pacific Crest, is outfitted with additional built-in, full-height storage and counter space.
Continuing up a level, the "fun zone" is outfitted with pool and shuffleboard tables, video games and a comfy sectional sofa; white-washed barnwood and vintage Tahoe art posters adorn the walls. It's another three steps up to the treehouse-like bunk room, which was originally planned for four beds but doubled to provide eight. The custom wood structures include power outlets, lights, built-in storage and tall ladders.
Across the hall, the locker room–style bath in the bunk room boasts two separate toilets, shower, a trough sink with three taps, lots of hooks and towel storage, and a pop of red woodwork. "You can pack a lot of people in here but give everyone their privacy at the same time," says Kelly. This entire kids area is intentionally placed far enough away from the main living area to dampen noise, yet within earshot of the parents' digs.
A spiritual family, the owners and their children wrote their favorite bible verses on the walls pre-drywall. Perhaps most foretelling was the "Be fruitful and multiply" inscription in the bunk room. "Gogo" and "Poppy," as the owners are affectionately called, now have four grandchildren and counting, and are living their dream of quality family time in this timeless legacy home.
Award:

Legacy Home
Building Design: Kelly & Stone Architects
Builder: Jim Morrison Construction
Interior Design: Sarah Jones Interior Design
Square Feet: 5,933
Year Complete: 2016