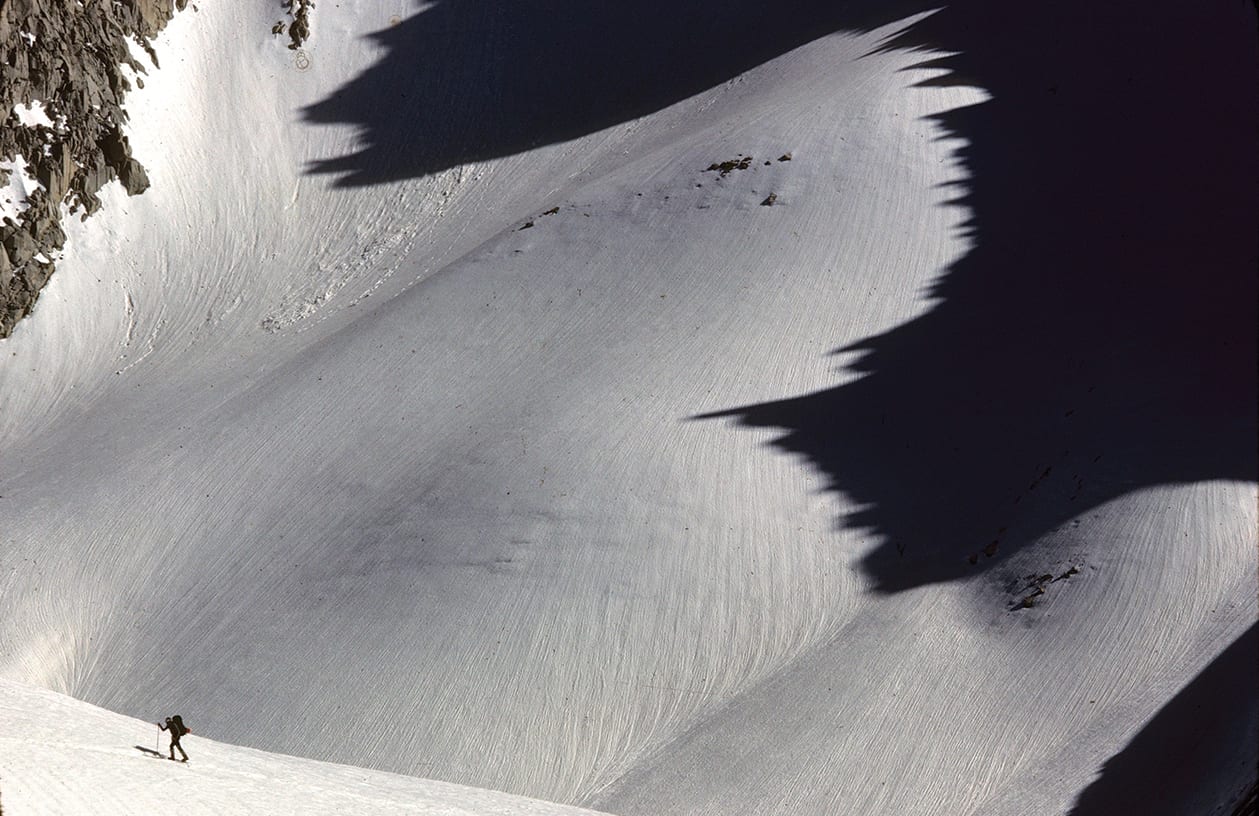 Tom Carter's touring partner, John Dostal, is dwarfed by big-mountain terrain near Cartridge Pass on the first ski traverse of the Monarch Divide in 1982, courtesy photo
23 Feb

From Rock and Snow to Glass
Tom Carter has made his mark in the wilds of the Sierra Nevada—now, he's translating the iridescent hues of Lake Tahoe into stunning glass art, armed with the determination that made him a world-class guide and adventurer
For most of his 67 years, Tom Carter has been a perpetual motion machine. The Tahoe resident has scaled Yosemite's El Capitan 13 times, skied thousands of miles through the Sierra Nevada and ticked off impressive expeditions around the globe.
When he digs into a project in his Cedar Flat studio, however, a stillness comes over Carter as he trains his focus on his latest passion: turning funky, recycled window glass into stunning art, each custom piece inspired by the lucid beauty of Lake Tahoe.
The athlete has transformed into the artist.
But while Carter has backed down the adventure meter a tad, dedicating more time and effort to his art, he's still known around Tahoe for his active outdoor lifestyle and infectiously jubilant spirit.
"Everywhere Carter goes and every endeavor he is involved in, he is the captain of stoke," says longtime friend Dave Nettle, a Tahoe resident and accomplished backcountry adventurer. "He is always fired up with a positive vibe that infuses everyone."
That enthusiasm, combined with years of experience in rugged mountain terrain and an innate ability to connect with people, led Carter to become somewhat of a legendary instructor, passing on his knowledge to countless others as a skiing and rock climbing guide while also spearheading avalanche education and training.
Born to be Wild
When Carter was 5, his parents moved from Los Angeles to Fresno to be closer to the mountains. The family didn't own a television, opting instead to read books and recreate in the outdoors.
The Carters owned a cabin at Shaver Lake, where they waterskied in the summer and embarked on station wagon camping trips throughout the mountains of the Central Sierra. Carter learned to ski at a young age at Yosemite's Badger Pass and got his first taste of ski touring as a youth on the peaks around Huntington Lake.
After graduating from high school in 1970, Carter tried his hand at rock climbing in Yosemite the following year and was instantly hooked.
"It totally changed my life," he says. "Within weeks I moved to Yosemite. I was completely bowled over by everything about the rock."
He dove into the sport head first, landing a job at the Mountain Shop in Yosemite Valley and living among some of the most talented rock climbers of the era at Camp 4. Immersed in the world of climbing and adventure, he would go on to become a guide for 25 years with Yosemite Mountaineering School, leading clients up big walls like El Capitan and Half Dome.
"The golden age in Yosemite really was the '60s with Royal Robbins and Tom Frost and Chuck Pratt and TM Herbert. Those guys were still around when I was there, but it was more of the new generation, which included a number of Tahoe people, like Kim Schmitz, Jim Bridwell and Eric Beck," says Carter. "Those are three big-time Squaw Valley patrollers who went on to do amazing things in the valley and all around the world."
After climbing in Yosemite during the summer, Carter ventured out on ski tours with friends in winter and spring, striding from the valley to Tuolumne Meadows and the Ostrander Ski Hut in the park's backcountry. On numerous occasions they toured east across the Sierra to Mammoth Lakes, where they earned cash by shoveling snow off roofs, crashing at friends' houses before making the two-day trek back to Yosemite Valley.
Still years before getting involved in avalanche training, Carter laughs now thinking back on how little he knew about snow safety in the backcountry.
"We didn't really know anything about snow," he says. "The first two times I skied to Mammoth, I don't think I ever saw a fracture line. But they had to be there. We just weren't even looking. Ignorance is bliss on those levels."
Backcountry Calling
Carter had always planned to attend art school. His mother was a bronze sculpture artist, and he drew as a child and dabbled in watercolor painting and ceramics.
But the call of the wild proved too strong.
One day while ski touring through the Yosemite high country, he made it official: His future would be dedicated to mountain adventures.
"I quit school by phone booth from Tuolumne Meadows in the middle of winter," says Carter, laughing at the memory. "I remember the phone was even with the snow line, and I'm down there going, 'Hey guys, I'm not gonna make it.'"
While Carter continued to master his climbing craft in Yosemite, he spent an increasing amount of time in the winter ski touring deep into the mountains, both locally and abroad. 
In 1978, world-renowned adventurer Ned Gillette invited him to teach Nordic skiing at the Trapp Family Lodge in Vermont, owned by the von Trapp family of The Sound of Music fame. Gillette led the resort's ski touring program, having skied with Johannes von Trapp at Dartmouth College.
"He was an awesome guy," Carter says of von Trapp, adding that he had never skied on such nicely groomed trails in the Sierra. "It was wonderful. I got in the best shape of my life."
Carter joined Gillette again, along with Jan Reynolds and Allan Bard, in 1979 for the first midwinter traverse across the Southern Alps of New Zealand, a National Geographic–sponsored photo assignment that required each to shoot 100 rolls of film. While they planned for arduous travel across the formidable range, the 130-mile trip turned out to be significantly more challenging than expected due to weather. What they thought would take seven to 10 days took a full month.
"We spent seven days in a snow cave in as badass a blizzard as you can imagine, then were nailed down again—four skiers in a two-man tent—for five days straight on a glacier," says Carter. "We hit three huts, and they were godsends. It was big weather, but beautiful mountains."
(Gillette's life was tragically cut short in 1998 when he was murdered during a mountain expedition in Pakistan).
After returning from New Zealand, Carter went to work in the early 1980s for David Beck, a former Squaw Valley ski patroller who ran a guiding company out of Mammoth Lakes called Sierra Ski Touring. The work was demanding, requiring Carter and other employees—all part of the same friends group—to carry heavy packs for clients en route to their backcountry destinations. Tours varied from out-and-back day trips to multi-day skiing adventures in the High Sierra, including traverses along the Sierra High Route that Beck famously established with Nick Hartsell in 1975.
Carter not only thoroughly enjoyed the work, he made the most of the fitness he accrued throughout the winter with long ski traverses of his own in the Sierra come spring and early summer.
"After working all winter and having that training, carrying packs and humping loads, we'd just go ape shit after that," he says. "It was so fun. And those were big years, '82, '83. Talk about the gold standard. It was a real heyday.
"We weren't the only ones doing it, but we had a group of friends, and if you wanted to go skiing, they were putting their boots on right then. It was great to have that kind of camaraderie and inspiration."
Carter and crew drew further inspiration from the Sierra adventurers before them, namely Orland Bartholomew, who in 1929 completed a 200-plus-mile midwinter traverse from south of Mount Whitney to Yosemite Valley.
Following a similar route to Bartholomew's, Carter and friends Allan Bard and Chris Cox established the Redline Traverse from Mount Langley to Mammoth in two separate pushes in the springs of 1982 and '83. The route, most of which was above 11,000 feet, included an astonishing 50 mountain passes and 20 peaks.
"We stayed high and contoured the bowls, barnstorming right along the crest," says Carter. "It was like being on a tightrope, which was awesome."
Upon completing the traverse on the summer solstice in 1983, Carter wrote an article for Powder magazine about the adventure, which he says was intended to "redline the fun meter."
Taking another cue from Bartholomew, Carter says the trio traveled incredibly light, carrying only 25 pounds of gear.
"Our packs were super light. We basically starved. But at the same time, it didn't matter because you were chewing on the scenery," he says, adding that, "We knew if all else failed, with eight to 10 hours of hard skiing we could bail out into the sagebrush of the Owens Valley."
Carter also enjoyed touring around the Tahoe backcountry with his friends from the area, skiing from the Kirkwood region to Desolation Wilderness to Sugar Bowl.
"We would do shorter and smaller tours around Tahoe, but they were beautiful in the winter," says Carter. "We'd come up to ski Tallac, and you'd park your car and there would be no one else around in those days."
Rubies and Avi Safety
Amid his touring prime, Carter stopped at the Ruby Mountains in Nevada while driving back from Vermont to ski a big section of the crest. After the tour his crew ran into Ruby Mountain Heli-Ski owner Joe Royer. The serendipitous meeting turned into a lifelong friendship, and by 1983, after Royer and others had coached him up on avalanche safety, Carter was guiding heli-ski clients in the Rubies.
Given his skiing ability and infectious personality, the job suited him well, and he continued to guide clients in the Rubies for the next 30 years.
"He is the guide's guide," says Town of Truckee Fire Chief Bill Seline, Carter's longtime friend and skiing partner. "He connects with people quickly and shares his enthusiasm and passion for whatever you are doing. He has a way of inspiring people to a higher level of performance."
Carter and his wife Carol bought a home on Tahoe's North Shore in 1993 as he started working with Alpine Skills International (ASI) teaching rock climbing on Donner Summit. He also taught avalanche awareness classes with ASI and helped write curriculum and teach courses for the American Institute for Avalanche Research and Education, commonly known as AIARE.
"He was at the leading edge of avalanche safety for the masses," says Nettle. "He was the go-to instructor for Avi 1. He brought backcountry awareness to more people than any single instructor in the region."
Carter also trained avalanche instructors and patrollers in Tahoe and at resorts across the West, and even took his experience to work for the Mountain Warfare Training Center on Sonora Pass, educating Marines on skiing and snow safety between 1999 and 2011. He gave up guiding in the Rubies in 2013 and started ski patrolling at Mt. Rose, often touring around nearby peaks in the wee hours before work.
An Artist At Last
As he tapered away from guiding, Carter began working part time at Waterman's Landing in Carnelian Bay in 2006. He taught stand-up paddleboarding and fell in love with being on Lake Tahoe.
"It was fun to teach a different sport, but I started seeing junk in the lake… I'd see something and go, 'If that were gone, that would be cool.' So I started diving down and getting it," says Carter, who has retrieved everything from old tires once used on piers to rusted pipes to sunken boat engines, which he painstakingly flips to the shore one dive at a time. "While I was down there I started looking at the colors and the light, and decided I had to figure out a way to depict it."
Inspired, Carter decided it was finally time to follow up on the plan that he abandoned more than four decades earlier. He enrolled in art classes, ultimately settling on glassmaking as the best way to emulate the iridescent hues he saw under Lake Tahoe's surface.
The fact that he knew nothing about fusing glass was not important. After years of teaching novice skiers and climbers, Carter followed his own advice about how best to learn a new skill.
"Everything I ever said while guiding is the same advice I needed to take myself," he says. "You can do this. Start off little. Get acquainted with it. Don't rush into it. And don't take one class, take six or seven. Also, go to different people who have expertise. If you could have somebody guide you through the process a little bit, you're going to accelerate your process."
Realizing that he faced a steep learning curve, Carter decided to use recycled window glass instead of art glass, which is ideal to work with but also pricey. He stops daily at Tahoe Glass Company in Carnelian Bay, where owner Greg Williams gives him glass removed from Tahoe cabins that otherwise would be thrown out.
"It's free, but you pay for it in another way. You pay for it because it's difficult to work with. You pay for it because it's dirty and old and you have to clean it up and all that stuff. But it gives you the freedom to experiment," says Carter, who uses a kiln to heat the glass before forming it into sculptures and functional art pieces, such as bowls. He creates his own colors from oxides, which he uses to decorate each piece.
While glassmaking has been his sole focus for the past six years, Carter admits that mastering the art form can be a humbling process.
"If you could reach down and pick up a piece of the water somehow, a shard of it, that's how I'd like my stuff to feel. And it's getting there," Carter says with a laugh. "Some days it doesn't look at all like that."
But when it does, and Carter is able to capture the beauty of Lake Tahoe's crystal-clear water, the result is nothing short of magnificent. 
Carter's transformation into an artist, which led Seline to describe his friend as a "renaissance man," has not changed his outlook on life or dampened his love for the outdoors. He and his wife still ski tour six days a week during the winter, venturing out before sunrise in search of fresh tracks and solitude.
"I don't know how people have time to watch television," says Carter. "There is a dynamic out there that you will not find inside. You need to get physical outside…
"My goal is that when it's my time to go, I will be 94 and they will find me at the end of a ski track."
---
Carter's glass art pieces are available at Gallery 5830' in Truckee and tomcarterglass.com.
---
Nearly lifelong Tahoe resident Tim Hauserman loves to write about inspiring locals like Tom Carter. He wrote the official guidebook to the Tahoe Rim Trail, as well as Monsters in the Woods: Backpacking with Children.
Being from the same neck of the woods as Carter, TQ editor Sylas Wright could easily—and did—get off track chatting with him at length about the Central Sierra Nevada.