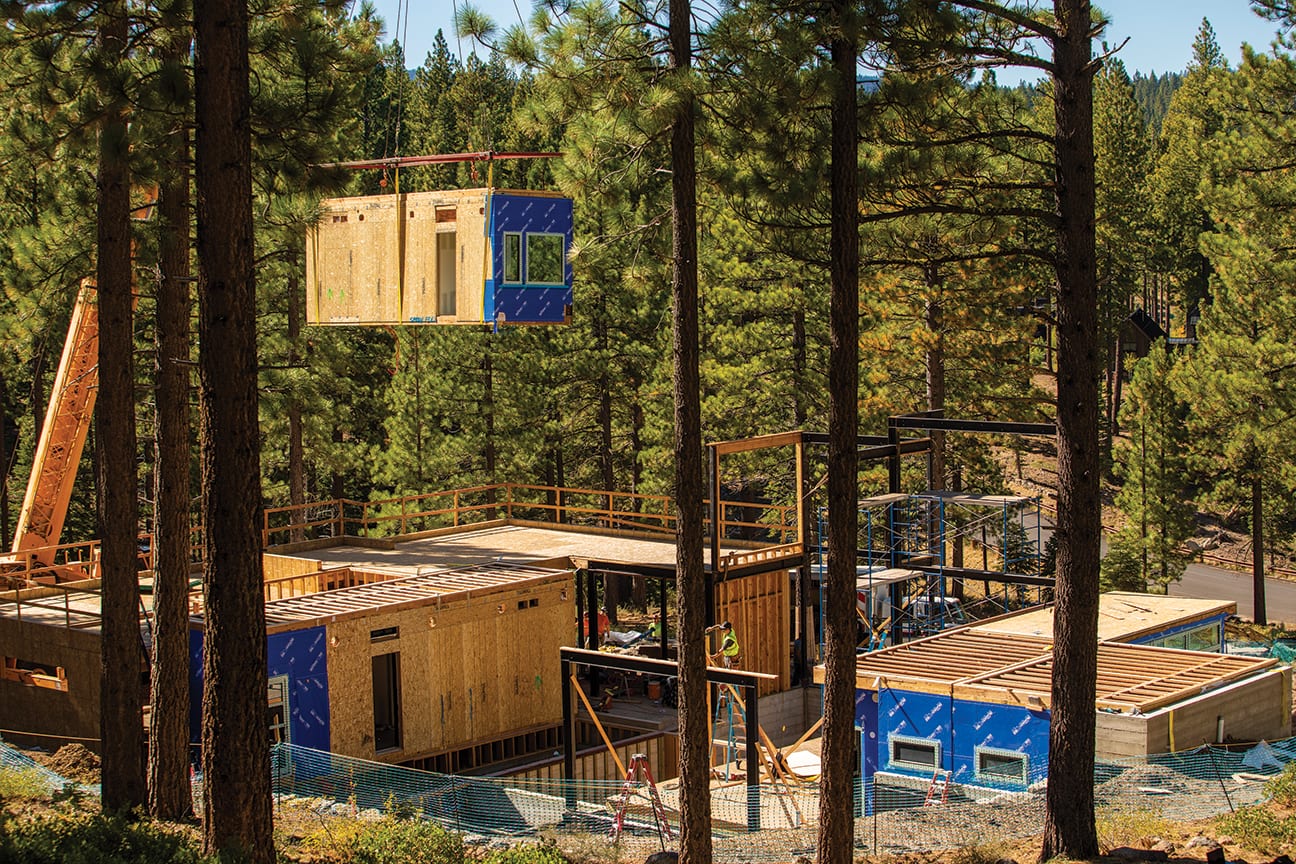 A pre-fabricated room, known as a mod, is lowered by crane during a Daniel Fraiman Construction build in Martis Camp, photo by Ryan Salm
23 Feb

Modular construction gaining traction
The trend is increasingly prevalent in Tahoe's high-end custom housing market
Speak the words "modular construction," and they are likely to conjure misconceptions in the listener's mind. Visions of a doublewide house on the back of a big-rig are likely to vie with rows of mobile homes arrayed in a park.
But modular construction is neither of those things.
It is a burgeoning trend in the construction industry that offers builders and clients certain efficiencies over conventional construction. In the Truckee–Tahoe area, where the trend is gaining traction, modular construction is particularly thriving at the higher end of the housing spectrum.
"I'm building three houses in Martis Camp right now," says Daniel Fraiman, owner of the eponymous construction company in Truckee. "One is 8,000 square feet, the second is 7,000 square feet and the third is 6,000 square feet."
All three are modular. 
Modular construction is a process in which a portion of a house is built off site in a factory under controlled conditions but using the same materials, building codes and standards as so-called stick-built houses. 
The components of the house, commonly known as mods, are transported from the factory and assembled on site, box by box, often with many of the rooms entirely finished. 
"One house I worked on recently, the bathrooms were 100 percent complete, down to the tile, the fixtures, the finishes—everything," Fraiman says. "The kitchen was almost completely done with the drywall and cabinets in place."
While the houses arrive box by box on the site, Fraiman's job is then to assemble them like a large three-dimensional puzzle while adding any elements incapable of being addressed in the factory process. 
"Large portions of the house are still site-built," Fraiman says.
Vaulted ceilings, stairways, sliding doors and big windows all must be built in conventional ways outside of the confines of a factory. There are other factors as well. 
"I am bidding one house in Squaw Valley that is almost entirely modular," Fraiman says. "But it still requires a lot of work on our part, including excavation, concrete, paving, utility connections, landscaping, roofing, siding and all exterior finishes."
Regardless of the ratio of modular to conventional building, one thing is constant for Fraiman and other practitioners of modular construction: quality. 
"The caliber of the home is still extremely high quality," Fraiman says. 
Toby Long, an Oakland-based architect who specializes in the design of prefabricated homes, agrees. 
"I've been working in the prefab space for 20 years, and for the first 10 years of my practice, we were swimming against the current because prefabricated homes were associated with low quality," he says. "But things have changed. There's been a bit of a renaissance in this space, and it's nice to be out in front of it."
Long says there are two distinct advantages to modular construction—cost predictability and the pace of construction.
"It's a very predictable process in terms of economics and execution," he says. "Also, it can lead to about 30 percent compression of the construction [schedule] on average, as compared to conventional site construction."
Both Fraiman and Long say clients are initially driven to the process to save money, but there is little evidence that modular construction is dramatically cheaper than conventional methods. 
"What most people find out doing modular construction is that you don't save money, you save time," Fraiman says. 
Transportation costs, combined with inefficiencies in the still-nascent industry and the fact that general contractors still must perform extensive site work to get a house built, means there is not a precipitous drop in price. 
But time-wise, particularly in Tahoe, it makes a big difference. 
"Let's say you start the site work in May, you can start the factory work in March," Fraiman says. "A project that would typically take a year and a half can get done in six to eight months."
Construction season in the Lake Tahoe Basin is particularly condensed, as the Tahoe Regional Planning Agency forbids shovels in the ground on major projects between November and May. Even outside the Basin, the accumulation of snow and other weather considerations shorten the construction season at higher elevations.
But the advantages of modular construction are not restricted to the weather. 
"In Tahoe, it's the best of all worlds," Long says. "Not only do you have short building seasons, but there are very few contractors, limited resources, a lack of available skilled labor and no place for blue-collar people to live." 
Fraiman says there are also the shortage of tradespeople, reliable subcontractors and the high cost of materials in the region to consider as well. As such, being able to build the majority of a given house outside a region with these constraints is clearly beneficial, he says.
A controlled environment also brings other benefits, including the efficient disposal and reuse of construction waste materials and debris. 
"Factories are typically better at managing waste and recycling," Long says.
Earth 911 estimates that 40 percent of waste that ends up in America's landfills is construction debris and unused building materials. 
"There are just so many inefficiencies in construction right now," Fraiman says. "It's the 40 percent waste, but it also wastes so much time with workers walking back and forth from their car, or forgetting a part and driving to the store. If you have your project planned 100 percent beforehand, having it built in a factory just simplifies so many elements." 
But having a detailed plan in place before the workers get started in the factory is crucial. In order for the economic predictability to come to fruition, clients have to be willing to collaborate with designers to establish a specific vision before a single hammer meets a nail.
Long says that is part of the enjoyment of his particular style of design. 
"A lot of the modular world tries to push people into a catalog and have them pick out a plan," Long says. "But my entire brand is a celebration of architecture in an industry not traditionally known for respecting a design process for unique projects."
Long says clients have a number of options when it comes to the marriage between modular construction and design. "There is a natural simpatico between modular building techniques and modern architecture," he says. 
After all, many of the examples of contemporary design in Martis Camp, for instance, feature the minimalistic approach, eschewing curvy flourishes and opting for geometrical shapes and linear lines that express an elegant efficiency. 
"Modern architecture is very boxy," Long says. 
But even those with a hankering for the more traditional mountain cabin style can opt to have much of their house constructed in a factory. 
"You could do a Craftsman-style house, a Forest Service–style log cabin," Long says, adding that much of the work would have to be done on site. 
Fraiman says his workers can build pretty much anything on top of the boxes, meaning clients have a carte blanche when it comes to the final design of their home.
That mixture of assembly with on-site creativity is part of the reason Fraiman enjoys the challenges of modular construction. 
He remembers banging nails just out of college and moving into opening his own business. Because of his specialty with this type of construction, his experience in working with the builders in the factory to make sure orders are executed with exacting specificity has given him a pronounced and stable niche in Tahoe's competitive construction market.
"It's cool being a contractor," he says. "I've done it for most of my life, and now we're just finding better ways to do it."
---
Matthew Renda is a Santa Cruz–based writer.