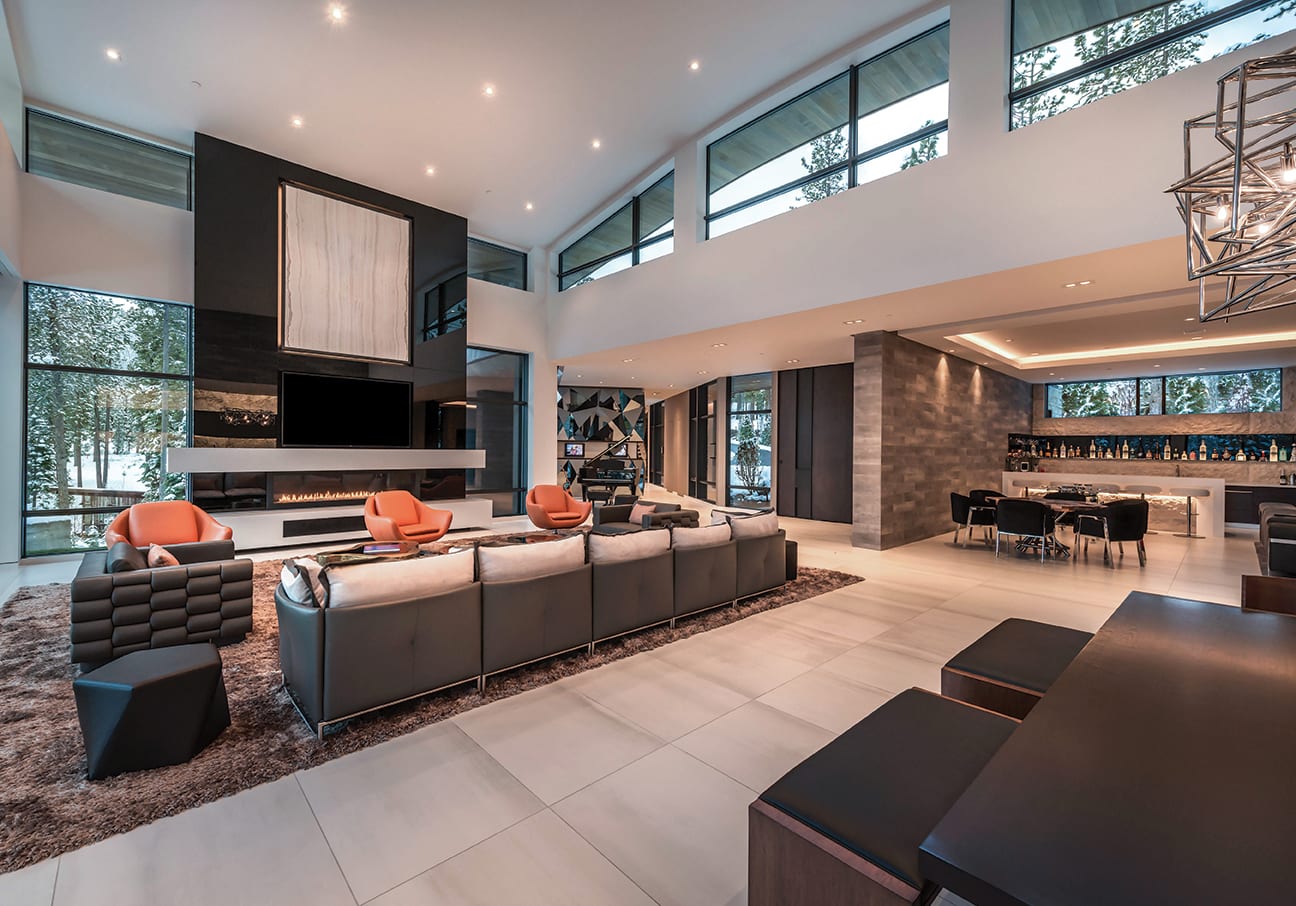 A towering black glass hearth anchors the expansive great room, where clerestory windows provide natural light
23 Feb

Mountain Cool
A fun and ultra hip modern design defines this extravagant Martis Camp getaway
If you want a vacation home where James Bond would live and the Rat Pack would party, you call Ferrugio Design + Associates, the Los Angeles–based high-end interior design firm that worked on a similarly inspired 23,000-square-foot Beverly Hills pad sold to Minecraft creator Markus Persson for a record-breaking $70 million.
That's just what a Bay Area couple did, hiring Joseph Ferrugio to design an ultra modern and cool, 7,199-square-foot getaway in Martis Camp.
"We wanted the home to have a fun and relaxed vibe," says the Bay Area–based homeowner. "Joseph helped us determine that 'fun' was a home that reminded us of our childhood and our children. For me, I always loved music, Sinatra being my favorite, sports, cartoons and James Bond movies. For my wife, it was music, lots and lots of music. And for the kids, it was a combo of music, sports, games and movies."
The couple, who have three teen daughters—15, 16 and 18 years old—and had been vacationing in Tahoe for some two decades, decided to go full-on modern at Martis Camp, where they already had experience building a house.
"We wanted lots of steel and glass," says the owner. "Lots and lots of glass, surrounded by nature, to make us feel like we were outside, even when we were inside. At the time of design, we noticed a lot of either more traditional or mountain modern homes being erected. While nice, we wanted something fun and a little different and decided if we were going to go modern, to go all in."
To bring that vision of clean, elegant lines to life, the couple consulted with Ted Brobst of Ward-Young Architects in Truckee, one of nearly a dozen architects they interviewed for the project.
"The sleek modern style and flowing spaces are unique to a mountain design," Brobst says of the six-month design process, which resulted in the five-bedroom, five-and-a-half bath home. "The owners desired no exposed beams or columns and instead preferred an aesthetic of sweeping curved lines and clean massing. The house demonstrates a forward-thinking approach to what is appropriate and functional in the mountains."
The design and placement of the structure, perpendicular to the street, was largely driven by the long and skinny cul-de-sac lot bordering the golf course.
"You really had to think in linear terms how to lay it out on the lot," says Brobst. "The idea was to stretch it out and maximize views from all spaces."
The owner tested the drawings, spending many mornings and evenings carrying a folding chair to the site to sit down exactly where the living room and back patio would be, to make sure the view at sunrise and sunset "was just right."
All of those parameters in place, the finished exterior reads as a series of painted matte black arced steel roofs, echoed by curving walls anchored in limestone, and a smattering of stained western red cedar siding. Pushing past the oversized walnut-and-steel pivot door leads directly into the expansive and stylized great room, which truly feels like stepping onto a Hollywood set of cool. This is not by chance.
"Our signature approach is to touch all the senses," says Ferrugio, whose firm managed the project from concept to completion, including interior architecture, interior design, decor, as well as the exterior architectural material selection. "From the moment you walk through the door, you are greeted by a vibe. Through smart home automation, the house responds to you in a customized way, with Sinatra playing throughout the corridors and the smell of sweet vanilla in the air, with integrated ambient lighting elements, cove-lit ceilings and backlit art, plus glass and stones."
Giant walls of black and bronze glass and concrete plank tile are juxtaposed with gray-wallpapered hallways, while bedrooms feature walls clad in grass cloth and leather, with soft velvet headboards and fur rugs.
"Joseph was insistent that if he was going to design a modern home of this scale, that 'there could not be any naked walls,'" recalls the homeowner. "He said that high ceilings and only paint would make the home feel large and cold and that he desperately wanted to avoid the feeling of a hotel lobby. With that focus, he designed every room with a wall covering that added texture or three-dimensional wall art to break up the staleness that he felt could come with an ultra modern design."
Nearly every vertical surface in the home either has a custom wallpaper, bespoke tile or custom glass finish that Ferrugio designed, often working directly with manufacturers to create specific colors that are not available to the public. Most of the furniture and artwork was also custom designed and produced by Ferrugio Design.
The central voluminous great room encompassing the living, dining and kitchen areas was designed to be social, comfortable and luxurious: The towering black glass fireplace features a huge backlit vanilla onyx stone slab. Seating is modular, versatile and open—a Natuzzi sofa and various sized hammered brass-and-black glass tables are scattered organically. The dining area's wood table with matching stainless base, two walnut and leather-accented arm chairs, and two walnut benches with integrated leather cushions are illuminated with a stainless steel "fractal forest" chandelier.
The open kitchen counters and island are topped with a highly durable and low-maintenance quartz; the wood veneer cabinets were custom made by one of Ferrugio's L.A. vendors. A backlit "living glass" wall here is Ferrugio's favorite part of the home.
"I have been wanting to do this particular piece for a few years and so happy with how it came out," he says. "The reason this backlit glass is so special is the amount of effort that has to go into its production. First we have to source a fabric, have the fabric dyed, then cut, then sewn and pleated so it can be laminated to fit perfectly between two tempered glass panels and work seamless together when divided amongst six large panels. The custom glass piece took about 22 weeks to complete before it was ready to ship."
The great room flows seamlessly into a rumpus room of sorts where a club-worthy bar features a bottle display cut into a Jerusalem stone–clad wall, accentuated with an LED under-light and charcoal mirror. The same stone carries over to the fireplace, flanked by two built-in storage benches that are stocked with games for family and friends; a built-in flatscreen and recliner sofa are at the ready for watching sporting events or movies.
Ferrugio Design made the six-person card table constructed from nine of the rarest and most exotic woods as well as the crystal foosball table. The 9-foot-tall Frank Sinatra painting is inscribed with the lyrics to the owner's favorite song (It Was A Very Good Year) and the names of the three children. Though designed to be part of the main living area, this space can be closed off with ceiling-suspended, 11-foot-tall, soundproof, embossed leather pocket door panels.
Underfoot throughout the great room and hallways, large-format Italian-made porcelain tile imparts a more finished look than the typical modern concrete flooring. The bedrooms boast hand-selected European oak flooring with a light gray oil wash for a warmer feel.
Jaw dropping as the interior decor is, it's framed by Mother Nature's artistry, with forested views of the Carson Range and Northstar's Lookout Mountain through the many full-height and clerestory windows, as well as the lift-and-slide glass walls, allowing for unobstructed vistas and that indoor-outdoor connection. Just beyond lies a rail-less terrace with fire pit and seating overlooking the golf course.
Windows, such as the one at the end of the corridor that leads to the master bedroom and office, break up hallways visually as well as contribute to that modern open and light feeling.
The remainder of the house radiates to the right of the entryway, where the gleaming Bosendorfer grand piano reflected in a three-dimensional fractal mirror wall serves as a reminder that music takes front and center stage in the home. Along the hallway, digital photo frames with changing family images line the walls; a steel-and-glass floating staircase leads upstairs to kids' and guest bedrooms, including a four-bed bunk room.
The back of the house includes a porte cochére for the golf cart, as well as a detached glass-walled "art lounge" that doubles as guest quarters. Though the primary purpose of the space is for kids and adults to experiment with painting, music and any other art forms, a Murphy bed tucked away into the storage wall and full bathroom provide for additional accommodations.
The construction of such a stylish property required extreme attention to all aspects of buildout.
"Modern homes that are architecturally creative and also contain detailed interior design elements are often the most challenging yet enjoyable projects to work on," says Mark Neave, whose NSM Construction served as general contractor. "The team constantly worked ahead to resolve any challenges and diligently think through the assembly and finish details."
The end result is indeed sleek, functional and fun for this family and their friends. As for James Bond and the Rat Pack in Tahoe? On Ferrugio's desk is a little saying: "Expect the unexpected." To be sure, this home is all that, and more.
Award:

Grand Design
Building Design: Ward-Young Architects
Builder: NSM Construction
Interior Design: Ferrugio Design + Associates
Square Feet: 7,199 (main house); 327 (art lounge)
Year Complete: 2017