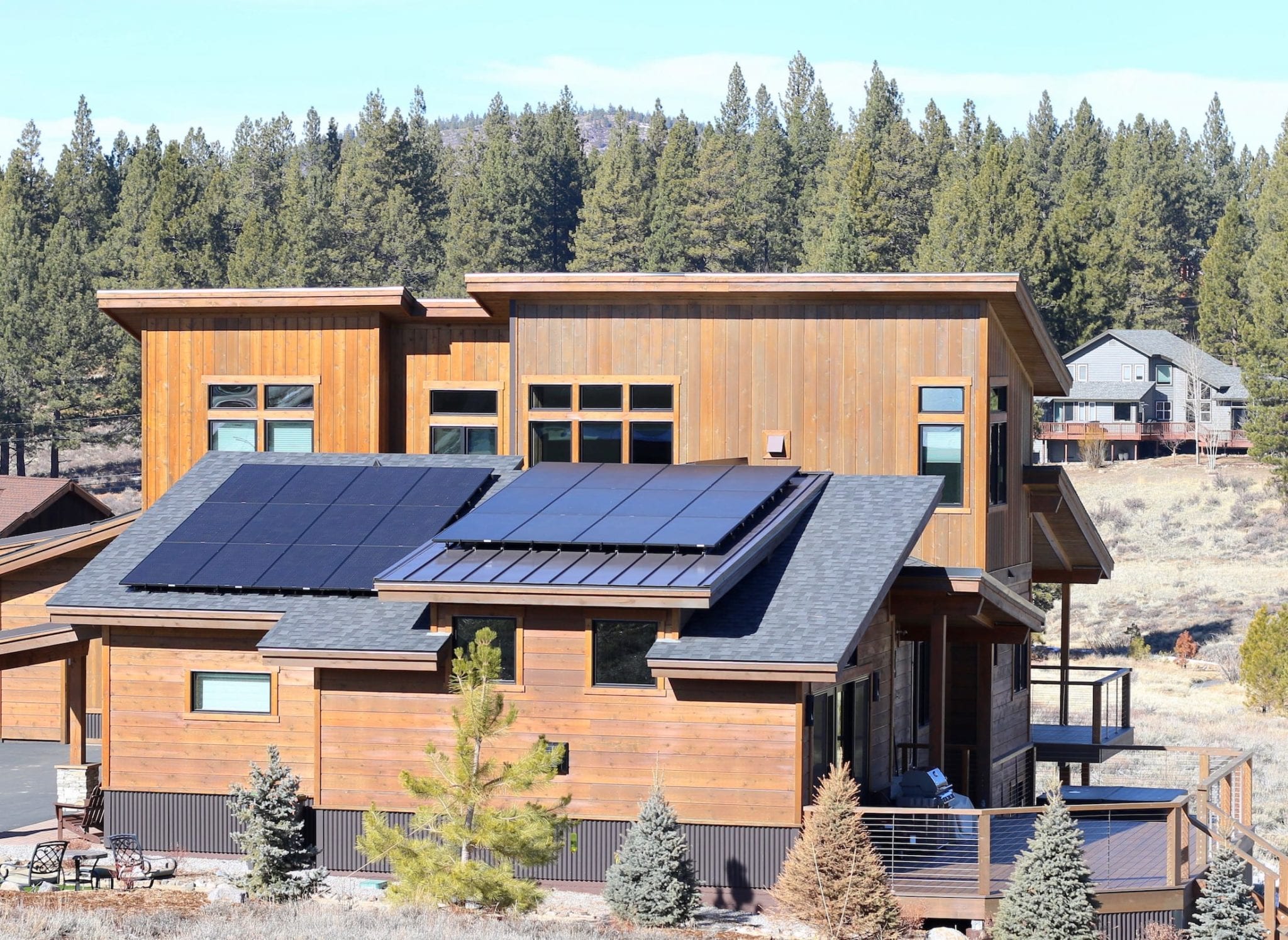 A solar-powered home in the Glenshire area takes advantage of its sunny site, photo by Sylas Wright
23 Feb

The Rapid Rise of Solar

In 2016, the United States hit a renewable energy landmark: One million solar installations on homes and buildings dotting the country. Three years later, that number doubled, reaching two million in 2019, according to the Solar Energy Industries Association.   

Now, thanks to new regulations set by the California Energy Commission, the number of homes powered by the sun will continue to surge—especially in the Golden State.

Beginning this year, newly constructed homes in California are required to be equipped with solar panels. With the new set of standards, California became the first state in the nation to make solar power mandatory for new houses. The code, which went into effect January 1, 2020, applies to single-family homes and multi-family homes that are up to three stories high.

Jeff Bender, a self-proclaimed "energy nerd" and owner of Bender Engineering and Construction, says the California Energy Commission is "finally going in the right direction" with the new law. 

"The only way to get to carbon neutral and 100 percent renewable energy is by not using fossil fuels," he says. "There's this quote I like: 'Science is true whether or not you believe in it.'"

Aside from believing in the science of solar energy and the environmental benefits it provides, Bender says his Truckee-based business—a consulting firm that provides energy-efficient services—will also benefit from the solar mandate.

"Every single brand new home, I'll get $500 to $1,000 or so worth of more work," he says.
Housing Impacts
While the move is a massive leap for California and its goal of a fossil-free future, it doesn't come without concerns. In Truckee-Tahoe, people focused on fixing the local housing crisis are worried about the impact the new law will have on the area's already expensive housing market.
All told, the median home price for all of Lake Tahoe in 2017 was $490,500, a price that only 21 percent of locals can afford, says Heidi Hill Drum, CEO of the Tahoe Prosperity Center, which works to bring more affordable housing projects to the region. 
The solar mandate will add between $8,000 and $10,000 to the upfront cost of a new home, according to the California Energy Commission.
"If you are a homeowner and you can afford to finance it into the cost of building your new home, it probably won't impact you significantly," Drum says. "But, it will if you are someone who is looking to get into a more affordable home in the Tahoe region."
Though Drum say she personally supports going solar, she made it clear that the Tahoe Prosperity Center has not taken a position on the new legislation.
"As an economic development group that cares for the environment and economy, I think it's natural we would want to be in support of it," she says. "But if you look at it straight across the economic landscape, unless the state is going to provide funding to offset the cost (of adding solar), requiring solar could negatively impact future affordable housing projects."
Steve Frisch, CEO of the Sierra Business Council, a consultant to the Truckee-based Mountain Housing Council, agrees.
"Increasing the cost of a single-family residential unit is, of course, going to mean it's a little bit tougher to get into one of those units for a lot of people," says Frisch, noting the Mountain Housing Council has not taken a position on the law, either. "The point that this will make additional construction more expensive would have a tendency to increase housing costs. I think as California is moving forward with policies like this, they're going to have to look at what other public policy solutions they can put in place to try to drive prices for housing down in other ways."
Frisch, however, says the long-term cost savings of adding solar makes the mandate "a bit of a double-edged sword."
For residential homeowners, based on a 30-year mortgage, the California Energy Commission estimates that the standards will add about $40 to an average monthly payment, but save consumers $80 on monthly heating, cooling and lighting bills.
"The case (for or against the law) could really be argued either way," Frisch says.
Shady Situation
Tucked in a corner of California enveloped by mountains and forests, the Tahoe area, naturally, has its share of heavily shaded land. Which brings up the question: Do homes shaded by trees have to comply with the solar mandate?
The short answer: No. Properties that receive an abundance of shade, as well as houses with roofs too small to accommodate a solar panel system, will be eligible for exceptions or alternatives to the mandate, according to the California Energy Commission.
Builders in Tahoe and throughout the state have two options under the new law: construct individual homes with solar panels or build a community solar project—that is, a shared solar-power system serving a group of homes.
"I appreciate the spirit of the law because I support the idea of going solar wherever possible," says Cory Hannaford, co-founder of South Lake Tahoe–based Sierra Sustainable Builders. "There's an incredible amount of potential in the rooftops in California that's not being tapped.
"At the same time, I know that a one-size prescription like this can be very tough in terms of not all sites are suitable for it and not all budgets can handle it. When you're building a home, it's already expensive."
To that end, Mark Tanner of the eponymous construction company in Truckee, says he expects the mandate to cause a ripple effect over time, with solar becoming more affordable.
"I think we'll start seeing solar panels and labor costs go down, so it will become less expensive to install," he says.
In terms of compliance, Tanner says local jurisdictions will be in charge of checking plan submittals to make sure requirements are met, while consultants, such as Bender, will do the energy calculations to make sure the house is passable.
On average, about 80,000 new homes are built in California each year, with about 15,000 equipped with solar installations, according to the California Solar and Storage Association. In all, at the current rate of home building, the new requirement will raise the annual number of rooftop solar installations by 44 percent.
During the course of a three-year cycle under the new solar law, California will reduce greenhouse gas emissions by 700,000 metric tons. That's equivalent to taking 115,000 gasoline-powered cars off the road.
Those types of powerful impacts on the environment are why people like Frisch ultimately feel the first-of-its-kind mandate is necessary for California to survive and thrive.
"Our entire regional economy is dependent on stabilizing the climate at some point so that we don't lose the attributes of the place that make it really special," Frisch says. "We live here because of the climate of the mountains, and that is so clearly being impacted by climate change. We're going to have to make some changes in order to achieve that. And this is one of them."