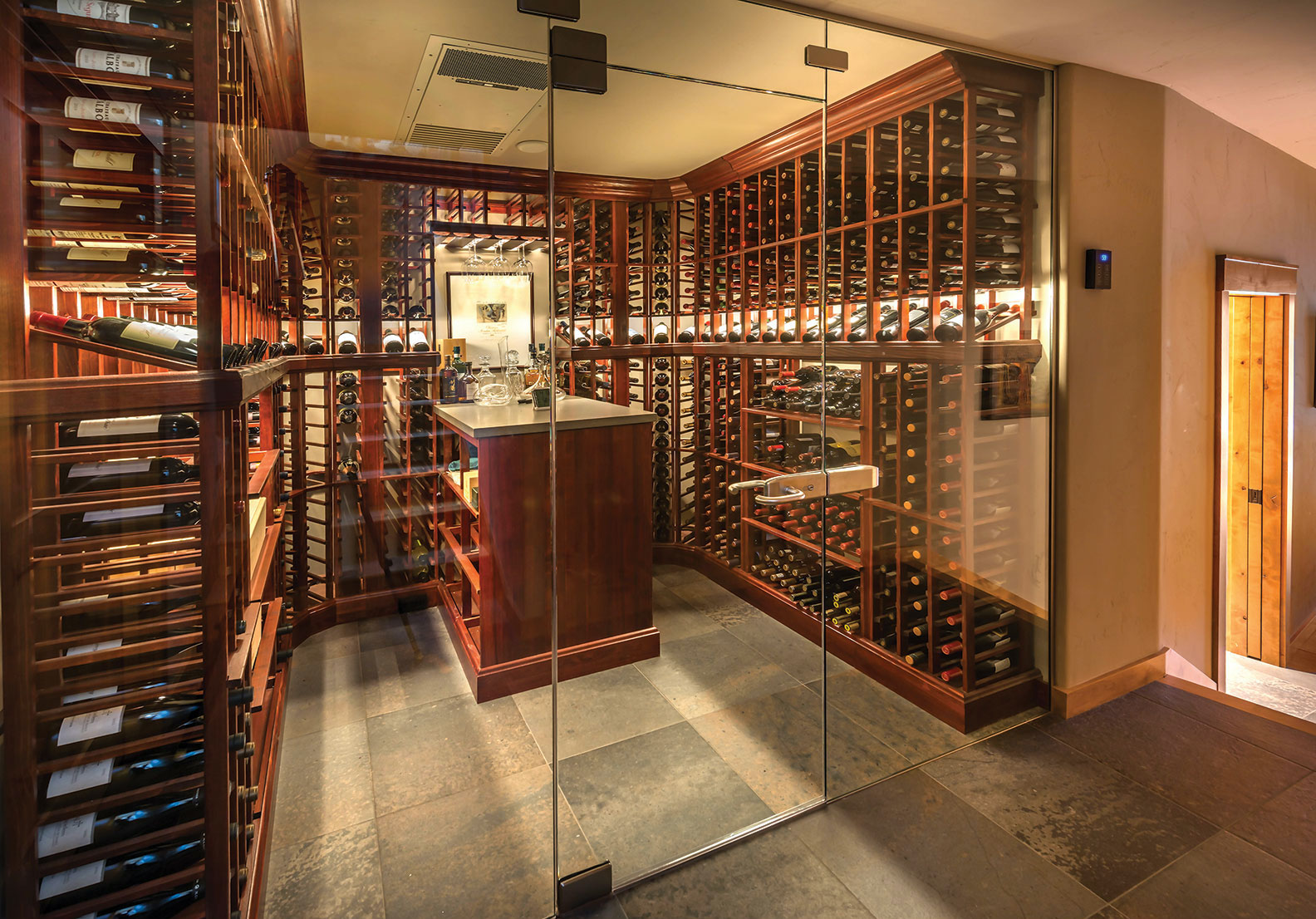 A home cellar such as this one built by Tahoe City based Welling Construction will beautifully and properly store wines for years to come
19 Feb

Building a Better Wine Cellar
With some planning, you can create the perfect place to store your favorite bottles
Ever spent an afternoon sipping wine in some fantastic setting and fantasized about building a really cool home cellar? Or in more recent months found yourself stocking up on favorite labels but run out of space to stash accumulating inventory? Perhaps you've simply outgrown the small wine fridge beneath the bar? Protecting oenological investments large and small requires some planning. We asked a couple of local experts how to build a better bottle storage space.
The first step is to consider the square footage and room with which you have to work. Whether that ends up closer to closet-sized or cavernous, placement is important.
"The best cellar environment is a cool, dark place with no light, ideally at the bottom level or underneath the house where it's easier to maintain consistent temperature and humidity," says Chris Barkman, who, with his wife Kelsey, is co-owner of Uncorked Wine Bars and retail shops in Truckee, Tahoe City and the Village at Squaw Valley, plus Petra Wine Bar in the Village at Northstar. A stable, consistent temperature between 55 and 59 degrees Fahrenheit, "give or take a degree or two," is ideal, adds Barkman, a master sommelier and certified wine specialist.
Whether considering new construction or retrofitting an existing space, creating a consistently reliable wine storage space in conjunction with a qualified building contractor, such as Brent Welling, owner of Tahoe City-based Welling Construction, will help make sure that the bottles you buy and store will keep.
It's important to get heat calculations on walls, floor and ceiling and determine what sort of insulation and vapor barrier are required to keep the temperature and humidity constant, says Welling, who has built many wine cellars around North Tahoe and Truckee over the years.
Spray foam insulation is preferable because it doubles as a vapor barrier, Welling says; fifty percent humidity is ideal. "If the humidity is too low it can start to crack all the corks and spoil the wine," he says. "If it's too high it can mold the cork and damage the wine labels."
Since light exposure can affect the taste of wine, lighting timers and/or sensors are helpful, says Welling. Incandescent illumination can increase room temperature, so LED is a better option. For the same reason, windows are not recommended, he adds.
Vibration from appliances or mechanical equipment is also verboten in your wine room, as it can integrate sediment into the wine, affecting the taste and quality and accelerating the aging process.
For finishes such as racks and cabinetry, woods such as mahogany, redwood and cedar hold up to humidity and are easy to work with; stone is solid counter material. Underfoot, Welling says to stick with concrete or tile—never carpet, which holds moisture and mold.
Not always necessary but often advised, cooling units are used to control temperature and humidity and come in three formats. A self-contained version with evaporator and condenser together in one unit that transfers heat into an adjacent room is most affordable and easiest to install, but can be noisy. A split system puts the evaporator in the cellar and places the condenser in an adjacent space or elsewhere in the house, while a fully ducted system stashes all of the equipment wherever convenient.
Last but not least, a door with some insulating value or weather stripping will help keep the environment stable.
Ultimately, says Welling, "you can make a wine room anywhere you want, it's just going to be more expensive."
A well-built wine cellar deserves to be well-stocked and organized. Barkman recommends storing bottles by varietal and region, segmented and sorted by price and time until ready to drink.
With some three decades in fine dining, brand management, wine distribution and sales, and a broad-based knowledge of producers and portfolios, Barkman enjoys advising novice and experienced aficionados on wine purchases and offering a one-stop cellar-stocking shopping experience.
"I always try to go a little outside of the box because I want to expose people to wines that they didn't know they loved," he says.
Proper storage—and patience—is part and parcel of a wine's charms; a little something magical happens to a wine in its evolution in a bottle, especially when it's farmed well.
"You don't want to sit on wine for too long and don't want to open it too soon," says Barkman. "When a wine is aged properly and you open it on that day when it's ready to be consumed and it blows you away, it's a pretty special thing."
---
Incline Village-based writer Susan D. Rock is Tahoe Quarterly's longtime Food & Wine editor.