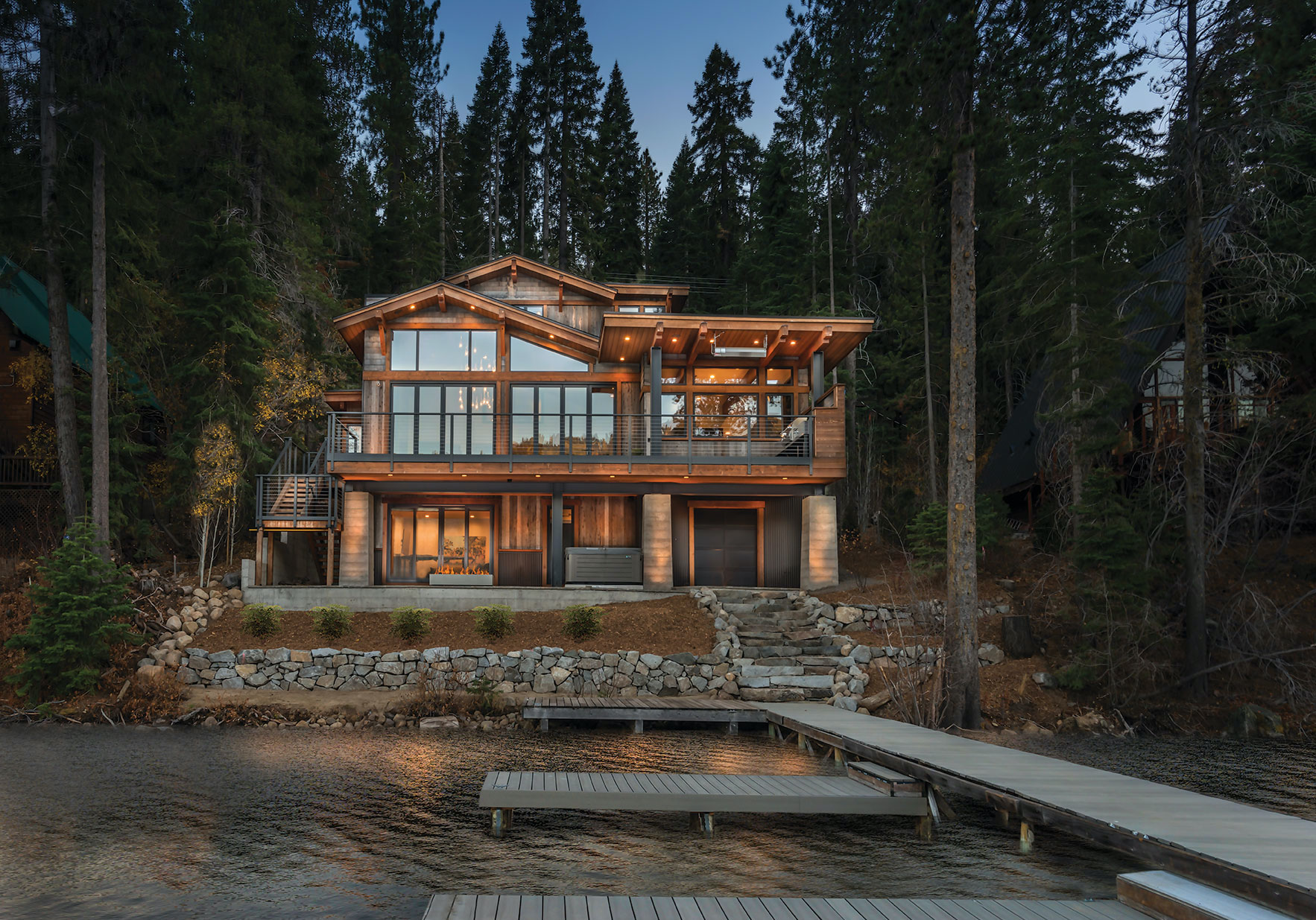 This Donner Lake home is intended to serve as a sort of summer camp for its three sibling owners and their families
19 Feb

Donner Delight
Siblings tear down their family's aging lakefront cabin and rebuild a summer camp designed for generations to come
What do you do with an aging lakefront vacation home that's deeply treasured but in disrepair?
For a trio of siblings whose Donner Lake cabin has been in their family for generations, the answer was clear: Tear it down and start again, creating a new gathering place for future generations to enjoy.
What they conceived was far from ordinary. In fact, it was unlike anything architect Jason Wooley, owner of Truckee's Lot C Architecture, had designed before.
"From the very beginning, they surprised me with a very unique vision," says Wooley. "It's just very different. It's not a house, really. It's more of a summer camp."
Making the most of a steep, narrow lot off of South Shore Drive, this nearly 5,000-square-foot family compound stair-steps down the slope in three tiers. A garage sits at the top, a bunk and bedroom level in the middle and, below that, a two-story lakeside structure that serves as the social hub—with a grand and inviting great room with elevated views of Donner Lake through a wall of glass.
"While it is a very big and impressive house, the owners wanted it to feel comfortable and relaxed," says Seamus Gallagher of Truckee's Gallagher Construction. "They always talked about the great memories they had, just being at Donner Lake and enjoying the lake and enjoying the mountains and enjoying family—so it wasn't about having the biggest house, or something to show off, but much more about having something for their family, for the future, to continue spending time at Donner Lake."
The lake side of the house is outfitted for fun with two exterior decks, including a "floating patio" that extends off the second-story great room, as well as a ground-level covered patio with a hot tub and fire pit. A conveniently located "toy garage" designed to house the owners' Sunfish sailboat collection opens to stone staircase that steps down to a pier.
The home's exterior is clad in an attractive mix of cedar shingles, Bodie Ghostwood and dark bronze corrugated metal intended to protect against accumulating snow. Interior designer Meghan Gallagher worked with the owners to select the exterior siding and stain colors, as well as all the hard-surface finishes, fixtures and colors throughout the interior.
Her talents shine in the great room, in particular, which stands out as Seamus Gallagher's favorite space in the home.
"There are so many areas to gather and socialize," he says, "including the kitchen, dining, living room, nook and bar areas, yet they all have this incredible lake view and intimate feel."
The great room houses a sleek hot-rolled steel fireplace with a custom concrete hearth—flanked by a bar on one side and a reading nook on the other—along with structural timbers, tongue-and-groove fir ceilings and hand-scraped hickory flooring. A dazzling multi-pendant light fixture hangs from the ceiling over a large sectional couch, which is perfectly positioned to drink in the lake views (the owners selected the furnishings with help from Etta Cowdrey of Studio V Interiors).
Beyond the sliding glass doors, the "floating patio" is supported by concrete pillars, giving the space a feeling of airborne stability. Belgard pavers keep it easier to care for than a classic wooden deck. The game room downstairs, which opens onto a terrace with a hot tub and fire pit, is complete with a pool table, working roulette wheel and wet bar. 
Foregoing any master bedrooms, the siblings instead opted for three equal-sized en-suite bedrooms, even giving up lake views on two of the rooms for the concept. With the siblings having extended families of their own, Wooley designed the downstairs level to provide additional sleeping space in splendid summer camp fashion.
This level is divided into two bunk rooms separated by gender. Each wing can comfortably sleep eight in beds alone, and potentially more along cushioned benches hugging the wall.
Nearby is a grand mudroom reminiscent of a locker room at a cozy lodge. A row of wooden cabinets offers plenty of separate storage spaces, while the floor—designed to look like concrete but actually made of porcelain—is intended for easy cleaning and unfussy entries.
Absent from the design are many hallmarks of primary residency, including sweeping closets, or much closet space at all, for that matter. "The way it works is that everyone just comes with their own duffel bag," says Wooley. In place of these common features are a number of details catering to the comfort of large—albeit part-time—crowds, including a spacious kitchen and dining area opposite the fireplace in the great room, plus space for three sets of washers and driers.
All told, Wooley estimates that 30 people could comfortably share the house at once, which was exactly the family's intention.
But in order to enjoy this future together, the siblings first had to part ways with the past: an aging A-frame cabin that had been purchased by their parents in the 1960s. To honor the space where they'd shared so many memories, the family opted to spend one more summer in the cabin. That meant a bit of a late start for Gallagher, who began excavation in the fall and pushed framing into the winter months.
The property's steep grade added its own twist to the construction timetable, forcing building to start at the bottom and work its way up, in order to facilitate the flow of materials needed to build each tier. The presence of power lines at the top of the hill impeded the process as well. In fact, Gallagher's team summoned the assistance of one of the largest cranes in the region to swing materials over the lines and lower them all the way down.
The tricky layout and meticulous process also meant crews were corralled to working on just one space at a time, to avoid "literally building ourselves into a corner," says Gallagher. And it was all done without the usual cover of the garage—in this case built last, but usually built first and used throughout construction as a storage space for tools and shelter from weather.
Despite the challenges, the project team delivered, bringing the siblings' dream to reality.
"They've had this property for 50 years and, arguably, are going to have it for 50 more," says Wooley. "It's truly timeless—a modern-day family heirloom built to be appreciated for generations."
Award:

Lakefront
Building Design: Lot C Architecture
Builder: Gallagher Construction
Interior Design: Gallagher Construction and Studio V Interiors
Square Feet: 4,956
Year Complete: 2017