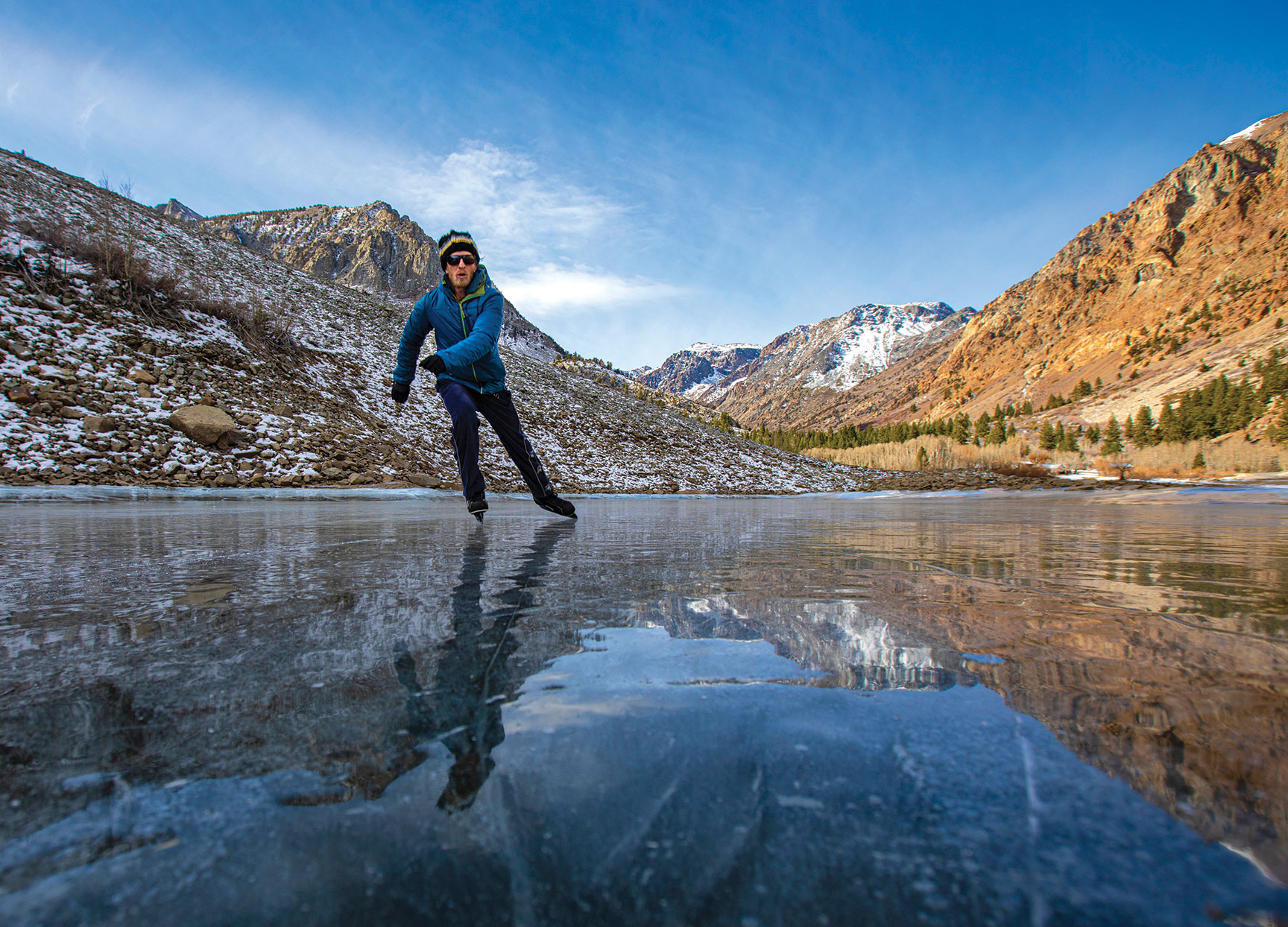 Author Ryan Salm catches a stunning selfie on a 5-inch-thick section of black ice in the Eastern Sierra
19 Feb

In Pursuit of Wild Ice
For a few fleeting weeks each year, Mother Nature transforms high alpine lakes into surreal rinks enjoyed by adventurous skaters
Gliding across a clear alpine lake, the crisp Sierra air stinging my face, I found myself flashing back to some of the fondest memories of my youth.
Suddenly, I was 7 years old again, stepping out of my dad's car on a frigid New York morning, walking with a mix of trepidation and excitement into Ebersole Ice Rink, home of the White Plains Plainsmen.
I loved playing hockey. The temperature was often subzero and the mites, ages 8 and under, got the earliest ice time on the outdoor rink. Too weak to tie my own skates, I relied on my dad's strength to lace up my size 5 Bauers with no wiggle room to spare.
As the rink door creaked open, my worries drifted away with that initial slide on freshly Zambonied ice—my skates crunching over the shiny white surface, my frozen breath nearly obscuring the quick pass from my 4-foot-tall teammate.
I never made it as a hockey player. But I always kept a pair of ice skates, along with a puck and stick, stashed deep in my gear closet.
In November 2020, I channeled a slice of my 7-year-old self. Not on an ice rink, but on the frozen surface of a beautiful backcountry lake. While this awe-inspiring form of adventure is relatively new to me, it turns out that there are various groups of ice-skating diehards in Tahoe who are always on the lookout for "wild ice."
Finding Wild Ice
Figuring out when and where to go backcountry ice skating takes some trial-and-error and a little exploration. But with so many lakes in the Tahoe area, and the Sierra in general, the possibilities are endless.
"You start by looking for what might be frozen," says Matt Duniho, an avid backcountry ice skater and owner of Squaw Bikes. "I am watching the weather systems. I am watching the elevations of lakes and the potential for ice. Finally, I am thinking aesthetics. Which ones would be cool to skate on? The ones that are remote and extra scenic are the most fun for me."
Many factors play into the creation of good alpine ice, including wind, rain, snow and temperatures. When Mother Nature cooperates and the lakes start to freeze, there is a brief window to take advantage of these pristine skating surfaces before they deteriorate.
Any precipitation that falls after the ice is formed will most likely modify the surface. Snow and rain adhere to the ice and cause a wide variety of bumps, snowdrifts and full-on coverings. Wind also has negative effects, with the potential to blow into the cracks and eventually wear down sections of thin ice. The result may be areas of open water on an otherwise frozen surface.
With no instruction manual on backcountry skating, most rely on observation, intuition and common sense. The key metric is the thickness of the ice. While some people are happy skating on 2 inches, you want to make sure that the ice is solid and consistent. Drilling an ice screw gives you a great read on the thickness. Chances are, the surface thickness will vary based on positioning and sun exposure, so it's always good to take a few readings.
"There are varying opinions on thickness," says Duniho. "You look at conditions and make a judgement call. You start to reach the real safety threshold at 4 to 5 inches." That said, newer ice, which is thinner, is also smoother and cleaner. 
One of the most intimidating factors for first-time skaters are the constant cracks and moans emanating from the frozen surface under your skates. Fluctuations in temperature, expanding and contracting, and overall shifting in the layers of the ice lead to a wide variety of sound frequencies, making the experience that much more surreal. The ice is always talking, as if it is alive underneath you.
Backcountry Bliss
Winter in Tahoe started cold and dry. While bad for skiing, it was the perfect recipe for wild ice. So, after skating a few smaller Tahoe-area lakes at around 7,500 feet in elevation, my crew of Duniho, Jason Layh and Tina Smith set our sights on grander objectives.
We settled on Tioga Pass, the Eastern Sierra access to Tuolomne Meadows and Yosemite National Park, where we planned to pedal our e-bikes as high as we could with the hopes of skating a collection of alpine lakes. As the first rays of sunshine hit the road, we set off in pursuit.
On my back I carried food for the day, a wide variety of clothing for any sudden changes in temperature, and camera equipment. On my bike I loaded a pair of Bauer hockey skates, traction spikes for walking on ice, ski poles and a puck. I bungeed a hockey stick to the frame.
We passed our first frozen lake 8 miles in, at 9,500 feet in elevation. Though thoroughly frozen, it was covered in snowdrifts and we pedaled onward. Within a mile the road itself became a layer of ice and we ended up bike-walking the final 2 miles until we reached our initial destination. After assessing a safe ice depth of over 6 inches, we laced up our skates and toured the lake's surface for the next couple of hours.
Layh and I busted out our hockey sticks and passed the puck around. Like a dog chasing a ball, I found myself sprinting endlessly back and forth on a mixture of smooth and bumpy ice, getting winded by my high-elevation exertion.
With just enough daylight left and winds increasing ahead of an incoming storm, we hopped back on our bikes and descended a half-mile before setting out on a 4-mile roundtrip hike to our final objective, where we were greeted by stunning views of Mount Conness and North Peak. Gazing out on what looked like open water in the foreground, we realized we had struck gold. Sitting untouched at 10,000 feet was over 300 acres of pristine mirrored black ice. 
Duniho drilled in an ice screw. It measured 5 inches. Game on.
My initial strides were nothing shy of amazing. I was immediately reminded of the joy I felt as a kid. Surrounded by the snowcapped peaks of the High Sierra, I glided miles on end as the sun hung on the horizon. Loud "whoomps" and visible cracks streaked beneath my feet as the ice settled under my weight. I'd be lying if I said I wasn't a bit terrified. But that just amplified the level of stoke.
We must have etched out over 30 miles of skating before crunching along the snow-packed trail to our bikes. The wind howled as we zipped down the lonely mountain pass, careful not to crash on the icy sections.
After a brisk night sleeping in our cars, Duniho and I rose early to hit two more easy-access lakes in the Eastern Sierra. Despite my fatigue, I treated each lake as if it were the last ice I'd ever skate, digging in and skating hard into a brisk wind. Given a stiff tailwind, the glide back across the lake bordered on out of control. Luckily, the surface was flawless aside from some sporadic open-water holes that we were forced to dodge.
It was the perfect ending to an epic Sierra adventure.
Meanwhile, closer to home, another high-pressure system rolled in and the temperatures dropped. Just in time for Christmas, a couple of classic ice-skating lakes in the Tahoe area froze over. Echo Lake, for one, provided miles and miles of smooth skating. On Christmas Eve day my family joined a larger group of skaters and hockey players until a chorus of cracks and sounds alerted us that we should head home.
The 2020 wild ice season ended as snow covered the glassy alpine lakes that hosted our adventures. But like knee-deep powder days—or those early memories of chasing a puck across a New York hockey rink—the experience of gliding across some of Mother Nature's most majestic and serene ice rinks will stick with me for a lifetime.
---
Since he was a young mite, Tahoe City-based photographer and writer Ryan Salm has always pursued a life of adventure. Combining this passion with a deep client base and the ability to produce award-winning work keeps him continuously snapping images and creating content.
---
Play it Safe
Like most mountain activities, ice skating on lakes requires good judgement and as much education as you can gather.
A comprehensive safety gear list includes a full change of dry clothes in case you get wet, a medical kit, ice screw, throw rope and ice picks. Having a plan in case of emergency and an idea of how to get out of the water is also a good idea.
And, never go alone.