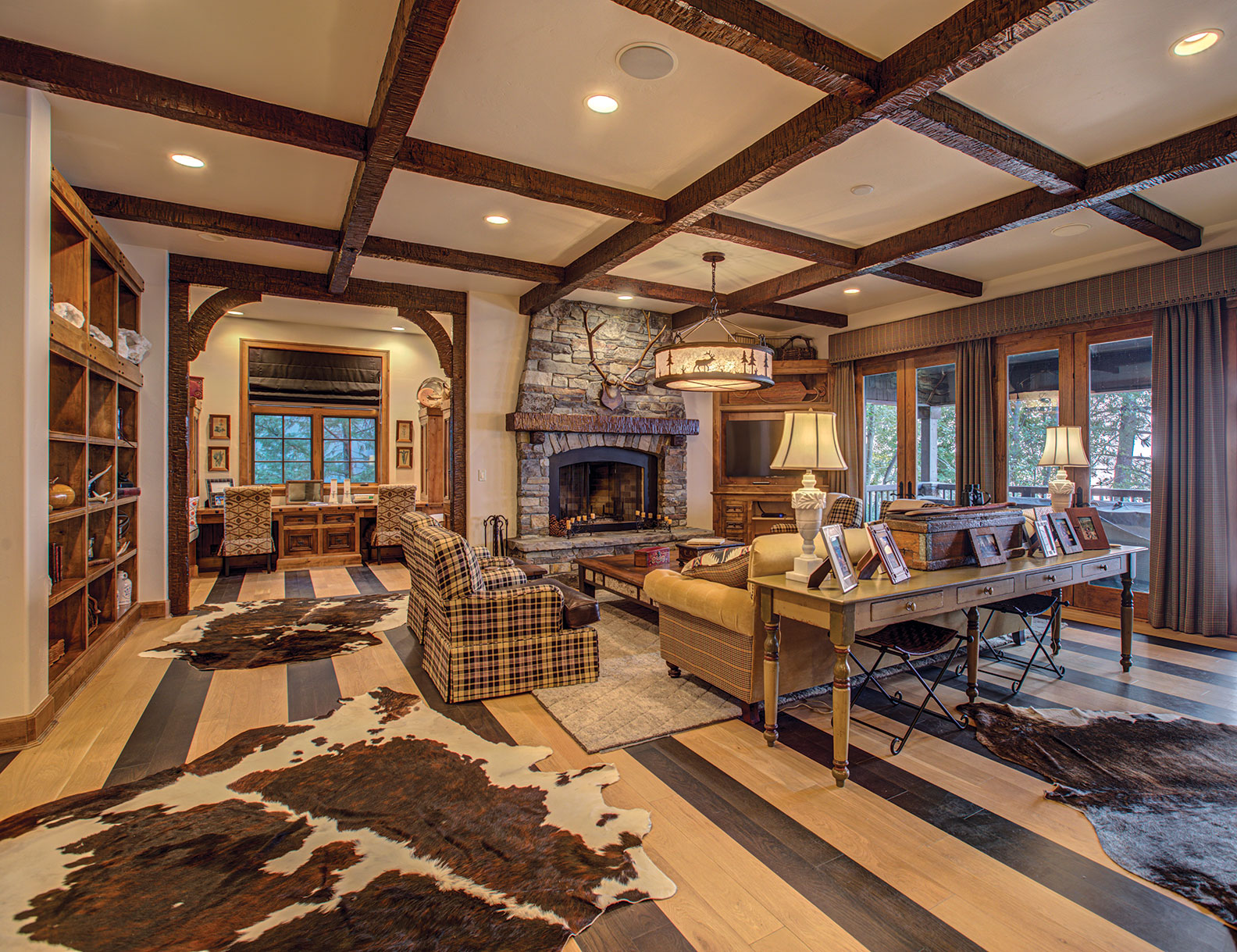 The inviting living room features heavily distressed decorative alder beams, with oak flooring that alternates between a natural tone and black finish
Interior Intrigue
Leave it to a lifelong local to encapsulate the essence of Lake Tahoe in a home design.
Born and raised on Tahoe's South Shore, Bona Sinor, owner of Ironhorse Interior Design, was tasked with designing "the ultimate fun and cozy lake and ski house," with a clear emphasis on Lake Tahoe living. Sinor delivered, working with Tahoe-based Benjamin Fagan Designs and Gardner Construction to create an instant classic on the scenic shores of Zephyr Cove.
At 6,800 square feet, with five bedrooms, six bathrooms and four levels of living, the home features all the modern amenities the owners sought in their vacation getaway, but packaged in an intimate, rustic setting that belies its size and grandeur.
"The design is timeless and sensible," says Sinor. "We used high-quality distressed finishes so there is no worry of damaging anything."
In addition to durable, the owners wanted their home to feel like an authentic chateau in the winter and a bright lake house come summer, with plenty of room to comfortably host their three grown children and families. The husband and wife were highly involved in the design process initially. After conveying their vision, however, they allowed Sinor to run with her talents.
"Once we finalized their design style, they gave trust and let me roll with the design to the end," says Sinor, who took full advantage of the creative freedom. "Almost every stick of furniture is custom designed. I love the process of sitting down with clients looking through catalogs and concept photos and pulling details together to create their own unique pieces."
The result is a warm and inviting interior with stylish elements around every corner. Thoughtfully selected patterns and textures coexist harmoniously throughout, complementing each meticulously designed space.
In the living area on the second floor, a custom barrel Hammerton chandelier with silhouettes of trees and wildlife casts light on custom pieces of furniture. A fireplace constructed of large-scale flagstone, with a tapering keystone feature at the top, anchors the room. Heavily distressed decorative alder beams from Westgate Hardwoods in Chico adorn the ceiling, enhancing the Old Tahoe vibe, while the oak flooring underfoot alternates between a natural tone and black finish.
The living room connects through a doorway to the kitchen. Working again with Westgate Hardwoods, Sinor used knotty alder throughout this space, incorporating intricate details in the trim to make each area feel like its own unique piece of furniture. The refrigerator, for example, received an antique black finish and added storage, setting it distinctly apart from the average fridge.
Beyond the kitchen, a formal dining and lounge area houses a custom wood table and chairs designed by Sinor's in-house fabricator. A fireplace, TV and plush seating lend a homey feel to this private space.
While the third and fourth floors are primarily dedicated to bedroom suites, the home's lowest level features a fun, stylistic game room with access to the lake. The room includes a pool table with a game table alcove, a TV area with a corner fireplace and a wet bar. Sinor and team had fun with the bar, incorporating a large diamond motif on the door fronts, tongue-and-groove backsplash, decorative metal clavos around the bar edge, a pounded copper farm sink, and a natural stone sink base and splash. A full bath allows guests to wash up after playing on the beach.
"I love how playful and durable this home is," says Sinor. "Everywhere you look there are unique and stylish elements. This home stands out without going over the top."
merit Award:

Interior Design
Building Design: Iron Horse Interior Design and Benjamin Fagan Designs
Builder: Gardner Construction
Interior Design: Iron Horse Interior Design
Square Feet: 6,800
Year Complete: 2020