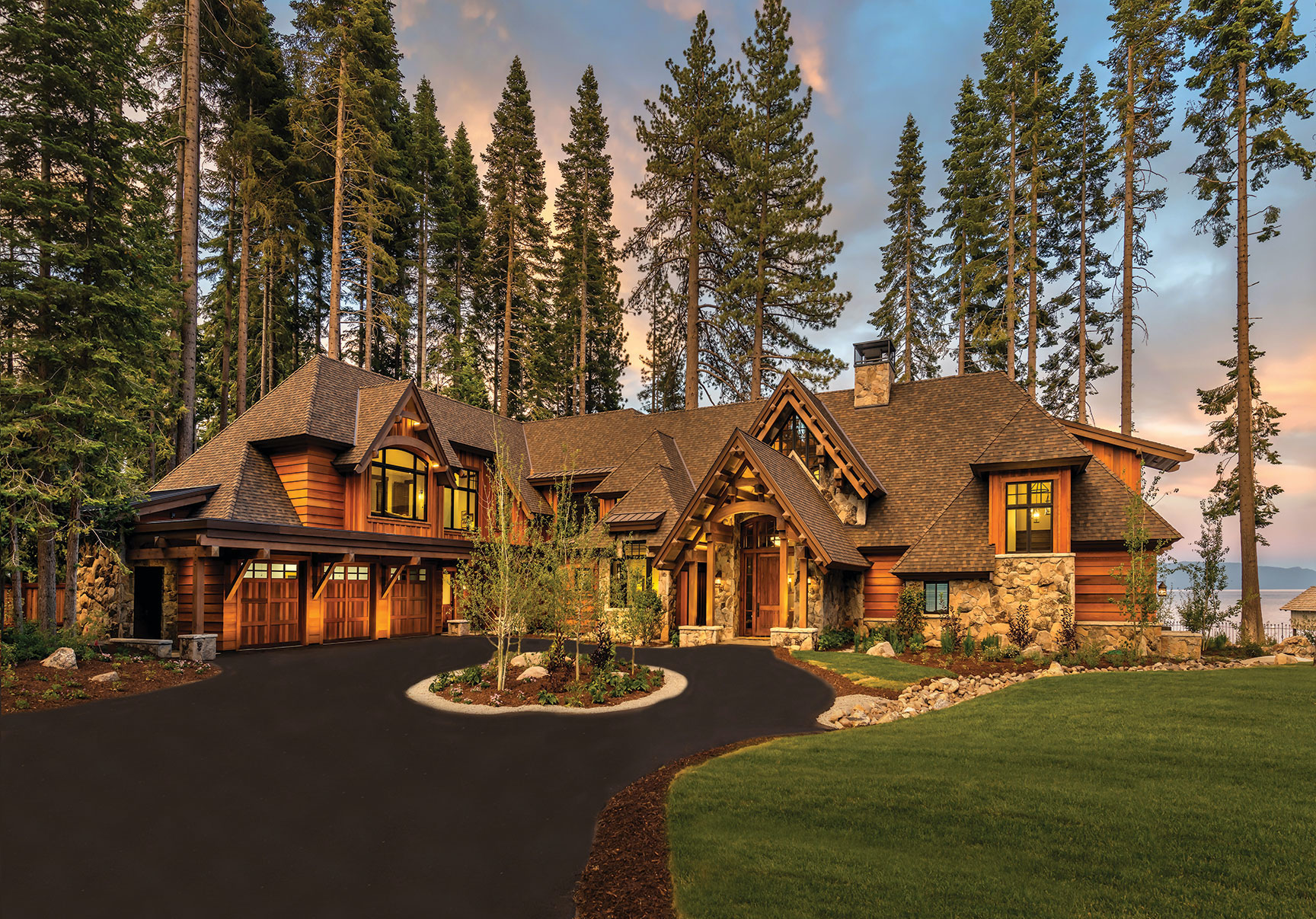 Classic Old Tahoe style is prevalent inside and out of the McKinney Lodge
19 Feb

Old Meets New
Built on the historic Topol Estate on Tahoe's West Shore, the luxurious McKinney Lodge melds classic style with modern conveniences
Grand in appearance, stunning in its details, this true expression of Old Tahoe elegance now graces a historic stretch of lakeshore.
From many rooms of the 8,106-square-foot McKinney Lodge, one has almost the same lake view Michael Corleone had in the 1974 film The Godfather II. The home abuts Fleur de Lac—the historic Kaiser Estate that was prominent in that classic film—with views of the lovely Harbor House, where Michael the don stared out the window to brother Fredo's last fishing trip.
"I wanted to make sure the house kept the historic reference to its neighboring property," says Julie Wallunas, owner and interior designer, referring to the "Tahoe vernacular" that Henry Kaiser incorporated in the Harbor House in 1937.
Her new McKinney Lodge sits on a 1.87-acre property known formerly as the Topol Estate, owned by Nate Topol, who with his brothers Peter and Steve created Topol Pavilion and West Shore Café in Homewood. Topol died in 2013 and his large home went into disrepair, changes in ownership and bankruptcy before Wallunas stepped in. Her company, Wallco Development, has done projects in San Francisco, the East Bay, Los Angeles and Tennessee and she has a lifelong connection to Tahoe, having formerly owned a West Shore lakefront built by Old Tahoe-style proponent Bruce Olson.
Built in the 1940s, the Topol home was a "mishmash of styles," according to Rich Loverde, the builder Wallunas brought to the project. It required plenty of fixes, but "it was not an easy decision whether to tear it down or remodel," says Wallunas. "I saw the potential of the existing floor plan, but it was much more cost-effective to tear it down and build new. We also pulled the house 10 feet back (from the lake) to give us more space."
To fine-tune her vision for the home, she spent many hours in the old Topol place, then brought her ideas to Truckee-based architect Dale Cox. Loverde Builders' building superintendent, Tim Setter, helped guide construction and interior component decisions, and Erin Kelly of Kelly Brothers Painting consulted on finishes and colors.
Key elements of Old Tahoe style, elevated by an impressive attention to detail, are expressed inside and out. From the lake, the home is a melody of huge beams, arched trusses, windows of various shapes and sizes, cedar siding laid vertical and horizonal, and granite anchoring the base. This natural palette also infuses the interior. Alder pickwick paneling and stone flooring in the entryway open into a grand great room with lovely lake views that makes you want to whistle.
"I wanted to capture the lake view as soon as you walked in," says Wallunas.
The lake is framed by a 28-foot-high ceiling supported by the same arched wooden trusses featured on the exterior, these adorned with distinctive custom ironwork and lit by high windows and indirect lighting. The towering space is both elegant and inviting. The floor-to-ceiling stone fireplace, thick casings and walls, and 10-foot-high glass doors with arched windows above complement the room's huge scale.
Details support the overall vision here and throughout the home. The imperfect smooth drywall finish parchment color fits perfectly with the rich wood used in walls, ceilings, cabinets and trim blend. Alder paneling in a master bathroom is comprised solely of 11-foot lengths that stretch from floor to ceiling without seams.
Oh, those master bathrooms. Two master suites adjoin the great room, one above the other, each with spectacular bathtubs with 270-degree views. "The tubs are of a scale appropriate to the house," says Wallunas, "big enough for two. Both bathrooms are private little sanctuaries to take it all in and have that moment." Appointed like a luxury spa, one large steam shower sports a smooth pebble floor; what first appears to be a wood floor in one master bath is actually lovely marble; towel racks are heated; shades disappear completely into thick wooden window casings.
The home's clever floor plan and use of modern technology is also impressive. Each of its six bedrooms has two large locking closets, convenient for welcoming guests, extended family or short-term renters. Guest rooms and a "kid's wing" are on a separate second story, with four utility rooms (one hidden behind a stairway closet) and smart technology controlling different sections of the home. A large locker room and a ski storage room adjoin the hydronic-heated three-car garage. The main house has forced-air heating and air conditioning.
"The home is designed to be very low-maintenance, in part due to the selectivity of sustainable materials both exterior and interior," says Loverde.
Clever features include solar shades that retreat through barely visible slits into thick, arched window casings, with one of the large casement elements actually a thin wooden plank held in place with magnets, giving easy access to the shade mechanism for maintenance. The home's large timbers were dried using radio frequency for months prior to construction to prevent future shrinkage. An upper deck connecting two guest rooms is made of rock pavers, with each paver mounted on a pedestal to a concealed sloping roof below, allowing each paver to be easily removed and replaced.
The kitchen is the heart of this house and embodies its stellar design, technology and clever planning. Located between dining room, pantry, wine closet, bar/entertainment room and outdoor barbecue, a kitchen sink sports one of the home's great views. "We spend a considerable amount of time in the kitchen," says Wallunas, "so you need to be able to look out while cooking and say, 'Wow.'" Multiple work areas, two refrigerators, two dishwashers and a large island—this is a kitchen that cooks, whether for a small family or large event. Cabinets, trim, floors, ceilings and tables throughout this part of the house are a wood symphony of alder, hickory and walnut.
The lake side of the bar and entertainment room opens completely, creating a seamless connection to the outdoor covered barbecue, hot tub and dining area. Nearby are two items salvaged from the Topol Estate: a treehouse and an Old Tahoe-style gazebo, the latter now remodeled with a modern kitchen, barbecue and media screen.
At press time, the McKinney Estate was listed for $32 million. Until it sells, Wallunas will probably spend more hours there enjoying what she and her team created (perhaps in one of those beautiful bathtubs), before moving on with the memory of: "One of the best building experiences I've ever had."
Award:

Tahoe Style
Building Design: Dale Cox Architects
Builder: Loverde Builders
Interior Design: Julie Wallunas
Square Feet: 8,106
Year Complete: 2020