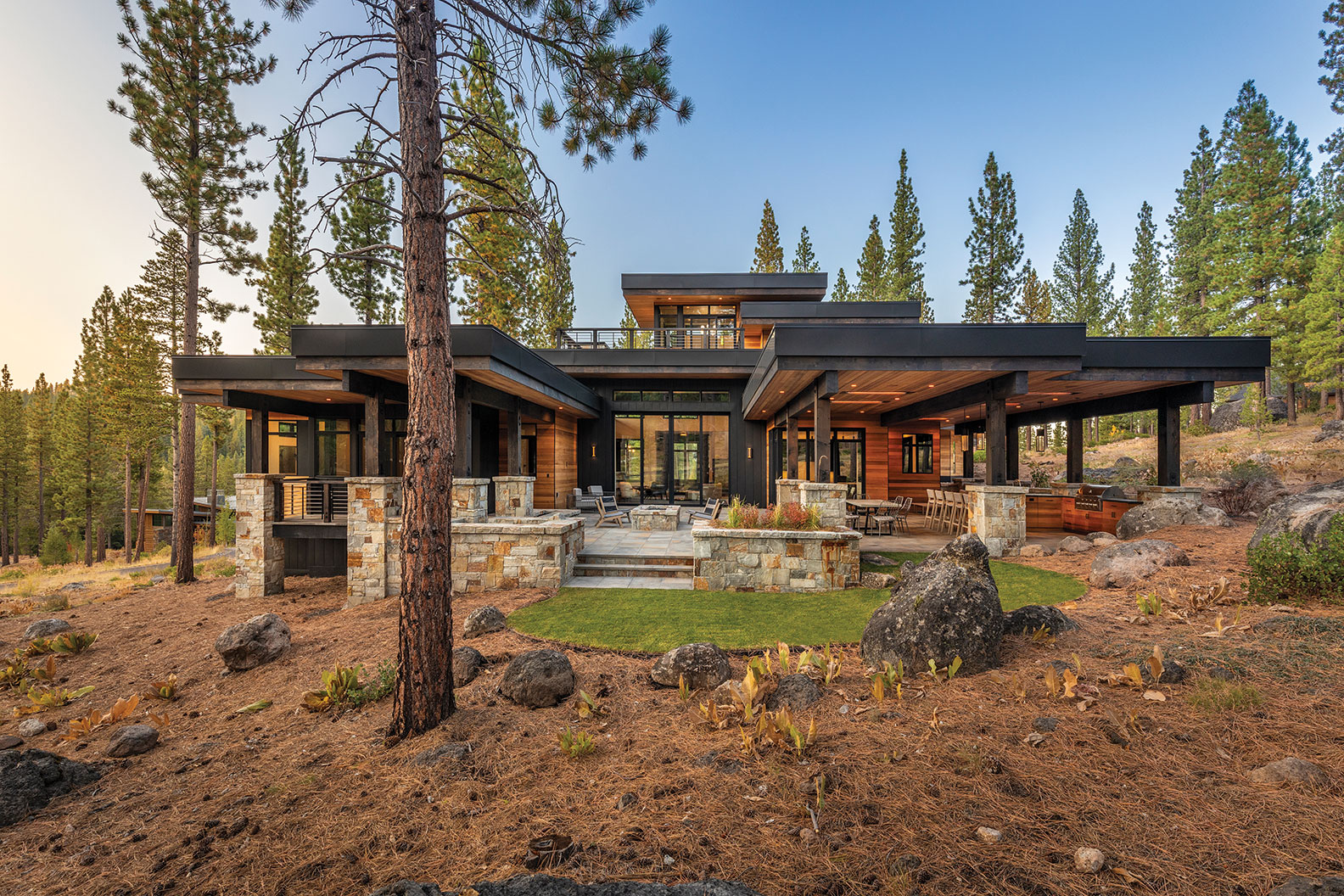 The home features extensive outdoor living spaces both covered and uncovered, along with a chic mountain-modern aesthetic
19 Feb

Spec-Tacular Living
A modern spec home in Martis Camp embraces its location with an emphasis on the outdoors
When Daniel Fraiman looked at the plans for a Martis Camp spec home, he thought it held promise. But then he had what could only be described as a counterintuitive insight.
In an area where the "bigger-is-better ethos" often wins out, the Truckee builder instead envisioned a trimmed-down version of the original drawing, with a honed emphasis on what attracts homeowners to Tahoe in the first place—the great outdoors.
"One of Dan's priorities was to get as much outdoor living as possible," says David Spear, a Truckee-based architect who often collaborates on projects with Daniel Fraiman Construction. 
In this instance, Spear had worked with a different developer on the spec home plans before Fraiman came in and bought the lot. Along with interior designer Alison Legge, Spear and Fraiman then reconfigured the plans according to Fraiman's vision.
"It was awesome being the client designing a house," says Fraiman, adding that this is the first spec home he has done. "I asked myself, "How would I like to live in a house?'"
To start, he and Spear lopped off roughly 1,300 square feet from the original plan, knocking it down to just over 5,100 square feet. 
The rationale for going smaller was to capitalize on the outdoor space and show off the natural features of the lot, which affords quality views in all directions—from a rock bluff and ravine across the street to the nearby Camp Lodge and golf course, to Sawtooth Ridge in the distance.
"You don't come to Tahoe to hang out in your bedroom or sit around and watch TV," Fraiman says. "The outdoor living is such a big part of being up here."
With this in mind, Fraiman's team built an expansive patio with social spaces both covered and open.
One side of the patio features a deluxe outdoor kitchen and dining area set under ceiling heaters, with a wrap-around counter topped with black granite and clad in the same clear cedar used for the exterior siding. Substantial wood beams painted black run the length of the ceiling, whose clear cedar gives the space a warm and inviting feel.
"We tried to incorporate large wood beams instead of steel where possible because big wood beams are cool," says Fraiman.
Opposite the outdoor kitchen, past an open fire pit, another covered space is replete with a water feature that resembles a High Sierra stream, flowing over locally sourced granite boulders before culminating in a natural-style hot tub.
"The sound of running water really transforms a property," Fraiman says.
While this social outdoor zone is among the highlights of the home, it is not at the expense of the interior, which features five bedrooms, five and a half baths, and a grand great room with ample space to cook, dine and hang out. Clerestory windows flood the great room with light.
"There's a lot of natural light in every direction," Fraiman says. "The upper windows add another dimension."
Fraiman has built many homes throughout the Truckee-Tahoe area and sometimes, he admits, clients want an expansive house that makes an unmistakable artistic statement. But those homes can often exude a certain coldness.
With this spec home, Fraiman wanted to build a house that its owners could feel comfortable in, not just tour and admire.
"It's a house to live a life in, to build memories in," he says. "I want the owner to be able to beat it up a little."
Nevertheless, the open, flowing interior was meticulously designed and executed by Fraiman, Spear and Legge, who sought to achieve an "understated, comfortable elegance."
"We took a very organic approach, using as many natural materials as possible with a variety of patterns and textures," says Legge, pointing to the kitchen's assortment of textured oak, quartzite, bronze and metal accents, as well as the living area's unique fireplace of ledgestone and metal with custom leather panels. "The hope was that, although fairly neutral in color, the space was rich in texture, leading one to want to walk up to and touch and feel the different materials."
The lower level also includes two master bedrooms, cozy reading and dining nooks, and a sleek wet bar, with European oak flooring underfoot. Thanks to painstaking efforts by Spear during the initial design process, views abound in multiple directions from the great room while also maintaining privacy from neighboring homes. 
"We spent a lot of time trying to dial in those views," says Spear.
Bedrooms fan out from the top of the staircase on the upper level, which also houses a media room and a game room with access to a lofty wrap-around roof deck.
Another notable feature of the home is its use of Havelock Wool, produced by a Reno company that sources high-quality wool from sheep in New Zealand for housing insulation. The company was founded by Truckee resident Andrew Legge, who is the husband of the interior designer.
"It's like the house is wearing a sweater," Fraiman says of the wool insulation. "It's water-resistant, mold-resistant and it promotes amazing indoor air quality in a 100 percent sustainable way."
While the insulation isn't seen, it illustrates how every detail of the home comes together to create a warm, livable house that accentuates its location in the great outdoors.
Award:

Mountain Chic
Building Design: Mountain Concepts
Builder: Daniel Fraiman Construction
Interior Design: Alison Legge Design Studio
Square Feet: 5,131
Year Complete: 2020