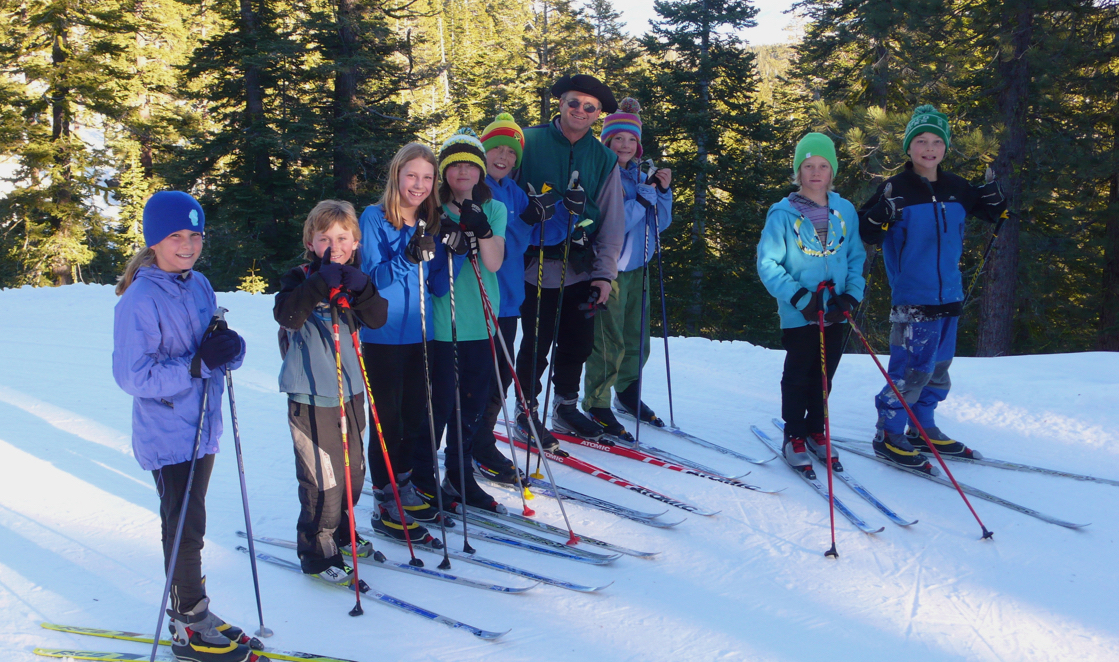 The 2011 Strider Gliders Red Team, from left: Jane Nall, Cooper Anderson, Camille Syben, Sophia Hudson, Brett Hurt, coach Tim Hauserman, AJ Hurt, Cody Atwood and JC Schoonmaker
19 Feb

Strider Glider Superstars
How one class of young cross-country skiers exemplifies the positive impacts of a long-running after-school program
A decade can take you many places. Or it can leave you in the same spot, enriched by the accomplishments of a program you are committed to year after year.
In the case of the 2011 class of Strider Gliders at Tahoe Cross Country, those one-time spindly youth skiers have moved on to do incredible things. And I have stayed put, continuing to teach a program that was one small part of their growth into impressive athletes and people.
Strider Gliders is a long-running local program that helps shape Tahoe's youth into inspiring adults through the love of cross-country skiing. The 2011 class was a tight-knit group that, a decade after chasing each other around the trails of Tahoe Cross Country, exemplifies the positive impacts of the program.
As one of their coaches, I remember them as a positive, gently competitive and always congenial group of fourth- and fifth-graders who thoroughly enjoyed the opportunity to play with each other on the snow once a week.
Two of them are now on the U.S. Ski Team—one in Nordic racing and the other alpine—while the rest have found success competing in various forms of snow-sliding. Some are even giving back to Tahoe's cross-country community through the same program they cherished as kids, teaching not only proper technique, but about the powers of friendship and outdoor fun.
Fostering Youth
Many a Tahoe youth has come up through the Strider Gliders, which began when Tahoe Cross Country (aka Tahoe XC) formed in 1999. Catering to children in preschool through the fifth grade, the after-school program involves dozens of volunteers who take groups of kids of similar age and ability on cross-country ski outings. Normally, over 100 students participate each year.
The program is intended not to train ski racers, but to provide the opportunity for kids to fall for cross-country skiing—a sport they can do for the rest of their lives.
I started in 2000 as a coach for Tahoe XC's Strider Gliders Red Team, which includes the oldest and fastest skiers enjoying their last hurrah before heading off to middle school the next year. Although I've served as Strider Gliders director since 2004, I can't resist also skiing with the fast kids who make up the Red Team.
I've had the pleasure of skiing with a ton of happy kids over the years. But what makes the 2011 class stand out in my mind is the universal attitude of all eight of them. They wanted to ski farther and faster, and I don't remember a whine out of them the whole season. Sometimes they would just steadily ski along talking to each other, and then, boom, one of them would start racing, and the rest would jump in, trying to beat each other to the next intersection.
The phrase "friendly competition" is sometimes overused, but with these kids, that is what brought them together.
Striding to Nordic Success
Among this group, I remember JC Schoonmaker as a happy kid who could be just as goofy as his fifth-grade cohorts. Yet even then, his quiet determination and desire to become a better skier was evident.
Not surprisingly, he is now a rising American talent holding his own against the best cross-country ski racers in the world.
After graduating from North Tahoe High School in 2018, Schoonmaker went to University of Alaska Anchorage, where he earned All-American honors last season as a sophomore. Meanwhile, he earned points in his first World Cup start of the 2019-20 season and has garnered several impressive finishes this winter after being named to the U.S. Ski Team's 2020-21 Development Team (where he joins fellow local talent Hannah Halvorsen of Truckee).
As Schoonmaker pursues his lofty goals in the sport—including hopes of winning the classic sprint at the NCAA Championships and, ultimately, Olympic gold for the United States—he says he'll always remember his time on the Tahoe XC Red Team fondly.
"I can definitely look back on that Strider Gliders group as part of why I fell in love with this sport and where I learned to put fun first," he says.
Schoonmaker is not the only member of that 2011 class competing at the college level. Former Strider Gliders teammate and friend Cooper Anderson races for Division I Colby College in Waterville, Maine. After recording a seventh-place finish in the 2017 Junior National Championships, he was the top Colby College skier and fourth overall in the Maine State Collegiate Championship last winter.
Like Schoonmaker, Anderson credits his fun-filled Strider Gliders outings as a child for instilling a lifelong appreciation for cross-country ski racing.
"For me, that Strider Gliders class was special because of the enthusiasm that all of us had for skiing," he says. "We were all eager to explore the (Tahoe XC) trail system. It was in this group where I learned the joy Nordic skiing can bring."
A Competitive Spirit
As the youngest member of the Strider Gliders Red Team in 2011, AJ Hurt displayed an unstoppable determination to keep up with her older brother and the other boys. 
Energetic and competitive by nature, Hurt had a tendency to cross her tips and immediately face-plant into the icy snowpack. Each time, she would quickly jump up with a look of pure grit on her face, and a dual expression that said, "Ow, that hurt and I want to cry," but also, "No way am I going to let it get me down." She would then race hard to the front of the pack. As soon as she got there, a huge grin would light up her face.
At age 20, Hurt's competitive spirit remains as strong as ever, although it now comes through on steep, icy racecourses as a fourth-year member of the U.S. Alpine Ski Team. Hurt, who competed in her first World Cup race at age 16, is already a two-time U.S. Alpine Champion, most recently capturing the national slalom title in November 2020.
She, too, enjoyed her Strider Glider days, and even associates those fun youthful outings with her alpine racing success.
"I remember being so excited every day to get out there and ski," says Hurt. "Every day felt like we were racing one another to the end of each trail. I have been told that one of my strengths is my skate out of every start, and I can give all credit to the years of cross-country skiing."
When I heard years later how well Hurt was doing in downhill racing, I remembered that "I will never give up" look on her face, and it all made sense.
From Cross-Country to Cliff Drops to College
Two other members of the 2011 Strider Gliders class, Jane Nall and Cody Atwood, trended toward alpine skiing as well, with both excelling in big-mountain competitions throughout their teenage years.
"The biggest thing I remember about the (Strider Gliders) group was hanging out with JC and Cody. They turned into my best friends through high school," says Nall, who, after placing sixth at the Freeride Junior World Championships in 2018,
now attends San Diego State University. "Cody and I went on to ski big mountains and World's together. But Strider Gliders was fun because it was just playing with your friends in the snow."
With her childhood experiences in mind, Nall says she hopes to return to Tahoe someday to start a family.
Atwood, who earned the top American finish and fourth place overall at the 2018 Freeride Junior Championships, now spends much of his free time surfing in Southern California. He plans to transfer from Santa Barbara City College to U.C. Santa Barbara, where he will work toward becoming a geologist.
The other three members of that 2011 group—Sophia Hudson, Camille Syben and Brett Hurt—also have compelling stories of their love for skiing, and join countless other Strider Gliders before and after them who continue to enjoy snowsports after graduating to adulthood.
Giving Back
Now, on the cusp of "what they want to be when they grow up," these former Strider Gliders have already begun giving back to the next generation of Tahoe skiers.
Schoonmaker coached this past summer for the Tahoe XC Devo Team, which trains middle school racers.
"He did a great job as the coach," says Ben Grasseschi, Tahoe XC's executive director. "It was super motivating for the students to be with an athlete of his caliber. They are inspired. The kids are saying, 'If he can do it, I can do it.'"
Anderson has passed on his skiing knowledge to the younger generation as well. During breaks from high school and now college, he has worked in the Tahoe XC rental shop and taught lessons to children. 
While the many Strider Glider volunteers are proud to see past members reach the height of their sports, all would agree that the primary goal of their efforts is to create responsible, active adults through healthy outdoor fun.
"We are developing people, not athletes," says Grasseschi.
Talk to these young adults and you are heartened. They are appreciative, warm-hearted and full of gratitude for the opportunities they have had. They grew up at Lake Tahoe, after all, where they learned to slide on snow in the world-class skiing destination that was their backyard.
Sure, skiing is an individual activity, but to these kids, their love for the sport happened as a team.
---
Tim Hauserman is a longtime Tahoe City resident and author of Cross-Country Skiing in the Sierra Nevada. As director of the Strider Gliders program, he is proud to say that hundreds of his former students are now much faster skiers than him.