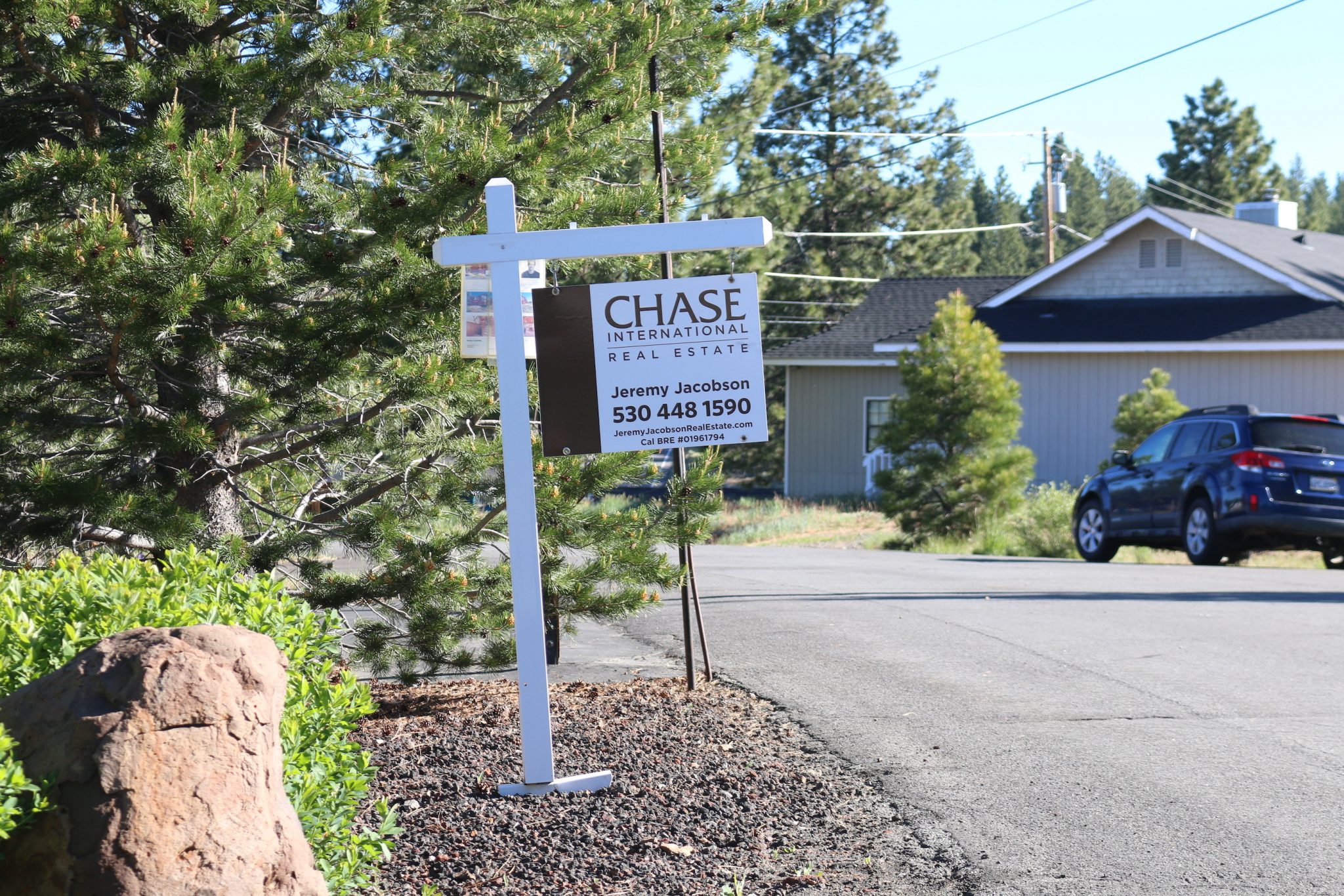 A home for sale in Truckee's Glenshire community, photo by Sylas Wright
19 Feb

An Unprecedented Year in Tahoe Real Estate

Fueled by a once-in-a-generation happenstance, the Lake Tahoe real estate market burned white hot in 2020, with sales volume and price increasing at astonishing rates across the region.

"It's unprecedented all the way around, and I've been in this business for 31 years," says Sue Lowe, senior vice president at Chase International.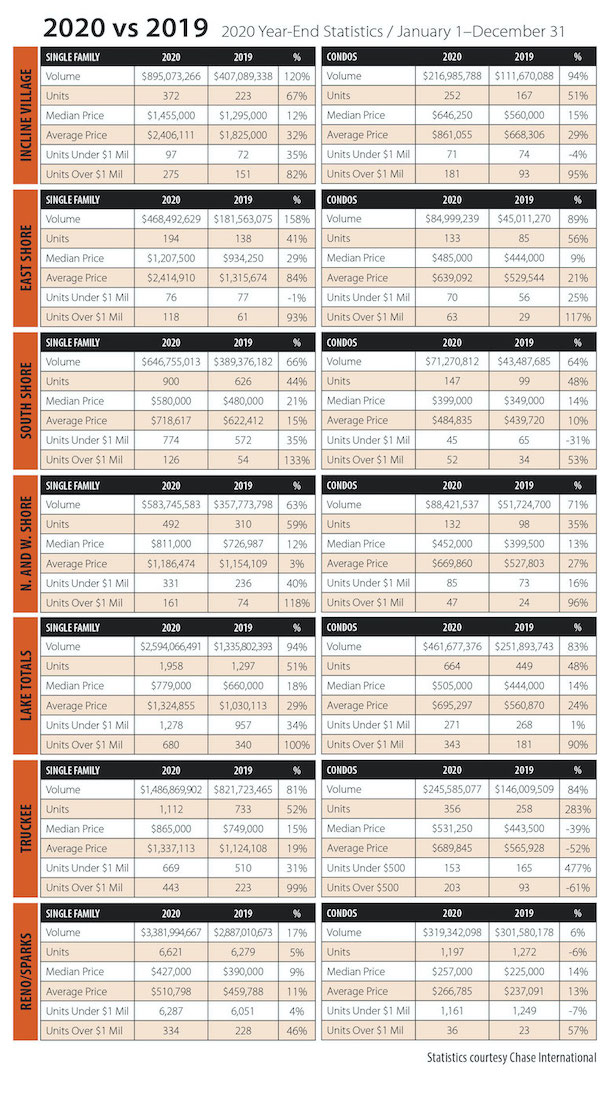 For the overall Lake Tahoe market, sales volume for single-family homes nearly doubled year over year in 2020, with approximately $2.6 billion in sales in 2020 compared to about $1.3 billion in 2019, according to statistics provided by Chase International. It represents a 94 percent increase.
The story wasn't much different for condos, as sales volume lake-wide increased by 83 percent.
"It was superlative in every way," says Jeff Brown, owner of Tahoe Mountain Realty. "People are buying at the top of the market and many of them understand they are buying at a frenzied moment and there may be a little bit of depreciation."
The median price rose 18 percent in 2020 for single-family homes at Lake Tahoe, and by 14 percent for condos, according to the Chase statistics. 
"It was almost entirely driven by COVID," Lowe says. "The pandemic gave people a chance to evaluate what's important in life, and being with family and friends in a safe environment is number one."
Brown agrees, saying that the type of buyer who purchased homes in the Tahoe-Truckee area was markedly different from years past.
"Our core demographic is very different from the 1960s-era people looking for a cabin in the woods where they can unplug," Brown says. "What this consumer is looking for are newer homes with modern architecture in well-amenitized communities."
Brown says the type of buyers who flooded Truckee-Tahoe's market in 2020 are looking for a second home or full-time residence, not a vacation home. They require internet and office space and access to the outdoors.
"These are places for the kids to set up and go to school, pretty far from everyone just gathering around the woodstove," Brown says.
Like Tahoe, the market in nearby Truckee was also on fire in 2020. The sales volume for single-family homes in the region exceeded a billion dollars, rising by 81 percent year over year, while the median sales price rose by 15 percent. Sales volume of condos was up 84 percent.
While home values appreciate at different rates, the national average is somewhere in the range of 3 to 5 percent. 
The story was the same all over the region. Even in Reno and Carson City, prices and sales volume jumped by large percentages for houses and condos.
"There's open space, fresh air and wonderful living conditions," Lowe says.
These attributes became a premium in 2020 as the pandemic made city living less desirable, with restaurants, museums, theaters and other indoor amenities shuttered.
Playing outside in the fresh air became one of the only safe and reliable recreational activities to millions of Bay Area residents due to COVID-19.
"I would say about 85 percent of our customers were Bay Area folks," Brown says. "Many are coming here and saying, 'This is home now.'"
However, the real estate agents acknowledge that Tahoe living is not for everyone. The question of whether many of the new homebuyers will remain beyond the exigencies of the present moment remains.
One piece of evidence suggesting the influx into Tahoe could be temporary is the surprising lack of new enrollments in area school districts relative to expectations.
"Despite all the rumors, our overall enrollment only grew slightly," says Kelli Twomey, director of communications for the Tahoe Truckee Unified School District. "We have 12 schools, and we had a total of 65 new enrollments from people moving to the area as a result of COVID."
Also, Tahoe's winters can be rugged for homeowners, depending on the frequency and intensity of snowstorms. The influx of tourists during the summer season is not for everyone, either.
"There is 2 feet of fresh snow out my window as we speak," Lowe says. "It remains to be seen, but if some people say, 'Hey, this isn't for me,' at least it will help our inventory."
Regarding inventory in the Tahoe-Truckee region, "It's nil right now," says Brown. "There's absolutely nothing."
There are a few homes listed around the lake, but most are what Brown describes as "detritus," with homeowners fishing for an outrageously high price given the explosive market.
It's not just the luxury lakefront market, either.
Tahoe-Donner, a Truckee neighborhood with a large catalogue of properties, typically has anywhere from 80 to 100 houses available when the market is more balanced between buyers and sellers, says to Breck Overall, a Truckee-based real estate agent for Sierra Sotheby's.
"During the first week in January, only six homes were available for purchase in that area," Overall says.
Adds Brown: "Most properties get multiple offers, and they are bidding well above the ask. It's a very competitive environment and what ends up happening is nine of the 10 bidders are bummed out, but the winner only wins the privilege of stepping into the octagon with the seller."
Lowe says the number of offers on some homes is like nothing she had ever seen.
"I had one agent who had 25 offers on a single property," Lowe says, adding that there are years when the majority of properties that go into escrow don't even muster multiple offers, let alone five-plus.
"The sellers are reaping the benefits," she says. "They are getting more money than they ever dreamed for their house and many of them are jumping for that reason."
For the time being, it's a seller's market, with no signs of relenting.