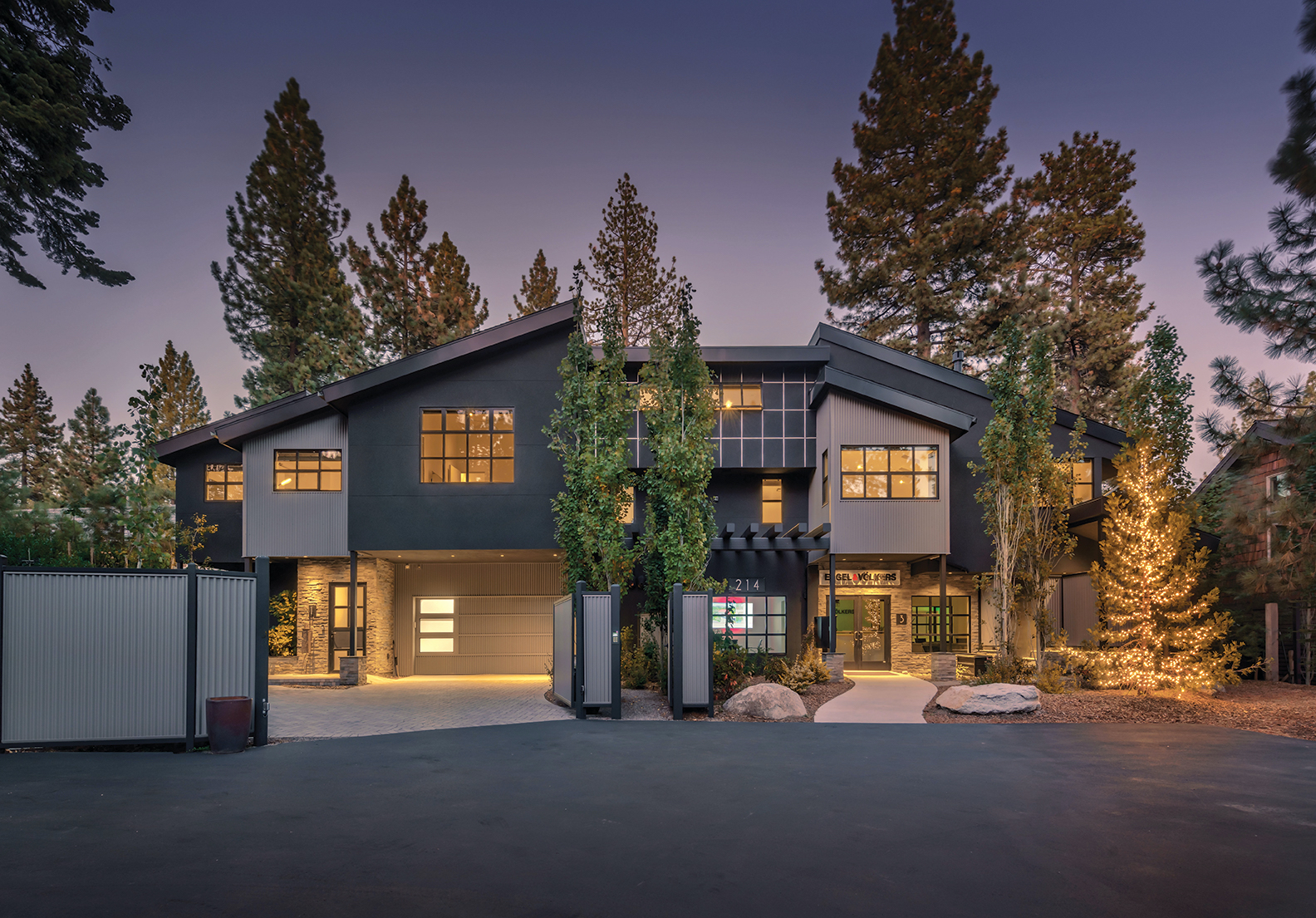 The chic, modern building now houses an Engel & Volkers real estate office and two separate residential spaces
22 Feb

A Labor of Love
Local philanthropists pour their artistic spirits into an ambitious remodel that transforms an outdated property and enriches a community
Longtime Incline Village residents Robert and Robin Holman were ready to downsize from their large house a stone's throw from Lake Tahoe. The deeply philanthropic couple—who founded Sierra Nevada University's Holman Arts & Media Center, established a family bike park, helped develop the classical Lake Tahoe SummerFest and sat on boards at the college and Parasol Foundation—wanted to remain connected to their community in a centrally located, versatile, efficient and low-maintenance home where they could continue their active lifestyle, stash their copious outdoor gear and enjoy visits with their five children and grandchildren. When the old Charter Cable building on Village Boulevard in the middle of town became available, they felt it was a perfect spot for their "Base Camp."
Working with their friend and architect/engineer Elise Fett, principal of Elise Fett & Associates in Crystal Bay, the couple totally transformed the outdated 1980s-era mixed-use property into a fresh and functional modern space to showcase their love for the arts and adventure and reflect their personal style.
"They coordinated all the landscaping, selected all the finishes and did all the interior design themselves," says Fett, who met Rob Holman through their mutual interest in biking and flying. "What I worked on with them was the addition and design of the spaces and forms."
Tearing down the building was not an option, according to Jason Hummel, whose Incline Village–based firm oversaw construction on the project and has collaborated with Fett on numerous remodels. "Rob (who worked in commercial real estate and earned a master's degree in design from Harvard University) told me even if he had to spend more money, he didn't feel right throwing away the old material."
"Most people would never invest in this kind of neighborhood," adds Fett, regarding the Holmans' choice to build high-end in a not-so-scenic corridor of town dotted with warehouses and parking lots of light industrial businesses. "I admire them for coming into one of the least attractive areas of Incline and making it beautiful."
The design and build process, which included several tweaks and iterations as the project evolved over a handful of years, gave the building a second lease on life and the Holmans their dream home. The fully refurbished industrial chic property, which houses a modern Engel & Volkers real estate office on the ground floor and is flanked by two separate residential spaces, is now clad in factory-finished Old Zinc Gray corrugated steel and black hand-tinted elastomeric stucco. The primary residence is located on the north side of the complex and was enlarged by adding square footage to the front, side and rear of the structure; a corrugated steel gate was added for privacy, security and sound mitigation.
The main entrance, a sizable steel and glass pivot door, is surrounded with a splash of thin ledgestone veneer. Just inside, a small nook with a built-in bench and pair of linear mountain peak-like sculptures that double as coat racks are conveniently located, whether coming and going by foot or car; the garage is also accessible via the compact entryway hallway. Farther along this ground-floor hallway is the spacious mudroom and laundry room plus full bath, which make clean-up from outdoor adventures easy and efficient. Two guest rooms and an exercise room that can be used as an office are also tucked away in this back part of the house.
The exterior ledgestone veneer is carried through to the interior, creating continuity and an anchor for the open steel-and-cable stairway crafted with sturdy stained maple treads embedded with LED accent lighting. An elevator was installed both to ferry heavy items upstairs as well as provide an age-in-place option.
Open and airy, the dramatic second-story main living area, sleek like a New York City loft with its 15-foot-high angled ceilings, plentiful view-filled windows and smooth plastered white walls, is the heart of this home. A large area for gathering friends and family and entertaining was a priority for the owners, and in this space the kitchen, dining and living areas all flow together seamlessly.
The expansive gourmet kitchen is, like the rest of the house, finished with products from Porcelanosa, a global company that started out selling ceramic tile in Spain: clean, frameless Euro-style laminated cabinetry, thin ledgestone veneer backsplash, textured floor tiles that mimic wood and countertops crafted from their Krion solid surface material. A big center island and additional counter, both boasting elegant waterfall edges, provide plenty of prep and serve areas. A red retro stove adds a pop of color to the otherwise neutral palette.
"They brought that stove here at the beginning of construction," says Hummel. "We had to protect it and blanket it throughout the project."
Large windows above the oversized fridge provide natural light and mountain peeks while freeing up the kitchen walls for extra space and functionality. Positioned as such, they also obscure the commercial building and activity next door. The dining room features an adjustable stone slab table and many modern art installations—both the Holmans' projects and acquired pieces—and flows into the living room, where a comfortable seating area is grouped around the linear fireplace and large-screen TV. Playful light fixtures are both fun and functional; nearly all the recessed lights are outfitted with scoop trims that can be adjusted and trained on artwork.
The addition of a south-facing angled window wall further opens up the space, providing plentiful natural light and blurring indoors and out with its views of their lush landscape and mountains above, including nearby Diamond Peak. Lift-and-slide glass doors offer easy access to the steel deck, whose ski resort–style grated floor with removable snap-in-place panels help manage snow load and reduce maintenance in winter. Tall trees and a grassy yard surrounding the deck provide additional privacy and visual separation from the nearby industrial and commercial properties.
The master suite is conveniently located off this main living area. A two-sided linear fireplace warms and illuminates the freestanding soaking tub surrounded with a wavelike textured tile. The spa-inspired bathroom also boasts an infrared sauna, zero-entry shower for two, plus a dual sink vanity with backlit mirrors. Toilets throughout the house are in-wall/tankless, offering a clean and simple look and style. The massive walk-in closet area features its own undercounter washer-dryer and laundry area with wash basin.
Also on this floor, at the top of the stairwell, there's a powder room with a 300-pound, specially mounted stone sink and angled mirror; transom windows provide additional daylighting to the interior spaces. A frosted glass door allows light to flow into Rob's office, where a sliding barn door conceals a "messy working desk space," per Fett. Next door is Robin's well-lit art studio, which, like Rob's, was designed to double as a guest room if required. Off this hall there's a "family style" bathroom with its pair of sinks and separate compartments for toilet and shower that can be used by four people at the same time with privacy.
In an effort to reclaim some of the building's exceptionally voluminous space, the Holmans asked Fett to create a new third-floor family entertainment zone outfitted with a ping-pong area, large-screen TV and mini library, plus an additional large room with home theater, wet bar, beverage center with dishwasher and full bathroom. Windows and skylights abound here as well.
A secondary, separate, single-story apartment accessed via a steel grated stairway on the south side of the structure was gutted, redesigned and reframed with three bedrooms and bathrooms to accommodate the Holmans' adult children, grandchildren and guests. It too is finished with the full range of similar Porcelanosa products—cabinets, counters, tile and flooring. The open main living area with its stone hearth was fitted with plentiful windows and several seating configurations. A black and white triptych-style art installation is illuminated with industrial-style lighting and several skylights.
Although one of their goals was to downsize, the Holmans ultimately ended up with as much square footage as their previous house. "The project grew as it progressed," says Fett. "As much as they wanted to simplify, there was this other side that said, 'We want to use the volume for increasing the variety of activities available.'"
Ultimately, the finished product "is a great reflection of them," says Fett. "Multi-faceted, striking and playful, in the center of activity, improving our surroundings visually and functionally and lifting everything within reach, radiating with joyful light at every time of the day and connecting with nature from every angle. Adventure is around each corner with a huge variety of fun, unique and versatile spaces for activities to maximize the pleasures of life every moment of every day. All this in a tightly wrapped, powerful package."
Sadly, the Holmans didn't have the chance to enjoy their labor of love for long. On May 22, 2019, the couple died when the plane that Rob was piloting crashed shortly after takeoff from an airport near Indianapolis, where they had been visiting family on their way home from a trip to Africa. Their untimely deaths were a devastating loss to their families, friends and community, but their adventurous and artistic vision and spirit lives on in the special Base Camp they created.
Award

:

Remodel
Building Design: Elise Fett & Associates
Builder: Hummel Construction
Interior Design: Owners (Robert and Robin Holman)
Square Feet: 6,415 residential; 1,532 commercial
Year Complete: 2018