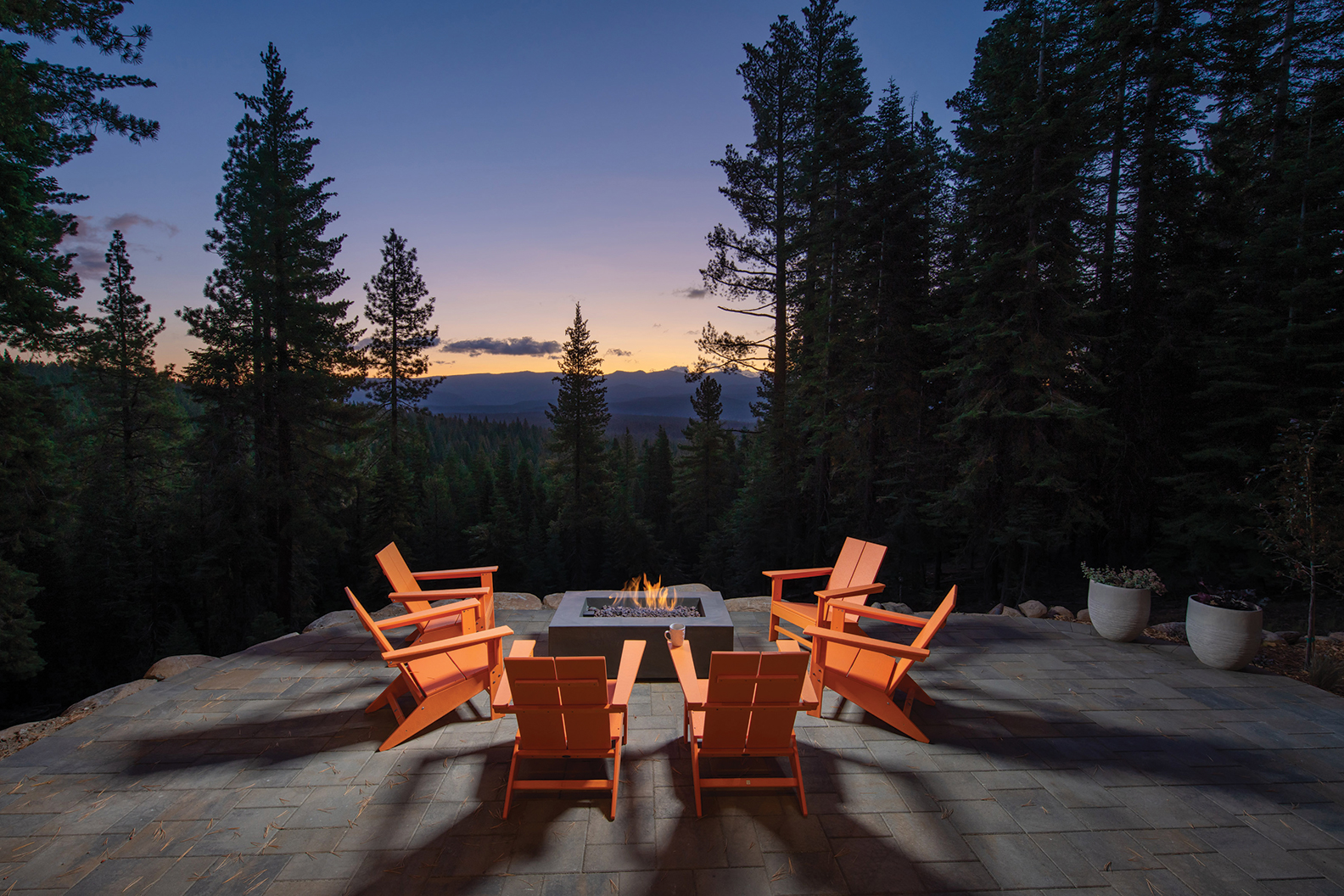 Sited on a forested property dotted with large sugar pines, the home's exterior includes an elevated paver patio with a fire pit and a view
22 Feb

A Sweet Spot Among the Pines
From picnics to luxurious living, a couple's vision comes to life on a wooded property with stellar views
For years, Steve and Deborah Lichliter enjoyed snowshoeing from their Truckee home to a vacant 5-acre lot nearby, where they would post up with snacks and drinks and dream of the possibilities.
With a little foresight, they could see that their favorite picnic spot would make for an ideal homesite, a peaceful sanctuary with a rare level of forested privacy. Perhaps more enticing yet, with some selective tree removal, the site held potential for grand views that had yet to be unveiled.
The property's price was too high to bite on, however, and the Lichliters' vision remained a fantasy. But not for long.
"We waited a couple of years and the price started going down. And then one day we saw another couple looking at the lot, and we were like, 'Oh my god, they're going to take our lot,'" says Deborah. "They said, 'We think it's too steep,' so we were like, 'Oh yeah, it's too steep.' I told my husband we'd better jump on it, so we did."
That was 2015. After a few years of planning, Deborah, a home designer, and Steve, a civil engineer, decided to turn their dream into reality. They hired a capable team to assist.
While Deborah took the lead on the home's design and Steve sited the house to maximize views and create a flat driveway, they brought in Adam Gardner of WHA Architects, whose firm has an office near the Lichliters' primary home in the Bay Area.
"I do design and marketing and sales management for homebuilders, so I've known Adam through many, many projects," says Deborah. "I always liked his style and his personality, so it was a great fit."
The couple interviewed four contractors. Only two of them bid on the project, including Christian Edwards of Truckee's Timberline Construction. The Lichliters were sold.
"Christian's bid was much more complete, and he was much more timely and proactive and just so professional," says Deborah, adding that Edwards is "unusual," in a good way, in his ability to communicate, value engineer and make sound design decisions. "Building your dream home can be really stressful, but working with Timberline (including project manager Marc Hassell-Cramer) really made the process easy and enjoyable."
While spectacular in its natural setting, the property presented its challenges.
To start, the lot, located just outside the Tahoe Donner subdivision, is heavily forested. Stately sugar pines—a scarce commodity in Truckee—tower over the landscape, mixing with mature firs and Jeffrey pines to provide sheltered seclusion, but also block views. And the homesite is sloped, falling away toward downtown Truckee, which is within walking distance via a trail that connects from the property.
As the Lichliters suspected, some strategic tree-thinning (all but one sugar pine were preserved) solved the view issue, opening unobstructed vistas over the forest canopy to the Carson Range.
Securing the view was one thing. Building a home into a mountainside while creating flat, functional yard spaces was a whole nother animal.
"From the beginning of the job," Edwards recalls, "Deborah and Steve said, 'I know we're building on a hill and it's challenging, and typically people just have decks for their outdoor space when they build on a hill, but we want to be able to walk off our deck onto the dirt and have a space to enjoy the outside.'" 
Edwards agreed that the task would be difficult. But he was game for the challenge.
His team got to work terracing the hill, moving dirt and stacking rocks excavated from the homesite to create a sizable "pad" area elevated above the sloping grade—steps away from the view-facing back deck on the home's lower level. With plenty of earth to work with, they didn't stop there. At the owners' request, Edwards' team used every boulder and square inch of dirt dug up on the site to build up several other patio areas on the view side of the home.
"Every time the owners would come up to visit the house, we would terrace a little more—we'd flatten out the hill a little bit more, stack some more boulders. And they were absolutely thrilled," says Edwards. "The end result gave them enough space to put in a horseshoe pit and bocce ball court and a few other areas mixed into the hillside."
"We ended up with much more of a usable yard than we thought we would," says Deborah. "Christian's group created much more flat area than we had envisioned. They terraced one area that we hadn't even imagined we were going to have. It was kind of like, 'Oh wow, now we have all this yard. What are we going to do?'"
The answer, of course, was to take full advantage.
One of the terraced zones became a horseshoe pit. Others were turned into lounging and dining areas. And the elevated pad off the back deck became a paver patio with a fire pit, with bright orange Adirondack chairs offering a front-row seat to a magical outdoor experience.
"It feels like you're out there on the edge, where the forest and the views and everything kind of hit you," Edwards says of the patio. "And then you can have the ambiance of the fire pit at nighttime and just enjoy the outdoors and fresh scents of the trees and the sun in the daytime. I always loved that patio. It's where everybody took their lunch when we were building the house, so everyone else liked it as well."
Around the corner from the patio, just above the horseshoe pit, another social space stands out as perhaps the most intriguing exterior feature. Set in a bed of pea gravel, three one-of-a-kind rock lounge chairs sit at the ready, beckoning with their curvy lines and backstory.
During construction, the excavator operator unearthed a giant boulder, which strangely broke apart in thin, curved, uniformed layers, like an onion. He immediately sent a photo to Edwards, who shared it with Deborah.
"I had this vision that these could be rock lounge chairs, and my husband—along with everyone else—thought I was a little crazy," says Deborah, who ended up adding cushions, orange umbrellas and tree stump end tables. "But now it's really unique and fun. We call it the Pringle patio because the rocks started out like the can of potato chips."
Terraced yard spaces aside, the home itself is a stunning example of mountain-modern design and meticulous craftsmanship, with chic interiors that spill seamlessly out to well-appointed outdoor living areas.
On the upper level, an airy yet cozy great room opens through large slider doors to a covered deck complete with a cooking station, dining table, plush seating and a hot tub. Ceiling heaters allow for comfortable outdoor entertaining well into the cold season, with lofty views over the undulating terrain straight to the Mount Rose Wilderness, which lights up in spectacular fashion in the evening alpenglow.
"It really is spectacular," Deborah says of the view. "It's kind of layered almost, because you're looking down into the valley and over all these trees. At certain times when the sun is going down, the tops of the trees get lit up, and my husband calls them 'the candles.' … It really is breathtaking."
The home's lower level features an equally sized covered deck with a ping-pong table and seating located just outside a media/game room, adding even more spaces to kick back and relax or play.
When not using the home themselves, the Lichliters allow others to enjoy it in their place as a luxury vacation rental. Fittingly, they market it as the Sugar Pine Estate—a peaceful mountain retreat featuring the best of both worlds.
"My thing is I like when houses are kind of nestled with trees, and my husband likes the big view," says Deborah. "And we found this lot and felt like it could do both."
Award

:

Outdoor Living
Building Design: WHA Architects
Builder: Timberline Construction
Interior Design: Owner (Deborah Lichliter)
Square Feet: 4,000
Year Complete: 2019