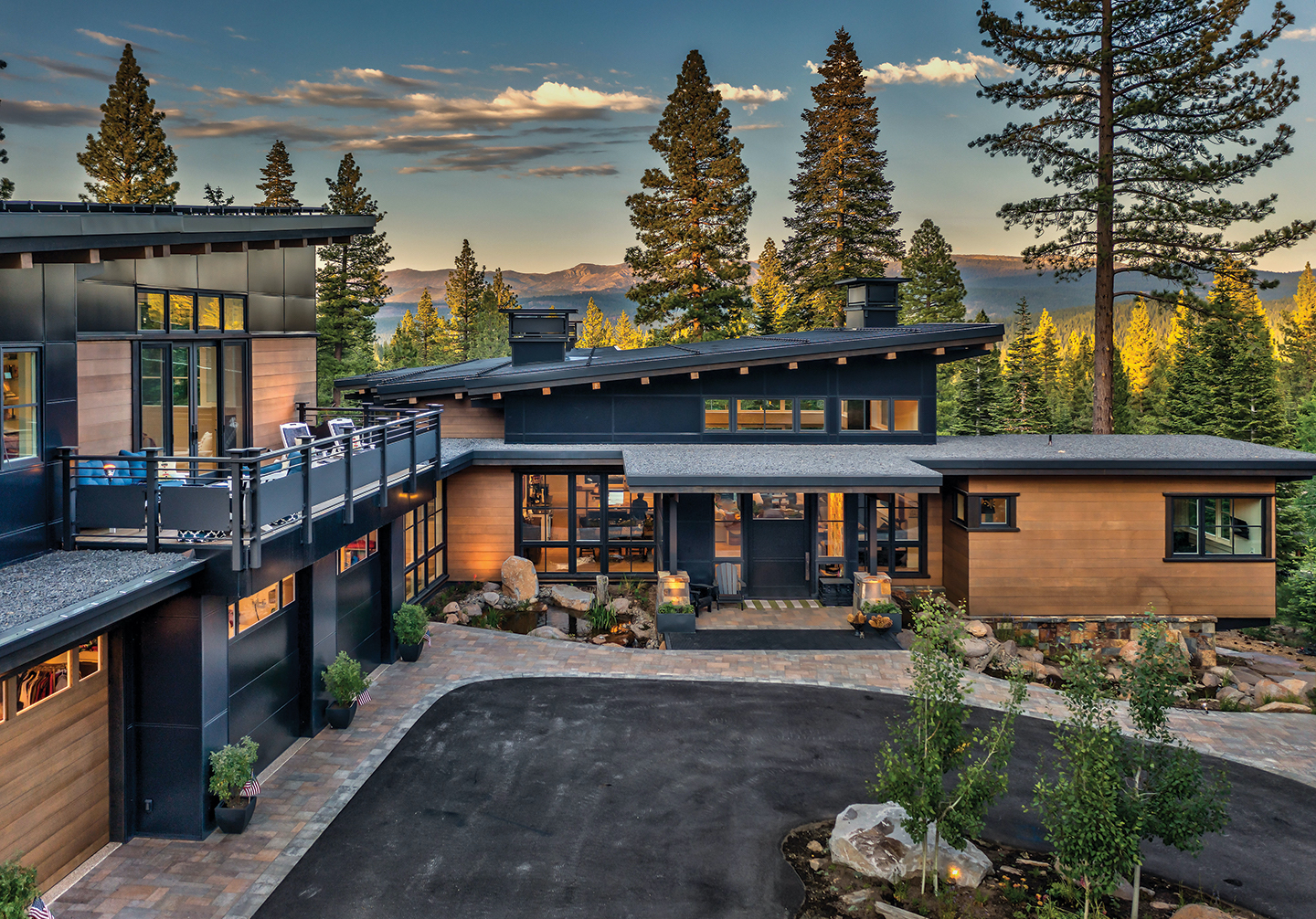 The home is sleek and modern in appearance, with a specific look and feel that owner Katrina Jackman worked closely with the project team to achieve
22 Feb

Drawn to Life
Artist Katrina Jackman put herself into every tile, panel and rock at this standout second home in a luxury community
There is no easy place to start when it comes to telling the story of the Jackman home, so let's begin with a literal physical approach, revealing an elegantly simple design as you near the front door to discover a steel bridge crossing a burbling manmade creek. Perhaps you notice that there is less going on than expected on the roof of the 5,403-square-foot house in Martis Camp. Instead of the more traditional gables common with mountain architecture, a single sloping shed roof rises from the master wing to extend over the great room and form the bulk of the structure's modern and striking—but not overwhelming—silhouette. This shape allows the building to slough off snow while not breaking up the sunsets with a profusion of protrusions.
Actually, a better approach may be a chronological one, given that this is the Jackmans' second Martis Camp home. Their first was built in 2012 (a recipient of a Tahoe Quarterly Mountain Home Award). The Jackman family was based in Sacramento at the time, but with three ski-racing kids, securing a spot closer to the slopes made sense.
After years of enjoying their mountain home, the Jackmans saw the property across the street go up for sale. Featuring a guesthouse on a bit more than a sloping acre, the lot had the potential to be something more—much more, in Katrina Jackman's vision.
As an artist, Jackman typically works in vivid paints on canvases, but her most impressive showpiece may very well be the home she conceptualized and brought to life starting in 2017. The family now lives in Texas, but she travels to California to live in Martis Camp for about five months out of the year.
Given that this is no mere vacation cabin that sees guests only around the holidays, Jackman wanted to ensure it was a welcoming space that could accommodate her family and friends for generations. She began fleshing out her vision in near-molecular detail, opting to work with the familiar crews that designed and built their initial Martis Camp home: Truckee's SANDBOX Studio and Mark Tanner Construction.
"I've never, ever designed anything as an artist that someone else produced for me—until this house," Jackman says.
She's quick to commend the entire team that took her concepts and translated them into a stunning exposed-steel standout by way of what project manager Casey Eberhardt describes as "scribbled-on napkins" and architect Ryan Rominger characterizes as "drawing diagrams" and "sketching stuff."
Jackman is the first to admit that she had an exacting vision: "I can tell you honestly, I put them through hell," she says of her successful request for a steam shower featuring backlit onyx slabs and ship's berth–inspired benches that fold down flush with the wall when not in use. This one element required five separate subcontractors to work together simultaneously.
Mark Tanner says he's built more than 50 homes in Martis Camp, and Jackman is unique for her level of involvement. He cites her efforts to achieve her desired effect on wall paneling in three different parts of the home. First she numbered the boards on the wall, assigning each to one of five corresponding and subtly different shades of the same color. Then she climbed the scaffolding each day and handled most of the painting herself.
There's not an inch of the house that didn't have the same level of attention and care put into it, mostly to maximize convenience, storage and comfort, as well as to eliminate the background visual clutter. Wires run through outdoor railings for ease of illumination. Deck drains are hidden by finished construction, and electrical outlets indoors are tucked beneath floating shelves. Cabinet lighting is angled to produce no shadows. Each bedroom is wired with cables so if spotty mountain Wi-Fi fails, distance-learning college students and remote-working family members or guests can plug in and stay connected. Every bathroom hook is set at 5 feet, 4 inches, which is above the details so there are no holes in the tiles. There are more ski lockers than family members, since visiting friends will also have equipment. 
Nothing is wasted, especially not views. Jackman's husband Worthing can see both Mount Rose and Northstar from his office—a result of how the home was sited by SANDBOX Studio Principal Scott Gillespie—but when the couple realized that a planned closet was occupying some prime real estate, they made a change.
"We can't make a storage room out of a space facing the Carson Range in one direction and Lookout Mountain in the other," Jackman says.
Thus, a wine room was born. Superintendent Dave Ariza with Mark Tanner Construction is especially proud of how he handled this project, since the pegs needed to hold more than 200 bottles couldn't be mounted on the uneven tin overlay on the wall behind the cabinet. He ended up drilling holes into uniformly smooth glass panels, which he then mounted to the walls. Each hole holds a peg to create supports for the wine, while the transparent glass showcases the wall's metal detailing instead of obscuring it.
Some challenges to Jackman's vision required even more creative thinking. The excavation process for the construction turned up a bounty of large, earthy-brown rocks that several people involved with the project called "potatoes." They were not much to look at, but Jackman wanted them incorporated into her landscaping. Martis Camp's regulations prohibited the use of such material, but Jackman worked with Patrick McEnany of High West Landscape Architects to put together an almost 20-page document highlighting other areas in the development that already used similar rocks. She argued that bringing in stone from elsewhere could change the soil's pH, leach chemicals into the groundwater and harm the property's trees she's supposed to protect.
"Environmentally, it doesn't make sense not to use the materials from the area you're building in," she explains, adding that the carbon emissions from transporting granite from Nebraska would also be unnecessary.
She won—of course—and numbered each rock, then indicated on the site plans where each should go.
At this point, it should be noted that the story with no easy start also has no simple end.
How do you wrap the narrative of this home without mentioning the ideas for lighting fixtures Jackman sent to Hangout Lighting in Chicago for custom hanging illumination ("Oh my God, my drawings came to life!" she spouted as they were unpacked from their crates)? The gear-shaped game room lights that were supposed to weigh 600 pounds, but ended up as 35-pound wood cutouts with a faux metal finish? The pinwheel design spinning through the floors' artisan stone tiles? The way the landscaping melts into the natural environment? The fact that the exterior of the guesthouse was gussied up to better match the new home's look and appear as if they were built at the same time?
Perhaps the best outro is Jackman's memory of this past New Year's Eve, which the family spent with more than half a dozen friends—PhDs, neuroscientists, presidents of companies—all laughing at groan-worthy puns from a deck of "dad joke" cards. Assembled in the great room, they embodied her vision for the space, which was never really about the space itself, but the people who would fill it with joy.
"I haven't laughed that hard in an entire year," Jackman says. "You can't ask for anything better than that."
Award

:

Unique Vision
Building Design: SANDBOX Studio
Builder: Mark Tanner Construction
Interior Design: Owner (Katrina Jackman)
Square Feet: 5,403
Year Complete: 2020