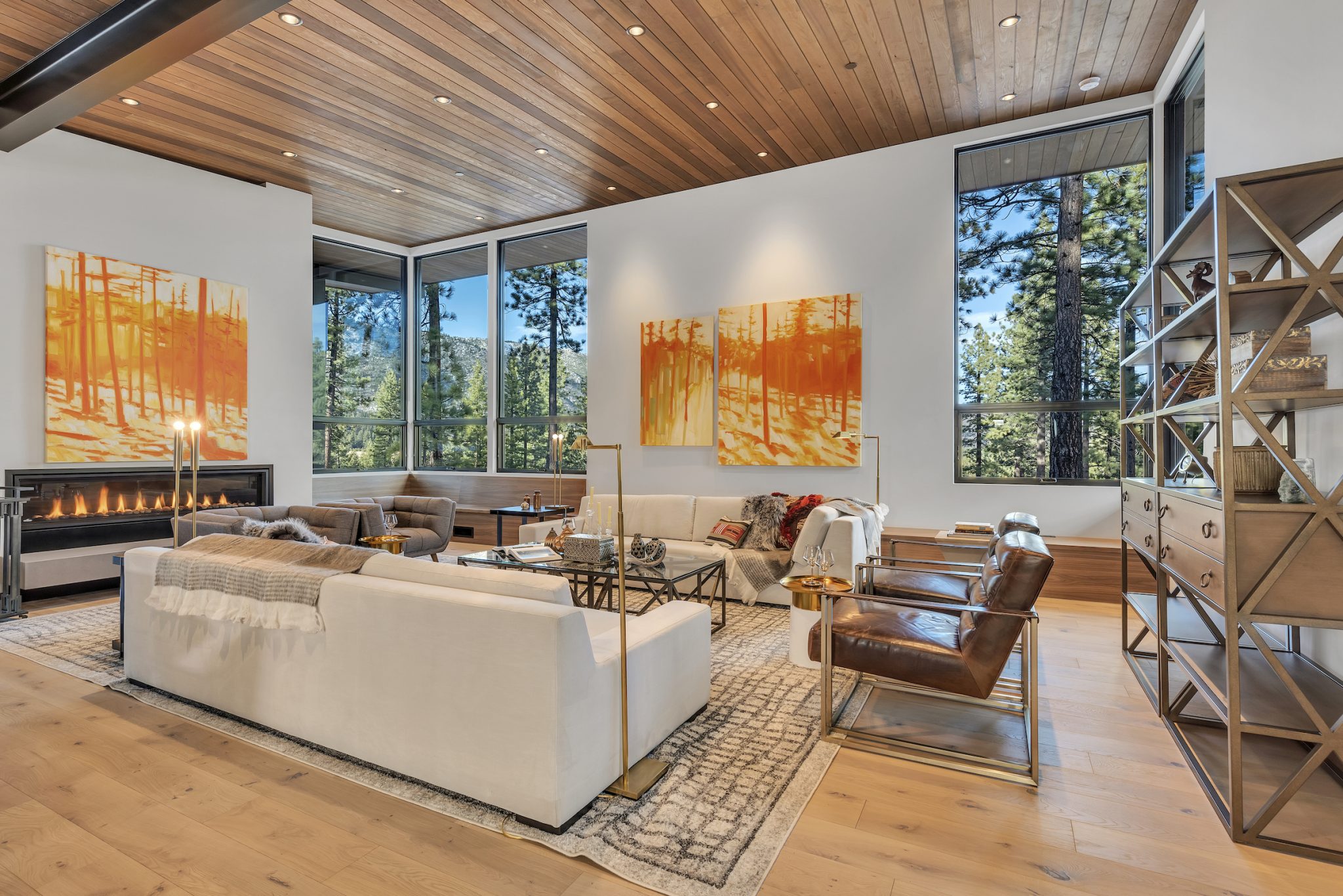 A recently completed home at Clear Creek Tahoe, where lots are a hot commodity, photo courtesy Clear Creek Tahoe
22 Feb

Low Inventory and High Demand Result in Soaring Home Prices in Tahoe Region

Just before Christmas, Zillow delivered a present for anyone involved in selling homes in South Lake Tahoe. On December 21, 2021, the online real estate marketplace published an article listing the community as its most popular U.S. city of the year, as well as most popular small town and most popular vacation town.

"Ever since that Zillow article, our hits in South Lake Tahoe on our Internet traffic have just gone through the roof," says Susan Lowe, president at Chase International.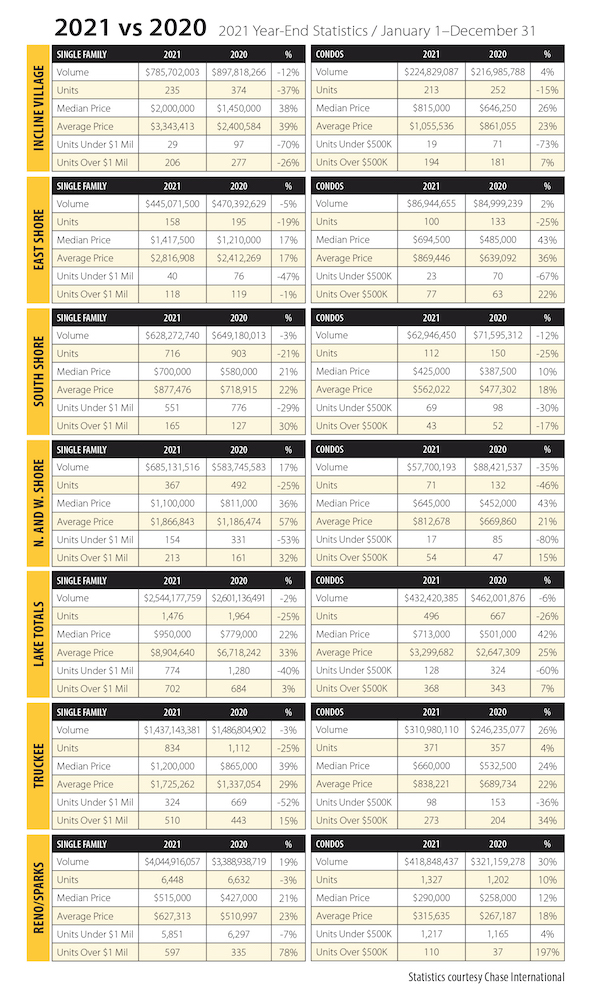 While the headline was new, the information wasn't—at least not to anyone paying attention to what happened in the area throughout the year. Chase International's Year-End Market Stats—distributed January 4, 2022—paint a picture of this profound popularity. Spread across pages of spreadsheets and bar graphs is a story of growing demand and fewer homes to meet it.
As a result, the total volume of sales of single-family homes dropped 2 percent from 2020 and one-quarter fewer units sold, while the median price rose 22 percent, from $779,000 to $950,000. Beyond this, the average price of single-family homes in the Tahoe area jumped 33 percent, from a little more than $6.7 million in 2020 to more than $8.9 million in 2021. The numbers are similar for condos, which dropped 6 percent in volume from 2020 to 2021 but leapt 42 percent in median price.
Lowe attributes these high prices driven by inventory shortage to several factors, including the untethering of workers from fixed workspaces due to COVID. If video conferencing and home offices allow you to file reports from your living room couch, why not choose a pristine spot where most people dream of vacationing?
Scott Willers, a real estate agent and principal at Your Own Tahoe – The Willers Group, agrees: "The trend of working from home and the country infilling from the coasts because of this ability to pick up and move and work from virtually anywhere has driven the demand for desirable properties in desirable locations."
He says that on a personal sales level, he sold 17 percent fewer units in 2021 than the previous year, but enjoyed a 32 percent increase in dollars. Willers calls 2021 a precedent-setting year for Lake Tahoe—and he's watched the upward trend continue, with multiple offers coming in for homes that have ultimately sold for several hundred thousand dollars over asking in 2022.
Tahoe is not the only area in the country experiencing this surge—what Lowe calls "the great migration to the beautiful outdoors"—but it is one of the most sought-after locales for those who want to clock out mere steps from their winter playground, summer recreation on the water and everything in between.
"It's going to be a problem going into 2022 because we still have these massive shortages," she says. "I'm not sure how it's going to be alleviated or when it's going to be alleviated. There still is tremendous demand for real estate in Tahoe."
Limited growth capability around the lake magnifies the issue, though there are some ways to ease the pressure. Lowe cites the Nine 47 Tahoe luxury condo project in the works in Incline Village, which will add 40 units to the available inventory when they come on the market. There are also other projects slated for development around the lake, but some of these won't materialize for another 18 months to two years. In the meantime, inventory is low—possibly the lowest it's ever been, Lowe says.
Another helpful inventory boost has been luxury communities such as Clear Creek Tahoe (which Chase International represents) and Martis Camp. Lowe says sales for Clear Creek Tahoe have been "beyond our wildest dreams," and notes Martis Camp as a place that continued selling even during a downturn a while back when "nothing else was selling" on the West Coast.
Surrounding communities also represent a draw, and although Truckee's sales volume for single-family homes dropped 3 percent from 2020 to 2021 (bumping median prices up by 39 percent and the average price up 29 percent to more than $1.7 million), condos in Truckee saw a 26 percent jump in sales volume. The Reno-Sparks-Carson area also saw notable growth in volume, median price and average price.
While COVID may have been driving crowds of people seeking a better quality of life to this area, there was another headline-grabbing player that had the potential to put a damper on things in 2021: wildfires.
Noting that no homes were lost in the Tahoe Basin—"by the grace of God"—Lowe says she didn't see the flames scaring people away from being interested in local real estate.
Willers says the blazes brought a partial hush to the market, but not enough to dampen the skyrocketing sales. Some of this may be due to the fact that the overwhelming bulk of buyers are coming from the Bay Area and elsewhere in California—a state filled with residents already used to ashy skies and an occasional orange glow on the horizon. Buyers are also increasingly from a generation that may be more used to the reality of life in the 2020s.
"What we've seen is a lot of permanent homes being bought here by younger Millennials wanting to raise a family in Tahoe," Lowe says. "Millennials are reaching home-buying age, and there's more of them than there were Baby Boomers. There's a perfect storm coming. We don't see anything slowing down. The only thing that's going to slow us down is our lack of inventory."
Lowe also mentions that there's been a huge push for many years to get workforce and other affordable housing going in the Basin. This will continue to be an issue in the region, she says, but she also believes there are "a lot of really smart people trying to figure that out."
South Lake Tahoe is where to look for median-priced homes, she adds, because there simply are more homes there.
"Plus, the south end of the lake has completely revitalized," Lowe says. "It's really a happening place."