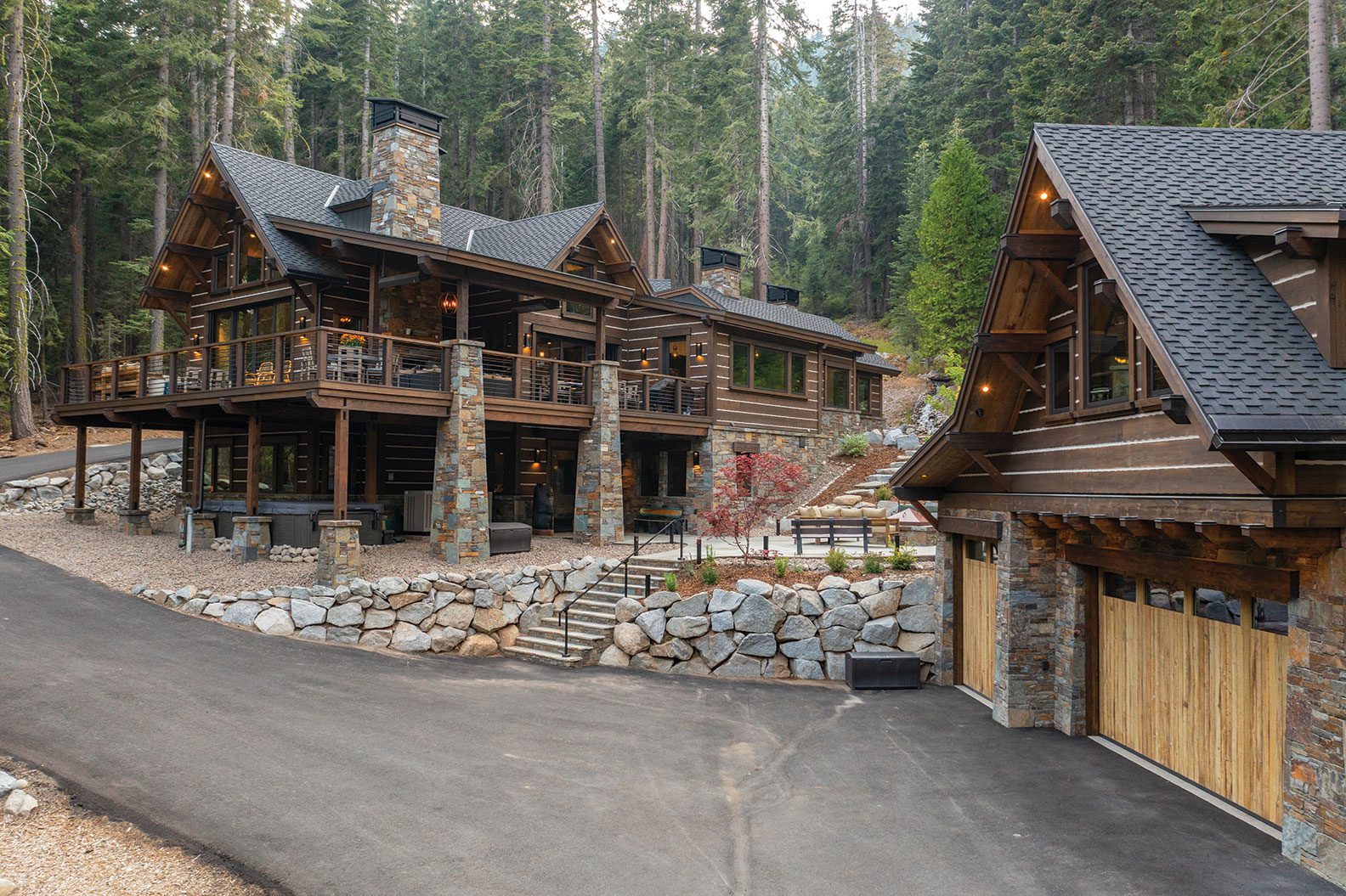 The home and its guesthouse feature classic Old Tahoe aesthetics, with gabled roofs, ample stone and pronounced chinking between cedar boards
24 Feb

A Feat of Fine Craftsmanship
Skilled local artisans band together to create a beautiful and functional home with a classic Old Tahoe aesthetic
Behind each awe-inspiring home project is an accomplished team—professionals at the top of their game whose talents coalesce in a collective effort to achieve greatness. As former competitive athletes, Robert and Becca Gallery are no strangers to this team dynamic, nor do they take for granted the good fortune of being part of a team that thrives when faced with a challenge.
It explains why they are quick to acknowledge the all-star crew of experts who adeptly brought their dream home to life.
"So many people had such a hand in our house, and all of their talents coming together is what made it work," says Becca.
"We kind of hit the jackpot on people we got to work with," adds Robert.
To understand how the Gallerys settled on the look, feel and functionality of their new full-time residence—a 5,000-square-foot masterpiece that embodies the classic Tahoe aesthetic—one must know a bit about the couple's background.
The Midwest natives met at the University of Iowa, where Becca was a power forward on the Hawkeyes' basketball team and Robert, at 6 foot 7 and 325 pounds, was an offensive lineman on the football team. A modest guy, Robert tends to deflect attention about his playing days. Yet football aficionados will likely remember him as the best lineman in the country in 2003, which led to the Oakland Raiders selecting him second overall in the 2004 NFL Draft.
As newcomers to the Bay Area, the Gallerys naturally gravitated to Lake Tahoe, where they vacationed during the NFL offseason and purchased a second home in Tahoma in 2006. They found themselves spending increasingly more time in Tahoe after Robert retired in 2012, and by 2018 they decided to move to the West Shore full-time with their three young children.
"It sounds cliché, but we just loved the environment and the people in Tahoe," says Becca. "We felt like we fit in here. We'd meet people and we'd have the same values and same ideas on how we wanted to raise our kids and live an active lifestyle. It was so laid-back and quiet and welcoming. We felt right at home."
So when the family outgrew their house in Tahoma, they began searching for a similar, relatively private property where they could build a larger home. They found just that in a nearly 3-acre parcel just up the street in Homewood. The lot was heavily forested and somewhat steep, but afforded the privacy they sought.
"We laughed because we said, 'How come no one took this lot?' But then we realized it's because it was so much work to develop it," says Becca.
Around that time the Gallerys were introduced to Hanni Walsh and Brad Altman, principal designer and principal engineer, respectively, of Evolve Design Works in Tahoe City. Walsh and Altman not only investigated whether the wooded property was feasible to build on, they pointed the couple toward a local builder who turned out to be the perfect hire.
As Altman explains: "When they asked what contractor they should use, Hanni and I both right away said, 'Markus Burkhart is the guy you'll want to use. He has the right team, the right character and professionalism, and he's going to be a good personality fit.'"
They were right.
Burkhart, who is proud to note that he was born and raised on Tahoe's North Shore, graduating from what was then Olympic Valley School in 1982, earned the Gallerys' trust immediately.
"Markus is fabulous," says Becca. "We were so happy with him, and he's one of our good friends now."
The feeling was mutual. Burkhart describes the two-year project, which stretched from 2018 to 2020, as "about as good as it can go." He worked closely with the couple throughout the process, particularly Becca, who took on the role of interior designer.
"They're from the Midwest," says Burkhart, "so they have a good work ethic, which is obviously hugely helpful. They put in the time to get it the way they wanted it."
With the core team assembled, the project went smoothly from the start, says Walsh, who designed a home with a "mountain lodge feel" at the Gallerys' request. That translated to traditional gabled roofs, an open living area anchored by a massive stone fireplace, sizable exposed timber trusses, and wood and stone exteriors complete with pronounced chinking between cedar boards. In addition, the Gallerys wanted an entry procession that allowed them to arrive at the house without having to contend with stairs. Altman and Walsh achieved this with an S-shaped driveway that snakes upslope before culminating at the front door, passing along the way a detached three-stall garage with guest quarters above. 
While Evolve Design Works was responsible for bringing Burkhart—along with his versatile foreman, Jorge Equihua—on board, it was Burkhart who took the team to the next level by tapping some of the most skilled craftsmen in the region: Names like Paul Johansen of Johansen Masonry, Bruce Bye of Byecraft Cabinet and, perhaps most prominently featured in the Gallerys' home, blacksmiths Jesse and Aaron Bushey of Bushey Ironworks, along with Steve Lopes.
"We told Markus, 'Our favorite material is steel. We want this place to be very industrial and masculine—a lot of wood, steel and stone,'" says Becca, who did not realize the extent, or artistic quality, of the metalwork that would transpire from the request.
It all started with a pair of striking steel chandeliers forged by Lopes, which hang from the 26-foot crest of the ceiling in the living area. Located on each side of the freestanding stone fireplace—a showpiece of its own by Johansen Masonry—the circular-shaped light fixtures set the tone for the metalwork that followed.
"Lopesy is held in really high regard," says Burkhart, adding that any of Tahoe's top blacksmiths would agree that Lopes—who is based in Port Townsend, Washington, but grew up near Olympic Valley—is "the best texture blacksmith in the country." 
Using inspiration from Lopes' chandelier design, the Bushey brothers then created a steel mantel that wraps around the fireplace. While Becca envisioned a simple I-beam, the Busheys convinced her to let them run with their creative talents. The result was a unique design that, along with rivet details on the inset panel, incorporates metal "straps" tucked into brackets, as if serving as belts cinching the mantel to the waist of the fireplace.
After that, the Gallerys were sold on the Bushey brothers' talents.
"Once we saw their work, we wanted more of it in our house," says Becca. "I said, 'I'm not a big art person as far as hanging art, but I want the actual house to be the art.'"
And with that the Busheys were off and running, creating functional metal art throughout the home. Much of it ties into the design of the mantel, such as the kitchen hood, the bar and what is arguably the standout feature of the entire home—the staircase located just inside the front door.
With the only direction being to include I-beams and "lots of steel," the Busheys designed a floating steel staircase loaded with sweet details, including a landing that hangs via sturdy metal supports from the ceiling above. To top it off, the team used circular-sawn old-growth fir treads from the historic Tahoe Tavern pier, which Burkhart had squirreled away for just such an occasion. The stair feature, which must be seen to be fully appreciated, far exceeded the Gallerys' expectations.
"Those two do unbelievably good work," Burkhart says of the Bushey brothers, who are based in Kings Beach. "The way I manage those guys is I just don't. They're artists, ultimately, so they get kind of an open book. I view everything, but with the exception of layout questions, I don't mess with them. Let them do whatever they want. That's what they do. They're good at it."
The wow factor upon entry does not end with the staircase. The bar, located between the stairs and kitchen, holds its own with the most eye-catching features in the home. A truly collaborative effort, it showcases the talents of Burkhart in the woodwork and construction, the Busheys in the metalwork, Paul Johansen in the rockwork, Bruce Bye in the cabinetry and Andy Cline of Roundwood Furniture, whose live-edge walnut barstools are exquisitely crafted and designed to impress.
Per Johansen's recommendation, the stone wall that houses the liquor shelves—complete with latching doors made from wood that Burkhart salvaged from the old Verdi Penstock—wraps around the corner to form a wall of the walk-through pantry. The pantry, an idea by Walsh, is as chic as they come, with floating shelving by Byecraft Cabinet that is lit from below to emit a warm glow.
Of course, given its attractive wooded setting, the home needed to accommodate outdoor living for all seasons. And it does with a large deck that includes both covered and uncovered lounging areas. The covered portion is outfitted with a television—ideal for family movie nights—ceiling heaters, plush furniture and another substantial rock fireplace by Johansen. There's also a hefty old safe used as an end table, which provides a glimpse into the Gallerys' passion for collecting tasteful pieces of Americana.
Becca explains: "We used to do date nights at auctions on Friday nights where we used to live. Robert collects classic cars and gas pumps and jukeboxes, and that safe was one of our purchases. We've taken it from house to house. It got put out there when we were moving because I didn't know where else to put it, and it has stayed out there ever since."
Other evidence of the couple's predilection for historic collectibles include a 1946 Rock-Ola jukebox tucked into a corner of the living room, as well as a pristine 1930s Bennett Clock Face gas pump on the upper floor that would make the co-stars of the History Channel's American Pickers gush with awe.
"That's one of the great things about our relationship is we do have very similar tastes for some of the older vintage stuff," says Robert. "People have made the comment, 'There's no way you could put a gas pump in your house,' and Becca was like, 'Yeah we can.' That stuff is cool. You won't find it around much longer, and it's a touch of who we are. We use that jukebox; it's not just there as an art piece. To us, it just makes it more of our home."
Indeed, the Gallerys' home is tailor-made for their family down to the last detail, from its high countertops and spacious walkways to cater to Robert's size to its kid-resistant hand-scraped hickory flooring to its expert craftsmanship that epitomizes the timeless Tahoe aesthetic.
"From a detail standpoint, I really like the home, because if you look at anything in there, anywhere, you can tell it's been thought through and detailed out," says Burkhart. "Whenever I'm over there now, I look somewhere and think, 'Oh yeah, I remember that. A lot of effort went into that.' So the house is unique in that I was able to not really compromise on anything, because the owners said, 'Don't.'
"So the thing I like most about the house is it was pretty much uncompromising. It's got everything."
Award

:

Tahoe Style
Building Design: Evolve Design Works
Builder: Markus Burkhart Construction
Interior Design: Becca Gallery Design
Landscape Design: Wolf Property Maintenance & Landscape
Square Feet: 5,039 (main home); 1,045 (guesthouse)