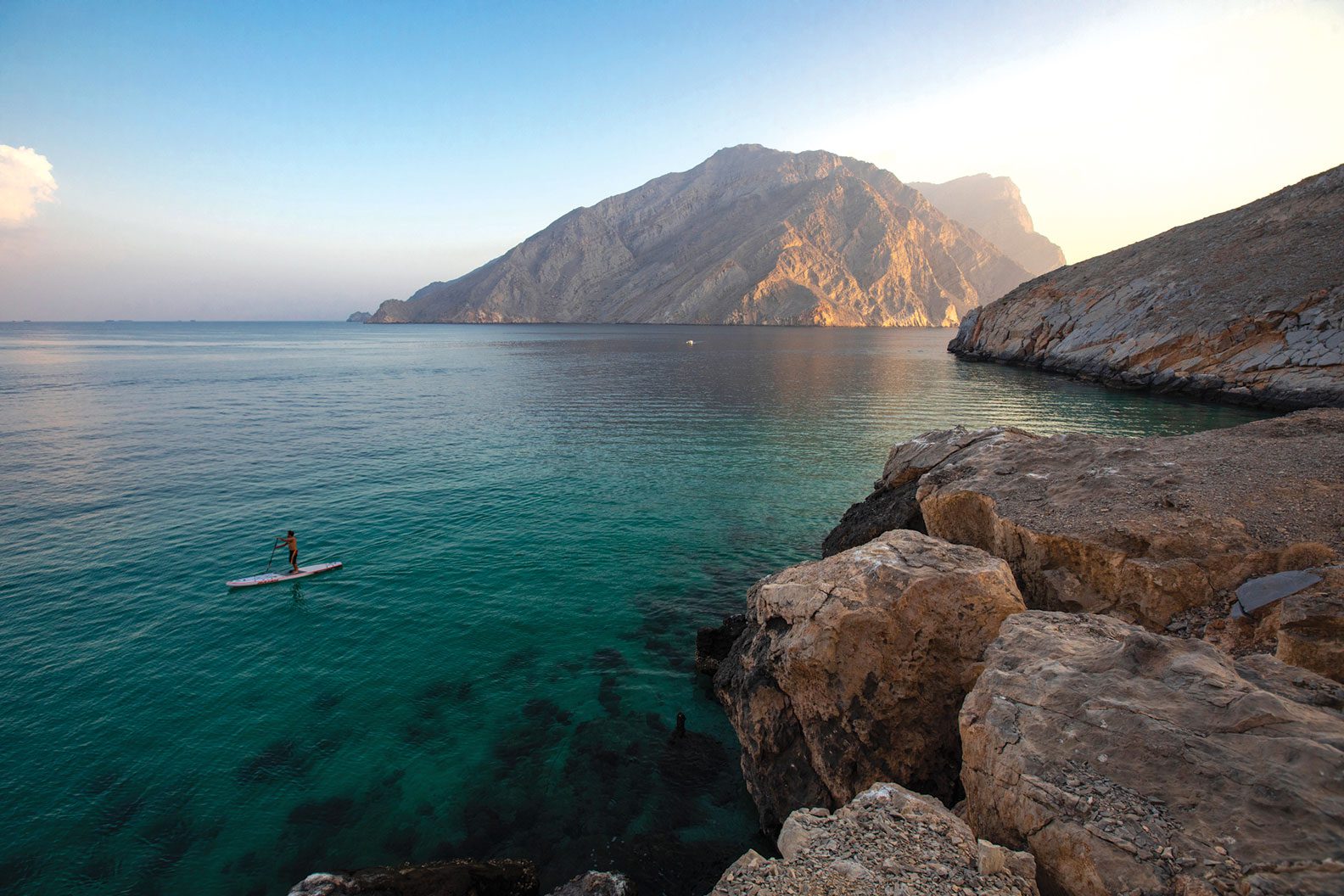 Martin Cavada, aka Hulke, paddles from camp on a calm morning in the Musandam Peninsula
24 Feb

An Adventure for the Ages
A band of Tahoe-based soccer hooligans embarks on an epic journey to the World Cup and beyond
There we were, jet-lagged, overdressed in rhinestone-studded velour Sweatsedos and out of sorts in an unattractive industrial area of Dubai. Our Tahoe band was nowhere near the 2,700-foot Burj Khalifa, the world's tallest building, and we were not about to board some sheik's mega yacht out of the marina. Nope, we were looking for the storage unit we rented for a month during our stay on the Arabian Peninsula.
It's not often that you rent a storage unit while traveling. But it's not often that you bring almost everything you own on a trip to the Middle East. Opposite the concept of "traveling light," we decided to travel heavy.
We are the Home Team String Band, a roving collective of Tahoe-based soccer hooligan adventurers, toting instruments and trying to change the world one tune at a time. Since our creation in the summer of 2010, we've traveled the globe every four years following the greatest sporting event on the planet—the World Cup.
From South Africa (2010) to Brazil (2014) to Russia (2018) and onward to Qatar this past December, what began as a tiny group of three has grown into an eight-person brotherhood with a waist-deep travel resume and a stacked and curated song list that's sure to stoke out anyone of any age, nationality or gender. 
But the Cup itself isn't enough to satisfy our eccentric needs. After all, if traveling to the other side of the world, you might as well make it worthwhile.
That brings us back to the storage unit. Our initial group of six boarded a flight from Lufthansa to Munich with just enough time to toss back a couple of steins and play a couple of tunes outside the Hofbrau Haus before heading onward to Dubai.
Lucky for us, we were allotted two huge checked bags, one of which required a special request. We brought inflatable paddlboards, paddles, PFDs, dry bags, shoes, clothes, foldable Origami bicycles, musical instruments, American flags, jerseys, camping meals for five days and camera gear—just the essentials.
Adventure by Sea
After loading up a prearranged van with our driver, Butters, and running errands all over Dubai, we headed into the Sultanate of Oman, where we took a few days to unwind. We had to acclimate to the time change and heat. We even managed to sneak in a few scuba dives with Musandam Discovery Diving. There's nothing quite like learning what's underneath the water before heading out on a five-day, self-supported paddle trip around the Horn of Arabia.
A truly one-of-a-kind journey, we paddled our gear-laden Naish boards through a series of fjords rimmed by craggy desert peaks along the Musandam Peninsula. Partially abandoned seaside villages, idyllic hidden bays and the occasional passing dhow (masted Arab sailing ship) were all that interrupted our paddle strokes through this magical slice of heaven on earth. 
We spent our days paddling and swimming and taking in the breathtaking scenery. At night we camped on secluded beaches and on cliffsides and played tunes to the twinkling stars.
By the end we had crossed two large fjords with a tiny stretch of land in between. On one side of the land was the Arabian Sea. On the other side was the Gulf of Oman. In between were 400 vertical steps that we used to portage our gear up and back down. 
Midseason Form
After the epic paddle trip, we switched gears. The opening match of the 2022 World Cup was in 24 hours.
Back at the storage shed, we swapped our boards for bikes and our camping gear for USA jerseys. We donned our Sweatsedos, grabbed our instruments and jumped on a plane to Doha.
The Home Team uses the term "midseason form" for arriving in a country a week or two early to be ready to go when the action starts. When we arrived in Doha, we were in midseason form. At the airport fans from all countries were making their way from the terminals and singing the songs of their nations. The vibe was electric.
Our bike boxes appeared on the conveyor belt and we proceeded to break them open and build our rigs. With workers and fellow travelers surveying us, we packed our gear as best we could and rolled out of the airport toward our villa.
In a land void of booze and chock-full of rules not normal to us Westerners, we knew we had to make this trip ours. That meant bikes and instruments everywhere we went.
The World Cup
It had been 3,066 days since we last saw the U.S. play in the Cup. While Team USA missed the tournament in Russia, the Home Team did not. Needless to say, we were fired up.
The vibes were terrible when we left home. The world was against Qatar. This tiny Muslim nation was public enemy number one in the West. It could do nothing right. Its score for how to treat migrant workers was a zero. Its open-mindedness on LGBTQ rights, a zero. Its overall treatment of women in general, also a zero. It felt like everyone I knew was against me as well. Was I supporting a monster?
What I have learned in all my years traveling is that every culture is different and to suspend judgment of others, especially when I am traveling in their home.
The opening match between Qatar and Ecuador was a lot to deal with. The crowds were as thick as a city during rush hour. The lack of personal space and the overbearing number of rules had us all questioning our decision to come.
Luckily, once the group stage matches began, we slowly found our groove. With four matches a day, we spent the first few sun-baked hours glued to our villa's TV, picking tunes and cheering for the underdog. As the dusty red sun began to sink behind the city, we'd set out, geared up for the next eight hours, biking through the suburbs on the outskirts of Doha on our foldable Origami bikes. Their 20-inch wheels were not necessarily built for speed, but they perfectly matched our style.
While the Western masses made a big deal about the lack of Budweiser in the stadiums, the alcohol ban actually saved us a ton of money over the course of the 10 games we attended. And I can honestly say I remember a lot more about this World Cup than any other.
Home Team Performance
We rarely were without our instruments or Sweatsedos. As the days progressed, we were becoming legends—playing tunes on the metro and outside Afghan and Yemeni restaurants, busking street corners, playing for local workers, sheiks, even at pubs and with the U.S. Air Force band. We had New Guy on mandolin, Jebberz on guitar, Hulke on cajole, T-Steak, aka Stick, on guitar, Pupsik on ukulele, Hylando on the shaker, the White Cheetah on harmonica and the Godfather as band manager.
The games were magic. Fans from all over the world piled into public transport and outside the stadiums. It was a true melting pot of the Muslim world mixed with countless others from all backgrounds. Even those without teams in the tournament donned jerseys and cheered like it was the finals.
For us, obviously, Team USA was the main event. We were fanatical, even if we didn't expect too much from them. We dressed for the occasion and were firing on all cylinders, as this was not our first rodeo.
Being a band ourselves, we wrote a few in-game chants, one in particular based on Billy Joel's Piano Man. From the ride to the game, walking into the stadium and when that first whistle blew, we were all business. Ask any of our friends and colleagues who saw us on TV when Team USA scored the winning goal against Iran. Fox, BeIn Sports, Al-Jazeera and the BBC all showed the Home Team in full slo-mo victory celebration when Christian Pulisic charged the net and scored the game-winner in the 37th minute.
Worldly Wisdom
It's not easy to change the world. This world we live in is not always a good place. Luckily, there are opportunities to be part of something special.
The World Cup is a once-every-four-years chance for nations to get together, put our differences aside and play a game. It brings people together in new places and gives each of us a chance to mingle with new faces. We are so used to being different that we forget that we are also similar.
For the Home Team, we knew we were going to the Cup. We made a choice to expand an already epic journey into a trip for the ages. Moving all our gear around foreign locales was daunting and at times overwhelming. But the smiles, the sweat, the strange looks and the heartache are why we do it. It makes for the most unique travel experience, with countless tales to tell.
---
Ryan Salm is a Tahoe-based photographer, writer and frequent world traveler. He would like to dedicate this story to M, K & K: "Love and miss you much."