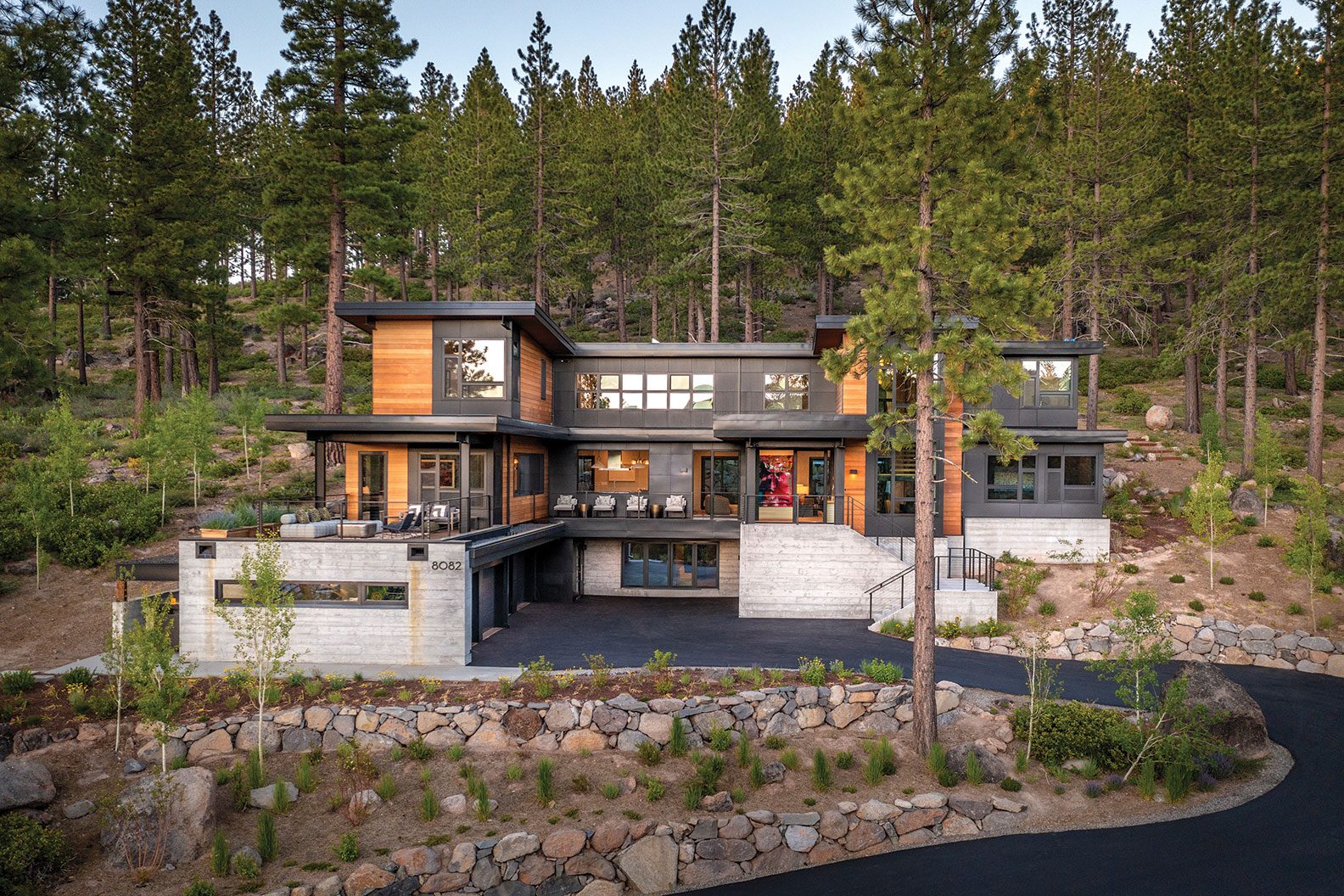 At 6,000 square feet, the luxurious and attractive mountain-modern residence in Martis Camp is not your average modular home
24 Feb

Building Memory-Making Spaces
An experienced modular-home construction and design team creates a mountain-modern residence that blends luxury with practicality
For a dynamic family with five children ranging in age from 3 to 17, a new home in Martis Camp would have to meet a number of criteria.
First, it would be suitable to site, tucked into a hillside to minimize its bulk and take advantage of views, and positioned so that its acute angles would be mitigated by the softening and screening effect of towering conifers. Second, it would be a celebration of mountain-modern aesthetics in dramatic rectilinear forms, with flat roofs angled up to access the views, large open rooms with great expanses of glass for a true indoor-outdoor experience, and a material palette of cedar siding, glass, metal accent panes and board-formed concrete. And third, it would combine elegance and luxury with efficiency and practicality.
To this end, the owners turned to Truckee-based contractor Daniel Fraiman Construction and architect Toby Long of Oakland's Clever Homes for their expertise in modular-home construction and design, an approach that is growing in popularity for high-end homes in climate-challenged regions with high costs of living.
"Mountain construction is pretty rigorous, for a number of reasons," says Long. "There are extreme climates with often difficult engineering issues due to snow and other factors. … A lot of materials and a lot of labor goes into the inside of a house, but mountain towns are struggling to source labor as gentrification has displaced the workforce."
Fraiman has been constructing homes in the Lake Tahoe region for 15 years. After completing half a dozen high-end modular homes, he agrees that it's an approach that makes sense.
"Modular construction lends itself well to our complicated building environment because we have a short construction season and limited manpower and subcontractor resources in the area," he says. "Going modular allows us to complete a large portion of the home off site in a controlled environment and move very quickly to completion once the modular portion is installed. A lot of the work in a modular project is up front in the planning stages; we reap the benefits once it comes time for on-site execution."
The Martis Camp home was envisioned as a four-season multi-generational retreat for a California family who love the mountain lifestyle. They were clear from the start about their intent to employ a hybrid modular building approach, in which the large-volume spaces would be built locally while the private, smaller spaces—those with the most detailed and labor-intensive work, such as kitchen, bedrooms, bathrooms and laundry—would be created off site. The result is a dramatic structure that takes full advantage of place.
The home is approached from below and soars up toward the treetops. Organized as three levels built into the slope, the house reaches out on two sides of the arrival court, with a two-story wing atop a garage on the left, and, on the right, an exterior stair to the main entrance, where panels of glass reveal a statement staircase that glows, lantern-like, at night.
Inside, the natural flow brings guests past the open wood and steel staircase to the living space. It is the two-story great room that most belies the home's modular construction. There, the sense is of soaring volume and strong connection to the outdoors. The room has dual orientations, one toward the hearth, the other to the views, where the patio is nestled into the slope. Running the length of the south side of the home and protected from the wind, it encourages outdoor living with a spa, built-in barbecue, patio heaters and fire pit. 
Back inside, the main seating area—with its comfortable chairs and sofas covered in rich alpaca and wool upholstery—centers on the dramatic fireplace and surround of custom leather panels and hand-rubbed steel. Multiple seating areas and openness to the kitchen, breakfast nook and dining area make the great room the true heart of the home.
"The client was adamant about wanting the home to be a place where family could be together rather than in separate spaces," says interior designer Alison Legge, who helped execute interior details. "They wanted an open-plan main floor with a lot of seating spaces so that if one kid was coloring at the breakfast nook while another was watching TV, they'd still all be together. Creating spaces that bring unity was important to them."
Still, the 6,000-square-foot home offers plenty of room for privacy and work-from-home convenience with two bedroom suites, one with its own private patio, and an office on the main floor. The upper level houses the primary suite with a private deck looking into the forest canopy, a media lounge, an additional bedroom and two bunk rooms. The lower level is a true destination and hub for fun with a billiards room, home theater, exercise area and full-service bar backed by an extensive wine cellar.
To counteract the lack of warmth common in modern mountain houses, Legge injected texture and character into some spaces through wall coverings and wallpapers. In the primary bedroom, for instance, she covered the walls, ceiling and even the built-in dressers with fabric to create a jewel-box retreat. She also made a point of using natural materials throughout the home, as a way of honoring nature. 
While the aesthetic is elegant, there's a pronounced subtheme of fun. In the billiards room, a bright yellow alpaca bench sits against a wallpapered wall. In the theater, custom sofas with Élitis wool and custom padded velvet wall panels are designed for the whole family to pile in together to watch a movie. One bunk room pairs wallpaper with a graphic linear design with neon emoji sconces and glow-in-the-dark sheets. The other devotes a wall to an enormous map featuring mountain ranges around the world, marked with places the family has skied. In that room, with its palette of black, white, gray and pops of red, the sconces resemble glass balloons.
The goal, says Legge, was "to create a place that is conducive to creating memories, where everything is elegant and high quality but still usable, approachable and not too precious. Especially for a family with five kids, the idea was to create a space where they could all come together and create those lasting memories."
Ultimately, the project represents the core values of the "clever homes" both Long and Fraiman are advocating for in the ever-more-challenging conditions presented in mountainous regions.
"This home is progressive without pushing the needle so far that it's inaccessible," says Long. "It has a nice balance in the context of a luxury home that works."
Adds Fraiman, "What I really love about this home is that it's packed full of thoughtful programming and cool features designed for a large family. In addition to the kitchen, living and dining area that all flow seamlessly together, there's a movie theater, a bar area with a pool table, home gym, exquisite wine room, kids' hangout zone, and multiple outdoor spaces at the front and back of the house that call you to entertain guests and gather as the sun goes down. This is a home that truly begs to be lived in and enjoyed."
Award

:

Modular
Building Design: Clever Homes
Builder: Daniel Fraiman Construction
Interior Design: Alison Legge Design Studio
Landscape Design: High West Landscape Architects
Square Feet: 6,018