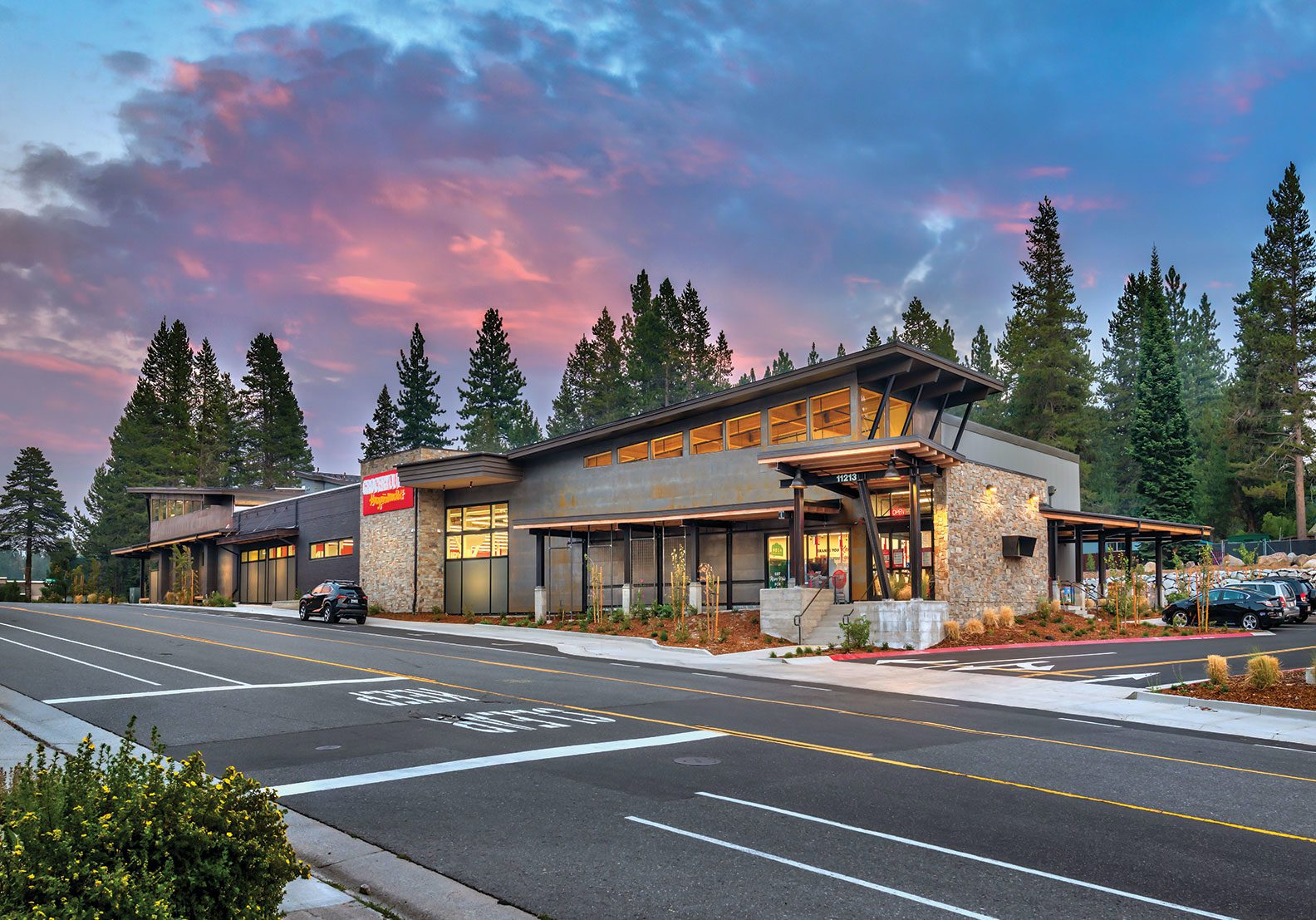 Architect Kurt Reinkens placed the building up to the sidewalk with parking to the side and rear to embrace the town's vision of a pedestrian-focused future
24 Feb

Market Research
After a political battle to build, an upscale structure with a clean, modern design now houses discount groceries and affordable apartments
For years, the Town of Truckee debated what to do with an empty parcel on Donner Pass Road. The hope was to revitalize this area in its own unique style rather than borrowing the historic look of downtown. At the time, the property was owned by Sacramento developer Capitol Avenue.
"We considered pursuing a California Highway Patrol expansion," says Brad Hays, who heads Capitol Avenue with partner Pat McCuen. "And we considered a BevMo."
Hays contacted Kurt Reinkens, principal of Truckee's MWA, Inc. Architecture – Engineering. "We were in discussions with him when we were looking at the initial design review and we were impressed with his down-to-earth and creative style," Hays says.
The CHP building never got far and there was widespread opposition to a BevMo. Then, they floated the idea of a Grocery Outlet.
"I had shopped at the one in Grass Valley," Reinkens says. "It has a loyal local following and each franchise owner can take requests from customers and carry what customers want. And the prices are phenomenal."
Still, the idea was not widely embraced.
"We had a lot of resistance from the community," Reinkens says, sharing the community's concerns about traffic or that it was unnecessary because of the Safeway across the street or that it would impact nearby neighborhoods. Reinkens notes his team did traffic, air quality and noise studies, and found the proposed project would actually improve most of these issues, such as providing a barrier to block noise from Donner Pass Road to the surrounding neighborhoods.
Finally, he realized the issue was the brand. "We did a test and said, 'What if it was a Trader Joe's?'" Reinkens says. "This was the community wanting a form of gentrification and finding every reason to go against the project based on who the tenant was."
At the same time, in 2017, the Town of Truckee was considering proposals for other grocery stores, including a Raley's near the airport and specialty grocer Nugget Markets at the downtown Truckee Railyard. But this, to Reinkens, wasn't an issue for his team.
"We didn't feel we were competing with the Nugget or Raley's," he says. "The public's opinion was, 'Oh my god, that's going to be too many grocery stores.' But after the pandemic, there were so many people in our area, it would have been crazy at Safeway. Turns out hindsight's amazing."
Reinkens, who previously served on the Truckee Planning Commission, notes that the town had tried to solve affordable housing for years. He offered Grocery Outlet as part of the solution. "If we can get cheaper groceries, more housing becomes affordable to people," he says.
He started working through the design requirements. Often, Grocery Outlets take over an older building, but in this case, it would be brand-new architecture. "I might have overdesigned the building a little bit for a Grocery Outlet," he says with a laugh.
He credits his project manager, Eli Meyer, as "a hero" on this project. "He helped design it with me and was very instrumental in developing the strategy to overcome the politics," Reinkens says.
One aspect they included was affordable housing in the overall design. The project boasts 1,631 square feet of residential space to encompass three units: two one-bedroom apartments and one two-bedroom unit. "Finding housing in this town is a nightmare," Reinkens says, noting that Grocery Outlet brought in employees to open the Truckee location and the units rented out to them immediately. 
The building itself is expertly designed and meets stringent environmental requirements. Often, grocery stores are designed as giant concrete boxes that then need to be insulated. Reinkens maximized wood-frame construction with fattened conventional insulated cavity walls to reduce the carbon footprint. Using exposed diagonal brace frames mid-building reduced the quantity of overall steel. The team engineered a roof for the loading dock, as well as heating elements to reduce the risk of ice.
Clerestory windows allow for more natural light indoors, as do the outward sloping roofs, specifically designed to provide light at the checkout counters, where it is most needed. On the west side of the entry, Reinkens included a window so that "everyone leaving the store gets a picture-frame window to Donner Summit."
Exterior elements, including metal, stone and brick, are designed to be low maintenance and are essential to what Reinkens dubs "the Truckee funk," the town's signature style. He explains it as eschewing a traditional or classical architectural style in lieu of something more authentic. "It's expressing honesty with what the materials are and including materials that are traditionally industrial, perhaps from logging or railroads," he says. "Timbers, corrugated metals—we embraced the Truckee funk with a little bit of modernism."
The store is built up to the road and incorporates a transit stop and sidewalk, embracing a vision of a more pedestrian-focused future, with parking to the side and the rear.
Another unique aspect is the project was designed to be easily converted if necessary. 
"Most buildings are designed for one use," Reinkens says. "We recognize that big-box retail is changing and if, all of the sudden, the business model doesn't work for a grocery store, the building can be converted into multiple different tenants. The long-term lifestyle of a building is a huge savings for the carbon footprint."
Once the project was approved, it was built by Hilbers, Inc.—a general contractor with which Hays was previously acquainted—in a little over a year, opening in 2020. Grocery Outlet handled the interior design and, Reinkens says, was "extremely reasonable and accommodating to work with."
Despite the original pushback, the community seems to have come around on Grocery Outlet. The beautifully executed store certainly helps.
"We get a lot of compliments on the building," says Shannon Parrish, who, with her husband Ryan, bought the Grocery Outlet business in June 2020. "People were really happy with how it was designed and how it fits into the community."
Hays hears the same thing. He credits Reinkens as the driving force for bringing lower-priced groceries and affordable housing to this section of Truckee. "If it wasn't for Kurt and his team, I'm not sure we would have gotten the project constructed," Hays says. "That's how important he was."
It was worth it to Reinkens, who believes the integrity of the town was as much at stake as was good architecture and access to affordable food and housing.
"The hard part was the front-end politics," Reinkens says. "I'm proud of a successful project and proud of having won the battle."
Award

:

Commercial
Building Design: MWA, Inc. Architecture – Engineering
Builder: Hilbers Inc.
Interior Design: Grocery Outlet
Landscape Design: NA
Square Feet: 19,450, commercial; 1,631 residential