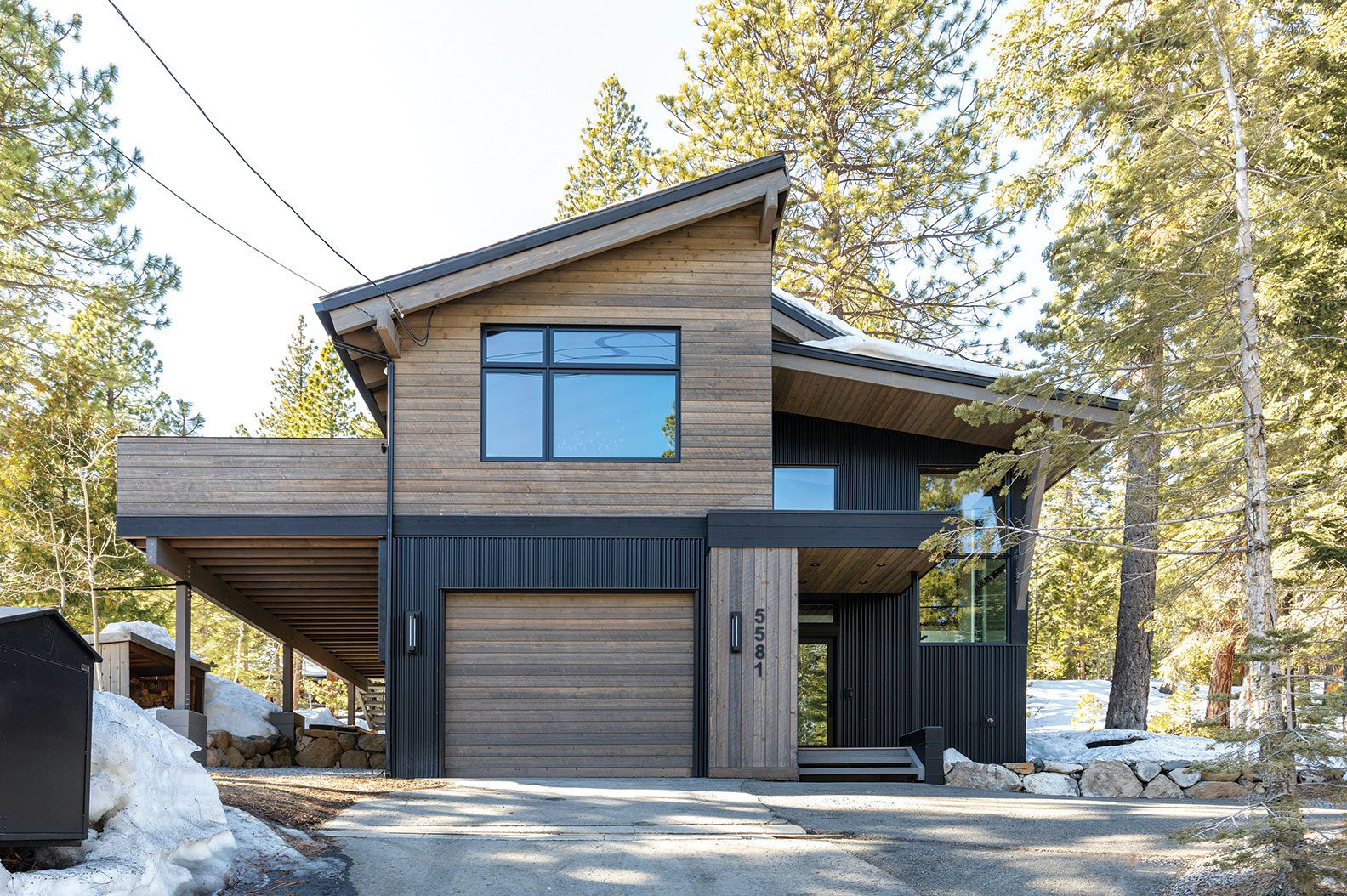 The exterior went from awkward and inefficient to up-to-date and elegant
24 Feb

Reimagining a Tahoe Retreat
A well-acquainted project team converts a dark and dated Carnelian Bay home into a bright and modern residence fit for a growing family
For folks fortunate enough to purchase a house with a plan to fully gut and remodel, the challenge is often not "what," but "how" to get the look and feel they seek. Fortuitously, Scott Shipman and Rhea Hernandez found the right team to help them reimagine and renovate their 1980s-era Carnelian Bay vacation home.
The San Jose couple, who acquired the 2,500-square-foot property on North Lake Boulevard in 2014, decided to first get to know the house for several years to help refine and prioritize their wish list. Then they hired architect Ryan Marsden, builder Steve Casey and interior designer Katie Geresy to create a renewed and refreshed retreat replete with great gathering spaces for their growing family and 8-year-old rescue dog, Apa.
"Once we walked the house together, we knew they understood our aesthetic and goals for the project," says Hernandez, who grew up vacationing in Tahoe at her family's Incline Village condominium. "It was an immediate fit. We appreciated that the three core team members knew each other and had worked together previously. Throughout the project they brought ideas to us we hadn't even considered. We appreciated their expertise and welcomed the collaborative nature of our remodel experience."
With a mix of artistry and architectural know-how, Marsden's design converted a dark and dated three-bedroom, two-bath, inefficiently arranged house into a four-bedroom, four-and-a-half-bath, light and livable layout in virtually the same footprint. The project, which spanned a year in planning and 14 months of construction, was one of the first for Marsden's new Truckee-based firm. A bonus: He was already well acquainted with the neighborhood and site since he lived nearby.
"Ryan was our touchpoint throughout the project," says Hernandez. "When we were unsure on a decision, we would consult with him and he would bring us back to the overall plan for the house."
Marsden's opening move was to relocate the awkward second-floor deck and entryway from the top of an exterior staircase to ground level and clad the exterior in a more modern mix of vertical and horizontal circle-sawn, custom-stained cedar siding, corrugated steel panels and oversized glazing.
"The way the house feels from the street is so different now," says Marsden. "In large part due to the large windows and reworked composition in the front. It feels so much … nicer."
Inside, past the simple glass door and vestibule Marsden created by moving forward the front wall, a narrow "mud hall" extends to a beautiful and functional laundry room. It is outfitted with a built-in bench, open shelving and hooks and pulled together with vertical "ebonized" planks. Imperfect smooth textured walls here and throughout the house create a clean and calming look. A bunk room and bath nearby are finished in custom walnut cabinetry with clever built-in storage, including an armoire. Garage access is also off this hallway.
A textured engineered white oak wood tread and steel rail staircase leads up to the main living area. The new near-full-height windows in the stairwell lend light and a lightness; a simple yet stylish steel chandelier here provides additional illumination.
The living room area is anchored with the original river rock fireplace; a charcoal-stained poured concrete hearth extends to create an under-window seating nook. Overhead, a rustic wagon wheel-style fixture is dropped from the original vaulted Douglas fir ceiling stained an updated "greige." Existing clerestory windows and beams were preserved, with an original glulam now clad in a more modern metal.
"When we embarked on the remodel our goal was to maximize the space for livability in a modern and practical way but maintain the character of the house by keeping the fireplace with the stone surround and original wood beam ceilings," says Hernandez.
"Architecturally speaking, there was a lot to work with," adds Marsden. "The bones of the house were good." But pulling a house apart to get to its underlying structure can be fraught with peril.
"Like any remodel, the biggest challenge is always dealing with the unknown," says Steve Casey, whose Casey Custom Builders in Truckee did all the demolition, carpentry and finish work. "Even the best plan of attack can quickly get thrown out the window as you discover more about the original build during demolition and construction."
"Steve brought so much experience to the construction," says Hernandez. "Taking a house down to studs was new to us, so we appreciated having total confidence in the workmanship. The project manager, Steve Morris, was absolutely integral on a daily basis."
Eight-inch engineered white oak planks underfoot provide a unifying element throughout the main living area. A custom built-in sofa table makes a stylish and functional connection with the adjoining stepped-up kitchen and dining area, well lit with new enlarged windows and a strategically placed sill to obscure the road below. The charcoal-toned Caesarstone island packed with storage provides ample prep (including an additional sink) and counter-serve space. It is illuminated by a trio of vintage-style pendants that drop down from a steel rod installed in the beams above and surrounded by a set of slope leather counter stools. Custom cabinetry, open shelving, contrasting porcelain slab perimeter, white backsplash tile and built-in commercial appliances, including a coffee machine and wine cooler, create a neat and tailored look as well as maximize space and flow. A small walk-in pantry around the corner features a dual-swing door made of wood and glass.
Sliding glass doors off the dining area provide additional light and access to a spacious south-facing, peek-of-the-lake deck clad in low-maintenance composite TimberTech; the rail is topped with a drink ledge. A tri-paned window above an outdoor bar counter can be folded away in warmer weather to create a pass-through to the kitchen, as well as ventilation and a nice indoor-outdoor connection. The deck features a set of stairs leading down to the backyard.
From the kitchen, a dramatic gray-toned powder room features textured wallpaper and a wall-to-wall poured concrete countertop and sink. Down this hallway are a pair of en-suite guest rooms whose ceiling-height windows provide daylight, pine tree views and fresh air venting. Bathroom features include custom cabinetry, a deep soaking tub and hex tile flooring; one of these suites will be converted into a bedroom for their baby born in October. Along the hallway are a linen closet and storage area plumbed for possible future washer-dryer installation.
The primary bedroom, while centered on the end of the hallway with sight lines from the front to the back of the house, also provides plenty of peace and privacy. The addition of high windows and sliders out to a mini deck and hot tub lets in light, frames forest vistas and offers easy outdoor access. The high-ceiling room with its original beam includes a walk-in closet and wallpapered office nook as well. The bathroom, also lit with high windows, boasts a spacious spa-like steam shower with artistic yet useful near-full-length niche and long wooden bench. This serene cleanup spot is a hit all the way around.
"The combination of finishes used in the shower made it a true timeless showstopper," says Geresy, whose KTG Design Co. is based in Truckee. "The use of Microtopping—a plaster-like, marine-grade, hand-troweled wall treatment—in combination with the teak bench creates the perfect balance of form and function."
Perhaps Geresy best sums up this "work better together" approach that got these clients the contemporary, infinitely updated house they imagined.
"While they had a clear vision and direction for the home, they also allowed us to be creative and present ideas that were slightly out of the box and unique enough to ultimately create an award-winning finished product," says Geresy. "It was easy and enjoyable to collaborate with both Rhea and Scott and make their dream become a reality."
Award

:

Remodel
Building Design: Marsden Architects, Inc.
Builder: Casey Custom Builders
Interior Design: KTG Design Co.
Landscape Design: NA
Square Feet: 2,559