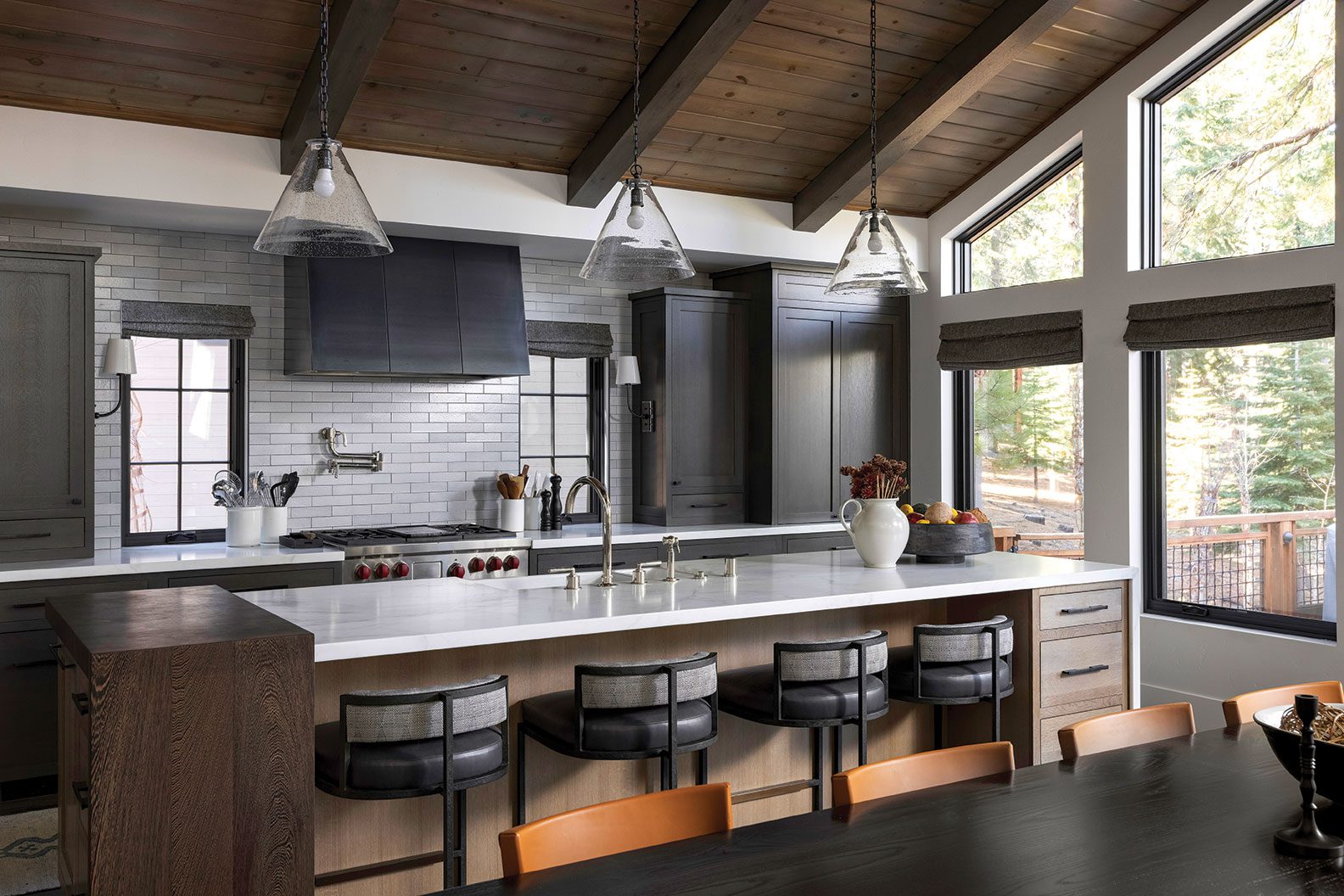 The home's kitchen was opened up and windows were added to allow more natural light to flood the room
24 Feb

When a Cabin Becomes a Home
A well-worn vacation residence gets a makeover that brings an owner's design dreams to life
Kristy Paratte and her husband Robert had owned their vacation home at Northstar for a little more than 20 years—and it showed. She explains that the couple's love of cooking and entertaining, along with having four kids and multiple dogs, had taken a toll on the cabin as they frequently visited from the Bay Area and hosted weeks-long family reunions over the decades. Plus, there was the fact that the home simply looked like it was from a different time.
Paratte got into the habit of scrolling Instagram for new design ideas and inspiration, which is how she came across interior designer Christin Balzer of Sacramento-based Haven Studios. Paratte was struck by their similar styles and tastes, which prompted a phone call to get the proverbial ball rolling. The next step was connecting in person at the cabin to talk ideas.
"As soon as I met her, I could see she was just absorbing everything when we were in the space," Paratte says. "We knew she was the right person for us."
As the project developed, Paratte—retired from the fashion industry—quickly found they were on more than just the same page. Actually, it was like they'd written the book together. She explains with a laugh that the two got to a point where they were finishing each other's sentences.
"She knew exactly what I wanted, where I wanted to spend the money, where I wanted to shave back a little bit," Paratte says. "She found the right fabrics, the right everything for a family home, for our friends, and for our dogs."
"It was really just the typical '80s Tahoe cabin," says Balzer, who worked closely on the remodel with Craig Lindsay of Truckee's Lindsay Construction. "It felt outdated to the owners. They mainly wanted to bring in more light and modernize it without losing that sense of Tahoe. … Craig did a great job at implementing the many details, and I appreciate the result his team was able to execute very much."
Maintaining that Tahoe feel meant evoking the beautiful surroundings to elevate the space out of its obvious past while avoiding too many typical mountain-modern elements. The new design incorporates more stone and still includes wood, but in a more natural way—and also in unexpected places. The sink faucet handles, for example, are wood mixed with concrete. Another surprise? There's firewood peeking out beneath the steel casings of the fireplace, which migrated from the corner to the center of the wall. While this detail might go unnoticed as a functional standard in a typical Tahoe cabin, it's a sly design nod here where the flames are entirely gas-powered.
"I'm definitely into highly texturized interiors because I feel they have more warmth and personality to them," Balzer says. "There are so many things in your house that you touch on an everyday basis, right? Your hardware and plumbing, for example—turning on and off your faucet, every single door handle, and so on. I naturally lean more toward natural materials. They have a tactile quality to them that manmade products simply cannot offer."
In an ideal world, these materials might find their way into every corner and cupboard, but cost considerations are still a reality, so evocative design involves strategizing. The shower is mostly porcelain, but it features a granite accent wall. Not only does this approach help with maintaining a budget ("because you can't splurge on everything," Balzer says), it also helps the standout features to truly, well, stand out.
One of the stars of the new design is a hall bathroom sink basin that's a literal topographic map of Lake Tahoe sunk into the concrete counter. The execution was by Clastic Designs, but Balzer has a difficult time remembering who suggested it in the first place—confirming the entire project was a deep collaboration.
"I think that was my idea," she says, "but I'm not sure anymore."
Paratte confirms the unique sink was Balzer's brainchild (and notes it's one of the most popular features among guests), but emphasizes that the designer was also eager to take on and tackle challenges that originated from the homeowners. Paratte had worked with designers who would say, "You can't do that!"—and didn't appreciate that response to opportunities for creativity.
"She would never say that," Paratte says of Balzer. "She always listened and let me talk through it … and we would come up with a solution."
One of the biggest such challenges was dealing with a post that was planned for the middle of the kitchen. Paratte didn't want it there, but the room needed crucial support, so a beam was the only other option—but "nobody wanted to do that," she says, describing the visual disparity it would create with the already existing beams in the ceiling above.
Instead of simply sighing and settling on the post, the team developed a solution, drawing on Balzer's architecture background: Install a "huge, new, big beam" to satisfy the structural need, then cosmetically "beef up" the other knotty pine beams so they all looked the same. After a little color matching courtesy of the right painter, the resulting ceiling looks unified—and there's no post.
The kitchen is one of Paratte's favorite places because it gets so much use, whether she's making jam or canning vegetables on her own, experimenting with a recipe she found in The New York Times or whipping up sides while her husband barbecues fish from his latest trip to Alaska. Family and friends can sit on the other side of the counter while the pots are simmering. Anyone cooking is no longer isolated from the guests for whom they're preparing a meal, even if they're on opposite ends of the great room that now welcomes light from ample windows added in the redesign.
She also loves the bunk bedroom: "I call it the napping room, because it's super, super cozy. It's the smallest of the bedrooms, so it gets nice and warm in there.
"And then, of course," she adds, "I love the master bathroom, because who wouldn't love that big soaking tub and beautiful finishes?"
After much thought, Paratte pronounces that the loft is now her favorite personal space, since it's where she reads, does puzzles, plays games and watches the snow fall. When it comes to her favorite space in terms of design, however, she's stuck on that hall bathroom with its Tahoe sink, oversized mirror and unique lighting.
Given the synchronicity between owner and designer, it's no surprise that just about every room seems packed with details that demonstrate the success of their shared goal of modernizing the design in a way that's welcoming to guests and robust enough to withstand regular interactions with a Labrador and a French bulldog. (Also not a surprise? The satisfied Parattes hired Balzer to redesign the interiors of their San Carlos home as well.)
As for the Northstar project, the changes have shifted everyone's perception of the place as a whole: "People would refer to it as a cabin," Paratte says, "and now people refer to it as a home."
Award

:

Interior Design
Building Design: LT Vista
Builder: Lindsay Construction
Interior Design: Haven Studios
Landscape Design: Peak Landscape
Square Feet: 2,462