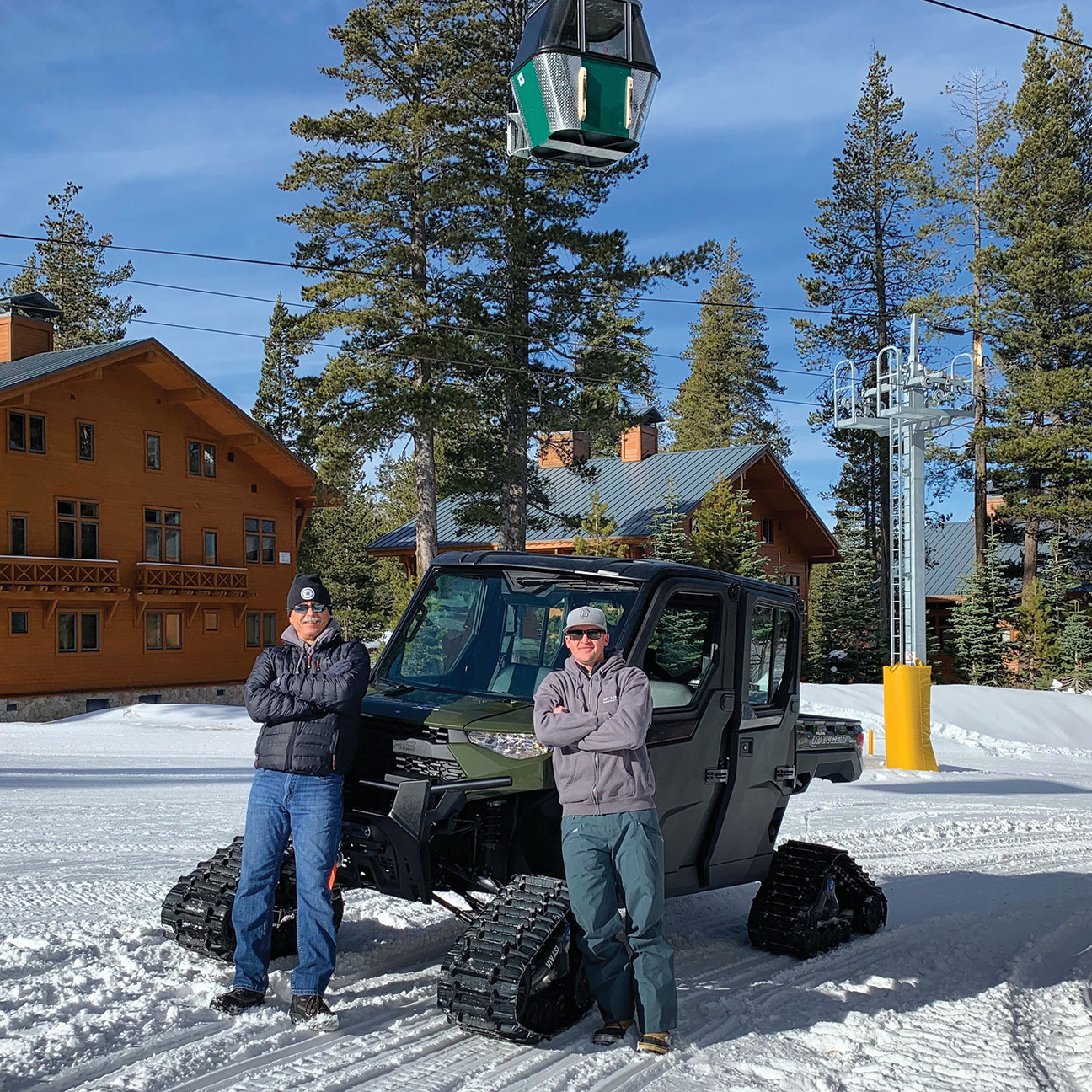 Paul Zarubin and Chris Tennant with Mt. Lincoln Construction's Polaris Ranger UTV with custom tracks for work at Sugar Bowl, courtesy photo
24 Sep

Building a Legacy
After nearly three decades in business, Mt. Lincoln Construction retains its innovative approach and quality service under a new leader
From a bird's-eye view, the rugged, snowy terrain surrounding one of California's oldest ski resorts looks like an impossible setting for homebuilding in the winter months.
Surely, no construction crew would take on the challenge of building at Sugar Bowl Resort high atop Donner Summit, where roadways are erased by feet upon feet of snow.
Truckee-based homebuilder Paul Zarubin wanted to change that. Truth is, he had to.
In 1998, Zarubin, then-owner of Mt. Lincoln Construction, was assigned to build a high-end home for a couple that planned to host a "millennium party," ringing in the year 2000 in their new digs at Sugar Bowl. 
Due to a lengthy permitting process, Zarubin's crews weren't able to get a start on the project until the late fall of 1998. As a result, they barely got the footings in before having to shut down for the winter.
Consequently, Mt. Lincoln Construction, which restarted the job as soon as the resort closed in April, faced the daunting task of erecting a 4,760-square-foot house and making it move-in ready with a quarter of the year already in the books. There was no way around it—the company, for the first time, would have to work that November and December in order to meet its deadline.
"We had about eight months to build it to be ready for the millennium party—and we promised them the millennium party," Zarubin says.
Zarubin's solution to fast-track the construction? Remove the 6 to 10 feet of snow covering the footings using a snowcat, blowers and shovels, then enlist the help of a helicopter to pour the concrete at the snowbound site. The out-of-the-box thinking worked. Crews hammered in the last nail on the home with 1999 still on the calendar.
"To this day, I marvel at that house being built," Zarubin says. "All of the helicopter work was the only way we could build through the winter. Up until that point, no one had ever worked through the winter at Sugar Bowl."
In fact, it worked so well, the following year the company built a house twice the size (about 10,000 square feet) at Sugar Bowl using a helicopter to not only pour some of the foundation in December, but also to fly in all of the lumber.
Since, Mt. Lincoln Construction has not looked back. And the company continues to find innovative solutions for wintertime building in the greater Truckee-Tahoe area. Along with using helicopters to hover and pour foundations, the company slides in cranes, trailers and portable toilets on customized skis, and uses utility vehicles with snow tracks to haul materials.
"I think that's our biggest achievement—to be able to work through the winter and reduce the schedules on these peoples' homes," Zarubin says.
'It's in my DNA'
Zarubin, a longtime member of the Local 2035 carpenters union in Kings Beach, started the company in 1991 after blowing out his knee while ski patrolling at Sugar Bowl. Instantly, Zarubin knew he wanted to carve out a niche building homes at his favorite ski resort, where he met his wife Lynn and raised his children.
"At first, I was just working in Tahoe Donner and all around Truckee on my own, just getting my foothold and making connections and stuff, but my dream was always to work in Sugar Bowl," says Zarubin, who estimates Mt. Lincoln Construction has built roughly 40 homes from the ground up, as well as hundreds of remodels—mostly at Sugar Bowl but also throughout the Tahoe Basin and beyond. "I love building; it's in my DNA. I love watching things go up."
After nearly 30 years in business, Zarubin handed off the company to a protégé who has been with Mt. Lincoln Construction for roughly a decade. Chris Tennant, a lifelong Truckee local, purchased the company with his wife Amanda and took over as its president on January 1, 2020, at the relatively young age of 34.
Passing the Torch
Tennant joined the company in the fall of 2010 after graduating from Cal Poly San Luis Obispo with a degree in construction management. He says he was instantly drawn to the innovative mindset that Zarubin instilled in Mt. Lincoln Construction.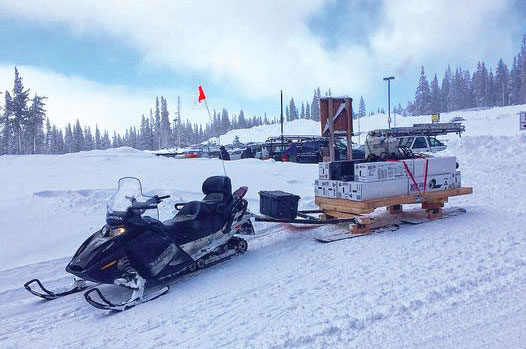 "We're great problem-solvers and looking out of the box and finding solutions to what some may just think is too crazy or too much work," Tennant says. "I think we've really embraced that as a company. There's no challenge that doesn't have a solution. No idea is too ludicrous to explore."
Case in point: Tennant says one winter they had a project that required hauling a significant amount of steel into Sugar Bowl. In the event a snowcat was not available, they considered trying to walk the steel to the jobsite, using giant helium balloons to offset the weight of the materials. Turned out, the cost needed to obtain the balloons and helium would've been "extremely prohibitive," he says.
"But," he continues, "just the fact that we worked through that and explored it… I've always encouraged our employees to not be afraid to propose something. That out-of-the-box thinking and finding unique ways to solve problems and take on the projects that others might not be willing to, we wholeheartedly embrace and get excited about it."
After Tennant's first five years with the company, Zarubin recognized that his operations manager would be the right person to lead the company when he retired. In 2015, the two signed a five-year transition agreement for Tennant to buy the company and take over as president in 2020.
Through the transition, Zarubin says he and Tennant developed a shared understanding that running a business is not just about profits.
"Meeting the clients' expectations has to be paramount, above everything else," Zarubin says. "A lot of contractors I know, if they're not meeting their bottom line, they're going to maybe cancel the contract or walk away from the job. I think that Chris and I both have the mentality that if we're going to eat the job and lose money, we're going to go the full way with the client, so at least if we didn't make a profit, we want the client to be happy and satisfied. We put people before profits."
What's more, playing a role in Zarubin's decision to hand the company off to Tennant was the fact that they share a deep connection to Sugar Bowl. Tennant, whose parents worked as ski patrollers at the resort along with Zarubin, grew up skiing the slopes and hanging around the patrol room.
"I really wanted someone who's familiar with Sugar Bowl and understands the culture up there," says Zarubin, who in retirement has continued as a consultant for Mt. Lincoln Construction. "Chris was a natural for that part of it. I knew that he would understand the homeowners and how unique they are."
For Tennant, his biggest goal as president of Mt. Lincoln Construction is to continue building on the company's legacy of treating people well and fostering creative ideas, big and small, to get the work done. Knowing snowbound Sugar Bowl inside and out helps, too.
"There are just so many neat, unique relationships and projects that we've been able to be a part of," says Tennant, noting that he hopes to grow the commercial side of the business. "I just want to continue that style of business and be a part of this community for a long time."
---
Jack Wallace is a Reno-based writer.