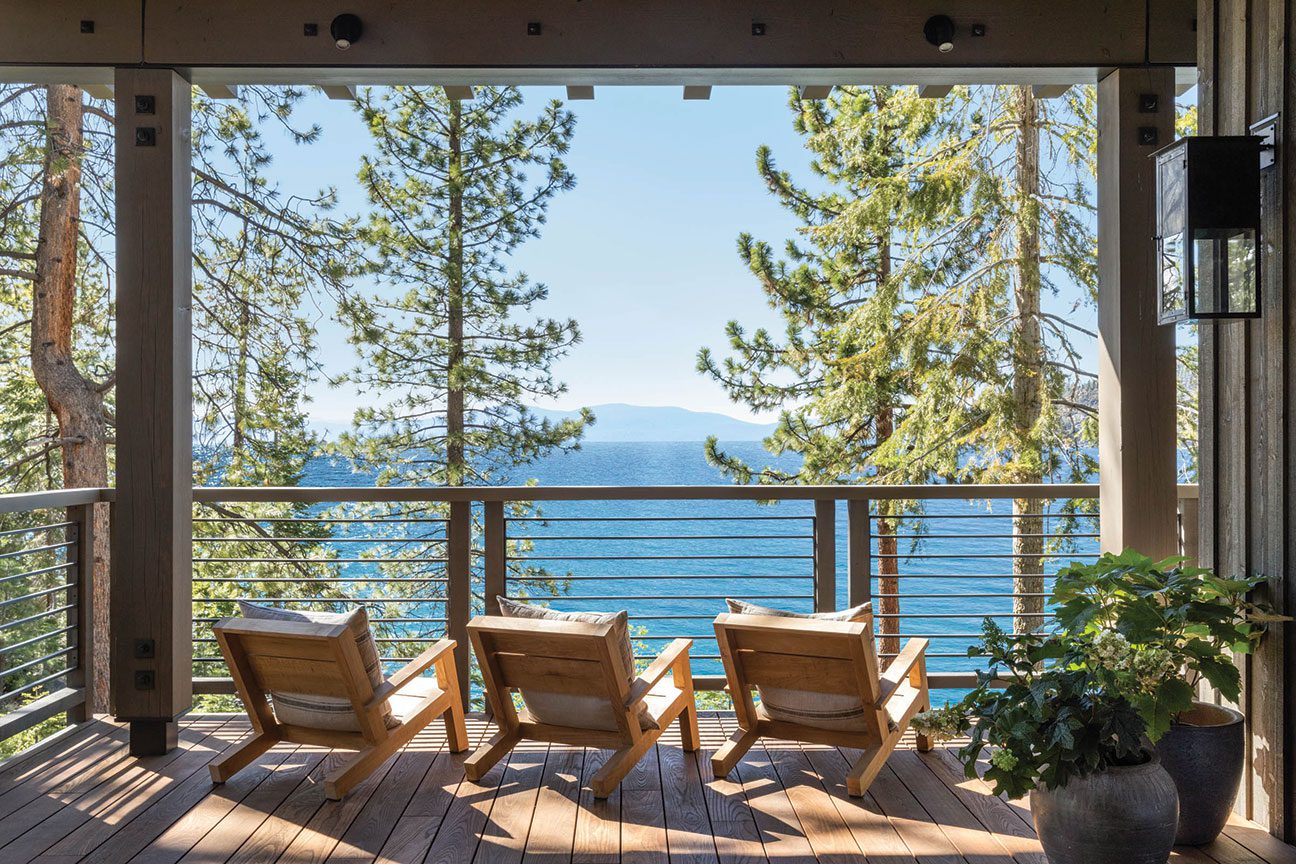 Teak chairs by James Perse create an inviting entry with a view
26 Apr

Creating a Lake-Inspired Legacy
A newly classic home was designed to host family and friends for generations to come
For a family who had vacationed in an unspoiled Lake Tahoe community for years, the driving forces behind creating their own Tahoe home were threefold: location, legacy and character.
When presented with the opportunity to purchase a lakefront property within that same East Shore community—where the wife has memories dating back to childhood—there was little hesitation in making the leap from the townhome they owned. The sloping site afforded beauty, natural features in trees and boulders, and a private pier. And it had killer views of the surrounding mountains and famous blues of the lake, in depths of tones ranging from ocean to azure. 
Interior designer Mead Quin, whose firm is based in Emeryville, had worked with the clients on various projects before. "For years they'd talked about finding a place," she recalls. "Then one day they came and said, 'We found it. We bought it.'" All along, the vision had been for legacy. "The wife said, 'Right now it's for family and friends, but I want to build a home my grandchildren will come to.'"
With three children and a large network of local friends, plus potential houseguests from the Bay Area and beyond, one of the primary considerations was how to build a home that was capable of accommodating crowds at a moment's notice while maintaining a cozy feeling.
Clare Walton of Tahoe City's Walton Design + Engineering made clever use of the existing grade to nestle the home comfortably into its lakefront locale. The 9,366-square-foot structure is tucked into the slope to mitigate scale, with primary living areas at entry level. The lower-level main volume houses the bunk rooms and a spacious media lounge and bar, which open directly onto a patio with a fire pit and lawn with lake access. The home's linear design is aligned with the shore of the lake. It incorporates a statement staircase within double-height glass walls to separate two gabled masses, the main volume and the owners' wing containing an office and primary bedroom suite. Additional guest suites are tucked below the owners' rooms, while a guest suite above the garage forms a partial third story on the back side of the house.
"For a Bay Area family living in the hustle-and-bustle stage of life with very active kids, they looked to this home as a place that could bring everyone together," says Walton, who worked with a familiar team in Tahoe City-based Loverde Builders. "The owners were interested in creating a home that could serve as a calm backdrop to their busy, full life. After spending time searching through inspiration images, they felt a gravitation toward a quiet, traditional vernacular with clean lines.
"To achieve this goal, we selected a style that has some alpine influence with the steep pitched gable, but also feels Craftsman-influenced in colors and in the texture of the details. Their focus on using the lake and feeling connected to the water with the pier and their boat was a big draw for the site, and it influenced the way we laid out the home in a linear format."
The arrival sequence sets up the experience as visitors descend the sloping, winding drive through a conifer forest to the parking court at the upper level of the cedar-shingled, metal-roofed home. The entry is reached via a bridge to a porch, where strategically placed Adirondack chairs face views that open up over the great blues of the lake. Once inside, it is these views that inform the interior palette and constitute the home's primary artwork.
The family loves to entertain, so the home was conceived to house a crowd. Says Quin, "The client kept repeating, 'I want to be able to entertain 20 people on a whim. It needs to be able to hold and host a lot of people easily.' That and the orientation to the water were the driving factors in how we laid out the space and decisions we made in regards to color choice, layout and materials." 
Designed to be welcoming in all seasons, Quin employed softened and refined colors and materials to help make the new home feel lived in and to ground against dramatic expanses of land and water in a home where virtually every window frames a view. The extraordinary light, too, had to be taken into account. It bounces off the water and graces the interiors in different ways at different times of day. Drawing from the lake, sky and forest, the interior palette includes blues, grays, greens and neutrals set against hand-plastered walls that contribute depth and dimension.
With soaring ceilings supported by a series of bold trusses and a monumental stone fireplace that bisects the primary living space, the great room and dining room are grand in scale. But these spaces are made cozy in the dining room with auxiliary seating in built-in banquettes and in the living room with soft sofas facing one another in front of the shared double-sided fireplace, an arrangement echoed in the paired sectionals and fire pit on the deck just outside. In the kitchen—which opens to the living area and is served by a pantry from which the dining area can be accessed directly—a coffered wood ceiling adds texture and creates a feeling of containment.
The home has many bespoke touches, such as a dining room that accommodates a traditional dining table as well as built-in banquette seating for tables that can be kept separate or moved together. "The idea behind that," explains Quin, "was that if they're having a huge dinner party with lots of kids, they can feel like they're all having dinner together. They can easily seat 20 people on a whim. They also use that space for games, or they will work there on their laptops. They wanted to have plenty of space for dining so when they have three families over they can seat everyone comfortably."
Two bunk rooms—one for girls, one for boys—each hold six double beds, with lockers specifically designed to accommodate travel bags. Throughout the home, the designers layered in nooks and crannies like open shelves and window seats to create unexpected moments that make a space memorable. Thoughtful touches—a baking station for the culinary-minded daughter, a reading nook in a guest room, a "stimulation station" where guests can easily grab coffee or cocktails depending upon the time of day—make the house welcoming for family and friends alike.
"The goal was to create a home that was quiet and would create a classic backdrop to their lifestyle," says Walton. "They wanted something that would recede into the landscape and would be a vehicle to experience the Lake Tahoe views and the lifestyle."
---
Chase Reynolds Ewald is the author of 15 books, including Cabin Style, Rustic Modern, At Home in the Wine Country with Heather Sandy Hebert and the multi-award-winning Bison; Portrait of an Icon. When not traveling the West, she writes from her home in the San Francisco Bay Area. Follow her @chasereynoldewald or find her at chasereynoldsewald.com.