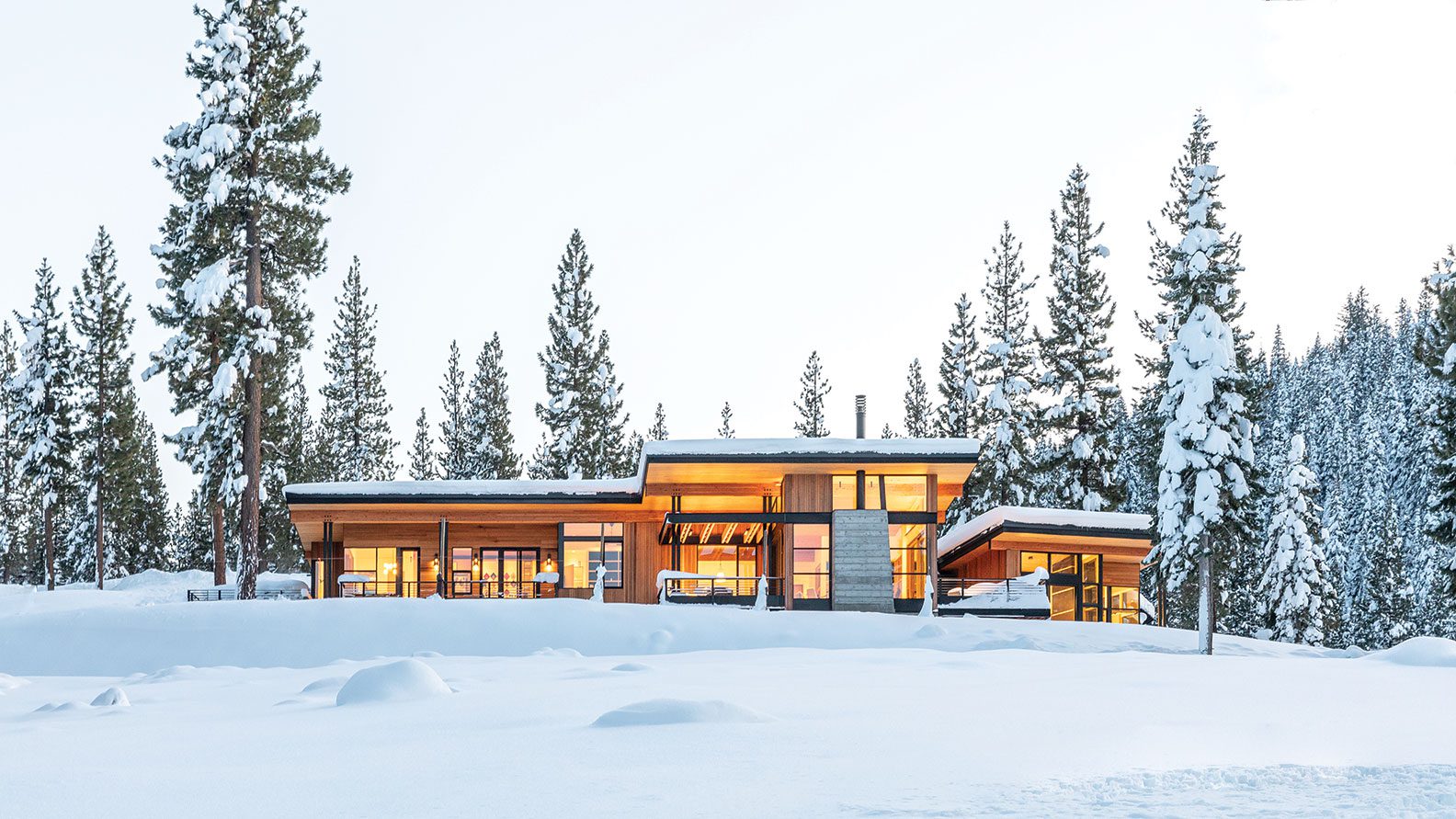 The home was expertly shoehorned into a hillside in the ski-in, ski-out Martis 25 community
24 Feb

Home is a Journey
An enjoyable design and build process was crucial to the owners of this impressively understated Martis 25 residence
Buildings don't just appear. We know this, of course, but the owners of one of the newest additions to the ski-in, ski-out Martis 25 community—John and Maggie—are especially aware of the fact that bringing a home from concept to design to construction takes considerable energy and effort. As estate planning attorneys, they're also cognizant of another crucial element: time—specifically, the percentage of a person's remaining life that an involved build represents.
"In my freshman English class in college, I had to study the Andrew Marvell poem: '… at my back I always hear / time's winged chariot hurrying near," Maggie says. "I do look at my activities and think, 'OK, time is my most precious resource.'"
In more prosaic words, the married couple recognized that they have a finite number of years left. With that in mind, they didn't just want to enjoy the finished product—a 3,685-square-foot second home where they could escape from the Bay Area to recharge while gazing at the Carson Range—they wanted to enjoy the journey, too.
"People who look at just the end product … their impatience taints the process," John says. "Their enjoyment of the end product is reduced."
To that end, they approached the project from an atypical angle. Rather than researching a bevy of architects and hiring just one, they paid three different architects a flat fee to translate the couple's ideas into a "back of the napkin" sketch with a plan to choose the one they liked best. They found this strategy to be successful when they remodeled their Oakland home 20 years ago, and it was similarly successful when they employed it in late 2019.
The "winner" was Ryan Marsden of Marsden Architects, who initially balked at the deadline.
"They basically gave us three weeks to 'show us your best idea,'" he says. "At first, I thought, 'Oh, man, too aggressive. I don't know if I have time.'"
Then his competitive nature kicked in. He described the feeling as finding himself back in the studio in architecture school, being given an outline and told to come up with whatever he wanted. He describes not sleeping for a week while feverishly putting together floor plans and 3D modeling.
His vision was a "less is more" marvel that took cues from the topography. The structure followed the grade and stuck closely to a single contour, with angles and details echoing and even mimicking the nearby peaks. From the street, all you could see was a simple roofscape. From inside the house, however, a two-sided great room heavy on the glass let light and warmth pour into the space and invited lingering to look at Martis Valley. The sunrise side featured a covered outdoor dining space ideal for morning coffee, a reprieve from the summer sun and meals under patio heaters, while the sunset side boasted a patio with a fire pit perfect for evening cocktail hours and stargazing. A central atrium/solarium with an eye-catching oculus connected to the more private primary bedroom "pod" via a glass bridge to the west and ushered visitors toward guest rooms to the east. The central pavilion housed the kitchen, dining room, powder room and the showcase great room with a board-formed concrete fireplace heart.
"If this were my house," he remembers telling them in December 2019, "this is what I would do."
Marsden saw nothing but poker faces when he completed his presentation, but later got the call: "We love what you did!"
Vision to Reality
Marsden attributes the success of this project to his strategy of shutting up and truly listening to the clients, which resulted in a final build that came straight from his plans—almost. He originally envisioned aspen trees growing through the oculus, but had to ax that idea.
"Understandably, the fire department doesn't allow trees that close to the house," Marsden says. "Despite this, it still turned out to be a great addition, bringing light into the center of the home."
He also, of course, said it wouldn't have been possible without the project team that included contractor Joan DeRyk Jones of Jones Corda Construction and interior designer Katie Geresy at KTG Design Co.
While John and Maggie were testing Marsden and his competitors, they were also interviewing contractors. Jones says she hit it off with the couple right away: "They know who they are and what they want … and really believe in the process and professionals being experts in their field—and trusting the experts."
Jones explains that Marsden is a "wonderful" architect who designed a home packed with important details, noting that the site was challenging both for its sloping location and the amount of snow it gets. One of the biggest problems in need of a solution was the central fireplace, which had to be poured at the start of the project, since the rest of the home was essentially built around it.
"It's a monolith, basically," Jones says. "It goes from literally the foundation all the way to the top windows."
Forming and pouring such a massive element is something she's done only two other times in 20 years, she says. Despite the potential for blowouts and other disasters, the concrete went off without a hitch. Marsden didn't want a big chimney to dominate the room, so he stopped it at the transom windows' sill line, then extended a steel pipe through the roof for the flue. This keeps the great room from being literally overshadowed by a concrete mass and adds a playful detail to the exterior.
Jones says another of Marsden's designs that required creative thinking to deliver was a slot window that sits directly below a support beam in the back guest bathroom.
"It's a really cool feature, but it's not easy to execute," she explains.
A window, being thin glass, doesn't provide much support for a heavy beam above—but it's something Marsden always wanted to try as a "cool art piece."
The solution was to create a double steel column detail with a bucket to hold the glulam beam. The result is a sort of visual trick where it appears from the outside that a solid beam is transforming into a pane of glass.
The architect and contractor also both list the precise carpentry involved in making the CVG hemlock siding and soffit details look so effortless. It's a detail not many people will notice, Marsden admits, but anyone walking up to the front door or going in or out of the powder room who looks outside—say, at the drainage solution doubling as a water feature that pours snowmelt or rain off the roof and into the dry creek bed below—will hopefully see the intricate detailing.
"Jones Corda totally nailed it," Marsden says.
"I'm thrilled with how beautiful that turned out," Jones says, adding that they all worked cohesively as a team—architect, contractor, interior designer and owners—which made the project unusual and fun for everyone.
"They let us come up with what we thought was the correct solution," she says, "and they just embraced it."
Every Second Counts
"We have been pretty generous supporters of environmental issues for a long, long, long time," Maggie says. "I had a little bit of discomfort about building a second home. … Nobody needs a second home."
Many of her concerns were allayed by the fact that their building site was formerly logged and carved through with ski runs, so they weren't "tearing up pristine wilderness," plus Marsden's smaller design required no excess excavation and employed high-performance insulation, passive solar house-warming glazing and hydronic radiant heating. 
This is also not a "visit during the holidays and once in the summer" sort of second home. Maggie and John made occasional journeys to their condo in Northstar, but estimate they now spend about 50 percent of their time here. In fact, the guest rooms are not actually guest rooms at the moment. John uses one as an office, while Maggie—now retired—uses the other for her primary hobby: quilting. One of the "conditions" of John fulfilling his dream of designing and building a home was Maggie getting a computerized long-arm sewing machine.
"I've been doing patchwork for 40 years," Maggie says, explaining that what most people think of as quilting is the dynamic design on top, but the handiwork also involves stitching together multiple layers. She usually sent her tops out to be quilted by somebody else, but now keeps the process in house. In fact, she was working on quilt top number 40 at the start of 2023, exactly a year after getting her machine and moving into their new home.
As estate planners, they also built the future of the home into it from the start. After initially discussing leaving the house to an environmental nonprofit upon their deaths—which raised some concerns for them—they opted instead to give what is known as a "remainderage," which involves a guaranteed gift to charity.
But for all of their focus on end-of-life issues (and beyond), Maggie and John are now doing what they planned to do for years: enjoying their Tahoe-area home.
The off-garage mudroom, accessed via the auto court, is two-sided to allow full seasonal exit and entry. It's also a laundry room, and they call it the "dog suite" in honor of their two Australian shepherds—an "elderly gentleman" and almost-year-old puppy who "acts intoxicated" when getting to go out in the snow—but they especially enjoy the easy access it provides for outdoor pursuits like skiing, hiking and biking.
"This time of year, it's very nice to walk out the door, put on skis, and ski down to the lift," John says. "At the end of the day … I walk in the same ski door. [I don't] have to get into any kind of wheeled conveyance to get to the lift."
Maggie notes that they eat pretty much all their meals outside during the summer, and they also spend time on their decks during the winter.
When not outside, the two do a fair amount of reading. Marsden integrated built-in bookcases in the hallway between the main gathering space to the east-facing "ski slope suite." The shelves of volumes waiting to be read add personality and warmth, and a ladder lends a library air to what would otherwise be a strictly functional hallway.
So with all of these details, what do they love best about their half-time home?
"The view," Maggie says with a sigh, noting how easy it is to see the sun come up over Mount Rose.
"And the quiet," John adds.
"It's very quiet," Maggie agrees. "So deliciously quiet."
"We did not want to build an edifice. We wanted to build a home," John says after some reflection. "I think we succeeded in doing that."
Award

:

Outstanding
Building Design: Marsden Architects, Inc.
Builder: Jones Corda Construction
Interior Design: KTG Design Co.
Landscape Design: NA
Square Feet: 3,685