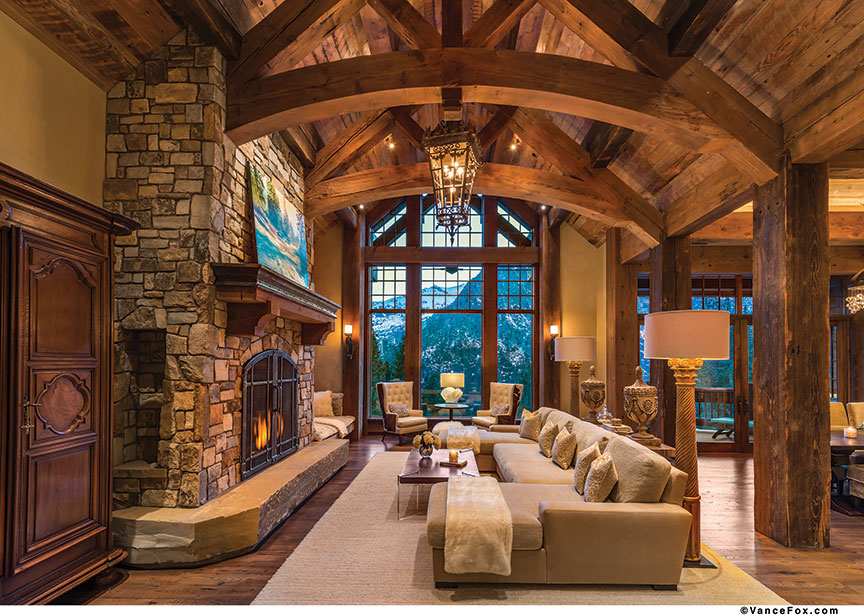 15 Jun

Pin It!

At 2 a.m., Gayle was still 'pinning.'

The part-time Seattle resident, then living in the Bay Area (who asked that her last name not be used), wasn't an insomniac crocheting on a sleepless night. Gayle was trawling the photo-blogging site Pinterest in late 2012 to find an architect to build a home on a lot she and her husband, Alex, had recently purchased in Olympic Valley.

"I put 'luxury mountain homes' into the search bar and came across a number of homes designed by Locati [a Bozeman, Montana-based architect]," Gayle says. "Their photos spoke to me, it was exactly the look we were hoping to achieve. It got to the point where I could recognize their work—it was so distinctive."

So, Gayle shot off an early-morning email to Alex, who was working in India at the time, and he responded immediately asking her to call the company about designing the couple's home.

To recap, the site connected a woman in the Bay Area with an architect in Montana after conferring with her husband in India, all well before the neighborhood coffee house opens. Even in home design, the Internet is a transformational tool.

"I don't think anyone in our office knew Pinterest existed," says Kyle Tage, the Locati architect who designed Gayle's home. "We don't really do anything with it. By now I bet you we've gotten 10 to 15 projects off of it, and 150 to 200 inquiries."

The story starts before all this was possible—before Pinterest, anyway.
From the Alps 
to the Sierra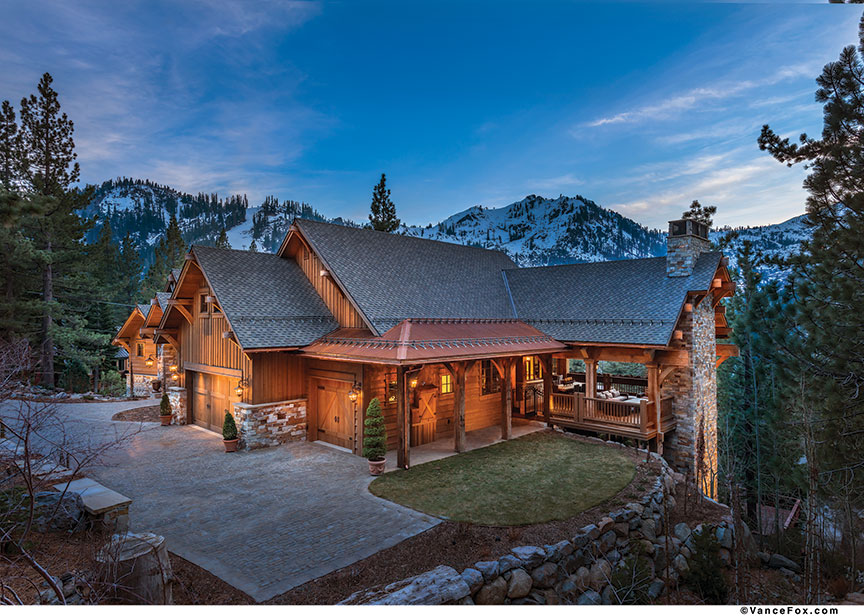 Alex was born in Munich, Germany, and moved his family of Gayle and three children (now 26, 24 and 23) to the Bay Area in 2002. Shortly thereafter, they began taking ski trips with a friend to Alpine Meadows and Squaw Valley.
"The Tahoe area reminds me of the Austrian, Swiss and Bavarian Alps, both in winter and summer," Alex says. "We'd been coming up since 2002 and found the property—a very small one-bedroom studio."
The lot the home stood on affords a breathtaking view of Olympic Valley—with sightlines directly across to the resort's tram lift tower and the famed KT-22 ski run.
"KT-22 is sacred ground for passionate skiers like we are," Alex says. "I love to look across at it from the kitchen or the dining room."
With Locati on board, Gayle and Alex set about creating a timeless, mountain-style home full of heavy timber trusses, large windows and plenty of rock and wood on the exterior. Copper flashing catches the eye as one enters the home.
"We were always looking for something timeless," says Gayle. "Having looked briefly at finished homes, what turned us off was looking at homes and being able to date them immediately. The European mountain look is timeless—this home doesn't look a whole lot different from one that was built 100 years ago."
With those parameters, Locati set about designing the two-story, 7,900 square foot home. A grand entrance welcomes visitors into the great room and magnificent views across the valley, while a well-appointed floor plan keeps the dining room, wet bar and kitchen open to this main space.
"It's all one big, open entertaining space," says Tage. "It was really important for [Alex and Gayle] that if one of them was in the kitchen or the living room they wouldn't be separated."
Schlauch Bottcher Construction (SBC), also of Bozeman (though with a locally-based crew), signed on to build the home under the supervision of project manager Dave Haney. The job started in late 2012 and major construction wrapped up by summer 2014.
Challenges cropped up right away, Haney says, noting the lot sits on a fairly precipitous slope and required quite a bit of rock removal.
"That's what we do, though," Haney says.
An expansive, covered wooden deck was designed for outdoor family gatherings. An exterior grill and sink are at one side of the deck, which flanks the kitchen and includes a pass-through window to easily transfer food and cutlery. On the other side stands a massive, 40-foot stone fireplace.
"The fireplace out there had dual purposes," Tage says. "First, you're blocking the view to the neighbor's house from the deck, and then you're giving warmth during the winter season."
A dining table on the deck was fashioned from an onsite fir tree felled during construction. Other parts of the tree are used throughout the property as landscaping.
"In the summer we used the deck quite a bit," Alex says. "What people really like about that deck is you bring the outside in. You smell the pine, you feel the breeze, you have all the luxuries you would have in a kitchen area but you get to be outside."
A Timeless Interior
Inside, the kitchen is light and bright, accented with distressed, off-white Plato cabinetry, a statuary marble island and Carrara marble countertops. A light marble backsplash sits behind the range and under a hood custom-designed in Bozeman.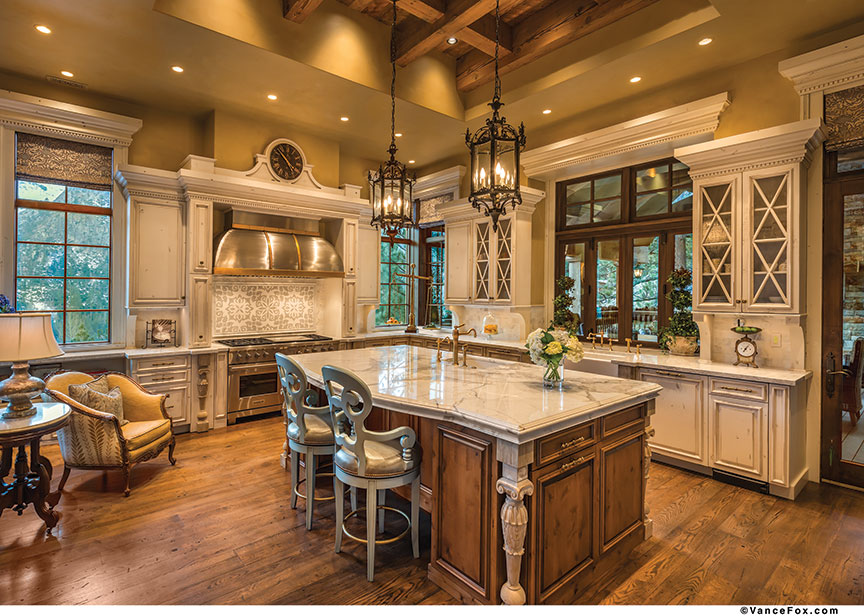 "The kitchen is my favorite part of the house, but it's not the original direction we were going to go with for that room," says Amanda Heys, Locati's lead designer. "We were originally going to go with darker stains and tones."
That's because Gayle assumed a mountain-style home would have dark, natural wood in the kitchen. During a coffee break while Gayle and Alex met with the Locati team, Gayle pulled out a houzz.com photo to show Heys her idea for a dream kitchen—one that looks similar to the finished product in her new home.
"Amanda said, 'why not have your dream kitchen in Squaw?'" Gayle says. "I told her I didn't think the style fit, it's more for a home in the suburbs or a small city."
The space, though, with windows on two sides and plenty of natural light, turned out to be perfect for the airy kitchen, Heys says.
"We created that space to bring in the light colors," she says. Off-whites and creams were used instead of a bright white, maintaining a cleaner look to the design while still allowing some rustic elements.
Gayle's taste is also evident in the dark antique French doors adorning both a wine room off the wet bar and the entrance to the master suite. She was intent on incorporating some antique elements into the home and during the design phase was asked to find pieces she wanted so they could be drawn into the plans. "I don't have to be told twice to go shopping," Gayle laughs. She found the doors at Berkeley, California's Omega Salvage and immediately had them sent to the site.
In the master suite, the doors open to three rooms—Alex's office, the well-appointed bathroom and the master bedroom, with a small deck overlooking
the valley to Squaw beyond.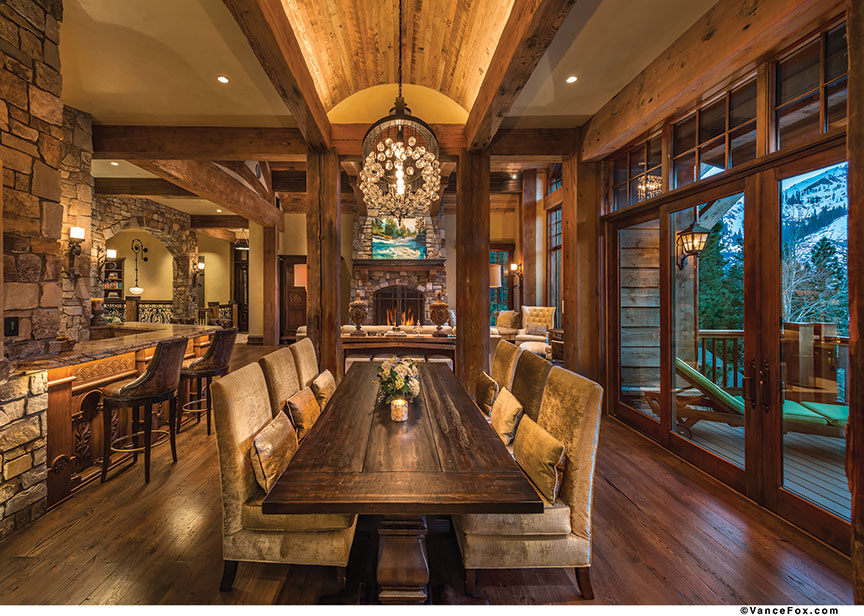 "We just love the view when we wake up in the morning," Alex says. "We can look straight out and decide how soon to go skiing."
The master suite creates a self-contained unit on the main floor, allowing Gayle and Alex quiet even if their three kids are socializing on the lower level, which includes bunk rooms, a gym/spa area, a bar and pool table.
The way downstairs remains quiet at first—a large window seat backed by a waterfall feature sits prominently in a landing halfway down. With books on one side in Alex's native German and on the other in English, Gayle foresees its use as a place where hoped-for grandchildren can learn to read in both languages.
The lower level is full of fun touches—a bath with a trough sink and saloon-style doors leading to the water closet, an antique bar originally from Reno though sourced from Denver (updated with modern appliances and finished to match the aged wood) and a pool table. Past the games are a gym, sauna and dunk tub under a backlit onyx slab to create a soothing sensation.
Haney credited the success of the project to the teamwork of the craftsmen
and tradesmen who worked on the job. Artisans and subcontractors from both
the local area and Montana contributed to the quality of the project. SBC
and Locati both earned plaudits from Gayle and Alex.
"During the process and shortly after we purchased the property, we'd mention to people we were in the process of building a home. They'd say 'I've done that. What a nightmare; are you ready to kill your builder?'" Gayle says. "Luckily, we always said, 'You know what? We couldn't be more thrilled with our builder.' His level of professionalism and consistent quality of work was excellent. We couldn't be happier with them or the finished product."