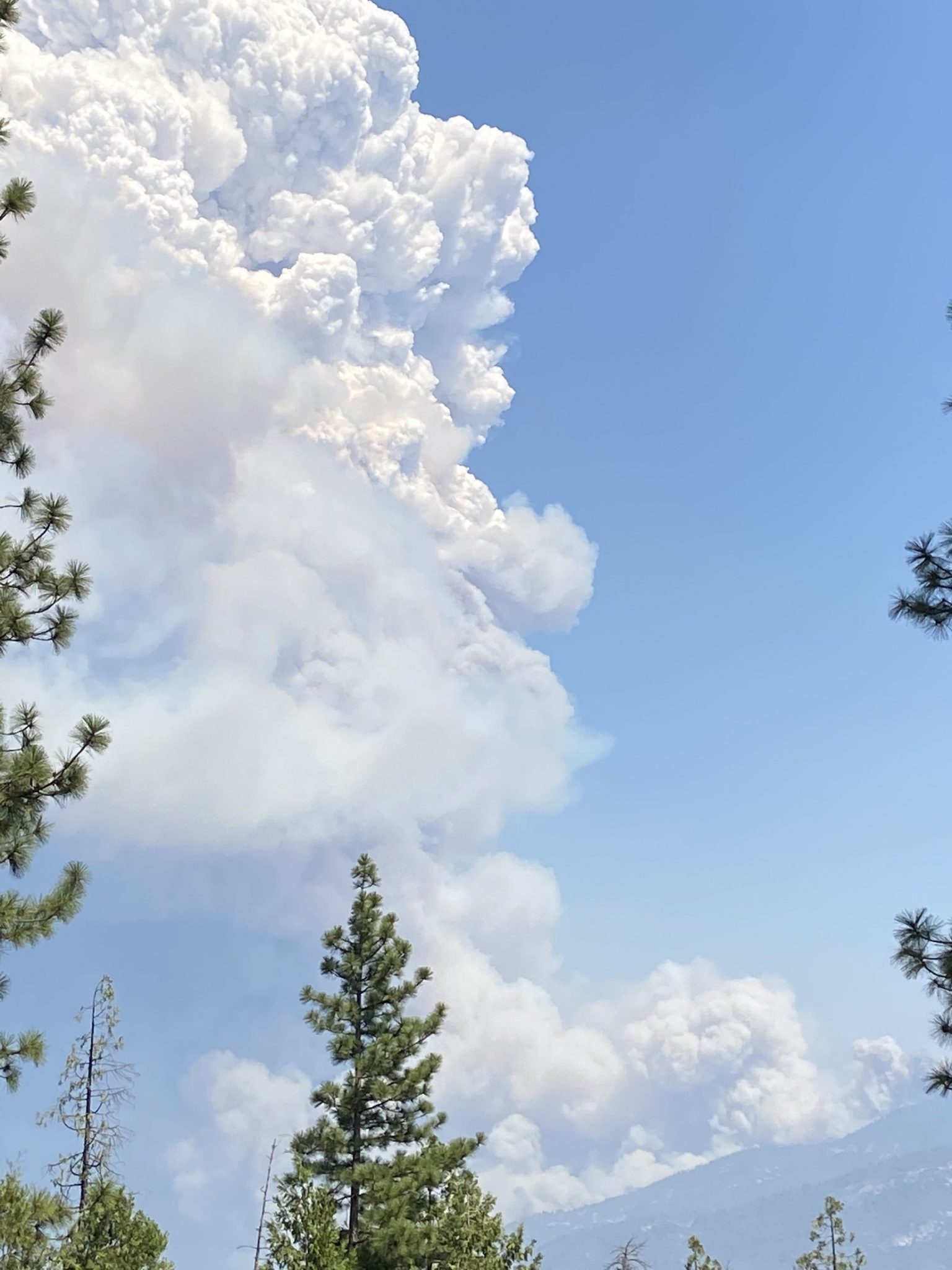 24 Sep

A Summer of Flames Hits Home

Editor's note: The following is the Editor's Letter that appears in the 2020 Ski & Ride issue.

Adding to a long list of inconveniences in 2020, Tahoe residents awoke on September 5 to find a thin coat of ash on their cars and patios. Heavy smoke choked out the sun, painting the landscape an eerie orange as incinerated remains of trees and homes fluttered down from the sky. Outdoor activities were discouraged, limiting recreation over the busy Labor Day Weekend, while normally stunning photo ops of beautiful Lake Tahoe were effectively quashed.

Meanwhile, some 150 miles south, my parents watched from their back deck as a giant, billowing plume of smoke rose high into the stratosphere—the same smoke affecting life in the Tahoe Basin. A fire had started the previous evening near Camp Sierra, between the towns of Shaver Lake and Big Creek. Perhaps 15 miles from my parents' home, across a sweeping basin and on the other side of a mountain, the Creek Fire, as it was named, was far enough away to not pose an immediate threat.

That night, flames crested the mountain across the basin. The fire had shifted direction and was marching toward my parents—a steadily advancing sea of molten matchsticks, each 200 feet tall, flickering ominously in the blackness. The uneasy night gave way to a smoke-filled morning.

Along with my sister in Costa Mesa, I followed the developments closely via fire maps and social media. It wasn't looking good. Winds had picked up considerably and were forecasted to grow stronger. Portions of Big Creek had already burned. And while my parents could easily spot the fire in the darkness of night, they were blinded by smoke come morning as the growing inferno crept ever closer. We pleaded with them to leave. Their cars were already packed with irreplaceable items—old photo albums, my grandpa's artwork—and they had a safe place to stay at my aunt and uncle's house in Fresno.

I can only imagine the sickening feeling of leaving your dream home behind—one that you designed and built and thoroughly enjoyed for over a decade, on a prime 7-acre plot of land that you've owned since 1978. But, reluctantly—and only after the official evacuation order—that's what my dad did (mom was an easier sell).

That day was filled with angst and heartbreak as news trickled in of lifelong friends losing their homes in the blaze, which was spreading quickly in all directions, with zero containment. My sister discovered a website, flightradar24.com, that tracks aircraft in real time. We cheered as tankers and helicopters made repeated drops directly over my parents' and their neighbors' homes, which were now at the edge of the fire's advance. Word was that air crews were hitting the homes along the ridge hard before nightfall, when they'd have to call off the attack until morning. We prayed and prayed again, hoping for a miraculous act.

The next morning, my heart sank as I pulled up the fire map. The ridge, along with the entire surrounding mountainside where I grew up, was well within the perimeter line. The fire had burned through. Still, there was a chance that the air support was enough to save the homes, that the flames skirted the heavily doused structures.

Around mid-morning, my mom called. "Hey," she said, her voice somber. "Our house is gone."

That was nine days ago at this writing. The Creek Fire, which is not the largest or deadliest wildfire currently burning in the West, has since grown to over 245,000 acres and destroyed roughly 750 homes. It is 18 percent contained.

Among the homeless in its wake are my parents and many close friends. It could certainly be worse, though. My dad could have stubbornly stood his ground, garden hose in hand, and gone down with a valiant fight along with his home and property. But he chose instead to watch his grandchildren grow. For that I am thankful.

I am also thankful and proud to see my home community come together with kindness and support for their neighbors in need—not unlike the selfless acts we see here in Tahoe during trying times.

While debating about a topic for this space, I continually circled back to this tragic event, despite my intentions to steer clear of it. There are plenty of stories within these pages that are worth highlighting—some of the best to ever run in the magazine, in fact—and I don't mean to dampen the mood on an already grim year. But, ultimately, I caved.

In justifying the decision, I thought back to David Bunker's 2016 essay in TQ about the death of his beloved chocolate Lab, Trevor. Toward the end of the piece, he admits that he struggled for years to write about his four-legged pal, not because he couldn't find the words, but because he wondered if people would find it too self-indulgent.

But, he concludes, in a world where we obsess to no end about degenerate politicians, a being like Trevor is worth memorializing. So, too, is the mountain community that remains near and dear to me—scars and all.
---
Sylas Wright is the editor of Tahoe Quarterly.