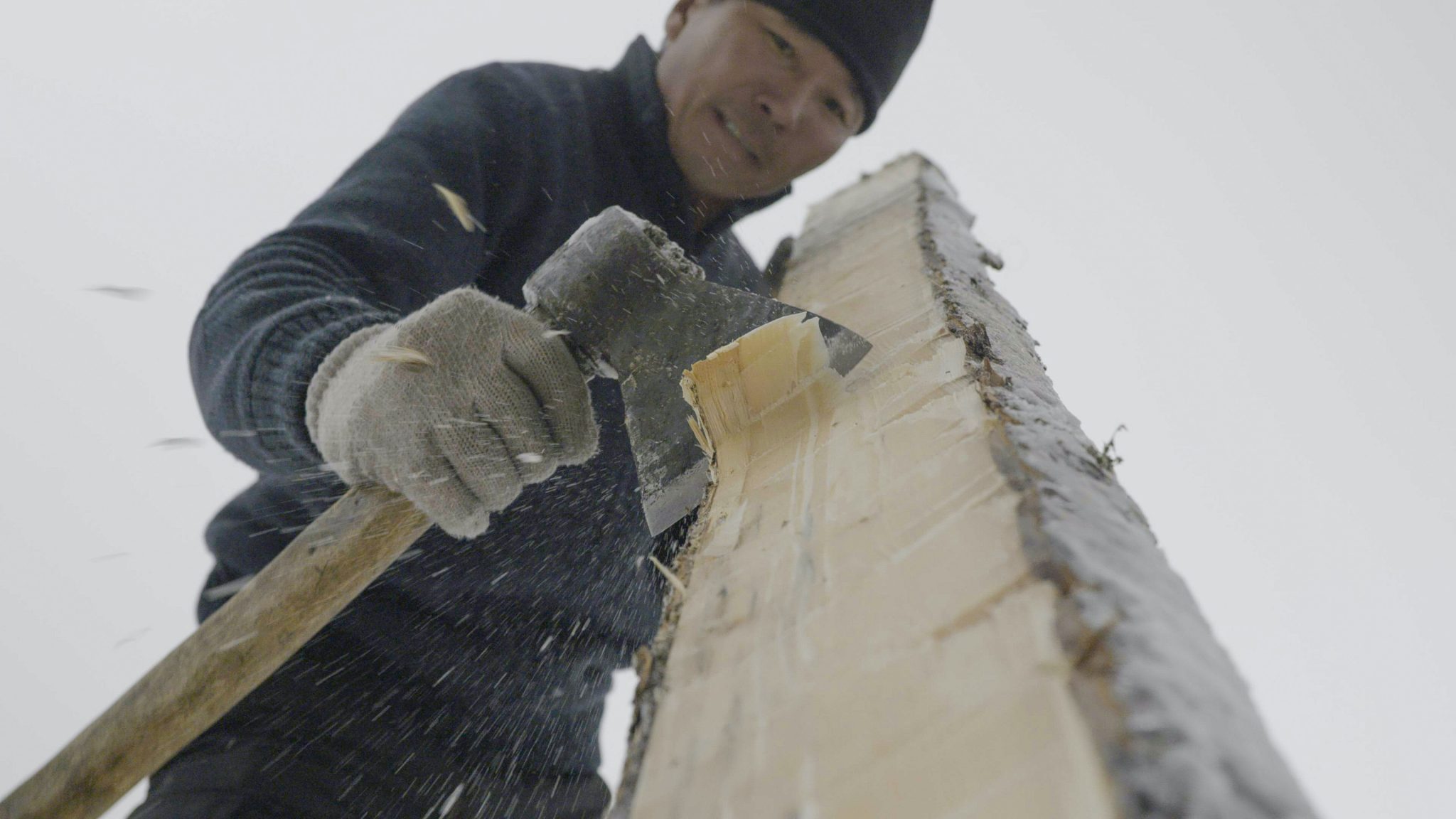 Malqin, the film crew's host, turns a log into a pair of traditional skis complete with horsehair skins, photo by Brian Hockenstein, courtesy Snow Hunters Film
24 Sep

Exploring the Roots of Skiing Half a World Away
A trip to the snowy Altai Range in northern China is highlighted by ancient skiing customs passed down through generations
Urumqi, China. Ever heard of it? The city boasts a population of more than 3.5 million, yet I had never heard of it until landing there in late January 2020. Its airport serves Altay, an even more remote prefecture in the far northern reaches of the Xinjiang Autonomous Region, where another five-plus-hour drive would bring me to the village of Khom, my final destination.
On the flight to Altay, I started reading a book detailing an international conference held there in 2015 concerning the origins of skiing. The subject reminded me why I was traveling to Khom, even though I quickly found myself reading about Tahoe instead of China.
The Altai Mountains where Khom is located are believed by some to be the birthplace of skiing. I had researched the area before the trip, as I was invited to be a part of a film exploring the roots of skiing called Snow Hunters. The book from the conference was a treasure trove of information about the first known records of skiing. I couldn't turn the pages fast enough, and then I got hyper-immersed as I started reading articles by Wayne and Glen Poulsen, legendary Tahoe locals who not only attended the 2015 conference, but offered presentations as well.
Tracing the Roots of a Sport
Here I was about as far from home as possible, studying the history of a sport that is thousands of years old, and I was deep in a historical narrative born right in our own backyard. It's a testament to the rich history of skiing in the Sierra, and especially the Tahoe area.
People often overlook California's contributions to skiing. But, as illustrated in this book featuring stories from multiple corners of the globe, there is no denying that the Sierra, and Tahoe, are integral parts of the story. Perhaps not the ancient side of things, but an essential part of the greater narrative, nonetheless. (The book did leave out the part about Shane McConkey revolutionizing the ski world by inventing the first reverse camber ski, but perhaps that will make it into the next conference proceedings.)
At the conference, the Poulsen brothers represented our profuse local history with stories of "longboarding" in Plumas County, which presents some of the oldest records of sport skiing in the Western Hemisphere. Another story focused on the great Snowshoe Thompson, who is famous in the ski world for delivering mail in the heart of winter along what today is roughly U.S. Route 50 from Placerville to South Lake Tahoe.
"At first people at the conference were a bit shocked by the California contingent," says Glen Poulsen. "But after we shared our stories, they were impressed. It's our heritage, and you have to remember at the time of the longboard races, those were literally the fastest humans in the world at that time."
Of particular interest in my research were the skiing traditions that were highlighted time and time again. Lapland, the northernmost regions of Finland, Sweden and Norway, held much of the origin narrative, with rock paintings depicting skiers dating back to 4000 BCE. Yet actual skis were found in Russia dating back to 6300 BCE, and some historians claim that the Altai ski traditions date as far back as possibly 12000 BCE. The Eurasian focus of this history was consistent, and even though the birthplace of skiing (along with dates that could factualize the claim) shifted, there was strong support as well as consistent cultural evidence that the roots of skiing are found in Central Asia. 
What's notable about Snowshoe Thompson, beyond putting the Sierra Nevada on the map from a ski perspective, is that he originally immigrated to the Sierra by way of his home country, Norway, which is where he of course learned to ski. Knowing that Lapland and the Norwegian record play such an important role in the history of skiing, it was no surprise to learn that Thompson used skis that were about 10 feet tall (same as the longboarders of Plumas County), that he is widely credited as one of the first "backcountry skiers" in the U.S., and he used one wooden pole. The only time I had heard of skiers using a single wooden pole beyond Snowshoe Thompson was in photos that depicted ancient skiers from Lapland—that is, until I became more versed in the traditions of the ancient Altai skiers.
Immersed in Ski Tradition
I arrived in Khom to falling snow. Our team was small, but our task was big: How to share an authentic story of a place that some feel is the cradle of skiing? The idea for the film was born from Chris Winters, a resident of Whistler, B.C. who is fascinated by the question of where skiing began.
I met Chris last fall at Tahoe's West Shore Market. We talked at length about his idea for the film, tracing the origin story of skiing from cradle-to-cradle, traveling from the Altai Range in China to the Tian Shan in Kyrgyzstan, then on to the Ural Mountains of Russia, finally ending in Lapland to learn from the Sami and Scandinavian traditions. To me it was a dream project, and after finagling logistics over the following weeks, we found ourselves in Khom together along with Olympic gold medalist snowboarder and five-star human Kaitlyn Farrington, cinematographer Brian Hockenstein and our two translators.
In Khom, most residents don't speak the primary dialect of China, which is Mandarin. They speak Kazakh. The Altai Range intersects the countries of Mongolia, Russia, Kazakhstan and China, boasting a unique cultural mix between the four countries sharing borders with the range. That is why we had our local Chinese friend, Lina Serek, to translate for us in Kazakh, as well as our American friend, Jeff Oliviera, to translate in Chinese.
Beyond the nearly continuous snowfall, we had coincided our trip with the Chinese New Year, a time of celebration across the country, and in Khom, a time when traditional activities are on display. These activities range from archery to horse races, the latter of which holds a special significance because, just as Sami culture revolves around reindeers in Lapland, and several Arctic Inuit cultures follow caribou herds, the Altai culture largely revolves around horses.
During a New Year's party where our crew was invited to local homes to celebrate, I could not help but connect that outside the houses, horses were sleeping a stone's throw from where we sat, while on the table the main course was horse, and right above the dinner table was a beautiful hand-stitched piece of art depicting, you guessed it, a horse.
Our host, Malqin, had been brought up with traditional skis, telling us stories about how his parents used to hunt from the skis and how that was the initial use of the ski. Skis were initially used by mountain people as a tool for travel and survival.
Malqin was an amazing host. In his offerings he spoke about the importance of people like us visiting, learning the traditions of our sport and its historical roots, and sharing the story with others. He believes that is how the culture, traditions and stories live on, by people sharing their experiences with others across the world. Without that fluidity of exchange, there's a chance the traditions will be lost, which would be devastating to skiing, but more so to Malqin and his people, who, whether they were the first or not, have a unique and crucial position to share within the history of skiing.
Skijoring from horses and learning to skin and ski on the traditional skis were of course major highlights not just of the trip, but as a lifelong skier, too. But watching Malqin build a pair of traditional Altai skis from scratch was something else.
One morning, Malqin carefully harvested a log and began shaving it. Minute by minute he transformed the piece of wood into two wooden planks. Shaving more and more away, he eventually had two skis. But what were they missing? Horsehair skins, of course! It took less than a full day, perhaps several hours, for Malqin to turn the log into a pair of skis ready to go with horse skins he fit himself with nothing but a knife and his bare hands.
I have never seen anything like it. Nor have I ever skied anything like the skis, which stuck so well on the up, they felt as sticky if not stickier than any modern skin I have ever used. But they offered minimal friction on the descent. With these skis, the skins stay on all the time, so you always have the ability to go up, down or move fluidly across flat, even undulating terrain quickly and with ease. 
Coronavirus and Avalanches
The overall experience was otherworldly, and while all the makings of a fabulous first part of a multi-episode ski film tracing the roots of skiing seemed to be positioned perfectly, there was one variable no one could have seen coming that completely shifted our whole experience. Enter COVID-19.
We had arrived in China just as news of the coronavirus started to spread. We collectively knew something was wrong, but I'm not sure anyone knew just how intense things were about to get. The turning point for our crew came when our Kazakh translator shared an update one morning, essentially saying if we didn't get out of Khom soon, we might not be able to leave for weeks or even months.
It took a call from our Chinese translator and the help of a highly respected provincial diplomat to get us out of Khom. We were thrilled to be able to leave, given the context of the situation—that is, until we were stopped less than an hour from the village because of an avalanche covering the only road in and out of Khom. In fact, as a result of the heavy snowfall that lasted the majority of our stay, the road was blocked by several full-scale avalanches.
After hours of waiting, we saw the lights of a snowplow that had been summoned by our diplomatic friend to come and clear the road. Many hours later, we made it back to Altay, and eventually started the long process of getting home.
When the global lockdown hit in early March, I was at a complete loss. I thought it was nothing short of a miracle that we had gotten out of China at the end of January in the first place, and that no one got sick as well. To live through what has happened since then is surreal, to say the least. As we wait and hope for a vaccine for COVID-19, I am brought back to the simplicity of another question that frames the Snow Hunters film: What can modern skiers and ski communities learn from skiing's original traditions?
My hope, if we can learn anything from amazing individuals like Malqin and Snowshoe Thompson and the roots of skiing, is that the importance of community is paramount. In China, in Tahoe, for horse cultures and ski cultures alike, for all those afflicted, impacted and working to eradicate the problems brought by unbound diseases, community well-being today is as crucial as ever.
As we enter the unknown this winter, remember to take care of yourself, and do not forget that if you are able, do what you can for our greater Tahoe community, and really any community you find yourself in. You'll be paid back somewhere down the line, whether that comes in the form of some unforeseen diplomatic support in a faraway place, or the future powder day of your dreams—something the global ski community can always celebrate, together, no matter where we are in the world.
---
Brennan Lagasse is a Tahoe-based writer, ski guide and the Sustainability Program Chair at Sierra Nevada University. He looks forward to the Snow Hunters film release this fall and has high hopes for a big winter at home in the Sierra.