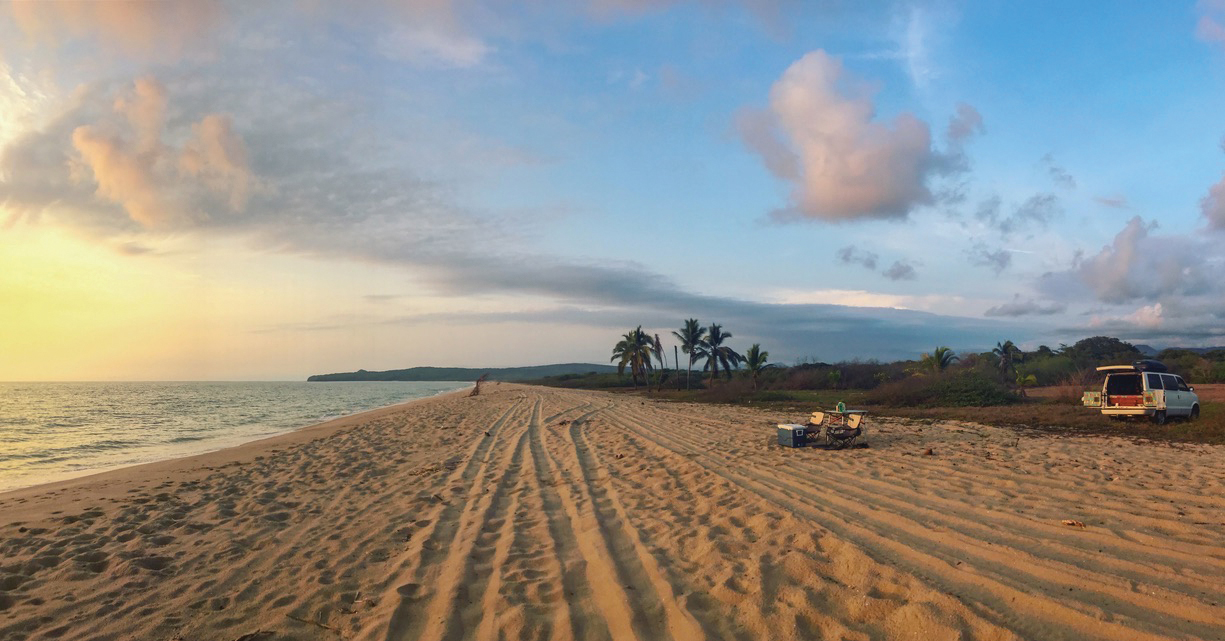 The Pacific Ocean is a welcome sight after dusty, showerless days on the road, photo by Michael Rohm
25 Jun

Searching for the Meaning of Van Life
A broke freelance writer and his broken-down Chevy Astro embark on a quest for freedom on the long road to Mexico
We took our final trip together in the fall of 2018. I was 28 with no job and no money. She was 14 with no suspension and no reliable air conditioning.
As an undisciplined freelance writer earning tens of dollars a month, I could no longer afford to pay off her mounting bills—at least, that's what Bank of America suggested when they limited my line of credit—and so, with a heavy heart, I drove the old girl to meet her new owner. I handed over the keys and the title in exchange for a check so disproportionate to the value of my van that I still cringe when I think about it. With the meager sum in my pocket, I left my 2004 Chevy Astro camper van on the side of the road, our parallel futures fractured. That was the last time I saw her. 
It seems almost blasphemous to say, but sometimes, in retrospect, I wish I had never bought that old Chevy. I knew from the start that she was imperfect—"Just a fender bender," the owner had said to explain the "salvaged" title status—but when I took her for a test run that pleasant January morning, she drove straight and she drove with power, all six cylinders firing up the interstate toward Tahoe. I rolled the windows down and tasted freedom on the pine-scented air.
By the end of 2017, I was a mid-20s post-undergraduate deadbeat squatting with a couple of friends in the Tahoe foothills. Life was a rudderless raft of occasional opportunity drifting on a sea of cheap beer, failed relationships and passionate games of ping-pong that I somehow never won.
That New Year's Eve, with no obvious financial prospects ahead, I resolved that the best way to be broke and aimless was probably from behind the wheel of a camper van. If I couldn't find figurative horizons toward which to orient myself, I could at least seek out physical ones.
Seated in the captain's chair of the Chevy that unseasonably warm morning in January, I knew the old girl could take me to those distant horizons. I'd been searching for a van to call home, a fuel-injected Pegasus to carry me on metal wings down lonesome roads, and I realized this Astro was the one to do it. That afternoon, I returned home one van richer and nearly $5,000 poorer.
Labor of Astro Love
She was a sturdy gal, but not without her flaws. I would discover over time that the "fender bender" had twisted her frame, effectively reducing each repair to little more than a Band-Aid. And the repairs were numerous and costly, right from the start.
Together with my more mechanically gifted housemate, Rick, we spent two months of evenings and weekends replacing the struts, upper and lower control arms, steering box, tie rods, tie rod ends, brake pads, calipers and rotors. Except for the axle and existing 4-inch lift kit spacers and leaf springs, we replaced nearly
every component in the steering linkage and suspension system.
As I was to learn, however, the problem was the frame itself. That entire season of constant mechanical replacement made the van newer, shinier and, theoretically, sturdier, but it never made it straighter. By the time I sold her less than one year later, the van was on the verge of total failure. She was doomed from the start.
But in early spring 2018, the tragedies to come were still secrets only the van knew. From where I stood, I was the luckiest man alive.
After the suspension and steering linkage were updated, I spent countless hours stripping her interior and building out her features, including a new stereo system; waterproof laminate flooring; bench seats that lifted on a hinge to reveal 20 cubic feet of storage space and also converted into a bed; light blue wall carpet; a stained walnut roof; and, in place of the glove box, a mid-console insulated cooler that held a handful of ice and four tall cans of Tecate.
By early March, I was taking her on local surfing trips, a twin mattress thrown in the back of the unfinished van, but by mid-May the Astro was complete, down to the last yard of fiesta bird fabric lining the back panels. Freelance writing assignments to Peru and Puerto Rico gave me the illusion of prosperity, and I dreamed bigger than my bank account and suspension system could handle. I would cross the desert into Mexico.
Viva Mexico
The first time I drove to Mexico, I was a 25-year-old vagabond with a beat-up Subaru heading south to spend the offseason housesitting for a semi-retired truck driver I met while working on a hazelnut farm in Oregon.
The day I left, the old man ripped out a scrap of paper from a notebook and scribbled directions to his adobe house in blue ink. The hand-drawn map to Todos Santos consisted of a line heading south from Tijuana for 1,000 miles, followed by an indecipherable 5-mile scrawl of lefts and rights to his solar-powered home on a dirt road 100 yards from the Pacific Ocean. I followed the map without incident and lived in his home for four months of surfing and solitude.
The next time I drove to Mexico, I was a 27-year-old vagabond with a beat-up Astro camper van heading south to meet friends in Sayulita for a weeklong reunion. I downloaded a map to my phone for offline use and followed the little green car icon 1,000 miles south from Austin, Texas.
Today, my wireless cellphone plan includes Mexico and Canada, and pretty much the rest of the world. If I were to drive south of the border again, I would likely have service the entire way. It is an incredible—and, at times, disheartening—technological advancement, but I have not made use of it. Now that I am on a career trajectory, my allotted vacation would not permit such a trip.
But in early summer 2018, I was still a wayfaring van owner with all the time in the world. From my home near Colfax, I set my sights southwest, first through White Sands National Monument (now a national park) in New Mexico, then to Guadalupe National Park in West Texas, then on to Austin to spend time with an old friend.
My best friend, Brendan, flew into Austin over a weekend to join us, and first thing Monday morning, Brendan and I headed to the border crossing at Laredo and into Mexico.
I speak Spanish like a child performs magic tricks: with great confidence followed by a whole lot of blustery bluffing. That bluster did not serve us well at the border, where several armed guards guided the old Chevy out of the queue for a full cavity search. Apparently, they were not as impressed as I was with her secret hinged compartments.
I just smiled and used my limited Spanish to repeat my name, my age, my destination and to wish the guards a happy birthday. They were not amused, but in the absence of drugs, paraphernalia or other contraband, they had no choice but to release us. 
On that unforgettable journey, we followed a dusty dirt road to an impromptu campsite just south of Monterrey; fell in love with a beautiful policewoman patrolling the Catedral de la Asunción de María Santísima in Guadalajara; befriended a pair of caballeros in Jalisco who let us stay the night in the courtyard of an overgrown pueblo untouched by time; and got hopelessly stuck in deep sand on the coast of Nayarit. We were disappointed to bypass the Reserva de la Biósfera El Cielo in Tamaulipas, but the logistics and threat of cartel violence made the detour difficult, despite my best efforts to coordinate with the manager there ("Tengo un 4×4 Chevy Astro," I wrote in an email. "¿Es posible acampar en la biosfera?").
But above all, the thousand miles we drove in Mexico emerged as more than a compilation of highlights. From my current perspective as a gainfully employed 30-year-old, I see now that our trip was the apotheosis of space, time and restlessness, the sum of which felt like freedom.
After our weeklong reunion in Sayulita, my friends, including Brendan, returned to their respective homes, and I began the long and solitary road trip back to the U.S. border.
Solo Travels
If the trip south was a whimsical adventure with a good friend, the trip back north was introspective, isolating and final.
I followed the coast the whole way, a journey through the states of Nayarit, Sinaloa and Sonora that was as picturesque as it was lonely.
Late one evening in June, I parked my van on a desolate Sonoran beach outside the small village of Puerto Lobos and watched the sun slip into the Sea of Cortez. They say on moonlit nights the wolves after which this town is named come down from the mountains to feast on whale carcasses rotting in the sand, but that night I was alone with my van, my bottle of mezcal and my journal.
"Right now, I'm in about $9,000 dollars of credit card debt," I wrote on June 13, 2018. "Life isn't the story I thought it would be."
As the sky turned a dusky pink and Billie Holiday crooned through the speakers behind me, I detailed in my journal all the reasons for selling my van. They were numerous and irrefutable, and I continued to sip my mezcal and mourn our imminent separation.
The next morning, I woke with the sunrise and bathed in the shallow water of the sea, my footsteps scattering dozens of baby stingrays across the crystal glass of the tide. That afternoon, I found a roadside café in town and listed my van on Craigslist in Portland, my childhood home and ultimate destination.
What is designed as a platform to buy, sell and trade became for me a platform to extol, lament and eulogize. I praised her many virtues. I itemized her many repairs. I hinted at her many failures. I concluded the 800-word elegy with brokenhearted sincerity: "She handled beautifully in the sand, mountains and jungle, and I will be sad to let her go." I listed the price for $7,950 and posted the ad.
The response was immediate and enthusiastic. Dozens of people reached out to say they loved the pictures and wanted to see the van in person. A fellow Astrovan owner named Craig wrote just to say hello. "If you ever want to tell me about the drive to Puerto Vallarta, I'd love to hear about it," he said. "Thinking of driving to the Yucatan peninsula this winter."
I found the response exciting but overwhelming. These people wanted my van, the old Chevy I had lovingly and lavishly restored. I wasn't ready to part with her just yet.
"I'm driving back to Portland now from Sonora, Mexico," I told one prospective buyer. "I thought I'd be back by now, but this van is such a dream for the Mexican desert, so I've extended my vacation a bit."
I couldn't leave Sonora. I explored the coastline and the villages. I drove dusty tracks to the base of the arid mountains in the east. I ate carnitas at a butcher's shop with the Sunday church crowd, the women in their colorful dresses, the men in cowboy hats and bolo ties.
Limping Home
Finally, with my savings account withering away, I pointed my old Chevy north toward the Lukeville Port of Entry in Arizona.
In what proved to be a serious debacle and the worst experience of my trip, I barely made it into the United States. At the crossing, U.S. border guards confiscated my van, hoisted their German shepherds into the back and detained me for hours in a little room with no air circulation.
"We're always suspicious of disheveled white guys crossing the border alone after a long trip to Mexico," one border patrol officer explained, before handing my keys back with an unapologetic shrug.
As we continued north, the old Chevy began to act up. It was as if she knew our time was nearing an end.
"Just an FYI," I emailed one prospective buyer as I crossed into California from Arizona, "on the trip back from Mexico my blinkers and brake lights went out."
By the time I reached Los Angeles, the front right wheel had begun to chafe the frame when I turned. By Sacramento, the steering wheel position had lost alignment with the direction the van was going. A few hundred miles before I arrived in Portland, the brakes began to squeal, the rotors began to shudder and the shocks jolted with every bump.
One by one, buyers lost interest, and when I finally returned to Portland, only a ski bum massage therapist remained. She paid for her mechanic to inspect the van, and his report came back like a manual of all the things that could go wrong on a 2004 Chevrolet Astro.
In a fit of despair, I decided it was better to lose money on the van all at once than to hemorrhage money for years of endless repairs. On a hot day in August, I sold it to her for much less than I had put into it, and I walked away.
Van Life in the Rear View
Today, I drive a 2012 Nissan Murano. It has leather seats and dual sunroofs and a heated steering wheel. It has Bose surround-sound speakers and seats that fold down. It is safe and secure, and I own it debt-free. I also own a home, an actual house in the countryside of Maryland, though not debt-free.
Occasionally, I think about my whimsical adventures with that broken-down old Astro and just shake my head and smile.
But when I see where my generation has taken van life, at least as it is captured on Instagram, I do not see whimsical adventures. I simply see wealth on wheels.
I cringe to think about it, but in some ways, I am becoming more like my father and the old folks of his generation. One day, I, too, will be telling people that times are a-changin' and the world ain't like it used to be. Heck, I already am.
I was certainly not the first person to turn a van into a mobile home, and a quick scroll through social media suggests I am far from the last. But the original vagabond spirit of soul-searching that drove me—broke and aimless—toward physical horizons on a search for personal meaning has been claimed and monetized by our culture. The same culture that took punk music and gave it a record deal; that took independent media and gave it a parent conglomerate; that took van life and gave it a hashtag.
I will never go full #VanLife for many of the same reasons I will never go big-game hunting. Both activities have become inundated by white people with money who posturize as if the two lifestyles are naturalist distillations of freedom. Money provides comfort, security and stability—yes—but those words are not synonymous with freedom.
I still don't know how to define freedom. I don't know how to search for it or how to justify that search in a world where so many people are just trying to stay alive. What I do know, however, is that being broke, lonely and rootless in a van in the summer of 2018 drew me a little closer to the answers.
For now, I keep my home and my transportation separate, but perhaps, one day, I will find some old Chevy Astro to restore. Perhaps my wife will join me, and we will head south, and I will speak fluent Spanish, and the border patrol guards will wave in welcome, and we will make our way down to the lonely beach where the wolves prowl on moonlit nights and the stingrays rise and plunge in the morning tide.
Perhaps I will tell her how times have changed since I last drove through here. I have changed, too.
---
Michael Rohm is a humanitarian storyteller based out of Maryland. He still dreams of carnitas with jalapeño and pickled onion.