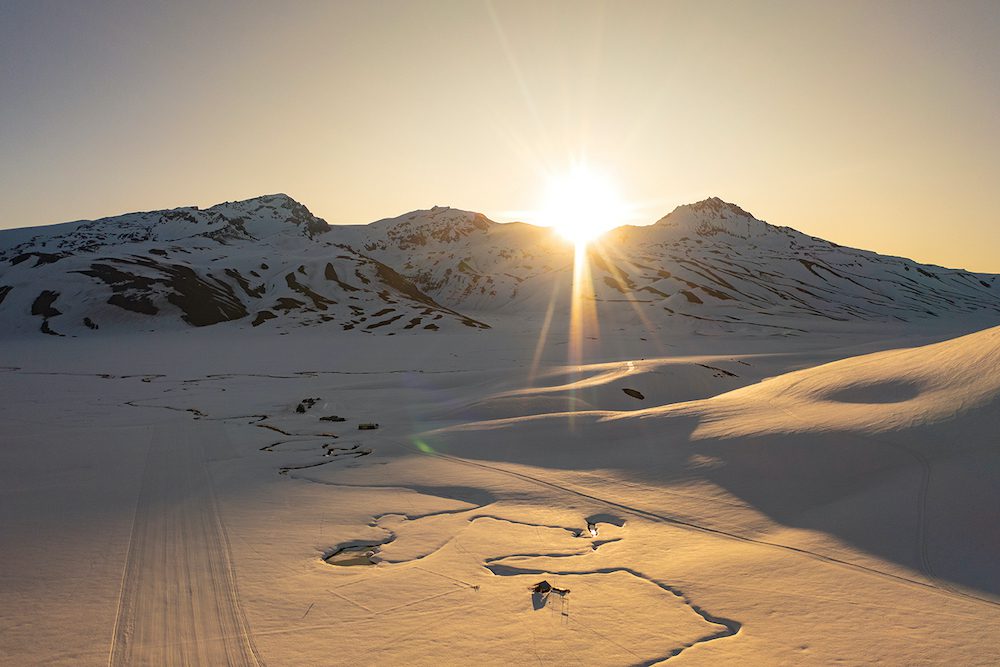 An aerial view of the El Azufre settlement
30 Nov

Southern Exposure
A fortuitous work assignment leads a Tahoe photographer to Argentina, where his crew enjoys world-class skiing, dining and exploring in the Andes Mountains
Summer skiing has never been high on my priority list. Unlike some of my Tahoe friends—like TQ contributor Brennan Lagasse, who has skied 226 consecutive months—my winter-centric brain cells are usually laid to rest by May, pushed aside by ambitions of hiking, biking and jumping in the lake. 
That all changed this past June when Brigid Mander, a skier and writer based in Jackson Hole, Wyoming, reached out with an enticing proposal: She was planning a trip to Argentina to write about a future ski resort near the city of Malargüe, and she needed a photographer to come along.
Who am I to say no to a work email?
"I'm down," I replied.
Mander was bringing an athlete from Jackson named Owen Leeper and extended the invite for me to bring someone too. Among the athletes I hit up, only Josh Anderson of Tahoe City (who has skied 86 consecutive months) and Molly Armanino of South Lake Tahoe showed serious interest. But both had caveats.
Anderson, a Seattle native, is the opposite of me in that he hates summer. He's not much for heat, shorts or even socializing, really. He just wants to ski. On numerous occasions I've heard him say he should move somewhere that's cold all the time. So, naturally, he was eager to go. He just needed a solution to his expired passport.
Meanwhile, Armanino was still healing from a late-season bout with frostbite, which left her half a big toe short of 10, as well as a recent bike crash that resulted in a cracked kneecap. She had recently received a wildcard ticket to compete the Freeride World Tour and wanted to find out if she could even ski with her injuries. But first, she just needed the go-ahead from her doctor.
Two weeks before departure, Anderson magically found a backdoor resolution to his passport woes (thanks to local travel guru Lauren Bobowski) while Armanino's doctor gave her the green light to shred the Andes.
And so began our long trek to the Southern Hemisphere. 
Busing to Bariloche
Given everyone's schedules, the crew took different routes to our meeting point in Bariloche, Argentina. Anderson and I hopped on a flight to Santiago, Chile, then took a puddle jumper to the town of Osorno, known for cattle farming and agriculture. From there—after enjoying some fresh ceviche and dulce de leche–stuffed churros—we embarked on a stunning six-hour bus ride over the Andes Mountains into Argentina.
The ski buzz in South America was sizzling. With a huge storm in the days leading up to our departure, rumors of the "biggest winter in years" were flooding social media.
We were lucky to find dry streets after finally arriving in Bariloche, as our ski bags were too big for the local taxis, leaving us with no choice but to hop on a city bus before trudging our gear up a dirt road to our rental house.
As with most foreign travel (especially with ski bags), the early part of the journey always has me wondering why I even do it. Luckily, foreign locales have a way of welcoming visitors with their own local flavors. In Bariloche—located in Nahuel Huapi National Park in the foothills of the Patagonian Andes—our initial woes were quickly subdued by Argentine asados (barbecues) and never-ending bottles of malbec.
Faded from travel and fuzzy from vino, we loaded up to ski the next morning. Mander, our local liaison, had our movements planned to the T, and like all international ski trips, we packed into our clown car. (By clown car, I mean a vehicle that's way too small for the enormous amount of gear needed for a ski trip—and, in this case, with one more person to fit than originally planned.)
Let the Skiing Begin
Finally, on August 20, we went skiing.
With an array of conditions, from powder on day one to gritty ice crystals on day two and onward to perfect springtime corn, we did what we could to manage the conditions and variable weather by popping around to the two main ski areas above the spectacular Lake Nahuel Haupi.
Featuring breathtaking views, Bariloche's Cerro Catedral is Argentina's largest ski area. Chairlifts crisscross its alpine landscape, providing access to vast amounts of skiing terrain. The word was out after the previously hyped storm cycle and the resort was packed. To avoid lift lines, we spent as much time as possible exploring Catedral's granite-encrusted side-country searching for solitude.
One particularly impressive slice of "solitude" involved Leeper, Anderson and Armanino skiing down an almost vertical mossy rock slab some 50 feet high. The feature's off-angle transition proved too much for Leeper's hamstring, however, and after sending the coveted line, he succumbed to a trip-altering injury. 
Being that the trip was still in its infancy, we needed to find a routine. Hours on the slopes were followed by après beers and rare lomo (tenderloin). This, our preferred nightly cut, was cooked jugoso (juicy). As Leeper so perfectly preached, "You come down here for the lomo. The skiing is secondary."
With a wide variety of incoming weather and crowds, we found ourselves enjoying Cerro Bayo Ski Resort in nearby Villa La Angostura. This smaller ski area on the north side of the lake felt a bit more "at home" for its quaint, small-town feel.
Aside from the always busy weekends, Bayo was empty. The mountain was a bit more limited than Cerro Catedral in overall ski terrain, but the ski touring off its summit chair led to untouched powder, endless peaks and sweeping views of the Andes and the azure waters of Lake Nahuel Huapi.
With Armanino's foot back in action, Mander leading the charge and Anderson throwing down the skills, we moved effortlessly through the landscape, draining mountainsides and taking in the magic of the unknown. Clouds rolled through in time-lapse sequences and the days passed by, often capped with Patagonian ales, slope-side choripan (chorizo sandwiches) and world-famous chocolate.
A mostly successful phase one of our ski trip was in the books. It was time to head north to new terrain.
To the Boondocks and Beyond
We returned our clown car and boarded an overnight bus to the city of Malargüe, which was the jump-off point for the trip's main event: El Azufre.
While Anderson left to join another crew in Las Leñas, Mander, Leeper, Armanino and I met up with the Azufre team and began our journey toward Baños de El Sulfur, located at the base of the Peteroa Volcano.
El Azufre is a ski resort in the making. Less than a day's drive from the Argentine city of Mendoza, and only 130 miles from Malargüe International Airport, Azufre is the brainchild of entrepreneurs Daniel Nofal and Alejandro Spinello and longtime ski professional Jose Beccar Varela. With many winters of ski exploration in the Andes between them, their goal is to build a ski resort that takes advantage of the best winter climate in Argentina and will be 100 percent powered by renewable energy.
After hearing from a local sheepherder about this perfect valley with a base elevation of 6,600 feet and peaks topping out around 13,000 feet, they decided to investigate. Sure enough, the location proved ideal for what will soon become South America's newest ski area.
The drive out was an adventure on its own.
From Malargüe, we loaded up in four-wheel-drive rigs and bumped down a desert dirt road surrounded by tall snow-covered peaks. (The road itself, owned by the government and unmaintained in winter, is the key to the development, as it connects with Chile via a mountain pass.)
Entrenched in snow berms a vehicle's width wide, we squeezed past muddy puddles and minor rockfall before dead-ending. From there we loaded into a snowcat and continued upward until reaching the valley. Going from dry desert into frozen tundra by snowcat was surreal. Eventually we came upon a small rise, where we caught our first glimpse of the small settlement known as El Azufre that was to be our home for the next week.
It looked like four little dots from a distance, but as we got closer we could see a small lodge, workers' quarters and a guesthouse. A couple of groomed tracks led up the mountainside and a few people moved about.
Azufre is not open to the general public, but it does run a commercial heli-skiing and snowcat operation.
The cat dropped us off pleasantly surprised at our quarters. The brand-new, modern unit was stocked to the gills with beer, snacks and refreshments. Despite our sheer remoteness, we had a smart TV, Internet, heat and hot showers. We were living in luxury off the grid.
Living Large
It didn't take long to settle into our daily Azufre routine, which involved tons of food, followed by more food, then onto the snowcat bound for a ridgeline selected by our guides, Doug Krause and Victor Cancinos. 
Once on the ridge, the options were bountiful. You could throw on the skins and tour, boot up to previous un-skied lines on nearby volcanoes or set out on a mixed-terrain mission to whatever looked the coolest. Conditions were spring-like, so we based our days on the corn cycle and oftentimes walked across snow- and rock-covered moonscapes backdropped by the spine of the Andes. Descents of up to 4,000 vertical feet took us back to a waiting snowcat, only to find ourselves at the top of yet another ridge—followed at day's end by a soak in the nearby hot springs.
We had the range to ourselves. We had the evenings to relive the day's adventures over top-shelf bottles of malbec and home-cooked dinners. We had the nights to share with the southern stars. Our cat drivers were capable and accommodating, seeking out unique ascents up the shoulders of volcanos and even rebuilding snow bridges over a river that had melted out.
As for this future ski destination, the three partners are living their dream as they work toward transforming the remote mountain location into a year-round community and resort. After our visit, we are completely sold on El Azufre.
In the end the trip was a success. Armanino's foot functioned fine and Leeper's hamstring has since healed, while Anderson easily knocked off two of the more difficult objectives in his ongoing quest to ski every month.
And as it turns out, I might be a summer skiing convert. I miss my $7 lomo served jugoso, and I long for those $3 bottles of malbec.
---
Ryan Salm is a Tahoe-based photographer, writer and frequent world traveler.