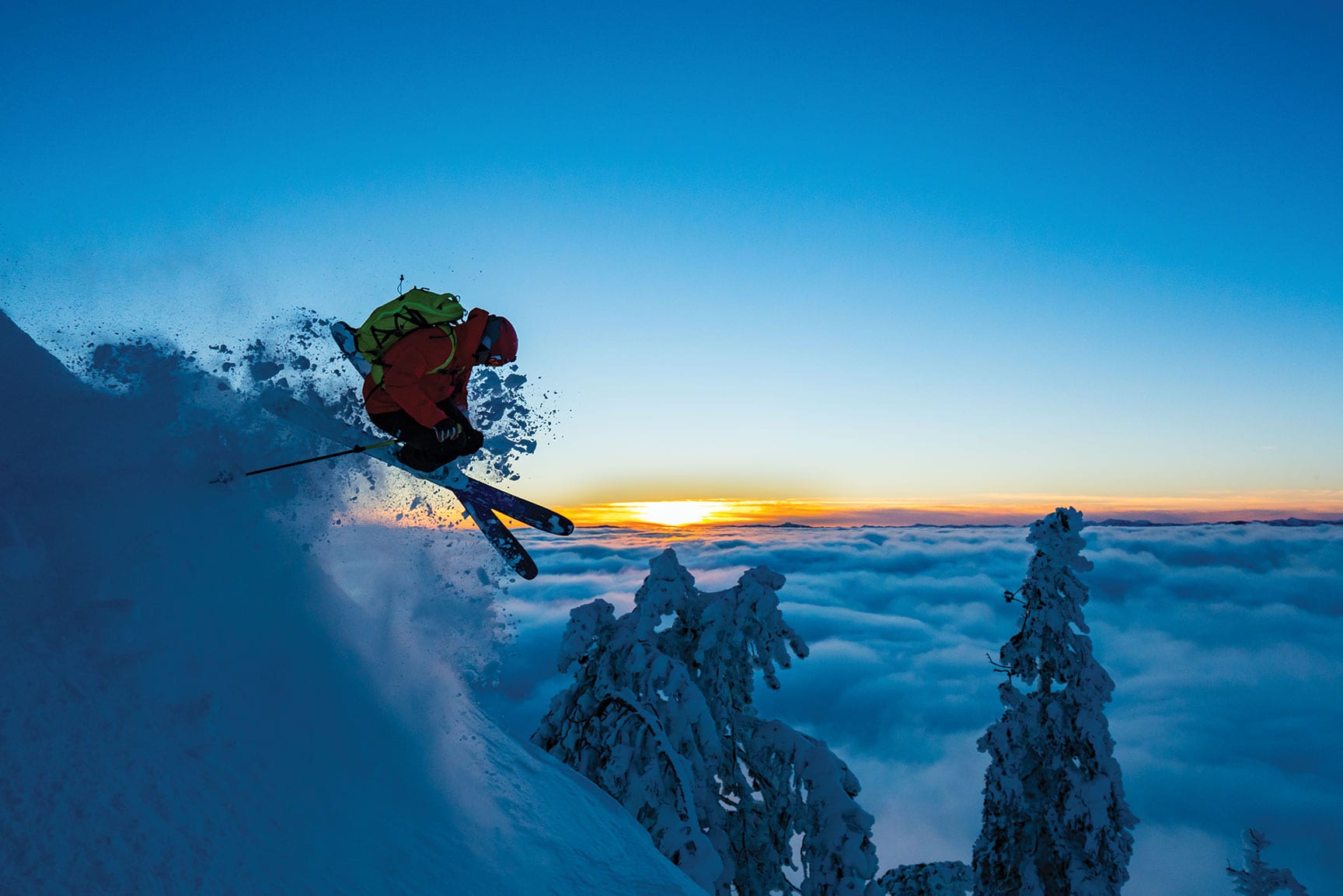 Cody Townsend skis above a cloud-covered Lake Tahoe last winter, photo by Ming T. Poon
29 Sep

Through the Lens: Dropping In

Tahoe skiers and snowboarders are still riding the high of the epic 2016–17 winter. Snow—lots and lots of snow—defined the season, which served as a thrilling reminder of just how fun endless powder days can be. Until the flakes fly again, these stunning images by some of Tahoe's most talented photographers will have to satiate our growing thirst to ride.

Bevan Waite perfects the art of riding house pillows at Squaw Valley, photo by
Ryan Salm
Joe Becker in the North Lake Tahoe backcountry, photo by Anthony Cupaiuolo

Ralph Backstrom, Squaw Valley, photo by Jeff Engerbretson
---
Photographer bios
Ming T. Poon
Ming T. Poon is an adventure sports photographer and director of photography based in Tahoe. Passionate about outdoor pursuits, travel and making a difference, Poon is inspired by culture, nature, music, friends and family. His work has been featured by Teton Gravity Research and Matchstick Productions, and has appeared in Powder Magazine, Backcountry Magazine, Standup Journal, ROAM, Ascent Backcountry Journal, Vermont Life Magazine and a variety of other publications. Poon's work has also appeared in international commercial marketing campaigns for O'Neill, Jones Snowboards, POC Sports, NOW Bindings, Hestra Gloves, Intuition Liners, Leki Poles and more, www.mingpoonphotography.com.
Ryan Salm
The intersection of an education in geography, communications and photography, and a seriously adventurous desire to understand faraway cultures and lands has led Ryan Salm to document and photograph some of the world's most distant and awe-inspiring events. His photographic work ranges from fine art to commercial to editorial and can be seen anywhere beautiful imagery exists. He is currently immersed in the world of architecture and commercial photography and is available for assignments in Lake Tahoe or worldwide. Find more of his work  at www.ryansalmphotography.com and follow him on Instagram @ryansalmphotography.
Anthony Cupaiuolo
Anthony Cupaiuolo traded a career as a political consultant for his passion—being in the mountains—and founded First Tracks Productions in 2001, the same year he moved from San Francisco to South Lake Tahoe. Through 2009, First Tracks focused on snowboarding videos, releasing full-length movies for DVD and network television. Along the way, Cupaiuolo and his team started picking up contract work for other companies—a freeskiing movie here, a tourism promo there—and that freelance work is now Cupaiuolo's and First Tracks' focus. Find more of his work at www.firsttracksproductions.com.
Jeff Engerbretson
Truckee's Jeff Engerbretson splits his passions as a professional photographer and an accomplished cinematographer. A passionate skier and lover of the outdoors, he prides himself in getting the shot, whatever the situation. Whether he is on the side of a cliff, hanging out of a helicopter, balanced on the back of a motorcycle or hanging out of a tree, he is always in his element when he is behind the lens and capturing adventure. With a history as a professional skier, his knowledge of the outdoors combined with his extensive experience brings balance, focus and the strength of the natural athlete to his work.