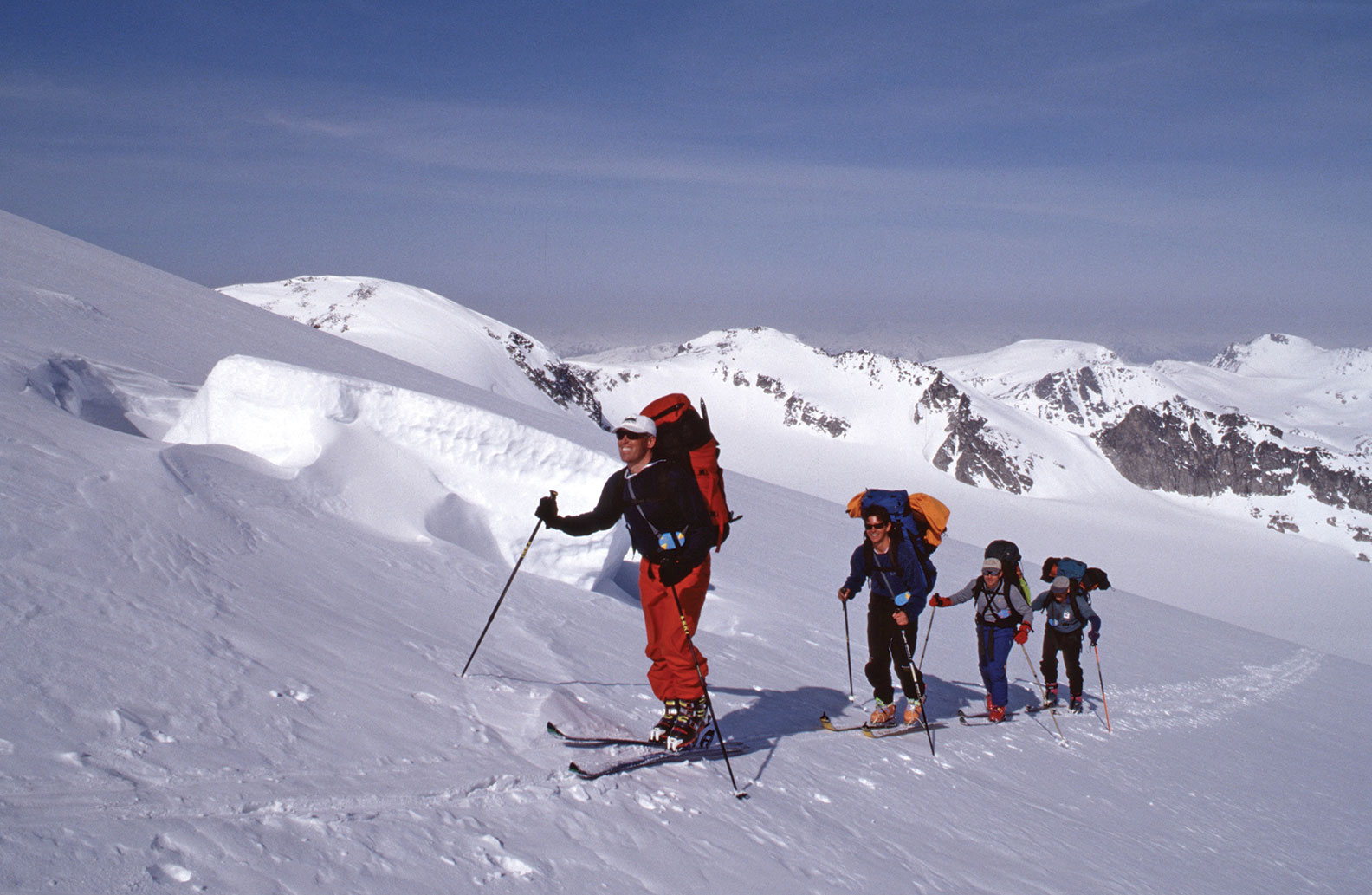 Chris Fellows skins upslope with a group of clients in the British Columbia backcountry, photo courtesy NASTC
24 Sep

An Academy Inspired by Austria
Truckee's North American Ski Training Center upholds the traditions gleaned from the birthplace of modern skiing
If you were to compare the ski world to academics, Chamonix might be Stanford, a place where ski innovators thrive and boundary-pushers shred impossibly steep lines. Austria's St. Anton, and the nearby Bundessportsheim, in particular, would be the Oxford of skiing—steeped in tradition and dedicated to excellence.
When Chris Fellows landed in St. Anton in 1988 on a trip from Tahoe, his entire outlook on ski instruction changed. He'd been an instructor at Heavenly and Squaw Valley, but ski instruction in the U.S. at that time was not a career. It was more of a couple-year stopover between college and the real world.
In Austria, Fellows gained a new perspective that set him on a path to found and grow the now-26-year-old North American Ski Training Center (NASTC) in Truckee, along with his wife Jenny.
To this day NASTC holds true to its Austrian inspiration in many ways. Chris leads the academy and Jenny handles the logistics and business side of the company. Together, their efforts have built an academy where immersive, technique-driven instruction is delivered by lifelong ski instructors dedicated to the craft. But in other ways, the organization has evolved over the years. Rock climbing courses, avalanche education and trips to the top international ski destinations have become an integral part of the training center's growth.
Through skiing's evolution on the West Coast, NASTC has been a mainstay, standing today as one of the oldest remaining founder-run ski and guiding outfits in the area—a testament to the dedication and vision of founders who saw a need for a higher level of ski training in the market.
"It's taken a lot of heart and soul," says Jenny.
East Coast, Tahoe, Europe
Chris Fellows grew up skiing on a 240-foot-tall bump in the landscape in northern Massachusetts, where a T-bar ferried skiers up the slope. His parents would drop him off after school on icy evenings that always ended in a familiar ski position—not as a matter of technique, but simply as a result of his 1970s teenage outerwear and frigid New England winters.
"By the end of the day your leg was in a permanent flex because your blue jeans were frozen," says Fellows.
Frozen jeans aside, Fellows fell in love with the sport. He became a ski instructor on the East Coast before eventually moving West, first to surf and then to ski. He taught skiing at Heavenly in 1985 and then moved to Squaw Valley in the late '80s.
By then Fellows was considering his next move, which likely would involve leaving the mountains for a real job. But then he went on a trip to Austria with the Professional Ski Instructors of America.
When he landed in St. Anton, commonly referred to as the "birthplace of modern skiing," he saw fully certified ski guides and instructors treating ski instruction like a lifelong endeavor. Clients came back year after year for the high-caliber instruction and the magnetism of the overall mountain experience. Guides owned the lodges, and made a full career out of their profession.
"That gave me the idea," says Fellows. "I said, 'I wonder if this can be done in the States?' I didn't see that type of setup here."
Fellows returned to the Tyrolean Alps for the better part of two winters. He taught the sport in the cradle of modern skiing history, but more importantly, he absorbed everything he could take in.
"You have to humble yourself," says Fellows. "I felt comfortable in my skiing skills, but here I was in the birthplace of skiing, and I was humble and really open to learning."
At the Bundessportheim, the pinnacle of professional Austrian ski instruction, Fellows saw instructors breaking down ski technique into fundamental movements and using repetition and muscle memory exercises to build beginners into confident, all-terrain skiers.
Fellows returned to the States determined to recreate what he had seen in Austria for American skiers. He had found a kindred spirit in Mike Sodergren, a fellow Squaw Valley ski instructor who shared his vision for a true European-syle ski academy.
Meanwhile, Chris met and married Jenny, who was taking a year off after graduating from Amherst College—and racing on its ski team—to explore Tahoe.
In 1994, Chris and Jenny Fellows founded the North American Ski Training Center with Sodergren as a key partner and head instructor. They dedicated themselves to the highest level of instruction and attracted instructors who shared that vision.
"We hired the PhDs of ski instruction," says Jenny.
Growing the American Ski Model
In 1994, the American ski industry was still maturing and finding its way. The American Mountain Guide Association had conducted its first ski guide exam and course only a year earlier, spearheaded by another Truckee guide, the late Bela Vadasz of Alpine Skills International.
While NASTC at first embraced a technical, resort-oriented focus on ski instruction, as opposed to Alpine Skills International's backcountry bent, NASTC soon began offering all types of ski instruction, including avalanche education and mountain guiding both locally and as far away as the Himalayas.
During the mid-1990s, American ski guides were putting their own unique stamp on the sport—and the tension between them and their European counterparts was apparent from the earliest days. 
Doug Robinson, the first president of the American Mountain Guide Association (AMGA), recalls a hilarious, ill-fated attempt at cross-pond communication between the fledgling American organization and its European colleagues in an article he penned on the AMGA's history.
"At first, the AMGA had no letterhead, which led us into conflict with the UIAGM (Union Internationale des Associations de Guides de Montagnes). In 1980, I wrote them a simple message: Hi, here we are, how can we join your club? But I sent it on my personal letterhead," wrote Robinson in an article in the AMGA Guide Bulletin.
Robinson's letterhead sported a photo of him bouldering in the Buttermilks outside of Bishop, "shirtless, dirty shorts, long hair flying."
The buttoned-up European guide executives did not find the photo amusing. Their terse reply, complete with the letterhead photo repasted atop their response, read: "This is not a mountain guide. This is a monkey who works without a net."
That letter became known as the infamous "Monkey Letter," and American guides began a long-running joke that the missive, signed by Secretaire General Xavier Kalt, was the European guide establishment giving the Americans the "Kalt Shoulder."
But despite the cultural missteps, American guiding desperately sought the legitimacy, and structure, of international guide association inclusion. This happened slowly over the mid-90s. By 1997, the AMGA was officially accepted into the IFMGA (International Federation of Mountain Guides Association).
"At long last, representatives from the IFMGA member countries voted unanimously to admit the AMGA into the IFMGA. Because they had already received their Alpine, Rock, and Ski certifications before AMGA was accepted, Mark Houston and Bela Vadasz were also named IFMGA guides at this time," wrote John Cleary, former AMGA president, in the association's Guide Bulletin. "This was the most significant event in the history of the AMGA."
Cleary was instrumental in the growth of NASTC as well. As a founder of Sierra Mountain Guides, he held the permits for a large swath of the Sierra Nevada. When he decided to leave guiding and pursue his other passion, geology, he sold the permit for the Tahoe area to NASTC. Sierra Mountain Guides, now under the ownership of Howie Schwartz, continues guiding in the Eastern Sierra under the Inyo County permits.
Twenty-six years later, it doesn't surprise Cleary that NASTC is still thriving in the Tahoe area, especially as he has seen their program at work over the years on guiding trips.
"They are good guys, always professional, focused on everyone having a good time," says Cleary. "Some of the most fun I ever had was working with those guys."
The maturation of American guiding and the rise of companies like NASTC solved one of the issues Fellows saw early in his career: Ski instruction and guiding was once a temporary seasonal job staffed by college grads before joining the real workforce, or a career that forced serious guides to move to Europe to make a living in the industry. Because of the work of AMGA pioneers and American ski visionaries, instructing became a viable career. This benefitted both the guides and their clients.
Loss and Longevity
Owning and growing a ski academy has presented intense challenges as well as deep rewards to the Fellows. The clients, guides and partners have been the highlight of a long career teaching generations of skiers.
"It is a really good industry to be in," says Jenny Fellows. "The mountain sports world is full of very good, very generous people."
One of those people was Sodergren, who helped guide the early vision of NASTC from idea to reality. "Sody," as he was known, dedicated his life to skiing, working with NASTC in the North American winter and then chasing snow in the Southern Hemisphere the rest of the year.
In the summer of 1997, Sodergren's pursuit of snow brought him and his wife Mariam to Thredbo, Australia, to teach skiing as they had in years past. The Tahoma couple were staying in a lodge at the base of the ski resort when a landslide let loose and buried the lodge in dirt and debris. The Sodergrens died in the tragic accident, along with 17 others.
"That was a life-changer, having your best friend perish like that," says Chris Fellows. "He was our main guy. He was the first coach."
Despite the devastating loss, the Fellows soldiered on, continuing to build NASTC into the company that Sodergren envisioned. For the Fellows, that means leaving clients with the skills that will transform their skiing for the rest of their lives.
"A lot of ski services bring people into terrain and put them on fat skis and say, 'Go for it.' But we've been more focused on perfecting technique," says Fellows.
Fellows' approach to lifelong ski progression can be seen in his writing, a passion that has resulted in three published books, including Total Skiing, which retired World Cup alpine racer Marco Sullivan says breaks down skiing to its "simplest and purest form."
That dedication to the craft of skiing has resulted in clients who went on NASTC ski trips 26 years ago and still come back for the training and experiences today.
"That is the only reason we have been able to stay in business, because that core client trusts us and believes in us," says Fellows.
Through it all—droughts, a global pandemic that shut down international travel and personal tragedy—NASTC has continued to adapt, evolve and innovate, while always staying true to those immersive academy roots inspired by a trip to Austria more than 30 years ago.
"We still occupy the niche we were founded on," says Jenny, "which is advanced ski camps at the best resorts in the world led by the best instructors."
---
David Bunker is a Truckee-based writer and editor.