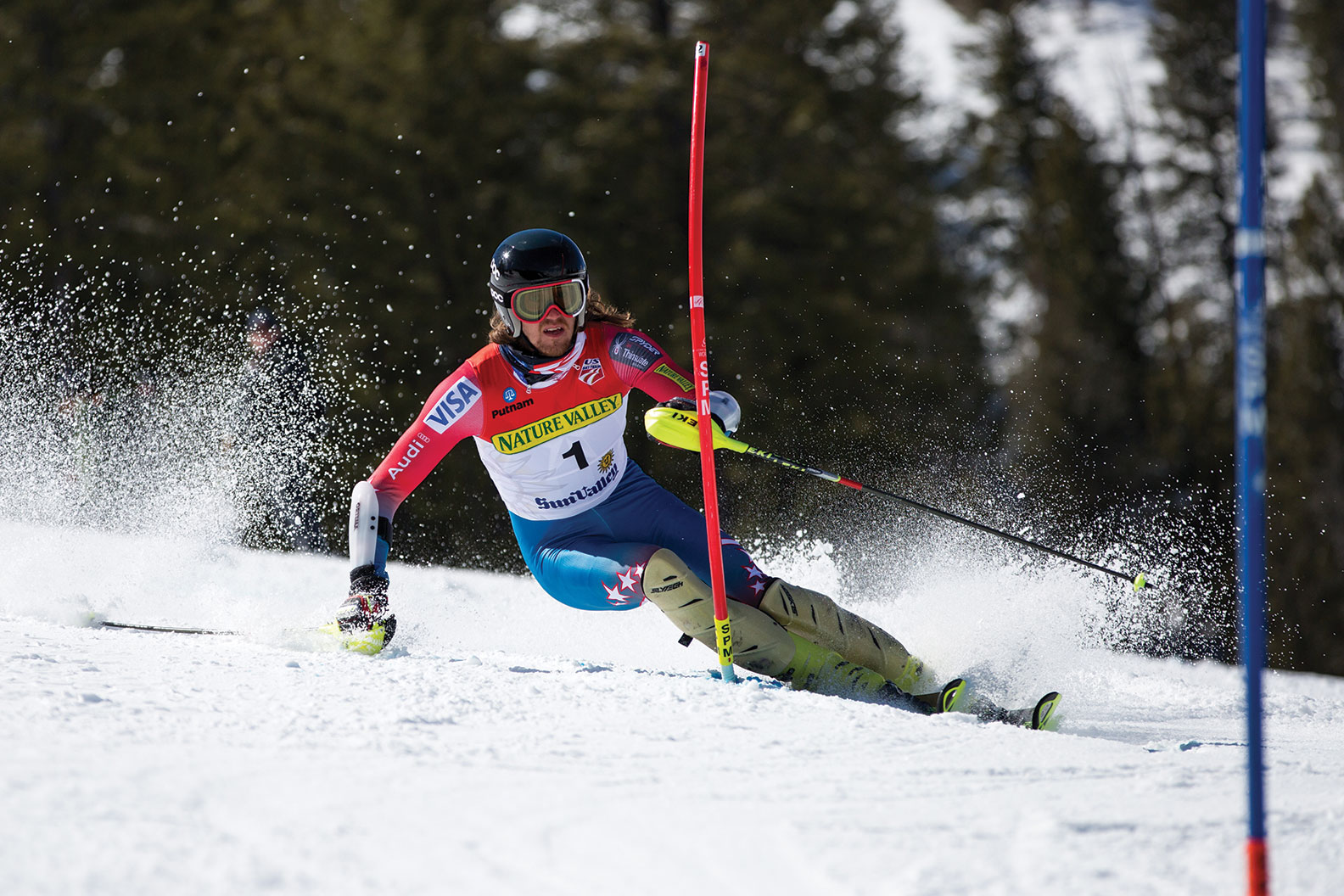 Bryce Bennett races the men's combined at the 2016 U.S. Alpine Championships, photo courtesy U.S. Ski Team
10 Oct

'Big Man' on the Rise
Squaw Valley's Bryce Bennett stands tall in the world of ski racing
Bryce Bennett doesn't care. He doesn't care about speeds. He doesn't care about times. He doesn't care about results. The 6-foot-7-inch U.S. Ski Team member doesn't seem concerned about the bacon-and-egg burrito that's getting cold in front of him either. He cares about tackling challenges head-on. He cares about technique—at least enough to put a hold on breakfast.
"When people tell me I can't do something or when there's a challenge that seems impossible, I just go all out at it," Bennett says. "I just like to figure things out. Skiing is my craft and I want to be incredibly knowledgeable and proficient at my craft."
This drive to perfect "the craft" led Bennett to a breakout season last year. "Big Man," as his teammates call him, finished in the top ten in two World Cup races, a huge jump from his 57th starting rank. But it hasn't been all fun and games for the Squaw Valley local. Since he was a kid, his height has made him stand out in a crowd. It also comes with unique challenges, particularly in the realm of ski racing. Bennett has spent his life figuring these out in his own way.
Now, it's all starting to come together for the tallest guy in the sport.

Bryce Bennett, photo courtesy U.S. Ski Team
Tall Obstacles
Bennett is sitting at a small metal table outside Tahoe City's Dam Café. His new puppy, Wiley, an impossibly adorable blue-eyed mutt, has tangled his leash in the chairs. Wiley whimpers. Bennett reaches down and unhooks him. The dog runs off, disappearing around the corner. Finally, Bennett digs into his burrito.
It's late July. In two weeks, the 24-year-old will be on a plane to Chile to kick off the training season with the rest of the U.S. Ski Team. It will be his fifth season on the team. The first three were tough.
Due to his unique size, Bennett faced hurdles that other racers didn't. At 215 pounds, his size 16 feet alone presented a problem. Racing boots hardly fit, and those that did flopped under the strain. To compensate for his underperforming gear, Bennett tried to force his technique.
"I created so many bad habits on bad equipment," Bennett says. "I could not turn the ski. My boots were too floppy, just way too loose."
The problem stemmed from the way boots are manufactured. Ski companies generally use the same amount of plastic in a size 10 boot as a size 12. The result is softer boots in larger sizes.
To find a solution, Bennett started experimenting. He added extra buckles. He riveted more plastic onto the lower sections. He switched sponsors. He went from being oblivious about his equipment to being highly mindful.
"I was the kid who was like, 'I don't need to tune. I live in Tahoe,'" Bennett says. "Now, I'm super meticulous about my equipment."
Last year, Bennett hit on a setup that worked. He moved to Fischer Sports and started working with fellow tall guy and U.S. Ski Team racer Steve Nyman. Now, Bennett crams his foot into a punched-out size 12. Each pair takes six hours to build.
Bennett has taken on other aspects of the sport in his own fashion as well. Rather than train in Salt Lake City at the U.S. Ski Team's Center of Excellence, he prefers to spend the summer at home in Tahoe City. A couple years ago, he took up CrossFit and now relies on the program to stay in shape.
"A friend and I went to one class and we got destroyed by some soccer moms," Bennett says. "It was unbelievable. There were a bunch of super fit soccer moms just killing me. I was like, 'This is what I'm doing.'"

Bennett and his puppy, Wiley, photo by Dylan Silver
Tahoe Flair
Bennett stands up to find Wiley. The puppy has wandered through the tables, flashing his wanting baby blue eyes at diners. Bennett brings him back, the little animal especially small in the skier's big hands. He doesn't scold him. He smiles easily and puts the leash back on.
Bennett is a true Tahoe story. His parents met at Alpine Meadows and he was born at Tahoe Forest Hospital in Truckee in 1992. He started skiing as a toddler, and joined Squaw's Mighty Mites program and began racing in grade school.
"My dad used to tell me that he'd drop me off and I'd just start crying," Bennett says. "I'd just be balling my eyes out because I didn't want to go skiing. But once I actually started skiing, we'd go all day. Pee in your pants. Nonstop."
From a young age, he's always been the tall kid. His height drew a lot of attention. A good athlete and big for his age, Bennett felt singled out by the referees in most sports. Among his peers he was the target of resentment. Unafraid to back down, Bennett got in fights frequently.
He bounced from North Tahoe Middle School to Squaw Valley Academy to Alder Creek in less than two years.
"I was stuck in an awkward phase where I had a tough time with kids my age and the older kids," Bennett says. "I was a bit of an outcast. It was tough for me."
Bennett grew up looking to the wild men of Squaw—Shane McConkey, Jamie Blair, JT Holmes and the Gaffney brothers—for inspiration. He and friends Nick Daniels, Jake Perkins and Sean Higgins would ski bell to bell, chasing fresh snow from Headwall to Granite Chief. From Chinese downhills to sending cliffs, they pushed each other, sometimes a little too far. Ski patrol didn't appreciate the unauthorized races or the mid-afternoon Tram Face runs. Bennett had his pass yanked more than once.
Still, his racing benefitted from his freeskiing dedication. Bennett found he could easily access a mindset that helped him focus on speed.
"Bryce's skiing has kind of typical Squaw attributes," says former U.S. Ski Team racer and fellow Squaw Valley product Marco Sullivan, who retired after the 2015–16 season. "The program there focuses a lot on freeskiing and not a lot on training. A lot of the guys have a really natural feel for the snow. It looks almost playful when Bryce is racing. He might not necessarily have the textbook technique, but he just has an innate touch on the snow that's born from skiing so much when he was a kid."
Bennett credits his parents for working hard to support his early racing career. With his father in construction and his mother working as an accountant, it was particularly tough when the economy crashed in 2008.
"I don't know how, but they kept supporting it," he says.
A telemark racer himself, Bennett's father, Stan Bennett, traveled with him through the early years, pulling him back from distractions and pushing his technique. Most of all, he passed on an unrelenting work ethic.
Another longtime supporter is legendary Tahoe race coach Konrad Rickenbach. Under Rickenbach's tutelage, Bennett focused his efforts, changed his attitude and began to improve his times.
"[Rickenbach] guided me into working on myself," Bennett says. "That translated into my skiing. That was when I started skiing at a high competitive level."
Rickenbach's style of coaching has always been to work on the person, more than the skier. When Rickenbach first saw 8-year-old Bennett ski, he knew there was something special about the kid.
"He was very independent minded," Rickenbach says. "When I look for an athlete, that's what I'm looking for. I've worked with a lot of great skiers. All the top guys I've worked with are very independent minded. And they're problem solvers. Bryce is a problem solver."

Bennett races the super G at the 2015 Nature Valley U.S. Alpine Championships at Sugarloaf Mountain, Maine, photo courtesy U.S. Ski Team
Olympic Hopes
Bennett pulls apart the last of his burrito, picking out the egg and bacon. Wiley scores a few chunks. Bennett leans back in his chair. He's relaxed and often laughs remembering his past. The puppy gets tangled in his leash again and attacks it with his teeth.
Bennett hit the national competitive scene in 2010–11, but he wasn't finishing well in his FIS races. That first season he floundered at the back of the rankings.
Even his coaches were having a tough time with Bennett's issues. At the national development camps, staff were skeptical of the tall guy's potential.
"No one understands my height," Bennett says. "It's totally different. I look different. The way I move through a turn is different. It was really on me to figure it out, which was so hard."
After that winter, he was seriously frustrated. He couldn't seem to develop the speed he wanted. He took a summer roofing job, shingling houses near Lake Tahoe. Those few months gave Bennett the clarity he needed. He'd go for it with every tool at his disposal.
With standout performances at the early-season camps and some of the NorAm races, the U.S. Ski Team inducted Bennett in 2012. Though the results didn't show it, the last few seasons were hardly a loss. He worked through his equipment struggles and settled into the pro racer role.
"Bryce has made some really positive changes in his skiing in the last couple of years," says assistant U.S. Ski Team coach Pete Anderson. "Bryce has a really solid technique and foundation in his skiing and has natural balance on his skis, so a lot of what we work on is trying to get him to generate as much speed out of his turn as possible. Bryce has also been learning the World Cup downhill tracks and has made big steps in his understanding of these courses and where to find the most speed."
His progress was on display last season. Despite starting late in the afternoon, Bennett whipped down Italy's Val Gardena. He had visualized the line through the rolling course and executed. He landed in sixth place, his highest World Cup result to date. The finish pushed his confidence, and the skiing felt really good.
"My goal is to keep improving and learning and becoming a better athlete," Bennett says. "It's super easy to start thinking about results and times and other people. But to step away from all of that is super hard. But when you do it, you get sixth from bib 57. Every time I've been in that state, just totally focused on myself, good things come of it."
Bennett won't emphasize it, but his coaches have high hopes for Big Man. Last year, he did a scouting trip to South Korea, where the 2018 Winter Games will be held.
"With the way that he prepares for every day of training and strives to continually improve, he should be able to keep progressing over his career," Anderson says. "Bryce has a good chance to make an appearance at the 2018 Olympics."
Rickenbach knows Bennett can stand on the world stage. The coach believes Bennett has earned it by putting everything he's got into the craft of ski racing.
"If there's anyone I want to see win a medal, it's Bryce," Rickenbach says. "He has the heart for it."
In some ways, Bennett is like his puppy. He's not interested in numbers. He's tied to something bigger—a force that only wants the best for him. But sometimes the only way to figure out what's best is to get out there and learn and explore on his own. That's the only way Bennett can see to do it.
"At the end of the day, when you're in the start, if you don't believe in everything you've done and you don't have confidence in that, there's no way you can be competitive on the World Cup level."
---
Dylan Silver is a South Lake Tahoe–based writer and photographer.