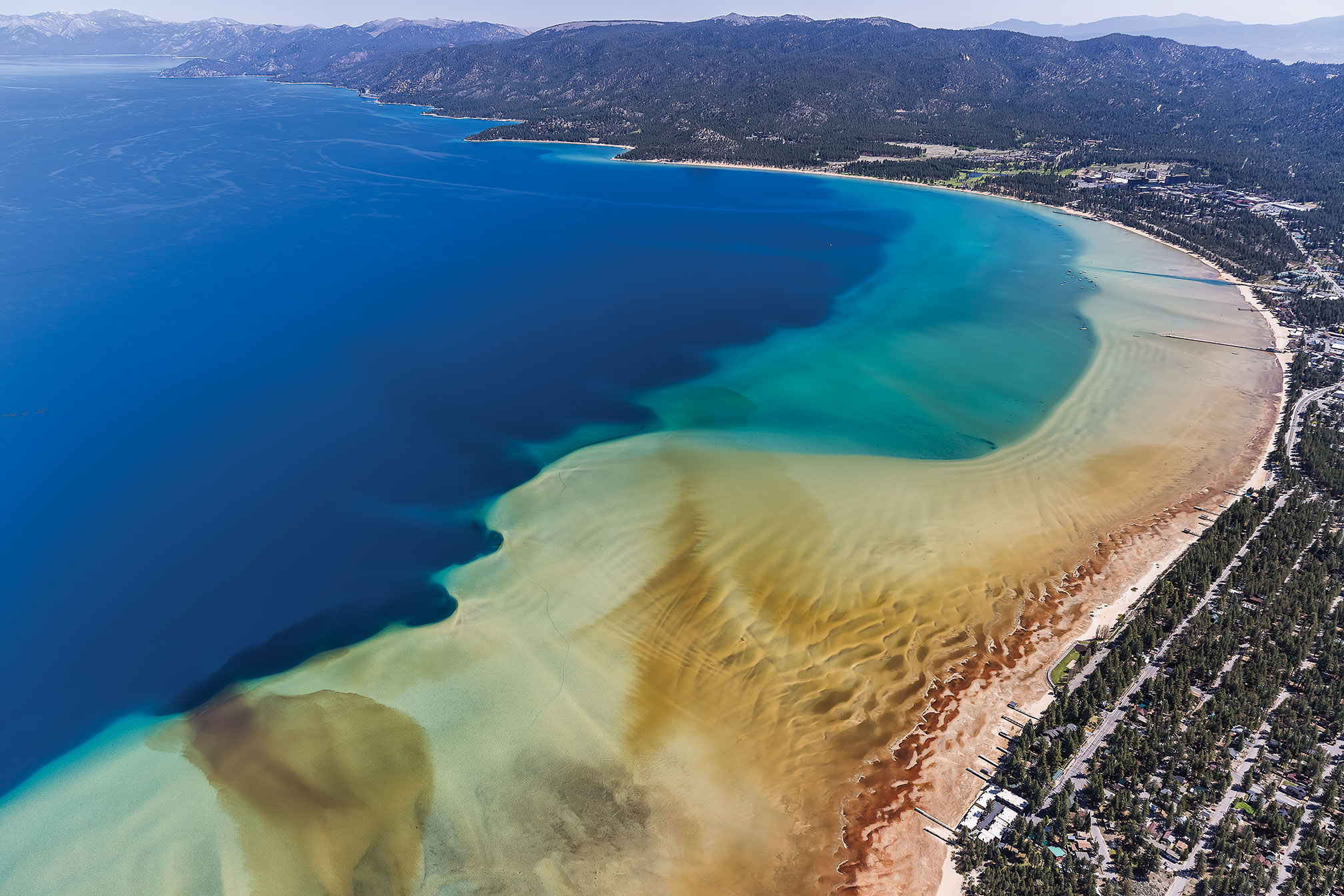 08 Jun

Bird's Eye View

A recent series of aerial excursions intended to photograph the effects of the drought on Lake Tahoe and the surrounding area reveal much more than a receding waterline. Observed from helicopter flight, familiar scenes take on a fresh perspective, from popular landmarks and tourist attractions to the backcountry of Desolation Wilderness, a gem that many visitors never get the privilege to see. The vibrant colors are initially most captivating. Tahoe blue waters are incredibly surreal when viewed from above, with varying depths and shoreline typography weaving a spectacular visual tapestry. However, a closer inspection reveals the impact of ongoing environmental stress caused by development, pollution and population. The hope is that these images will be another reminder of the need to be aware of our impression, both individually and as a whole, on the Tahoe region in order to preserve its magnificent grandeur for future generations.

A bittersweet view of the Upper Truckee River flowing into South Lake Tahoe as it delivers a large sediment plume containing phosphorus and
nitrogen, which are key contributors to algae growth. Development has altered the Truckee Marsh, disturbing the natural filtration process that
removes sediment and pollution from water prior to reaching The Lake.

The peninsulas and channels of a Tahoe Keys neighborhood depict interesting, fluid shapes from above.

The Tahoe Queen, an authentic paddle wheeler, glides out of Zephyr Cove on her journey toward South Lake Tahoe and beyond to Emerald Bay.

Boat slips at Tahoe Keys Harbor begin filling for the summer season.

Zephyr Cove is a favorite vacation spot and home to the famous M.S. Dixie, which waits patiently for her next voyage.

The Glen Alpine Trail meanders around Heather Lake in Desolation Wilderness, just begging for exploration.

Kayakers and sunbathers enjoy the beauty and solitude of Lake Tahoe's northeast shore.

The clear turquoise waters and soft hued beaches of Sand Harbor could be mistaken for a tropical destination.

The otherworldly typography of Desolation Wilderness' Lake Aloha features colorful striations of water and granite dotted with sparse foliage.

Unspoiled Tahoe blue waters combine with granite boulders to create a lovely abstract.