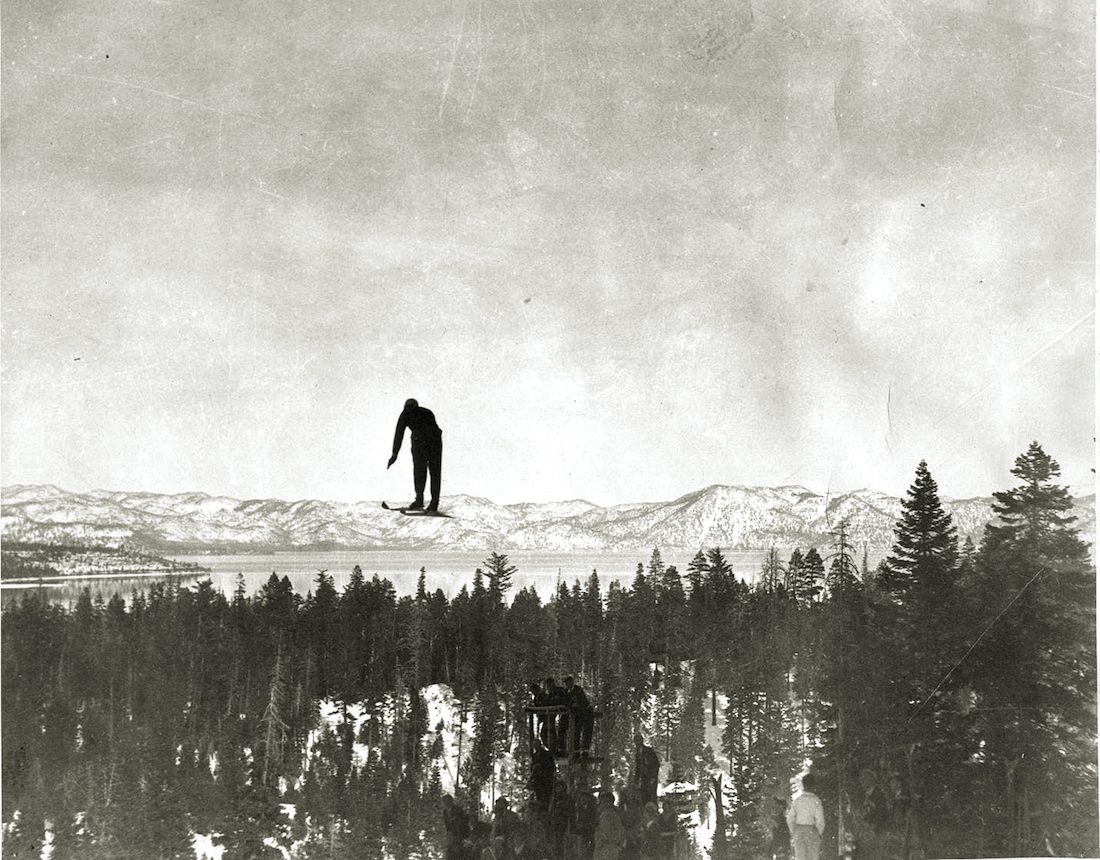 Auburn Ski Club ski jumper Roy Mikkelsen, a two-time Olympian (1932 and 1936) and National Champion (1933 and 1935), takes flight at Granlibakken, courtesy photo
30 Nov

Bringing the Sierra Nevada's Winter Sports History to Life
After years of planning, the long-awaited SNOW Sports Museum in Olympic Valley Park is nearing the downhill stretch
Of all the appealing aspects of skiing and snowboarding, the sports' ability to bring complete strangers together through a common interest stands out as perhaps Bill Clark's favorite quality.
"One of the analogies I often use is: What other sport or endeavor do you have a ski bum who still has his out-of-state license plates, and is maybe living in his car, sitting on a chairlift with a billionaire, both about to share the same experience?" Clark, the longtime executive director of Auburn Ski Club, says with a chuckle. "You've got both ends of the social and economic spectrum sharing the same passion, and there's really not anything else like that."
Clark should know. Growing up in Auburn and competing as a junior ski racer in the early 1970s, the 69-year-old Truckee resident has met his fair share of snow-sliding enthusiasts on Tahoe chairlifts and trails over the years.
During his lifelong pursuit of skiing, the deep love Clark has developed for the sport—combined with an ever-growing appreciation for Tahoe's storied history—inspired him to help create a nonprofit foundation with a mission to build a museum memorializing the 1960 Winter Olympics and centuries of winter sports heritage in the Sierra Nevada. Once completed, the museum will serve as a community hub of sorts, bringing together locals and visitors alike to celebrate and learn about the people who helped put the region on the map as a winter sports destination.
"Not just the winter sports history in the Sierra, but also the culture and passion that runs through mountain communities," adds Clark, who credits Russell Poulsen, son of Palisades Tahoe co-founder Wayne Poulsen, for coming up with the idea for the museum and rallying a team to make it happen.
While construction has yet to commence, the folks behind the ambitious project have cleared numerous hurdles over the past decade-plus and are now eyeing the finish line, which they hope to reach by 2026.    
'A Long Time Coming'
Clark remains an active member of the SNOW Sports Museum Foundation's board, which currently is led by longtime Tahoe historian and author David C. Antonucci as president, Eddy Ancinas as vice president, Nancy Cushing as secretary and Mike Livak as treasurer. In all, the foundation is composed of 12 board members and a 10-member advisory committee.
While the nonprofit was officially established in 2008, the idea to erect a museum has been at the forefront of the skiing community for decades.
"It even goes back to 1960 during the Olympics. There was quite a bit of talk then with Wayne Poulsen and ski writer and historian Bill Berry about establishing a post-Games museum," says Clark. "But it just didn't happen, for one reason or another … so, it's a long time coming."
Clark credits a single event for getting the ball rolling. Two years after the foundation was formed, board members organized a 50th anniversary celebration of the 1960 Winter Olympics, capped by a gala that hosted myriad athletes, developers and volunteers who made those Games possible.
"The outpouring of enthusiasm really convinced everybody this thing does have legs, something that's not only meaningful to locals and everybody who's devoted their life to winter sports, but to the region and even internationally with the Olympic movement," Clark says.
The board launched a fundraising campaign to hire an executive director and engage consultants, engineers and architects to complete the arduous environmental and land-use permitting processes required for construction in the Tahoe area.
In 2015, members settled on a location for the museum in Olympic Valley Park, near the Tower of Nations and Olympic flame cauldron landmark on Highway 89 at the entrance to the valley.
Advisory member Scott Keith of Truckee worked with local experts on a rebranding effort that resulted in the current name, SNOW Sports Museum (short for Sierra Nevada Olympic and Winter Sports Museum) to reflect the foundation's mission to celebrate the entire region's history. 
In 2021, Placer County officially partnered with the foundation to work on land entitlement and the Environmental Impact Review (EIR). Clark and Keith credit county supervisor Cindy Gustafson for playing a major role in getting the county on board.   
"Placer County has come around 180 degrees," Clark says. "They see the light. Cindy is huge in this; she's seen the benefit in the community for this, and she gets it. She sees how the thread of winter sports goes all through the community, to the visitors, to everybody."
Ongoing Pursuit
The environmental review process will continue into at least the first quarter of 2023. After it concludes—and presuming the project receives the green light—the foundation can kick off fundraising and capital campaigns with hopes of beginning construction by 2024, Clark says.
In a perfect world, work would wrap in 2026, with a grand opening to follow, though that timeline depends on prompt completion of the EIR; ensuring enough cash is in hand for construction, operations and a stable endowment; and navigating fluctuating post-pandemic impacts like supply chain issues and building costs.
"It's an aggressive timeline, but 2026 is what everybody has been pushing towards," Keith says.
The two-story, u-shaped museum will boast 18,000 square feet of space with a footprint of 9,000 square feet, representing less than 1 percent of Olympic Valley Park's 31.9 acres. The use of mass timber for carbon reduction, regenerative design principles and sustainable materials will provide a framework for a highly efficient and cost-saving LEED-certified building designed to minimize environmental impacts.
"Whenever I look at the design and layout and just walk around the park, that makes me really excited," says Eddy Ancinas, who's been a board member since the foundation was formed. "That location just makes sense."
Of all the foundation's members, Ancinas is one of the most seasoned. A revered ski journalist and travel writer, she worked as a guide for the International Olympic Committee (IOC) at the 1960 Games. It was there she met her husband, Osvaldo Ancinas, a member of the Argentine Alpine Ski Team competing in his first Olympics.
"Young people and visitors should be proud of the history of the pioneer spirit that built all the ski areas, and of the people who skied here before there even were any lifts," says Ancinas, a longtime Alpine Meadows resident. "That love of adventure and the outdoors, it's part of our heritage up here. So there's that kind of big emotional picture of loving the place you live and wanting to know about and preserve its past."
More Than a Museum
Aside from devoting space to the 1960 Olympics, the building will house the following attractions:
• An interactive cultural center recounting tales of winter sports pioneers and their impacts in the region, including native Washoe tribe members traveling on hand-hewn snowshoes; gold miners racing on 14-foot longboards; the elite 10th Mountain Division ski troopers of World War II ("no place in the world has this history," says Clark); and current World Cup athletes. The center will also include stories about the development of California ski areas.
• An event center offering space to gather for films, conferences, presentations and lectures focused on history, culture, sports innovation and environmental stewardship, in addition to a visitor center, café and museum shop focused on historical education (books, posters, etc.) with proceeds helping to operate the museum.
• A Regional Winter Sports Hall of Fame that will annually celebrate athletes, pioneers, historians and visionaries specific to the Sierra who have significantly enriched the sports of skiing and snowboarding.
"There are so many personalities and sports-builders in our region who will never get recognized in the National Ski Hall of Fame," Clark says. "This is going to be very inclusive—everyone from the obvious athletes but also the behind-the-scenes people who developed the ski areas, the ski writers, local coaches … people like your uncle Bob who was a ski jumping judge for 30 years at Granlibakken. Those kinds of people need to be recognized because it gives the community that connection."
Downhill Stretch
The foundation has recruited a cadre of local athlete ambassadors—both past legends and current champions—to promote the museum on social media and through interviews. They include Olympic gold medalists Jonny Moseley, Julia Mancuso, Jamie Anderson and Eileen Gu, along with fellow Olympians Travis Ganong, JC Schoonmaker, Jeff Hamilton, Starr Walton-Hurley and Osvaldo Ancinas, among others.
Keith says the ambassadors assist in the crucial duty of raising awareness that will eventually lead to increased donations for a project estimated to cost more than $20 million.
To that end, a grant from Placer County has provided initial support, along with matching donations from foundation board members as well as organizations and individuals in the community, highlighted by $1.15 million from the Cushing Family Foundation.
Additionally, the foundation continues to work with the U.S. Olympic & Paralympic Committee toward obtaining official Olympic Legacy Museum status through the IOC.
While the foundation waits to cut the proverbial red tape, members are embarking this winter on the important, yet painstaking, task of cataloging all the artifacts that will eventually be housed in the museum.
A good chunk of those items are currently stored at the Auburn Ski Club–owned Western SkiSport Museum on Donner Summit, Clark says. Other artifacts will come from the Museum of Sierra Ski History in Tahoe City and the Olympic Museum located at High Camp at Palisades Tahoe.
Those are the items the foundation knows about. The next step is reaching private donors.
"We've had so many conversations with people who are just waiting for the opportunity to turn over their family's archives to a safe place where it can be archived and appreciated and used for exhibits and research," says Clark. "All this history, it's just floating all over out there, and it's sort of a race against time. You never know when some family is going to inherit some (artifacts) and they don't know what to do with them or they don't appreciate it, and we want to be ready to accept those things."
That race against time is ultimately the driver in bringing this years-in-the-making project to fruition.
"I get chills when I hear about these stories," says Keith. "I'm not a history buff by nature, but to see how resilient these people were, how pioneering these people were in these sports, it's inspiring."
---
To learn more about the SNOW Sports Museum, including how to donate, go to thesnowmuseum.org.
---
Kevin MacMillan is a Reno resident and former editor of the Sierra Sun newspaper in Truckee.