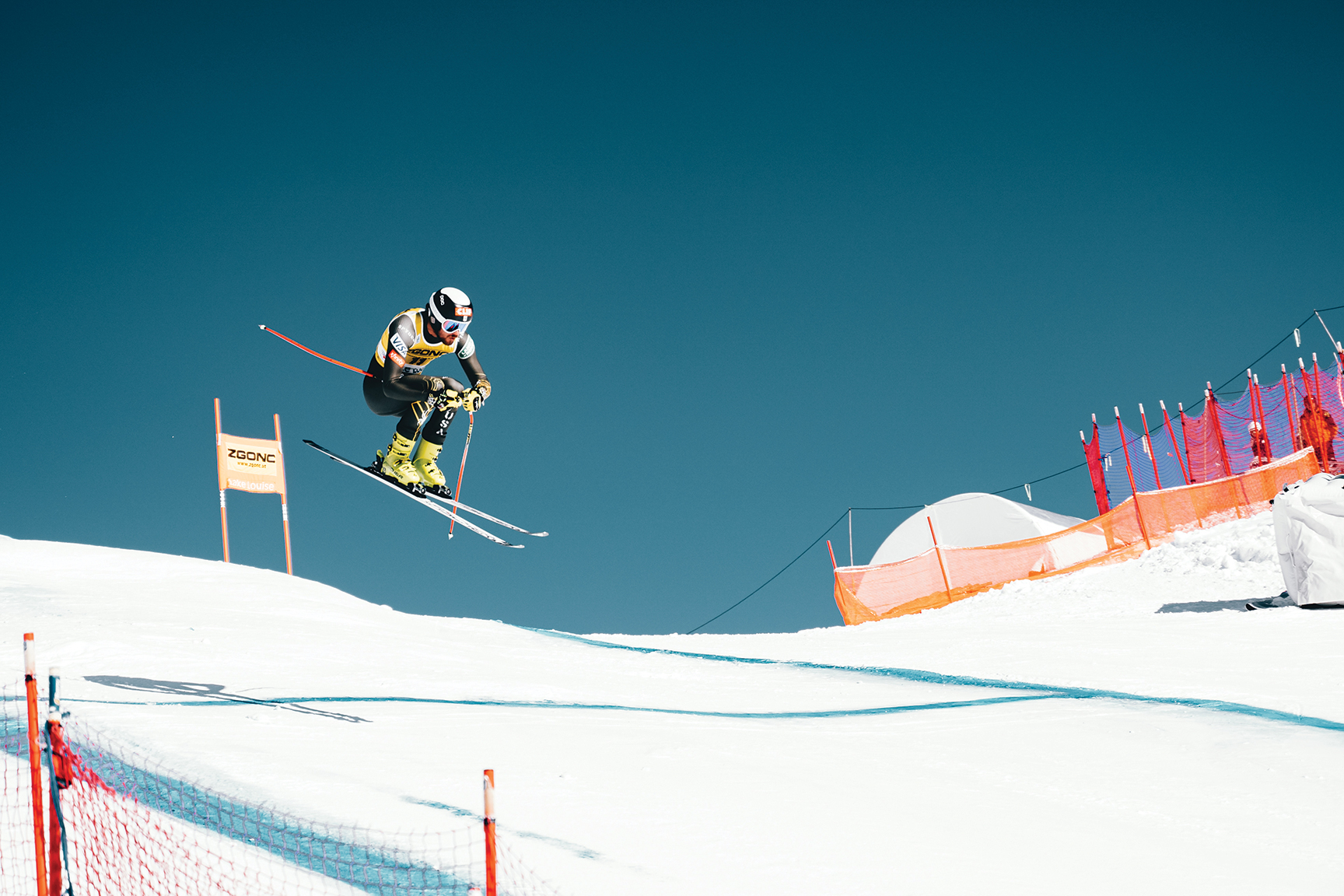 Bryce Bennett competes in a World Cup alpine race at Lake Louise in 2019, photo courtesy U.S. Ski & Snowboard
06 Dec

Bryce Bennett: Trained by the Steeps of Tahoe
Behind Bryce Bennett's relaxed exterior is a fierce competitor with an array of skills honed on his home mountain
Bryce Bennett is not your average ski racer. Most conspicuously, at 6-foot-7, the North Lake Tahoe native towers over most of his U.S. teammates and World Cup competitors alike. He readily admits to enjoying summer over winter (better fishing weather, for one). And he is known to have a wry sense of humor that belies the serious nature of his craft.
But don't let that fool you.
Despite his seemingly carefree demeanor, come race time, Bennett is as focused and determined as any one of his rivals—with an innate touch on snow born from countless hours of hard charging around his home resort.
In that regard, Bennett is much the same as the legendary skiers who cut their teeth before him on the hairiest terrain Palisades Tahoe has to offer, far from the confines of a racecourse.
And it is that freeskiing background that gives the now-29-year-old veteran a fighting chance to win any given race—in any given conditions—on the most challenging downhill courses in the world.
Nobody outside of China knows exactly how the 2022 Olympic venues will race. But given Bennett's well-rounded prowess stemming from his Tahoe roots, that unknown could just play into his favor.
How was your offseason?
The offseason went well. My fiancé and I bought a house in Truckee that needed a touch of remodel work. That kept me pretty busy. I've been training at Dreamtown CrossFit for a few years now. I spend a majority of my summertime there. Luckily, I love the community and people that go there, so it keeps it fun and fresh every day. Other than that, I was laying low by the river, or on my fishing boat on Tahoe.
Congratulations on your engagement. Tell us a little bit about your fiancé.
Yeah, I recently got engaged to the girl of my dreams. She was born and raised in Tahoe. We actually went to high school together but she wasn't into me at that time. Glad it worked out!
Seeing the photo on social media, it looks like you chose a scenic spot to pop the question. What lake is that, and is it true that she out-fished you that day?
We were camping in Bridgeport right after that first dusting of snow in October. We ended up making our way to Twin Lakes in the morning and I really didn't want to carry the ring around all day, and the spot we were at was incredible with the snow on the mountains, the aspens changing colors and not a breath of wind on the water. Worked out pretty well. Except that she smoked on back-to-back casts—a 25-plus-inch brown and rainbow on the East Walker River, immediately after I laughed at the lure she tied on. You win some, you lose some. 
After our brutal summer with the wildfire smoke and forest closures, how glad are you to see the arrival of winter?
Hahaha. Summer is my favorite time of the year. That's right, I said it. A solid Tahoe summer is hard to beat. There are so many activities 15 minutes in any direction from your doorstep. With that said, I'm fired up for winter. It's tough to leave home, the gal, family and the dog, but I'm stoked to start racing some downhill.
Big year with the Olympics in Beijing. How are you feeling, both physically and mentally, heading into the season?
The last few seasons I've really had to fight hard to make results happen every weekend. It's been incredibly difficult, and things didn't work out the way I wanted it to. With that being said, I've taken away a few hard lessons from those mistakes and have been doing my best to apply them this summer, and I'm starting to feel like I'm in the best position mentally and physically I've been in a long time. It's ski racing though, so you never really know. 
Four years ago you competed in your first Olympics, placing 16th in the downhill and 17th in the combined. How would you describe your Olympic experience?
I tried to really soak up the Olympic experience in Korea. It was truly everything I wanted it to be. I was like a little kid at opening ceremonies, running around to every nation talking to everyone and collecting pins. My pin collection is insane, by the way. I got a Jamaican bobsled pin. Not too many people have that. It's a unique race, but at the end of the day it's just a race and I wish I had that perspective four years ago. But I'm excited to compete again and see what's possible.
Now that you have an Olympics under your belt, do you think that gives you a competitive advantage this time around versus your first time?
I do. After the first training runs in Korea, I was top five and winning splits, so I had some "confidence." The night before the race, I was picturing myself flying to New York to be on Jimmy Kimmel and the gold medal around my neck. Unfortunately, that was the only thing I was picturing. The mental spiral got out of control. I don't even like Jimmy Kimmel. I became so focused on the outcome, I forgot about the actual real thing in front of me, like ski racing, hitting my sections and what I needed to do to ski well. Who knows how it will go this time around? Time will tell. 
Do you have any specific goals in mind entering this Olympic season?
I do. Get my body physically prepared, get my equipment dialed in, have the right mental approach, and take it weekend to weekend, race to race. Ultimately, I want to win the World Cup downhill overall, because no American has accomplished that. Which means, having your ducks in a row every weekend, and on the bad days being confident and good enough to minimize damage. I would rather win Kitzbuhel than the Olympics. My focus is on the World Cups, but if you're skiing decent all season, you will be in contention in China. 
I imagine the downhill course in Beijing is significantly different than some of the European courses on the World Cup circuit. Is there any particular type of downhill course that you feel best suits your strengths?
With COVID, we weren't able to have our test event. I've seen some GoPro footage of the course, but I have no idea how it will run. It will be everyone's first time, so it should level the playing field. My favorite downhill on the World Cup is Val Gardena in Italy. It's basically a ski cross course on steroids. Huge 60-meter step-down jump. I think you leave the ground 20 times throughout the course. When you get to the finish, all you want to do is jump back on the gondola and do it again. 
Looking at your career results, 2019 stands out as a banner year, as you placed seventh in the downhill standings and had career-best finishes in every classic event on the tour. What do you attribute to your success that season?
It was easy. My expectations were low, and everything was dialed before the first race. I was physically ready and my equipment was tuned in perfectly. I got on a roll and went with the flow. Now, two years later, I realize how difficult it truly is to get on a roll like that—all the work it takes in the offseason to get in a place like that. I was honestly young and didn't even realize what was happening. But it was a nice, incredible feeling. It's time to do it again. 
You have two career top-10 finishes at Kitzbuhel in Austria, which is known for its challenging downhill course and has even been compared to the Super Bowl in terms of its popularity. Describe what it's like to race at Kitzbuhel.
If you ever get a chance to go to Kitzbuhel, do it! It's easy. Fly into Munich and hop on the train. The most expensive part is the flight. The beer is cheaper than the water, and there's so much epic skiing that's so accessible. It's funny because people in the U.S. are always arguing over what resort is the best. Then once you're in Austria, or pretty much anywhere in Europe, and realize the resorts are the size of Sugar Bowl to Homewood and you can't ski the entire resort in one day if you tried, you gain a different perspective for what skiing is. Watching Kitzbuhel on TV is such a shame. You really need to see how icy, steep, fast and how big the jumps really are. It gives me the chills thinking about it mid-summer. It's a pretty good feeling to be in the finish, but unlike Val Gardena, one run is enough for the day. You steer clear of that gondola.
How would you assess your 2021 season overall? 
Hard work, day in and day out. Long nights in the boot room, and long training sessions. It was a struggle to keep the wheels on the bus—the struggle bus, that is. 
We also have a Q&A in this issue with fellow Tahoe native and U.S. teammate Travis Ganong. When traveling around competing against the fastest skiers on earth, is it safe to say that you guys share a sense of pride representing an area with such a rich skiing heritage in its own right?
I mean, we are the best skiers on the mountain, so not really. Hey you, yeah you, reading this, I'm so much better at skiing than you. I'm just incredibly grateful for being raised in Tahoe. There's been so much Tahoe influence in my skiing career. It's been fun, and I think that's what's so cool about Tahoe skiing culture. It's fun and lighthearted and people are good at it, so you push harder to become better.
Outside of the coaching you've received, are there any ski racers—current or retired—who have helped you out with advice during your career?
Countless. Marco Sullivan, Daron Rahlves, Bode Miller, Steven Nyman, Ted Ligety and many more. The ski world is small. People want to see you succeed, and you want to see others succeed. I'm thankful for their advice. Your ski career is short, and any advice helps if you can implement it. 
It seems like the U.S. Alpine Ski Team has a balanced mix of talented veterans and promising up-and-comers. How do you think the team will fare at the Olympics?
Our team is in a good place right now. We have the "old guys"—I think I might be considered in that club now—and we have the young guys pushing hard. I know I don't want to get beat by the young kids, so we have a good mix pushing each other. Last year we had the best team results the ski team has seen in a long time. We were stacking the top 30 and top 10 before a few injuries. So I'm excited to see what our team has in store.
OK, let's end on some random quick-hits … Favorite mountain bike trail in Tahoe?
Mountain biking is played out. I only ride Truckee Bike Park.
Favorite place to grab a beer?
7-Eleven Coors Light in the can, not bottle, indulged at the river or lake. 
Best burger in the Tahoe Basin?
Bridgetender—aka BT.
Best backcountry ski run in Tahoe?
Played out. There's a reason we invented the ski lift.
Best inbounds run in Tahoe?
Nose to Fingers. There are others, but I ain't tellin' you. 
Best Tahoe skier of all time?
Too many to pick one. A lot of unique skiers from Tahoe. But probably Glen Plake. I love that guy. 
Super Bowl prediction?
The San Jose Sharks or something. Maybe the Golden State Warriors, but who really knows? 
---
The first time Tahoe Quarterly editor Sylas Wright saw the name Bryce Bennett, it was in a Tahoe World article detailing an incident in which the middle schooler launched off a cliff at Palisades Tahoe and ended up buried in deep powder, requiring rescue.