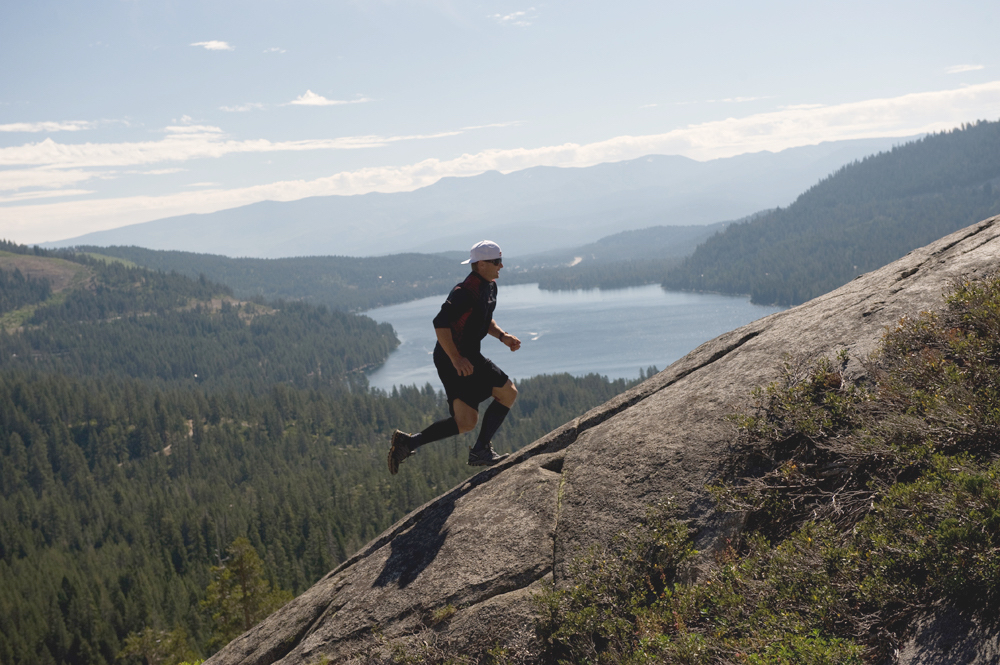 Daron Rahlves tackles Donner Summit on a training run, photo by Matt Palmer
23 Feb

Daron Rahlves gets you pumped for ski season

Four-time Olympian, most decorated American male downhill and Super G skier and winner of the legendary Hahnenkamm, Sugar Bowl Ambassador and Truckee resident Daron Rahlves still hits it hard every winter. But the secret of his success is the off-season: "The more you do in summer, the less you're going to be sore and get hurt in the winter," says the 38-year-old.

Rahlves' personal fitness program focuses on three areas: aerobics, endurance and winter sport specific training.
Aerobic base
One way that Rahlves maintains his aerobic conditioning is with mountain bike outings from his house at Prosser. Rahlves, who heads out for 45 to 90 minutes along Emigrant Trail for a low-intensity, low-heart-rate ride, recommends three to four such rides a week.
"You want to keep it under 140 to 150 beats per minute," says Rahlves, who adds that staying tuned to that metric is a key component of U.S. Ski Team training. "You should feel comfortable talking. If you are so out of breath that you can't talk, you're going above that."
Hitting the water on a stand-up paddleboard is another good aerobic workout, and has the added benefits of training both core and balance. "Stand-up is great because you are focused on stance and core stability," he says. "It's a great way to mix it up, and it works all the muscle groups."
Rahlves adds strength-building with the kettlebell to his aerobic conditioning. "You are generating momentum one way, then have to slow down and shift back the other way, like you do with skiing," he says. "It's low-impact, and if you do it right, you can get a great workout in 45 minutes."
Before starting on the ever-popular weights, Rahlves, who works with personal trainer Ryan Egan, suggests getting dialed in with a pro. "Technique is a big deal," says Rahlves. "You do not want to just start swinging kettlebells. A trainer looks at your strengths but also your weaknesses and can put you on a program that you can do on your own."
Rahlves acknowledges that not everyone has time each day to exercise (he used to train six hours per day), but notes that "if you can commit to even an hour, it's going to help so much."
Power endurance
If you really want to be strong for ski season, Rahlves suggests power endurance training. For that, he heads to the spin bike, starting with a 20-minute warm-up, followed by 10 minutes of low rpm (about 60) high-intensity spinning, which simulates riding up a steep hill.
"A spin bike is nice because you can keep it consistent," he says. After the 10-minute spin, take a 10-minute break, walk around to calm your heart rate, then get back on the bike for another 10-minute stint. Repeat a total of four times. "That's probably the hardest thing I've ever done for training," says Rahlves, who stresses the importance of warming up and cooling down. "That's really intense. You only want to do that one to two days a week."
Power endurance training helps skiers get from top to bottom without losing momentum. "That was my strength when I was racing," says Rahlves. "I was able to make up time and win most of the splits at the bottom. It's really mentally taxing—you've got to push through that state when you're almost maxed out. Now, when I freeski, I get to that point and can still keep going."
Winter sport specific training
For Rahlves, staying ski-fit means hitting the slopes, even when there's nary a flake on the ground. He employs a combination of speed hiking and rock scrambling to run up the lines that he's more accustomed to skiing down.
"It's a good way to get connected, be in that same environment with no snow and get fired up for the winter," says Rahlves, whose favorite trails include the face of Donner Summit, KT to McConkeys at Squaw Valley and Disney at Sugar Bowl.
"There's stuff that's pretty steep, and you're using your hands and are jumping over little rocks, in quick motion with your feet," he says. "You're picking a line and moving through the terrain, just like you would with skiing. You try and get a pretty good pace but keep it moving until you get to the top."
Rahlves recommends three rounds of uphill bursts, with 10- to 15-minute breaks in between. On the downhill, he focuses on foot placement, ankle strength and soft landings.
Rahlves recalls how his recon of Kitzbühel's Hahnenkamm paid off on the race course in 2003. "I went there in the summer, hiked up it and thought 'Next year I'll be skiing this,'" he says. "It gets you more comfortable with where the run is going and where it's moving."
Putting it all together
Staying active all summer and fall is key to a fit winter. "You don't want to just say, 'It's November—ski season is coming up, I better start training," says Rahlves. "If you want to feel good on skis next season, you've got to have your routine and program down. But most of all, enjoy the scenery and have fun."