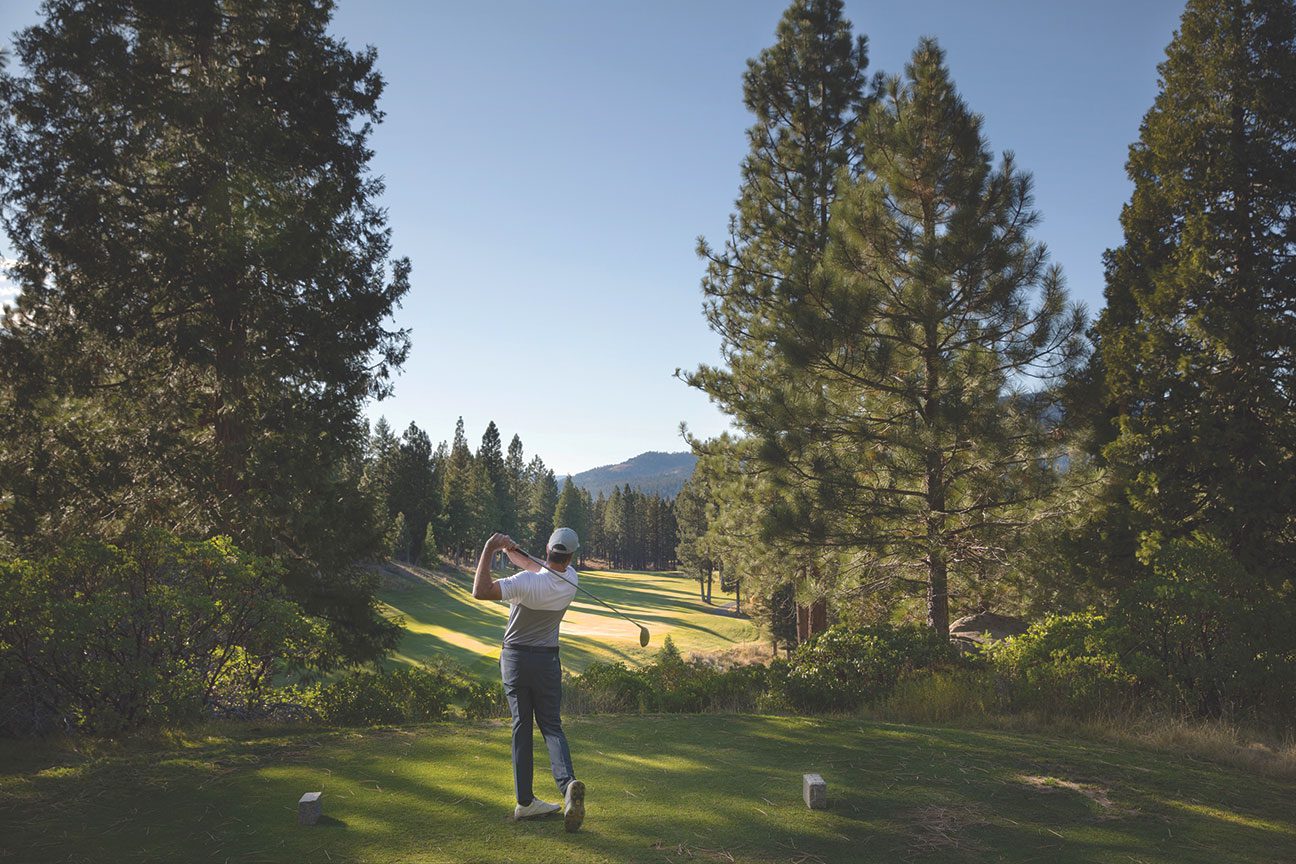 Teeing off at The Dragon at Nakoma in the Lost Sierra, photo courtesy Nakoma Resort
26 Apr

Driving Deep at Tahoe
Playing at elevation affords the opportunity to hit the long ball,
but mountain courses also present their challenges
It's 2007 and Travis Alley is settling into the tee box on the par-4 hole 1 at Truckee's Old Greenwood Golf Course. Knees slightly bent, Alley pulls back his driver, swoops it down and smacks the small white sphere off the tee, sending it sailing through the crisp mountain air.
It soars out of bounds.
For Alley, who grew up playing golf on the East Coast, it was an eye-opening moment.
"It was that epiphany of, 'Holy cow, the ball goes far here!'" says Alley, recalling the first time he hit a golf ball
in the Sierra Nevada.
More than 15 years later, Alley feels right at home spraying golf balls around the rolling green links planted throughout the Truckee-Tahoe region. In fact, since 2015, Alley has served as director of Tahoe Mountain Club, which owns and operates Truckee's Old Greenwood and Gray's Crossing golf courses.
"I've been living in Tahoe for so long that when I go play at sea level, it takes the wind out of your sails," Alley says with a laugh.
The 10 Percent Rule
Alley is referring to the 10 percent rule. Put simply, on average, most players achieve a 10 percent gain in yardage when striking a golf ball at high altitude. To get deeper in the weeds: The dimples of a golf ball have less moisture to catch and respond to in thin mountain air than in thicker sea-level air.
"There's less drag on the ball, so there's less opportunity for it to go wayward," Alley says. "If you're playing in Florida with a ton of humidity and you've drastically spun a ball, the ball kind of over-exaggerates; versus, up here in the thin air, (the ball) doesn't really get off line a ton. And if you're a decent player, you could definitely scratch 300 yards.
"Those things alone make golf up here pretty enjoyable—hitting it farther and hitting it straighter."
That's why golfers who come up to the Tahoe area from sea level often get a spring in their step after a few tee shots, says Kevin Sommerfeld, general manager at Lake Tahoe Golf Course in South Lake Tahoe.
"The look on their faces when the ball just doesn't come down," Sommerfeld says with a laugh. "But you've got to hit it straight. There are a lot of trees in Tahoe. You can hit a long way the wrong way—and you'll be in big trouble."
The players who hit it straight, though, can turn par-5 holes into long par-4s, says Sommerfeld.
"They'll hit a 350-yard drive on the first hole, which is 500 yards, par 5, and then get an 8-iron or 9-iron (shot) onto the green," Sommerfeld says. "It's pretty cool to watch."
Hitting Bombs
For that reason, Lake Tahoe is viewed as more than a place to ski and snowboard down revered mountains and recreate on a famously clear alpine lake. It's also a hub for golfers to maximize their drives, on the range and on the course.
"The people who know about the gain here are like, 'Oh yeah, let's go to Tahoe and hit bombs,'" Sommerfeld says.
And some massive moon shots have been hit near the lake over the years. Specifically, on the South Shore at Edgewood Tahoe, which hosts the American Century Championship celebrity golf tournament every summer.
In the event's long-drive competition, former NFL tight end Brian Kinchen crushed a ball 393 yards in 2004. Other long drives over the years have come from NHL hall of famer Mike Modano (379 yards) and NFL hall of famers John Elway (375) and Emmitt Smith (373). At last year's celebrity event, former major league pitcher Jon Lester topped the leaderboard with a 343-yard drive and was followed by Travis Kelce (340 yards), Stephen Curry (330) and Derek Carr (325).
Ball Flight Effect
But not every golfer—celebrity, amateur or pro—can launch shots deeper than usual when playing at elevation.
After all, the gain a golfer sees in his or her yardage largely depends on their "ball flight" and "ball speed," says Brian Eilders, a PGA professional and director of instruction at historic Old Brockway Golf Course in Tahoe Vista. In other words, whether the player is prone to hitting the ball at a low or high trajectory and how fast the ball travels off the clubface.
"If you're a low-ball hitter, and you have low-ball speed, you're not really going to see a difference," says Eilders, who estimates a golfer's ball speed needs to be at least 120 miles per hour to see a notable gain in yardage. "And a lot of players can't get over 100 miles per hour. Now, (PGA) tour players, they're approaching 190 miles an hour in ball speed. Good amateur players are in the 150s, 160s (miles per hour). That's a whole different game with ball speed like that with thin air."
Take it from Annika Sorenstam, a 10-time LGPA major champion and eight-time player of the year who has a home in Incline Village on Tahoe's North Shore.
For Sorenstam, the most decorated women's pro golfer of all time with more than 90 wins worldwide, a big challenge of playing at elevation is figuring out what percentage to "take off." 
"Generally, you think 10 percent. But that may not be the case with shorter irons as they are not in the air as long," Sorenstam says.
The Right Club
This is why Sorenstam considers club selection "very important" on mountain golf courses, which not only present golfers with thin air, but also an array of difficult uphill and downhill shots.
As an instructor, Eilders says he hears a common refrain from players who are new to these types of elevation changes within a course.
"They go, 'Man, I miss-clubbed all day long,'" he says. "That's because about the time you think the ball is going to carry farther, it doesn't. And then all of a sudden you hit that one shot and you airmail the green. So, then you're confused."
This, he says, epitomizes the importance of getting fitted for clubs.
With the use of launch monitors, such as Trackman and FlightScope, golfers can measure their ball launch, ball flight and club delivery in great detail, tailoring the club to their needs. That includes the right shaft type, club length, club lie angle, grip size and more, notes Eilders, who does fittings for Titleist and Cobra.
"It's a game-changer," he adds. "If you have properly fitted equipment, you can improve your game—and enjoy the game so much more."
Adds Alley: "The number one thing I'll tell anybody is if you're looking at new equipment, buying off the rack is silly. If you're going to spend the money, get properly fit, and it's going to go a long way."
---
Kaleb M. Roedel is a Reno-based writer and avid sports fan.