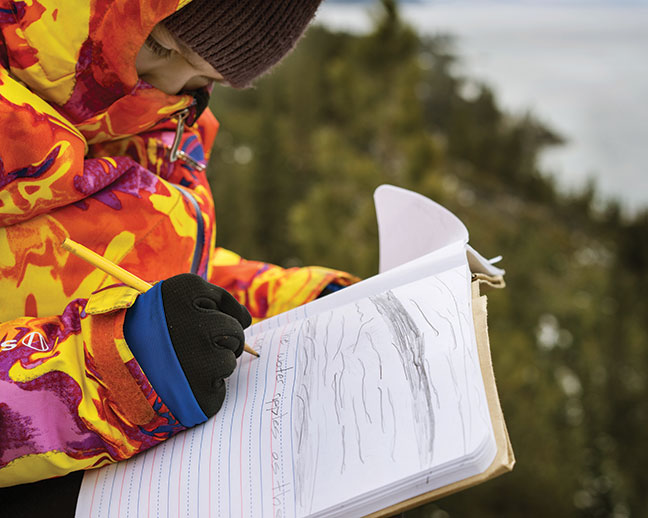 An elementary school student studies Tahoe geology and lake formation from Tunnel Creek, photo by Rick Chapman
17 Dec

Education Through Adventure

Eleven-year-old Max Loughan saunters across the large asphalt driveway serving as a playground for Tahoe Expeditionary Academy. He speaks clearly and confidently over the clash of a hockey game in the background: "I'm very engaged in science. I wear this lab coat every day."

He sports the white cotton overcoat over his slim frame as a hallmark of who he is: the student who packs science equipment for class camping trips; the young mentor who teaches fellow students about gravitational forces and chemical reactions in Friday's Science Guild; and the kid who would encourage a neighbor to attend his school by saying, "Are you ready to be thrilled?"

Loughan is a student at Tahoe Expeditionary Academy (TEA), a private, nonprofit school based in Kings Beach, but he might as well be its PR director: "They allow you to excel in learning, to go as far as you are capable of going. No other school can compare to TEA. TEA is an ultimate school of greatness."

Becoming an ultimate school of greatness is not too far off base from how co-founder DC Larrabee might describe TEA, although he uses phrases like 'meaningful academic rigor', 'character development' and 'outdoor adventure'.

Loughan and Larrabee share a love of science and TEA, but what they really relish is how TEA teaches science.

It is why Larrabee co-founded the school with Taylor Simmers in 2011, and it is why Loughan says, "This school is boss."

Instead of reading about a scientific law in a book, or watching a teacher demonstration, students like Loughan are taken to the science lab and given beakers and other materials and then told to turn saline into freshwater—without instruction.

As they collaborate, create and problem solve, one student might think of a still, another remembers that heating water turns it to vapor and a third suggests that the vapor condenses back into water—freshwater, in fact. And suddenly, it's a lesson in thermodynamics, says Larrabee, adding that it is activity first, instruction after.

TEA opened its doors in September 2011 as an adventure-based, experiential learning school for pre-K to 8th grade students.

Both Larrabee and Simmers taught at the private Lake Tahoe School (LTS) in Incline Village for eight years before founding TEA.

Courtenay Wallpe and her husband, Bryan, chose to follow Larrabee from LTS and enroll their children at TEA.

Three years later, TEA has doubled its original enrollment to 140 students, and added 9th grade, which recently earned accreditation from the Western Association of Schools and Colleges. Additional grades will be added each year.

Growth brings space issues to the primary campus located in a large building composed of a maze of rooms, stairs and cubby areas at 8651 Speckled Avenue.

Within each classroom, no more than 16 students gather around tables—not desks—with learning targets emphasizing common core standards.

In the pre-K classroom, next to a tank holding Lahontan Cutthroat fingerlings, is the learning target: "I can name the four stages of development."

A philosophy at TEA is to go an inch-wide and a mile deep on a subject, says administrative assistant Shawn Peters. In a learning expedition, as it's called, students will discover all there is to know about one subject.

Wallpe says her son, Zachary, walks away feeling like an expert: Washoe Indians in second grade, for example, and Best Management Practices this year in fourth grade.

"He's building his own infiltration system," she adds.

Her kindergartner Zander enjoys the "math hour" when all classes learn math at the same time, allowing students to attend a different class depending on their skill level. Zander goes to 1st grade math.

TEA is one of 170 Expeditionary Learning schools in the nation, and about a third of the students' time is spent in the field.

"Tahoe is one of the best learning environments on the planet," Larrabee says.

When indoors, TEA is housed in three buildings: the headquarters, holding the pre-K to 5th grades; an Enrichment Zone, which is a short walk through the woods to enrichment classes such as science, music, art and Spanish; and rented space in the North Tahoe Hebrew Congregation in Tahoe Vista for the middle and high school grades.

"We have a good problem. We're outgrowing our current situation," says Ken Martin, a parent on the facilities' committee.

TEA is in escrow to purchase three lakefront motel properties in Kings Beach to build a new school; however, there have been enough bumps in the road to halt progress.

Placer County planners in January tried to implement an interim ordinance prohibiting schools in community plan areas. This would have effectively pulled the rug out from TEA's plans to purchase the Crown Motel, the Falcon Lodge and a portion of the Goldcrest Motel. The community backlash not only chastised the county for changing an 18-year-old land-use plan and interrupting a private property transaction, but for negatively impacting the beloved Ferrari family, the owners of the Crown and the Goldcrest, whose generosity and goodwill to education and the community is legendary.

The county supervisors did not approve the ordinance, so the cumbersome, expensive and lengthy process of building in Tahoe can continue. However, now issues with East Bay Investors' ownership of the Falcon Lodge are in legal proceedings.

The defunct Falcon Lodge is essential because it is the school's proposed parking, Martin says.

"Until we're clear to close, it's prudent to put everything on hold," he says.

The proposed campus may be delayed, but the educational ideas behind TEA are speeding forward. There's a "big idea" behind this outdoor school with experiential learning, one Larrabee and Simmers believe could be replicated in schools located in places with environments worth exploring.

Larrabee terms it psychoactive learning theory, and he hopes to work with universities to define the research. The theory essentially states that a constructive, adverse learning environment, whether it is public speaking in class or having to apply math to figure out if a bridge will hold your weight, will make you learn better.

Sequoia Denton, age eight, of Incline Village, doesn't think about how she learns; she just knows she likes it.

"I just feel connected and I'm meant to go here," she says.