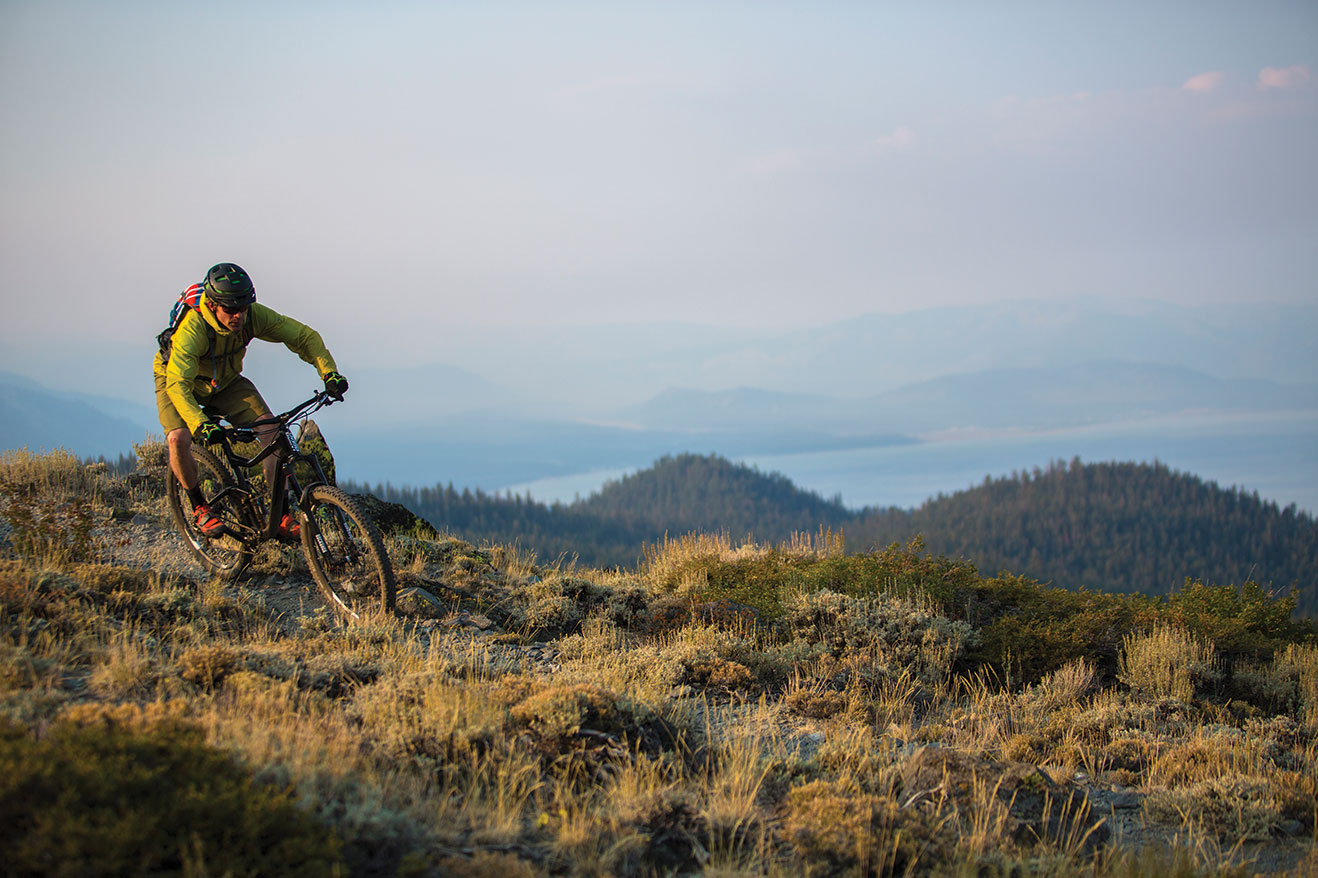 15 Jul

Fat Tire Frenzy
Local and state groups work to improve and expand area mountain bike trails
"Where are you going to ride today?" my girlfriend asks. "I'm not quite sure yet," I reply from the couch as I put on my mountain bike shoes. I finish my coffee, top off my water, grab a snack and buckle my helmet.
"I'll be back in a few hours," I say as I give her a kiss and step out the door. I put on my sunglasses, throw a leg over my bike, and coast out the driveway just as a friend comes pedaling around the corner. "What do you think?" I ask. We discuss our options as we pedal up the road—and there aren't just a couple. In fact, there are probably 15 different rides we could go on. The Tahoe area is a mountain biking mecca of sorts, with so many miles of single-track accessible from town that it's difficult to wrap your head around. Exceptional riding, suitable for all abilities, is accessible from Truckee to South Lake Tahoe and nearly everywhere in between.
Fat Tires Come to Tahoe
Mountain biking didn't even exist until the mid to late 1970s, when people started riding dirt roads on modified beach cruisers, or "klunkers," around Marin County and other parts of the U.S. It didn't take long for the adventurous residents and visitors of the Lake Tahoe area to join the movement, and fat tire bikes have been a common sight on area trails ever since. Much has changed in the several decades since those pioneering few klunked down fire roads. Mountain biking, as we know it today, is quite different than it once was. From the bikes themselves to the trails we ride on, mountain biking has been in a constant state of evolution. The past 40 years have seen the trail network in the greater Tahoe area grow into one of the highest concentrations of world-class mountain biking in the country. Combine that with the beautiful backdrop of Lake Tahoe and you've got the recipe for mountain biking bliss.
After a couple easy miles up the road, my riding partner and I turn into Page Meadows and connect with the Tahoe Rim Trail (TRT) to ride five miles of exhilarating, twisting single-track down to the Truckee River in Tahoe City as a warm up—kind of like an appetizer before we dive into the meat of our ride. The 165-mile TRT circumnavigates The Lake along the spines of the encircling Sierra and Carson Ranges. It serves as the backbone of Tahoe's trail skeleton, with numerous other trails and roads intersecting to create endless options for loops of various lengths, point-to-point rides and all-day epics.
Construction of this multi-use trail began in 1984 and finished in the fall of 2001. "The TRT was originally envisioned as a hiking and equestrian trail," says Tahoe Rim Trail Association (TRTA) executive director Mary Bennington. "In 1984 there weren't that many people mountain biking, but over the years as mountain biking became more popular, sections of the trail were opened to bikes." Now, roughly 100 miles of the TRT are open to mountain biking and offer some of the Basin's finest riding. With beautiful single-track that contours, climbs and descends the ridges and mountains surrounding The Lake in those 100 miles, the trail offers the full spectrum of the area's terrain, topography and technical challenge. Long climbs lead to breathtaking vistas, literally, and there are descents to thrill riders of all ability levels.
From Tahoe City, we jump on the bike path and pedal up to Tahoe XC, then climb a fire road back to the TRT. We ride past Watson Lake above Carnelian Bay before climbing a dirt road to the top of Mt. Watson, then descend the recently rerouted Mt. Watson single-track to rejoin the TRT and take it up over Painted Rock, then west to Glass Mountain for a long descent along the edge of the Truckee River Canyon back to Tahoe City. The Mt. Watson single-track and the TRT on Glass Mountain are trails that few people rode, much less went out of their way to ride, only a few years ago. Both trails were rerouted recently and already we take for granted how enjoyable they have become. It's not just in Tahoe City; positive changes are happening to trails around The Lake. Over the past decade, the U.S. Forest Service (USFS) has been instrumental in creating new trails and rerouting problematic ones to make for more scenic, sustainable and fun mountain biking.
A Collaborative Effort
The USFS Lake Tahoe Basin Management Unit (LTBMU) manages National Forest Lands within the Tahoe Basin, roughly 80 percent of the total land area. On those lands are 349 total miles of trail, 194 of which are managed for mountain bike use. The USFS is primarily responsible for all trail work on National Forest lands and the LTBMU employs a fulltime trail crew to handle the task, but they don't go it alone.
"We are very lucky to have amazing partners in Tahoe relative to mountain biking trails," says Garrett Villanueva, assistant forest engineer for the LTBMU. "The TRTA and TAMBA [Tahoe Area Mountain Bike Association] have been extremely helpful in the process of creating and maintaining area trails through countless volunteer hours."
"Community involvement just keeps increasing," says TAMBA president Ben Fish. "We have momentum and good things are happening all around The Lake."

Jeremy Benson crosses a Page Meadows Bridge
TAMBA has proven very effective at involving the local community and, in 2014, had 86 trail workdays involving 363 volunteers for a total of 3,905 volunteer hours. Founded in 1988, TAMBA was created to advocate for the sport and gain recognition as a user group on area trails with land managers. This group of dedicated individuals helped shape the future of mountain biking in Lake Tahoe during the sport's adolescence. By the mid-2000s, however, interest in the group had faded and it lay dormant for several years until its resurgence in early 2011. "We are lucky to have a good working relationship with the USFS and we are at a point where we can effectively instigate trail projects," says Fish. "We also have trail crew leaders who are trained in cooperation with the USFS, which allows us to do trail work without their direct supervision."
"One of our goals is to provide for a trail system that matches the demographic that uses the trails," says LTBMU's Villanueva. "Mountain bikers are a growing portion of that demographic."
Nowhere is this more evident than in South Lake Tahoe, where recent work on the Corral Trails have showcased the cooperative efforts of the USFS, TAMBA and the local mountain biking community. Last summer, a number of freeride mountain bike features were built on the Lower Corral Trail, among the first in the country to be designed and constructed by the USFS. "We are trying to be proactive," says Villanueva. "Our time and resources are better spent creating and improving trails than removing illegal ones."
Ride Renovations
Work on the Corral Trails is just the tip of the proverbial iceberg. Recent work on the Star Lake connector, Cold Creek and Monument Pass trails have effectively changed the way the mountains above South Lake can be approached on a mountain bike. Nearby on Kingsbury Grade, the TRTA has helped create the Van Sickle Trail—3.5 miles of single-track connecting the TRT to Van Sickle Bi-State Park—and 4 miles of pavement have been bypassed by 8 miles of new trail with the completion of the Daggett Summit Project. Meanwhile, 40 miles to the north, similar projects are underway in Truckee.
"When we acquire land we ready it for recreation so that people can get out and enjoy the places we preserve," says John Svahn, stewardship director of the Truckee Donner Land Trust (TDLT). By purchasing land to preserve open space, TDLT has effectively protected scenic, historic and recreational lands in the Truckee area. Since the early 1990s, the group has protected more than 33,000 acres and plans to protect 24,500 more. In that spirit, TDLT are the builders and stewards of the Donner Lake Rim Trail, which, when completed, will be a 23-mile stretch of multi-use trail around the rim of Donner Lake. The trail currently stretches between Castle Valley and Tahoe Donner and, according to Svahn, "is our most popular section of trail because it connects Truckee with the Hole in the Ground Trail on Donner Summit."

Dust particles grab the last touch of sunlight as author Jeremy Benson
hauls down the Ellis Peak Trail
In addition to the completion of the Donner Lake Rim Trail, the TDLT has plans to create a single-track trail encircling the Royal Gorge property on Donner Summit, and a trail connection between the Waddle Ranch Preserve and Highway 267 at Northstar Drive in the near future.
Thirty-odd miles and several hours later, I coast back into my driveway, exhausted. I take off my shoes and sink into my couch. "How was your ride?" my girlfriend asks. "It was incredible," I say. Already, I'm thinking about the next day's ride.
I've got a lot of options, and they just keep getting better.
---
Jeremy Benson is a Tahoe City–based author and mountain biker.