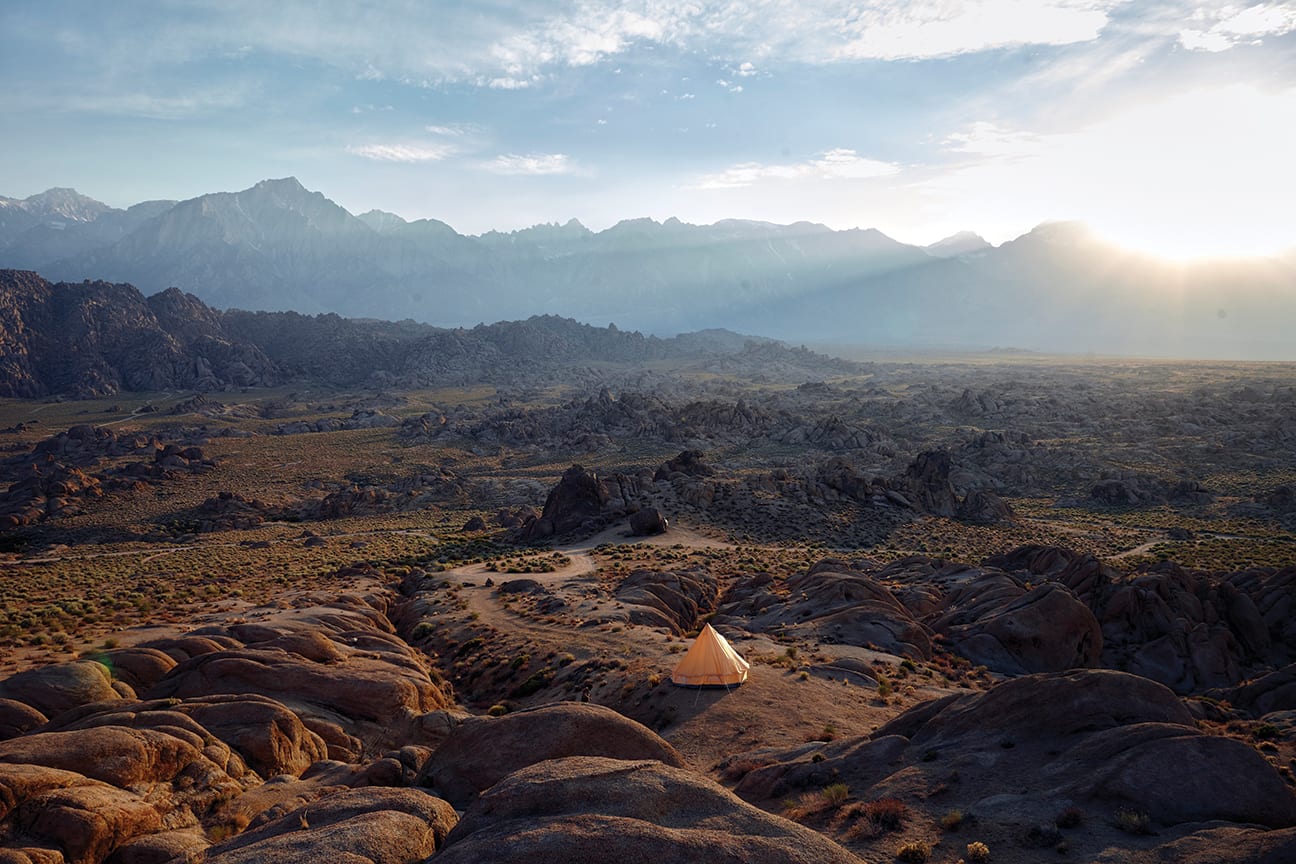 25 Jun

Glamping Gear Galore

Anyone who camped as a child remembers it well—the crackle of the campfire, the smells of the woods, the sense of freedom and adventure. These are the memories that stick to the subconscious, and have uplifting powers that last a lifetime. It's why we love to camp. In fact, the age-old tradition has never been more popular—or comfortable, convenient and fun, for that matter. Newfangled camp amenities have redefined the experience, turning a once-primitive endeavor into a potentially luxurious outing in the great outdoors, otherwise known as glamping. The weekend warrior has never been more empowered.
---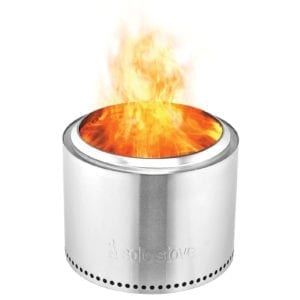 SOLO STOVE BONFIRE
$299
Campfires, while great to poke, stare at and warm bones around, have a reputation for picking on certain people in the circle at random. No matter where the victims move, the fire sends smoke wafting their way. The Solo Stove Bonfire does no such thing. The portable stainless steel fire pit, which packs well at 19.5 inches in diameter, 14 inches tall and 20 pounds, is designed to emit almost no smoke. It also burns hot and leaves minimal ash. The secret is in the air intake holes along the bottom, which—when combined with a base plate that elevates the wood, an ash pan that prevents airflow clogging, and vent holes near the top that allow preheated oxygen to fuel the flame—results in a hotter fire with less smoke. Brilliant.      
Find at: www.solostove.com
---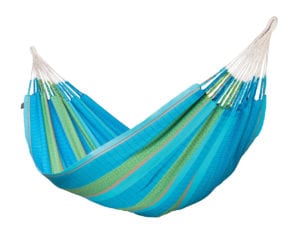 LA SIESTA FAMILY HAMMOCK
$149.99
There are few better ways to kick back and relax in nature than in a hammock. All you need are a couple of trees and some down time. Available in warm, sunny colors, the La Siesta Family Hammock at Truckee's Mountain Hardware and Sports is extra large, allowing you to wrap up for a comfortable nap or share with the whole family. The many suspension cords ensure optimal weight distribution, comfort and durability, while the reinforced edges are built to be tear-resistant, ensuring that this hammock will endure over years of outdoor use.    
Find at: Mountain Hardware and Sports, 11320 Donner Pass Rd, Truckee
---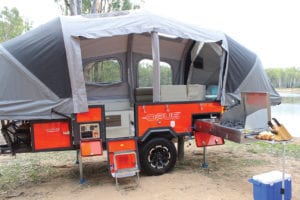 AIR OPUS CAMPER
$21,499–$24,499
Pop-up tent trailers, given their assortment of conveniences, plush sleeping options and compact towing size, go hand-in-hand with glamping. They can sometimes be a pain to set up and take down, however. The AIR OPUS camper, on the other hand, is designed to save you the frustration. At the flip of a switch, this lightweight and durable camper takes shape in less than 90 seconds thanks to a built-in air compressor pump that inflates the frame of the tent. The OPUS Off-Road model (pictured) features a slide-out kitchen for outdoor cooking, a leatherette club lounge, 8-foot ceilings and large skylights, two queen-sized beds and additional sleeping for two. OPUS also offers an array of extra options, including solar hook-ups, propane heating, a hot shower, portable toilet, bike and kayak carriers, and even a cinema system. At the end of your trip, use the quick-release valves to deflate the poles in less than 30 seconds.    
Find at: www.opuscamper.us
---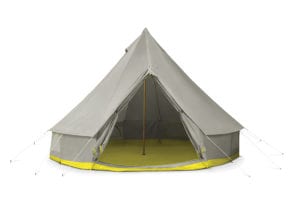 MERIWETHER LITE TENT
$695
For those who find a tent trailer or camper over the top, San Francisco–based Shelter Co. makes spacious tents that are ideal for car camping outings. Weighing in at 50 pounds, the Meriwether Lite model measures 13 feet in diameter and stands 8 feet 3 inches at the center pole. The tent is large enough to sleep four adults comfortably and allows easy access with a wide front screen door. It also includes four sidewall screen windows and three screened vents at the apex, keeping the lofty interior from getting stuffy on warm days. The tent is constructed with a fully attached waterproof vinyl ground sheet and a water resistant nylon upper. It packs down into a carrying bag.     
Find At: www.shelter-co.com
---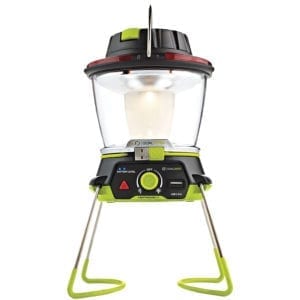 GOAL ZERO LIGHTHOUSE 400 LANTERN & USB POWER HUB
$69.95
Nothing says camping like a lantern. But unlike your bulky, fuel-burning, hissing lantern of old, the compact Goal Zero Lighthouse 400 is silent, bright, enviro-friendly and handy, doubling as a charger for your phone. The lantern may be charged by way of a small crank that flips out from the top, by plugging its USB cord into a power source or by hooking up to a Nomad 7 Solar Panel (sold separately). Other features include dual light settings—an adjustable option that maxes out at 400 lumens or a dimmer battery-saving option—collapsible legs for easy storage, a handle for carrying and hanging, and a built-in USB port to charge a phone or tablet.     
Find At: www.rei.com
---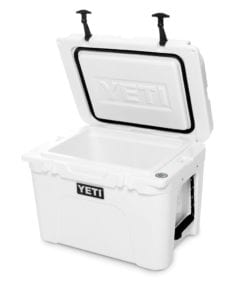 YETI TUNDRA 35 COOLER
$249.99
A good cooler is a must for any camper, and no one makes a better one than YETI. Perfect for keeping food fresh and drinks chilled all weekend long, the hard-sided Tundra 35 model (pictured, and sold at Alpenglow Sports in Tahoe City) features extra-thick walls with pressure-injected PermaFrost insulation, giving it superior resistance to outside temperatures. Meanwhile, the cooler's rotomolded polyethylene construction—the same process used to make whitewater kayaks—ensures it will hold up to the inevitable bumps over the years. Oh, and it's also bear proof.    
Find at: Alpenglow Sports
415 N Lake Blvd, Tahoe City
---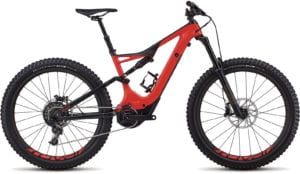 TURBO LEVO FSR E-BIKE
$6,800
If you're going all in on the glamping front, you might as well bring a slick new e-bike to cruise the campground and any nearby trails. Available at Tahoe Sports Ltd. in South Lake Tahoe, the Specialized Turbo Levo FSR Comp Carbon 6Fattie/29 is a fine machine that will have neighboring campers jealous at first sight. The bike boasts many features that no other e-bike can touch—like instant engagement, a double freewheel design that disengages the gear box at top speed, and silent, smooth and consistent output from a new motor that delivers 15 percent more power than the previous version. Even the steepest of trails are no match.    
Find at: Tahoe Sports Ltd.
4000 Lake Tahoe Blvd, South Lake Tahoe
---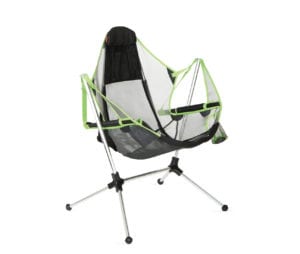 NEMO STARGAZE RECLINER LUXURY CHAIR
$219.95
Ever gone camping and forgotten to bring a chair? Big mistake. While a camp chair may rank lower than, say, a sleeping bag on the priority list of essentials, you'll be a lot happier sinking into a cushy seat near the fire pit than settling for a butt-bruising rock or stump. The NEMO Stargaze Recliner Luxury Chair is particularly enjoyable, allowing you to lean back in comfort and style and take in the starry sky above. This suspended air-rocking and reclining chair, which swings smoothly on any surface, features padded armrests, a no-spill cup holder, large stash pockets and a padded carrying case. The aircraft-grade aluminum suspension frame is light and sturdy and packs down to a travel-friendly size.    
Find At: www.nemoequipment.com
---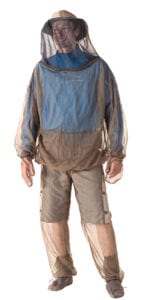 SEA TO SUMMIT BUG JACKET AND MITTS
$29.95–$36.95
Mosquitos! At their worst, they can be a flat-out deal-breaker, turning an otherwise enjoyable outdoor experience into a swatting struggle for your sanity. The folks at Sea to Summit had this in mind when they designed their Bug Jacket and Mitts. Fashionably cool it is not, but what this net outfit lacks in dapperness, it more than makes up for in functionality. The ensemble, touted as a "superior bug protection system," is made from featherweight see-through polyester, with a zippered hood for easy head access, adjustable cuffs and waist, and a convenient storage pouch—since your pockets will be effectively shielded along with the mosquitos. While useful as a mosquito deterrent, note that bug jackets are not conducive to eating, drinking and other various camp activities.      
Find At: www.seatosummitusa.com