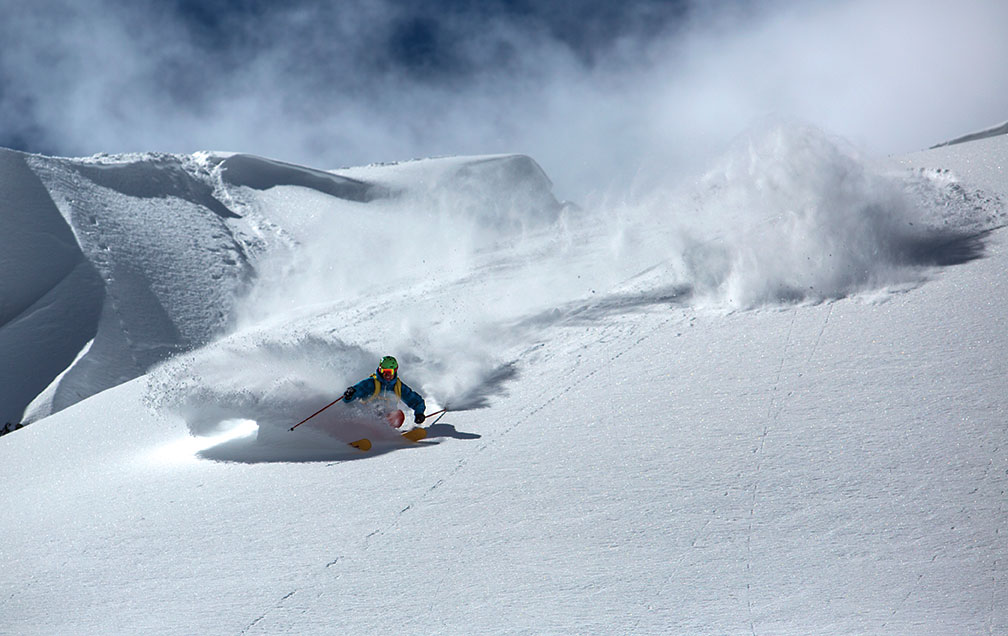 Eric Bryant slashes backcountry pow, photo by Ryan Salm
11 Dec

Hail to the Chief
Granite Chief Wilderness offers rewards for backcountry riders
Of the hundreds of thousands of acres of woods, mountains, creeks and lakes ringing Lake Tahoe, only three pieces of land have been designated by an act of Congress as Wilderness Areas.
Of the trio, Desolation Wilderness tends to get the most attention. Its dramatic white granite peaks and crystalline lake basins draw hikers and campers in numbers that require a strict permit system to protect its wilderness character.
On the northeast end of The Lake, Mt. Rose Wilderness is a backcountry skier's favorite; as the sport grows it isn't uncommon to see cheek-to-cheek ski tracks cut into its inviting faces within hours of a fresh dump of snow.
But on the northwest end of Tahoe, tipping over the Pacific Crest and spilling onto the Sierra's western slope, Granite Chief Wilderness—celebrating its 30th birthday this year—largely escapes the attention of the outdoor-loving public.
Remote and Pristine
Spread over 25,680 acres, the roadless patch of land deemed primitive and precious enough for preservation forms the headwaters of the Rubicon and the Middle Fork of the American rivers, characterized by a series of drainages and the more popular Five Lakes Basin accessed from Alpine Meadows.
"Granite Chief isn't like other classic granite lake bowl Sierra icons, it's more meadows, old growth trees and aspens," says Joe Flannery, a wilderness and trails specialist for Tahoe National Forest. "It receives a fraction of the visitors of the other Wilderness Areas."
The Forest Service does not have an official count of users, he says, lacking either counters or permits.
"Outside of the Pacific Crest Trail [the National Scenic Trail stretching 2,650 miles from Mexico to Canada and passing through Granite Chief], there are some real opportunities for solitude," Flannery says. "It probably receives thousands less visitors than Desolation Wilderness."

Brennen Lagasse sets a boot-pack above a cornice on National Geographic Bowl in the Granite Chief Wilderness, photo by Ryan Salm
Skinning into Solitude
Accessed by hikers, backpackers and horse packers via the Pacific Crest Trail, Barker Pass or Five Lakes Basin in the summer, Granite Chief is even more isolated in the winter.
As snow blankets the landscape, the numbers of visitors fall even lower, reserved for the hardiest adventurers on backcountry skis or snowboards, those willing to pass up the multitude of Tahoe roadside runs.
"Any way you go involves really big approaches," Flannery says. "The shortest access is from the Barker Pass Snow Park. You have to go upwards of ten miles. But if you have the fitness and the knowledge for snow travel in avalanche terrain, Shanks Cove is a great east-facing bowl, and Mt. Mildred has great skiable terrain for those who want solitude."
"It's a safe bet you're going to get fresh tracks," says Michael Woodbridge, public affairs officer for Tahoe National Forest.
That solitude is part of the attraction, says Brendan Madigan, owner of Tahoe City's Alpenglow Sports.
"Skiing is phenomenal back in the wilderness, there's amazing terrain, some of the best for the West Shore," Madigan says. "But the only way to get there is with a snow machine, or you have to be super fit."
While snowmobiles aren't allowed in the wilderness area, a skier or snowboarder could sled up to the boundary on Barker Pass Road, cutting out 2,000 feet of climbing, he says.
"It's a long haul for backcountry skiers," he says. "But if you get back there, I'd say the skiing is world class, with everything from mellow tree runs to steep faces and cliffy terrain and couloirs."

A moment of alpenglow touches down on a snowy landscape, photo by Ryan Salm
Accessing a Wonderland
In spite of its impressive terrain, the difficult access will likely keep Granite Chief Wilderness from being overrun by skiers or snowboarders, meaning those who are willing to earn their turns will be rewarded with solitude and their own private, untracked and pristine runs.
"You have to work super hard to get out there, whereas Mt. Rose has roadside access or a short sled ride out to the wilderness," Madigan says. "When I've been out skiing in Granite Chief, I've seen zero other people on average."
A quicker way into the Wilderness Area is off limits: Ducking out of bounds from immediately adjacent Squaw Valley is prohibited by the ski resort.
"If you could access from Squaw that would change the game completely," Madigan says. "It's normal policy elsewhere, but we're lagging in California on open boundary policy. Backcountry skiing is the only growth segment in the ski industry."
In lieu of access via Squaw Valley, another way to get the most out of the long trip to Granite Chief is a multi-day trip, Madigan says, setting up a base camp in the Wilderness Area and taking day trips to adjacent peaks.
Standard backcountry travel safety equipment, knowledge and precautions apply, from taking an Avalanche 1 course (or higher) to carrying a beacon, shovel and probe, Madigan says.
"Rescue could take a lot longer and it can be much tougher," Woodbridge says. "You're much more isolated, so your options can be limited."
Flannery recommends only experienced backcountry travelers familiar with avalanche terrain and capable of companion rescue tackle such a trip. He also suggests always checking the Sierra Avalanche Center forecast (www.sierraavalanchecenter.org) before undertaking an adventure.
---
Greyson Howard is a Truckee-based writer and backcountry skier.