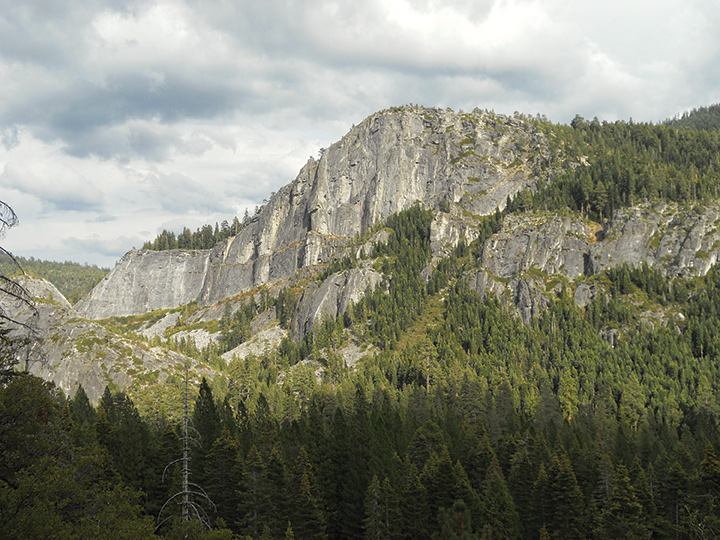 Photo courtesy Lover's Leap Guides
26 Jan

Lovers Leap: A Daring Adventure, or Nothing

Helen Keller and rock climbing aren't typically associated with one another. Nonetheless, Keller, a deaf and blind woman and prolific early twentieth century author, wrote: "Avoiding danger is no safer in the long run than outright exposure. Life is either a daring adventure, or nothing."

Yet, sometimes danger can collaborate with chance in seizing the upper hand. Daniel Frederick of Sacramento knows the formidability of such a collaboration after a 60-foot plummet from a Tahoe-area rock climbing route nearly ended his life last May. He instead suffered a severely fractured elbow and broken left leg.

On May 11, Frederick and Mike Davis, of Penn Valley, California, set out to climb South Lake Tahoe's Lover's Leap. The two had attended high school together in Southern California, lost touch and reconnected via a shared interest in rock climbing.

They selected the route Craven Image, a classic climb rated 5.7 (on the easy side of intermediate), originally established in 1969 by legendary climbers Royal Robbins and Steve Roper.

Rock climbing at Lake Tahoe is often compared against Yosemite. While the Tahoe area lacks the big-wall climbs of the High Sierra to the south, its cliffs provide a bevy of world-class climbs for any experience level. The aggressive lines in Yosemite can intimidate the most experienced and talented purveyors of the rock climbing craft, where Lover's Leap is world famous for offering moderate routes on feature-filled granite.

"Lover's Leap has the best selection of concentrated free climbs in California," wrote Robbins in his 1976 Lake Tahoe climbing guide. "Not one cliff even in Yosemite has Lover's Leap's concentration… with such quality and variety."

The most distinguishing feature of Lover's Leap, reputedly named for two Native American lovers who leapt to their death from the summit, is the striation of horizontal dikes hugging the rock in stratified layers that seem distanced perfectly to abet interesting and high-quality climbing moves.

Frederick and Davis set forth on an auspiciously clear day with the goal of bagging Craven Image, the classic, yet less frequented route at the popular climbing playground.

"It was a pretty normal, adventurous day," Davis says.

Upon reaching the start of The Groove—the two-pitch climb that delivered them to the start of their targeted route— Frederick noticed he'd forgotten his helmet in the car. Davis offered to repair back to the lot to retrieve it, but Frederick was eager to start and the team tied in to begin the three-pitch climb.

The two men also neglected to bring a first-aid kit, but thought little of it.

"One of the things I love about climbing is how personal it is," Frederick says. "You assume your own risk. It's all in my control, and I take full responsibility."

Frederick had neared the top of the third pitch of Craven Image when a piece of protection he placed moments before came loose. He was about 20 feet from topping out at the 600-foot-tall granite feature's true summit.

"I should have reset that protection, but I didn't even look at the gear," Frederick says, admitting that he had finishing fever. "It's just so textbook, but I was 20 feet from the finish, and I thought I would take a small, calculated risk."

It proved a nearly fatal decision.

Frederick felt his foot slip and expected the rope to catch in a split second. When the catch didn't materialize immediately, he knew he was in trouble.

Frederick plunged, his velocity increasing rapidly as he crashed into a protrusion of rock before a piece of protection held him. The rope tightened inches before he was hurled headlong into a pronounced ledge jutting from the cliff.

Davis, who belayed him from a ledge approximately 120 vertical feet below, believes he may have saved his friend's life by quickly taking in about 12 feet of rope as he witnessed Frederick lose footing.

"I knew the potential for a fall was large, as he was pretty run out," Davis says. "Then I saw his foot slip, and I just pulled in as much slack as I could."

With the violence of the fall past, the two men collected themselves and Davis began to chide his friend for his unbelievable luck.

Frederick initially declared himself unscathed, before he glanced at his left arm and saw a bone protruding from his elbow. Blood began gushing from the wound.

The two men were about 500 feet above ground and 100 feet from the top of the cliff.

Davis calmly employed his rope system to lower Frederick to the ledge where he stood.

Frederick, who entered the initial throes of shock, fear and pain, retained the presence of mind to traverse right to where Davis was locked into the anchor.

"He maintained really good composure," Davis says, adding most people in a similar quandary would hyperventilate.

Davis, a former firefighter familiar with assessing the nature of traumatic injuries, immediately performed triage.

First, Davis dialed 9-1-1, alerting authorities his partner needed rescue. Second, he fashioned a makeshift compression bandage out of a wool beanie, a sweater and some spare nylon cords and applied it to the wounds.

Frederick requested a tourniquet, fretting over blood loss. Davis declined.

"Once I had time to observe the wound, I knew it was not an arterial bleed, and Dan wasn't going to bleed out," Davis says. "I told him, 'With the amount of time we are going to spend on this ledge, if we use a tourniquet, you'll lose your arm.'"

Frederick spent an excruciating five hours on the cliff ledge.

"I was getting a little breathy," Frederick says. "But Mike kept my focus on my breath and away from the pain."

Meanwhile, members of the El Dorado County Search and Rescue team, Lake Valley Fire Protection District and California Highway Patrol converged on Lover's Leap for a helicopter rescue.

Greg Almos, the search and rescue incident commander, says his team executes about three to five big-wall rescues per year; however, the medical emergency complicated Frederick and Davis' rescue.

"We had to find the quickest and safest way to deliver the service," he says.

Initially, the team planned a helicopter line rescue to remove Frederick from the precarious ledge, but upwinds ricocheting off the cliff presented too much risk.

Instead, rescuers gathered atop the cliff and established an anchor to initiate a technical rope rescue.

Frederick saw the helicopter and thought his salvation was imminent, but it wasn't until hours later that two members of the Lake Valley Fire Protection District—Matt Nerdahl and Jan Bojsen-Molle—rappelled down to the ledge.

The rescuers didn't bring a rescue basket, typically used to secure victims before hoisting them up.

Frederick had the choice to wait for the basket or be cradled by the rescuers as they were pulled slowly.

The first option required patience, the second a higher threshold for pain.

"I just decided to suffer through it," says Frederick, who added the pain was intense. "It was a good move. I was in surgery before dark."

Frederick's mind doesn't replay the fall, but focuses instead on the series of poor decisions that sent an outdoor adventure careening toward disaster.

He also vowed to begin climbing when declared able bodied. The first route on his list? Craven Image.