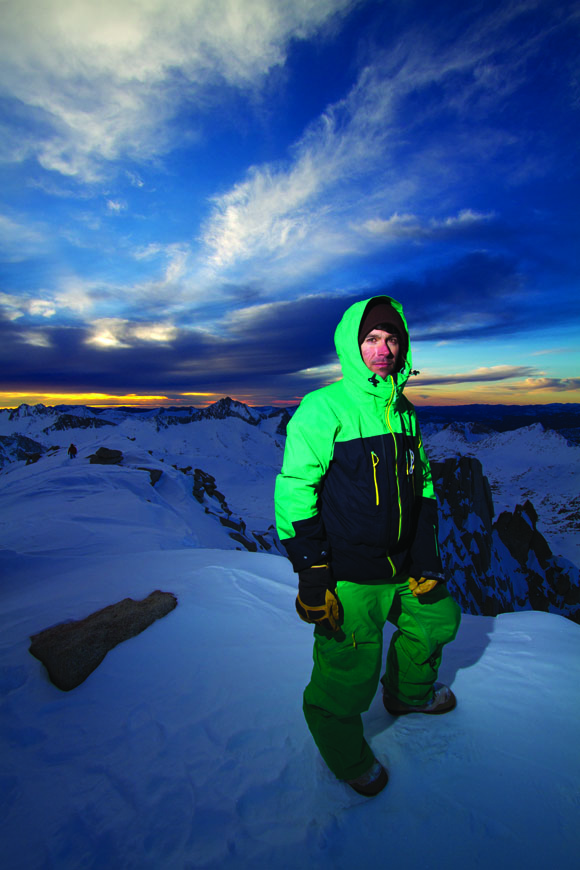 23 Feb

Q&A with Jeremy Jones

North Tahoe professional snowboarder Jeremy Jones could double for a tight rope–walking circus juggler. The balancing act of business, politics and play that this 37–year–old father of two pulls off has made him one of the most highly respected athletes in the action sports world. Ten years of daring first descents down jaw–dropping peaks cemented his legacy on a board, while his efforts with the non–profit organization Protect Our Winters and his self–owned snowboard brand, Jones Snowboards, earned him legions of fans who recognize him as a global leader in both the art and science of backcountry snowboarding and the battle to fight climate change.

After appearing in 40–plus snowboard movies, Jones premiered his first signature shred flick, Deeper, in 2010. This first volume of his planned trilogy, Deeper Further Higher, shook the paradigm of ski film production as Jones filmed every minute of Deeper on foot instead of using helicopters and snowmobiles. In September 2012, Jones released the second chapter of his backcountry snowboarding movie series, Further, at a world premiere in Squaw Valley.

How is Further different from Deeper?
With Deeper I explored mountain ranges I knew pretty well but just went farther into the ranges than I'd ever been before. With Further I explored ranges that I knew very little about and had seen very little snowboarding in them. Further is also a big step up from a production standpoint. We shot Deeper with one or two camera angles, Further was shot with three to four cameras and we had a much better production plan for the shooting. We learned a lot about filming on foot and dealing with cameras out in the elements from Deeper—keeping them charged, keeping them from fogging—so we were able to take Further a notch up from an exploration standpoint and also visually.

What is the biggest challenge of filming snowboarding on foot?
It's really hard to get high quality action shots. It sometimes takes days to film a single run when you're going on foot and we don't get many second chances at lines. Getting the cameras and the riders in the right location at the right time is a huge challenge. Oftentimes these mountain faces we're looking to ride are only in the optimal light for a half hour each day. If the hike you thought was going to be a five hour climb turns into a seven hour climb, you're probably going to get hosed because now the face is out of the light.

What is the message of the Deeper Further Higher trilogy?
Overall, the message is to inspire people to get outside, enjoy the mountains and push themselves. And it's relative to anyone no matter where on the snowboarding spectrum they may be. Whether you're a beginner rider riding right under the chair lift or you've spent your whole life snowboarding all over the world, if you challenge yourself, you'll be rewarded.

How has your approach to snowboarding changed as you've grown older, started a business and family?
I turn back on missions a lot easier than I used to. I also put extra emphasis on managing risks by doing continuing education in snow safety and emergency medical training. Business–wise, my world outside of the mountains has gotten so hectic, that to go ride these big serious lines it's become really important to get to places where I can fully disconnect and immerse myself in the mountains. If I'm just going out for the day and coming back, my phone will have a bunch of new messages and emails that distract me. That's not the right (way) to be riding these serious lines, so it's important for me to fully unplug.

You're one of the oldest professional snowboarders still pushing the limits of the sport. Who inspires you?
Two of my biggest local inspirations are Tom Burt and Jim Zellers. They are roughly ten years older than me and they continue to charge in the mountains. I still can't keep up with them. I've also had the opportunity to spend time with surfer Laird Hamilton who is another huge inspiration. When I'm surrounded by those guys, I'm asking them a lot of questions and really taking notes about how they live their life. They have all set up the optimal life both in and out of the mountains with their families.

In 2007 you founded the non–profit organization Protect Our Winters (POW) in an effort to fight climate change. What inspired you to take action against climate change?

I've seen real changes in the snowpack within my lifetime and I felt as skiers and snowboarders we needed to get involved and protect our precious mountain resource. We are out there all the time and no one else is protecting them. I knew that together as a group we could do some really good things.

You've seen nearly every mountain range in the world. Why do you live in Lake Tahoe?
I ended up in Tahoe for a variety of reasons. First and foremost, I love the Sierra. We get a ton of snow but we also get a ton of sun and it's one of the safest snowpacks in the world. We have everything from Squaw Valley's KT–22, which is the ultimate lift–accessed training ground, to the Eastern Sierra which is this massive untouched, unexplored range that's also the ultimate training ground. I find myself going to these exotic places but a lot of times the approaches that we are dealing with in the Sierra are more intense than what I'm faced with anywhere in the world. The climate and water in Tahoe have also kept me here. I'm in the water almost every day in the summer plus we are only a three–hour drive from world-class surf. Raising a family in Tahoe has also shown me what an incredible a place we live in. From the teachers I interact with to all the different families, our community is one of the best gatherings of people anywhere in the world.

What do you think is the biggest challenge facing Tahoe as a ski economy?
We live on the fine line of rain vs. snow and we don't have a lot of wiggle room. Where say a place like Jackson Hole, which is colder and has 4,000 vertical feet of elevation change, has a lot more room. If winters do get warmer, I think that Tahoe is going to lose a lot of lower terrain and some resorts will suffer. It already seems to be happening as I have seen lower elevation areas that I love to ride that just don't get the snow they used to.